Belmont, NC Custom Outdoor Living and Landscaping
Surrounded by tall standing hardwoods and interspersed with luscious green rolling park areas, Belmont, North Carolina is a beautiful small city, one which can credit that beauty (at least in part) to bi-monthly meetings of the Belmont Environmental Sustainability Board. However, Belmont's wooded surroundings, lakes, and park areas often inspire Belmont property owners to take greater pride in their own gardens and landscapes.
At MetroGreenscapes, we help Belmont homeowners beautify and add more functionalism to their yard and garden through landscaping and feature installations such as fire pits, custom ponds and pool areas.
Our philosophy is simple. A beautiful garden isn't just about what you plant, or how well you maintain your lawn. A beautiful garden is about creating an extra living space which is used and enjoyed by you and your family throughout the year.
Custom Built Swimming Pools and Ponds
Garden pools and ponds are one of the most sought after features which you can add to your garden. Our custom designed swimming pools especially help enhance the sociability and visual appeal of your outdoor space, as well as enhance the 'staycation' value of your property. However, pools and water features have to be done right.
At MetroGreenscape, we design and install visually appealing swimming pools and ponds by assessing where such features will be best situated. In like manner, we always pay special attention to all locally required permits, inspections and water and plumbing requirements.
Luxurious Outdoor Experience
Combining all of our services to create the ideal outdoor area for your home means having access to the finest materials and levels of craftsmanship you expect from getting the very best for your home.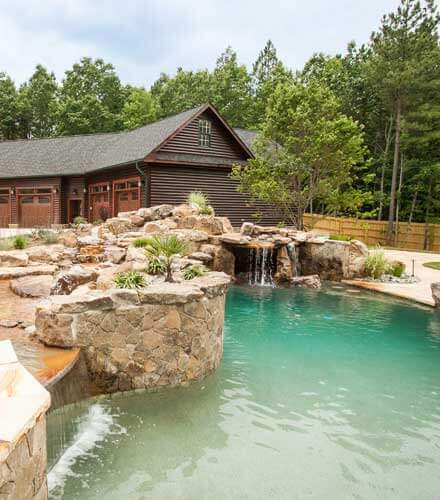 Landscaping Design Services
Have you just moved into a new property and are not quite sure how to turn your landscaping dreams into a reality?
From identifying the best outdoor lighting and irrigation systems to facilitating installation of bespoke outdoor kitchen areas, we can help you transform the area around your home into a visual masterpiece complete with year-round functionality.
To start, we'll work with you to discover what features you would ideally like to have in your garden. Our designers will then draw up a comprehensive landscaping plan which will take into account everything from landscape grading to yard drainage and lawn irrigation.
Custom Outdoor Spaces
Creating the perfect customized outdoor area to accompany your home is something we strive for. This could be a custom patio, outdoor seating area, or complete kitche. No matter what, we can create the ideal space for you and your family.
Lawn and Landscape Maintenance
From simple fertilization to pruning, mulching and aeration, keeping your garden in pristine condition can take time which many people simply can't afford to spare.
Thankfully, at MetroGreenscape, we provide comprehensive lawn and landscape maintenance services. While consulting with you to discuss any problems and/or day to day irrigation requirements, we'll otherwise leave you free to enjoy your garden whilst we take care of everything else.
If you're a Belmont, NC resident, don't wait to realize the landscaping dreams you have always wanted but simply never seem to have the time for. Professional landscaping services alone can increase the value of Belmont properties by tens of thousands of dollars. Call (704) 486-5095 or contact MetroGreenscape today and lets work together to create the outdoor living space you have always dreamed of.
Everything Maintenance
Landscaping and lawn maintenance, both residential and commercial commercials, seasonal coloring and turf fertilization.
 Everything Landscapes
Landscape design and installation, seasonal landscaping, garden maintenance, all with a focus on sustainability.
Everything
Pools
Custom ponds and water features as well as swim ponds and swimming pools for your backyard or outdoor area.
Everything Custom
From project management to master planning, our distinctive service and custom selection of materials will make your project perfect.
Everything
Luxury
Everything for your outdoor area from patios and retaining walls to lighting, irrigation, and outdoor kitchens.
Landscaping in Belmont, NC
Just wanted to take a minute to say what a great job you are doing with our yard this year and to share a story that I'm sure you will appreciate. On Monday of this week a friend of mine and I were down at our boat dock when some friends of theirs went by on a boat. He yelled at his friends and …