Charlotte Outdoor Living, Landscaping, Lawn Care, & Hardscaping Company
Follow Our Easy 3-Step Process
Schedule a time for one of our pros to evaluate where you want your desired landscape project.
Request an outdoor living estimate today
Initial consultations $99
We design and build around your hopes, dreams and desires for your family, providing you with turnkey solutions so that you can surround yourself with a lush, healthy outdoor space without investing any of your own time.
Charlotte Lawn Care & Lawn Maintenance
MetroGreenscape is the leading provider of professional lawn care services in Charlotte because our team thinks differently. Whereas competitors simply offer one-dimensional services like mowing or mulching, we have adopted a holistic approach that encompasses both lawn care and lawn maintenance services. 
This means we care not only about the appearance of your lawn, but also its vitality. We regularly perform lawn care tasks like aerating and fertilizing so that your turf is strong and healthy. We also perform lawn maintenance tasks like mowing, mulching, weeding, edging and leaf blowing to make sure your lawn looks its best. We even offer artificial turf installation for those looking for a less demanding lawn that looks green and healthy year-round.
Fortunately, Charlotte residents can benefit from our innovative approach for just $325 per month when they sign an annual service contract. 
Get your estimate today ›
Popular Charlotte Landscaping Projects
When done right, professional landscaping can add thousands of dollars to a property's market value. Professional landscaping can also address costly issues like diseased trees, erosion, overwatering and more.  
With this in mind, MetroGreenscape's landscape architects provide on-site property inspections to Charlotte homeowners who have an annual service contract. During these inspections, we can identify additional services that may be beneficial. 
Health of Existing Plant Life 
Are your roses wilting? Is your weeping cherry tree no longer producing bright pink blooms? Our horticulturists can identify potential pests or diseases and create a treatment plan. 
Lawn Analysis 
Crabgrass, dandelion, grub worms, drought and intense heat can all wreak havoc on your Charlotte lawn. Let us conduct a lawn analysis to determine the best way to bring your turf back to life. 
Water Features 
Attract beneficial pollinators and amphibians with a backyard pond or fountain. 
Landscape Design 
MetroGreenscape was founded on thoughtful landscape design. That's why we always work with clients to create a design that brings their vision to life. 
Privacy Trees & Shrubs
If done correctly, regular pruning of privacy trees and shrubs can fight insects and infections. Pruning can also keep plants looking beautiful. 
Outdoor Lighting 
Outdoor lighting can accent your home's best features. It can also deter burglars from targeting your family. 
Irrigation Planning 
To prevent overwatering, we always check Charlotte lawns for existing irrigation and water systems. 
Seasonal Color 
MetroGreenscape can ensure that your Charlotte garden is vibrant and striking, no matter the season. 
Get your estimate today ›
Popular Hardscaping & Outdoor Living Projects in Charlotte
Do you need a qualified company to design and install an outdoor living space? Do you want a licensed and experienced team that can make your dreams a reality? 
MetroGreenscape can help. From an outdoor fireplace to a new patio, the professional hardscape contractors at MetroGreenscape will create an outdoor living space that enhances the functionality and aesthetic of your Charlotte home. We offer a variety of hardscaping services for customers with an annual service contract. 
An astonishing 98 percent of homebuyers want a patio. That being said, a patio addition is a wonderful way to make your Charlotte home stand out on the real estate market. 
Outdoor fireplaces can increase the functionality of your Charlotte backyard during the colder months. 
In addition to preventing erosion, retaining walls can add usable space to a sloping area of your Charlotte lawn. 
A custom back porch designed and installed by MetroGreenscape allows your family to enjoy the outdoors without being too hot or too cold. 
Fire pits are social hotspots where friends can chat and connect. 
Is your front walkway cracked and uneven? This is not only unattractive but also dangerous. Consider having us install a new and improved pathway. 
Are you tired of dropping hundreds of dollars on subpar restaurant meals? Stay at home and cook in your custom outdoor kitchen.
Adding a seating wall to your outdoor patio means you can host more friends and family. 
Stay fit and active with an in-ground swimming pool. Swimming is great for the heart and easy on the joints. 
Get your estimate today ›
Swimming Pools and Water Features
A water feature is the perfect way to add a "staycation" ambiance to your outdoor living space. A tasteful fountain, for instance, provides the perfect white noise for relaxing. Meanwhile, a custom in-ground swimming pool will entertain the kids for hours during the summer. 
At MetroGreenscape, our Charlotte team works with homeowners to develop luxuriously elegant pools and accompanying poolsides. All of our pools are designed with local building standards in mind. We also consider how this investment will add resale value to your property.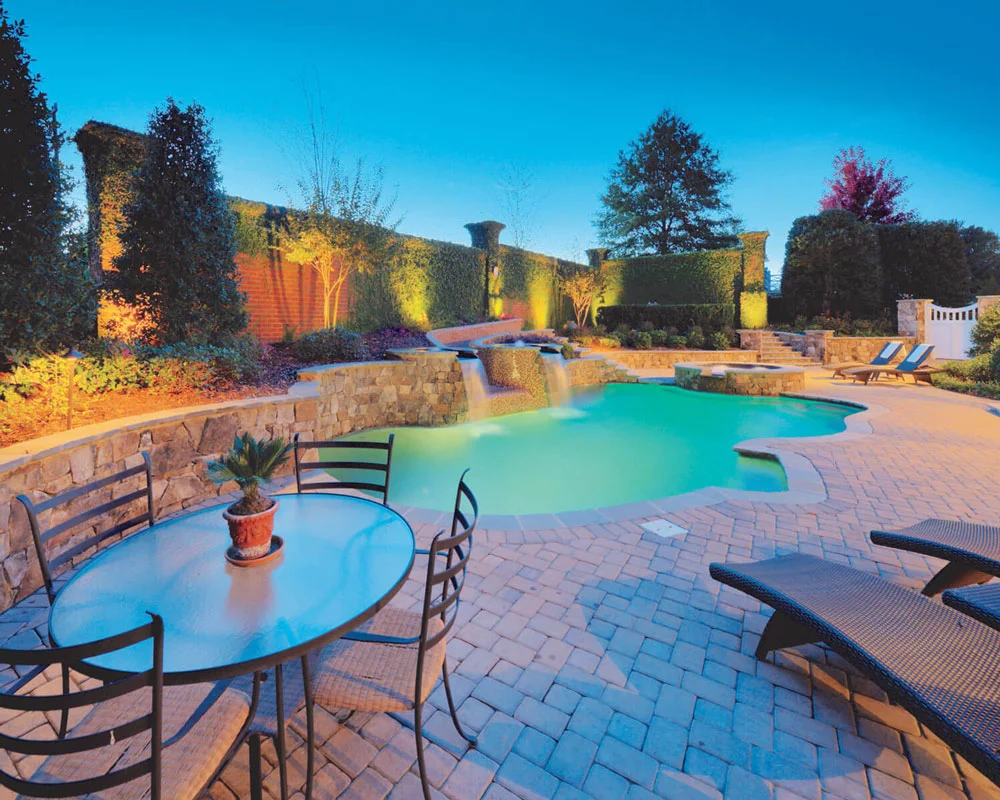 Charlotte Outdoor Lighting
Outdoor lighting can bring a Charlotte home to life, illuminating architectural focal points and landscaping features. A thoughtful landscape design can also maximize the functionality of outdoor spaces. That means you will never have to cut your backyard party short just because the sun went down. 
Landscape lighting increases the safety of your Charlotte home as well. Illuminated pathways are less dangerous to traverse in the dark and trespassers are less inclined to target a well-lit home.
Learn More ›
Financing and Payment Options
Are you eager to transform your Charlotte backyard but hesitant about the price? We offer all homeowners a firm cost estimate during their consultation. We offer financing as well, allowing Charlotte residents the flexibility of paying over time.
View financing options ›
There are almost 7,000 companies in the bustling city of Charlotte, North Carolina. The licensed professionals at MetroGreenscape can help your business stand out by making your lawn so beautiful that it turns heads. 
With more than 20 years of experience maintaining commercial properties in Charlotte, we are confident that MetroGreenscape can keep your lawn green and healthy. Also, since our commercial maintenance package is fully customizable, you only need to select the services that suit your company's needs and budget. 
Get your estimate today ›
Need some inspiration for your Charlotte home? Check out our latest projects.
Charlotte Outdoor Living, Lawn Care, Landscaping, & Hardscaping FAQs
How long do hardscaping projects take?
It depends. If you are working with MetroGreenscape to design and install a fairly complex in-ground swimming pool with an accompanying poolscape, this project could take several months. For comparison, a fire pit may take a few hours whereas a custom outdoor fireplace may take a few weeks.
Is it worth hiring a lawn care service in Charlotte?
Yes. Horticulturists have the experience to address any issues that might be affecting your yard's appearance and vitality. They can also monitor existing plant life for pests and diseases.
Should I get lighting done by a professional?
Yes. If you are tempted to install solar lights from a big-box store, know that these lights are not very durable or efficient. A professional can install higher quality equipment that offers a better return on your investment.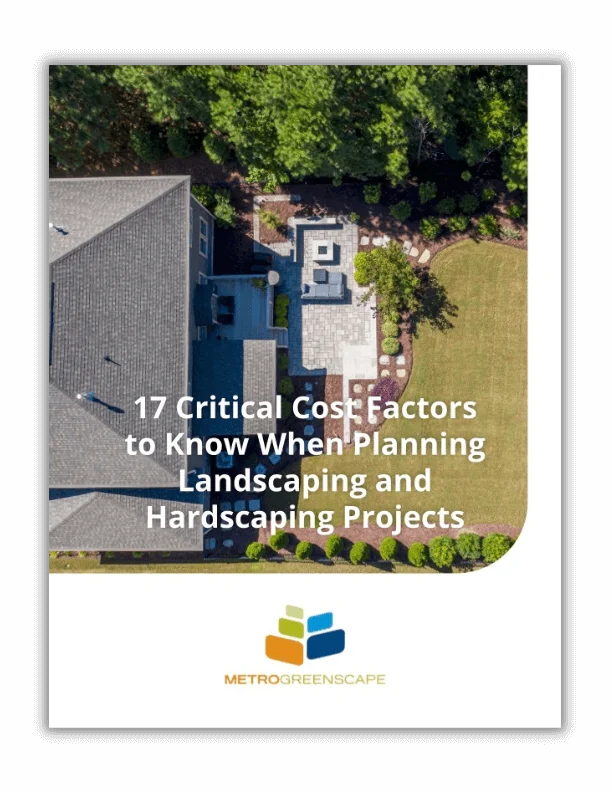 Download Our Free Guide: How to Plan Your Project
Discover 17 critical cost factors you should know while planning your next landscaping or hardscaping project.
Step 1:  Fill out this form and get the guide
Step 2:  We'll email you the PDF.
Step 3:  Learn everything you need to know about planning your project.