METROGREENSCAPE
everything patios
Custom Outdoor Patio Design & Patio Landscaping
Dreaming of spending more time outside? Thinking about sitting in a comfortable chair and enjoying the scenery during a cool evening, or connecting with friends over dinner? An outdoor patio can make that dream a reality.
At MetroGreenscape, we create custom outdoor patio designs for homeowners in the Charlotte area. From affordable paver patios to unique patio designs with beautiful materials like colored concrete and stone, we'll help you act on your vision to create a truly beautiful space. Once your design is finished, our expert contractors will handle patio installation and patio landscaping to transform your yard into an place you can be comfortable and enjoy year round.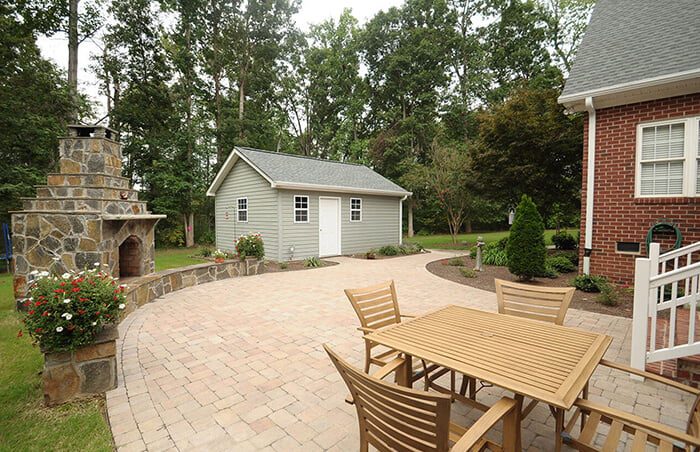 Outdoor Patio Contractors
MetroGreenscape is one of the top patio companies in the Charlotte area. Our team consists of designers and licensed patio contractors that have experience creating beautiful patios and patio landscaping in the Charlotte area. Just a few of the places we've worked in include Concord, Rock Hill, Gastonia, Mooresville, and Huntersville.
No matter what kind of patio you're looking for – from an affordable paver patio to a custom patio design with unique materials – our team will make sure you get the patio you want.
Classic & Unique Patio Designs
There is nothing out of reach at MetroGreenscape. If you're looking for a classic patio design for your outdoor space, we'll give you options that are timeless and will work with any home style. 
If you want to get creative, we will too. Our contractors and designers are experts at thinking outside the box and coming up with unique patio designs that work for small spaces, large spaces, or homes that need a patio that's uniquely shaped.
To get a truly unique patio design, we'll come to your home for a consultation. Our team will look at your home, the outdoor space you have now, and discuss you vision for the future. We'll provide front or backyard patio ideas on the spot, such as suggesting a curved patio design or concrete patio ideas depending on what fits you space. We also work with other materials, including:
Stone

Tile

Pavers

Wood

Composite materials
You tell us what resonates with you and fits how you want your space to look and feel, then we'll take your vision back to the drawing board for a formal design. Consultations start at just $99.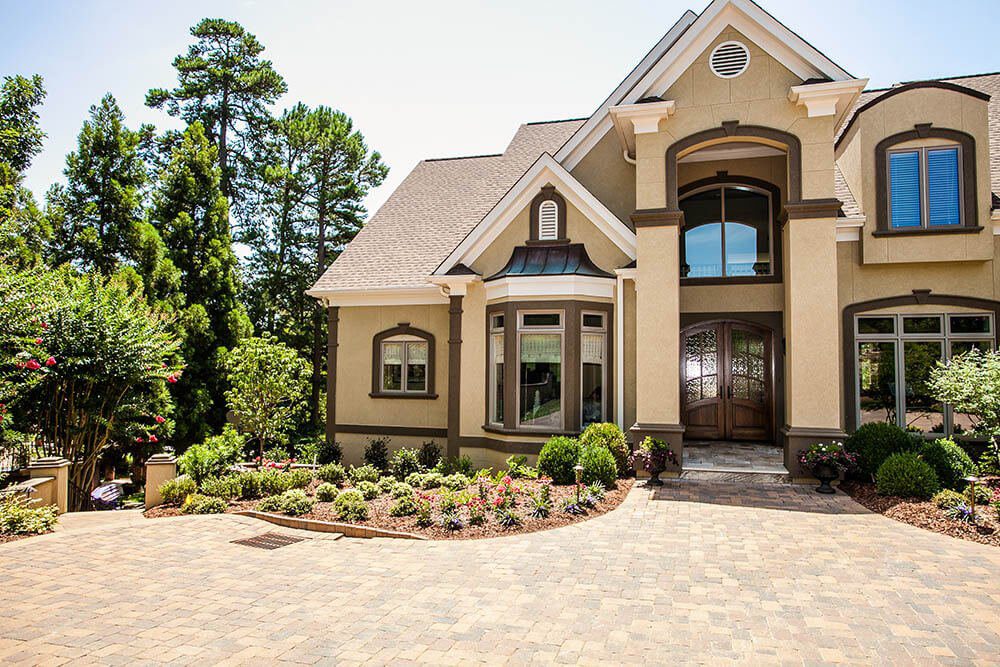 Paver Patios
Paver patios are one of the most popular types of outdoor patios because they're attractive, functional, and affordable. At MetroGreenscape, we take the work of designing and installing paver patios off your shoulders so you can enjoy a new outdoor space without the manual labor.
Our Charlotte patio designers will work with you to determine the best size and placement for your paver patio, do all the prep work, and order the material you need. Then, we'll install your paver patio – you don't have to lift a finger. Just sit back, relax, and enjoy your patio once it's finished.
Custom Patio Installation
Installing a concrete patio in Charlotte, NC? Want to get started with a unique, curved patio design made from stone? Our team can help. We offer custom patio installation, meaning we'll help you put in a patio from a design you created yourself, or one we created for you.
All our patio installation services are done by licensed contractors with experience working on Charlotte patios and homes in surrounding areas like Concord and Huntersville. We'll make sure your patio is installed quickly, correctly, and safely so you and your family can enjoy spending time outside.
Patio & Outdoor Living Spaces Gallery
Need some inspiration for your outdoor living space? Check out some of images of outdoor patios that we've worked on in Charlotte and surrounding areas. We can help you create a custom outdoor patio like these, or one that's completely unique to your home.
Backyard Patio Cost Estimates
Your patio cost estimate depends on a number of factors, including:
Your outdoor space

The size you want your new patio to be

Your patio design

What you want your patio to be made of, such as concrete or stone
MetroGreenscape can help you make decisions about everything you need for your outdoor patio, including materials, size, and patio design. Once we've worked with you to create a plan for your space, we can provide a backyard patio cost estimate.
If you're interested in a patio cost estimate, contact our team today. We'll be happy to set up an initial consultation for just $99.
How much does it cost to put in a patio?
It typically costs between $6,000 and $7,000 to put in a patio. However, patio costs will vary significantly based on patio design, size, and material. In most cases, installing a patio will cost between $10 and $50 per square foot. At MetroGreenscape, we'll provide a backyard patio cost estimate after we finish your patio design so you understand how your project fits into your budget.
How much does a poured concrete patio cost per square foot?
A poured concrete patio costs $5 to $25 per square foot. These costs may also vary, however, as many custom patio designs work with colored or stamped concrete, which can affect pricing. If you have questions about poured concrete patio costs,
contact
MetroGreenscape's Charlotte patio contractors. We'll work with you to find the best option and price estimate for your project.
What is the best flooring for an outdoor patio?
Most outdoor patio flooring is made of concrete, stone, or tile. However, there is no "best" flooring for an outdoor patio. The material you choose will depend on how you want your patio to look and how you want it to match, or accent, your home. For instance, MetroGreenscape can help you put in affordable paver patios or high-end stone patios, as well as other patio flooring materials, such as wood or artificial wood.
What is paver base?
Paver base is a material used in patio and walkway construction. It provides a stable foundation for patios and paver patios that don't use mortar between stones or tiles. Most paver bases are aggregate materials that are installed at 4 to 6 inches of thickness under the patio's top layer.