Booking a Consultation With MetroGreenscape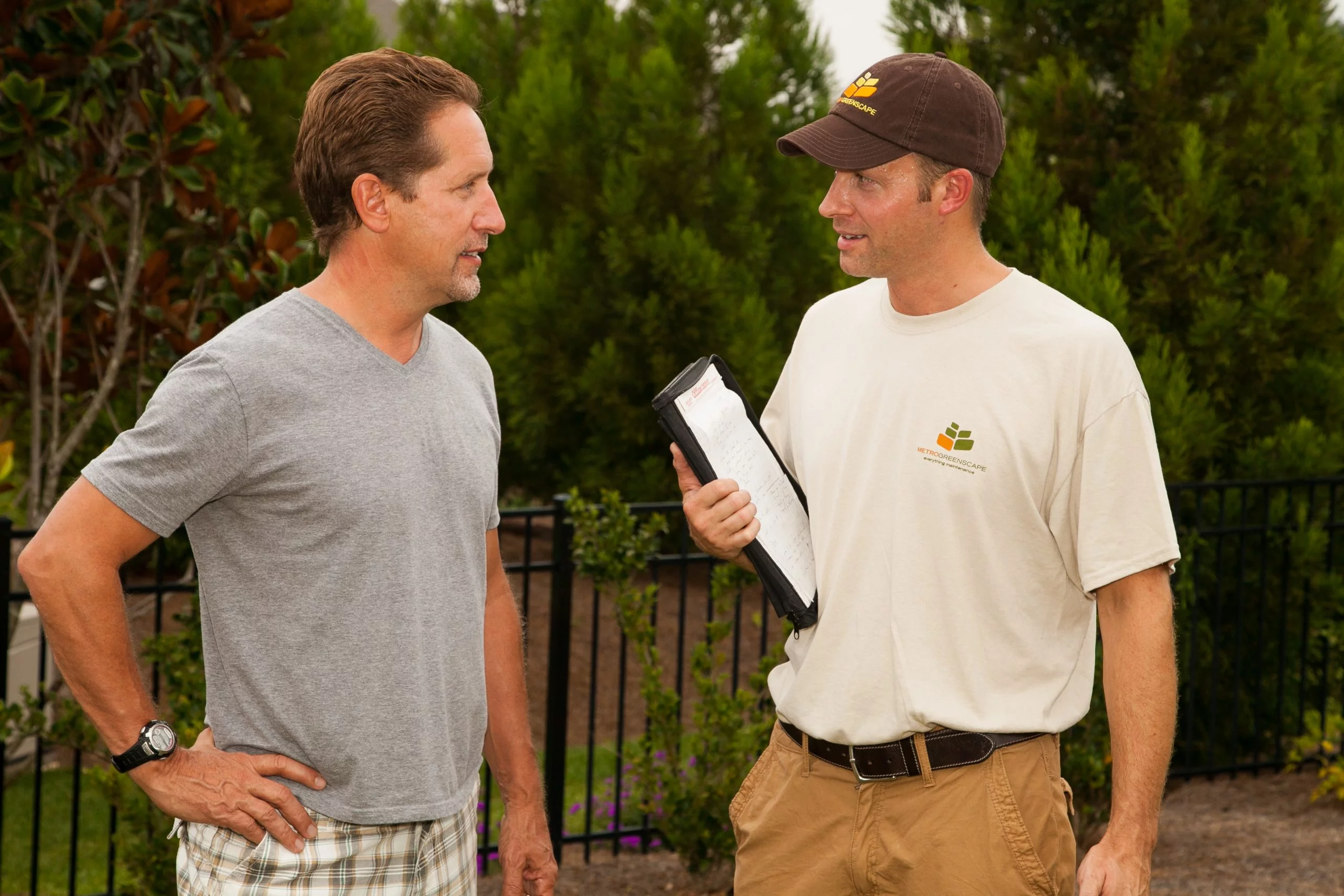 Schedule Your Charlotte-Area Outdoor Living & Landscaping Consultation
How Our Consultations Work
Consultations are perfect for homeowners that are looking for next-level landscaping or hardscaping advice from an expert with years of industry knowledge and experience. 
The goal of a consultation is to (1) understand your vision, (2) build you a customized plan to make it happen, and (3) provide you with the most accurate estimate possible. To do this, during the consultation we will: 
Spend up to an hour surveying the areas you want to change or re-work

Identify any existing issues or barriers to completing your dream landscape or hardscape

Analyze your dirt composition, slope, and irrigation 

Take rough sketches and images to build a customized design 

Make expert recommendations to enhance the aesthetics and functionality of your home

Discuss your budget and financing options 
Once the consultation is complete, our team will contact you to discuss cost range, recommend cost-effective, budget-friendly options, and plan next steps.
Ready to get started? Book your consultation today!
Book Your Consultation Today
Ready to give your home some curb appeal? MetroGreenscape offers Charlotte residents the best in full-service lawn care services, so you don't have to worry about taking on tough yard work tasks.
Our Consultation Pricing
Why Do We Charge for Consultations?
Scoping and planning your vision takes time and attention, as well as years of experience to draw from. Making your dream a reality starts with an honest assessment of your property so that later, we can give you the most accurate estimate possible.
The Risks of Free Consultations
Other hardscaping and landscaping companies offer free consultations. But beware! Because they are free, they often aren't as comprehensive. That means the estimates are often inaccurate and homeowners are later hit with much higher project prices than their initial budget.
Other contractors will offer free consultations as a way to attract new businesses when they are lacking experience or results. These contractors often overpromise and underdeliver, causing homeowners to spend even more money fixing poor workmanship.
What To Expect From MetroGreenscape
When you pay for a consultation, you can expect:
To work with an expert that keeps up with industry products and trends
A thorough assessment of your soil, drainage, and slope conditions
Advice on which plants and flowers will thrive based on your location and the layout of your yard
Design advice from a local professional that prioritizes locally sourcing materials
Someone with both landscaping and hardscaping experience that knows the significance of each
Start your outdoor living project off on a strong foundation, and book a consultation with our Charlotte-area landscaping professionals today!
When you're ready to book yours, give us a call at 704-504-0980 or contact us online.