METROGREENSCAPEeverything custom
Charlotte Hardscape Design and Construction
Do you want to create an outdoor space in your backyard, your way, with custom items or additions, attributing to its beauty? When working with MetroGreenscape, our hardscape design experts can provide you with ideas and features you will not find on a shelf or in a catalog. We will custom design and build every aspect of your backyard to make it a head-turning installation. Mix and match your hardscape features to create space that's unique to your home:
Patio area

Built-in outdoor kitchen

Fire pit or outdoor fireplace

Seating walls 
And much more!
Our team will ensure you've got exactly what you want while seamlessly integrating it into your existing landscape.
MetroGreenscape: Hardscape Services in NC and SC
If you are in the market for a hardscape design in Charlotte and surrounding areas, contact us for a $99 consultation. We provide expert design, planning and construction of all our outdoor living features.
Our Custom Division provides hardscapes and landscapes for discerning clients who have their own unique style, and want this reflected in their outdoor space. While we will start with our existing designs and layouts so you understand what we are capable of, the ultimate design will allow your creativity to drive every aspect and the materials.
Our stone masonry services can provide you with a comfortable area for outdoor cooking or entertaining. We have a wide range of outdoor fireplace solutions including support for pizza ovens, community fireplaces and outdoor patio installations. We can incorporate a fireplace or fire pit design into your current property and use a range of custom building materials to help you get the most out of the installation as a whole.
Whether you have a large or small project in mind we can provide assistance with updates to your existing wall or construction of a new wall. A well-designed and constructed retaining wall can hold back rocks or soil and protect your entire landscape from runoff and erosion. Our team can provide assistance with using a variety of materials to create a functional and beautiful retaining wall for your property. We have options to suit your budget and your style preference.
Start your project in as little as two weeks with a $99 consultation. Contact us today!
When you want a custom patio, you want it to have everything that suits your unique personality. This may include a number of things from televisions and a kitchen area to a full fireplace and built-in bar.
As a hardscape design company that specializes in custom patios, we can create covered patios that can weather the elements or uncovered patios that lets you enjoy the sunshine. Regardless of what type of space you want to create, our team can help you implement your ideas and designs with a level of professionalism not often seen.
A beautiful stone or brick patio can add a lot of life to your property and really finish off your outdoor living area. Outdoor brick or stone patios can act as extra square footage as well as play host to a wide range of entertainment, dining opportunities, recreational activities, and more.
A custom stone or brick patio can not only add value to your home but they work very well at diverging water from other elements of your property. With our top-quality construction and design experience you will get the a high quality brick or stone patio installation.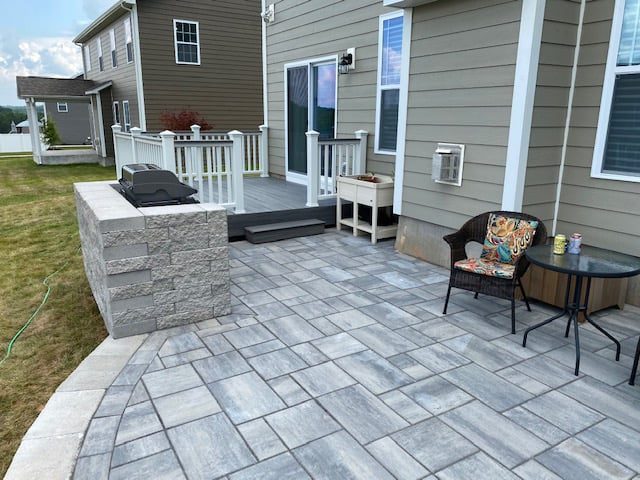 Often, when you're picturing a high end patio, a grand outdoor kitchen is part of that vision. This means a full cooktop and possibly even embedded grill and sinks.
Our team can design and install a custom outdoor kitchen that will rival many indoor counterparts. This is done by working closely with you to understand what exactly you want to use your outdoor cooking area for and designing it around those wants and needs.
We can go as big or as small as you can envision. With the help our expert designers, we can guarantee your outdoor kitchen will satisfy all of your needs.
This means we use only the top of the line products that are designed for high end outdoor cooking setups. With our experience in this area you can rest easy knowing that your outdoor kitchen elements will look as if they were meant to be in that space, nothing will look out of place.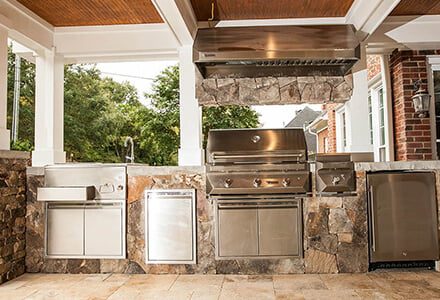 If you want an outdoor space to relax, socialize, or celebrate, a custom outdoor deck is the perfect addition to your home. The benefit of custom decks is that they can be fully customized to not only match but also enhance the aesthetic of your home.
With a variety of deck materials to choose from, including composite decking and traditional wood decking, you can create the deck to fit all of your lifestyle needs. The various options have their aesthetics, maintenance, and durability benefits.
When planning your deck, our team can outfit your design with a range of customizations, including deck railings, lighting, and built-in seating. We'll help you evaluate which customizations are right for you depending on your budget, deck materials, and overall deck size. 
When you are wanting to have an outdoor fireplace, you want something large and bold that can stand alone as a work of art in your backyard while providing you with adequate warmth for the cooler months.
We start by sitting down with you and your family to determine what type of fireplace you want. We then evaluate the space so we know how much room we have to work with. This helps us understand the scale of the individual project.
We will take your ideas for the fireplace and create a unique design that you won't find anywhere else. This is what sets our team apart. We can use materials from all over the world to create your ideal outdoor fireplace.
These generally stand out as show pieces for higher end backyard installations. While these are generally used exclusively for fires and entertaining, we can also incorporate a pizza oven to really complete the outdoor showcase.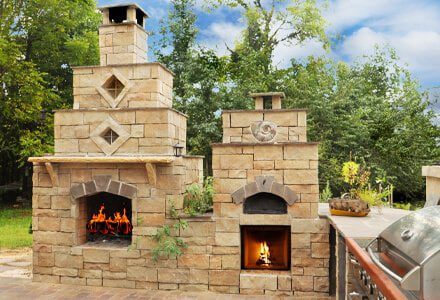 When you're looking for a relaxing, possibly secluded, fire pit you want something that really fits into your landscape and matches your existing outdoor decor.
A custom fire pit is not just a hole for burning wood, it includes a unique design from a fire pit company in Charlotte, NC that is both attractive and functional. It will also contain the seating element. The seating options can be natural or man-made but it is important that they are comfortable and able to fit as many people around the fire as possible.
The fire pit can be made of many different materials including natural and man-made stone, decorative blocks, and even sculpted concrete. The choice of material will usually be determined by the design you and our team come up with.
MetroGreenscape's outdoor fireplace contractors in Charlotte can create a fire pit and seating setup that looks as if it was meant to be in your backyard and will provide countless hours of fun and relaxation.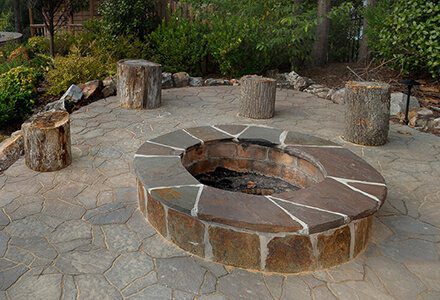 MetroGreenscape can design and install a variety of custom seating walls for homeowners in Charlotte and the surrounding area. These walls are generally around common spaces, swimming pools, and fire pits to give everyone more room to sit and enjoy themselves.
Seating walls provide unique places to sit back and enjoy conversation with friends and family members. Our seating walls can be used to accentuate your current landscaping or could be used as additional seating areas for individuals at parties, barbecues, family reunions, and other types of get-togethers.
A well designed seating wall will be both sturdy and attractive. They can blend into and flow around your landscape and complement your pool, patio, or fire pit area.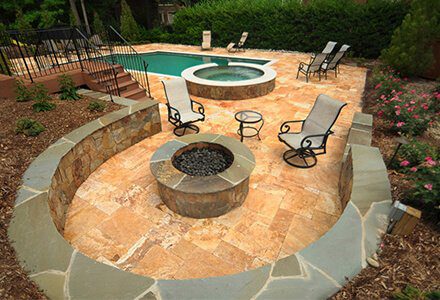 Retaining walls support soil and landscaping features so they can sit at different levels. At MetroGreenscape, we put in retaining walls for both support and landscaping, often helping homeowners create tiered planting beds with retaining walls that are both beautiful and functional.
We'll build your retaining wall with strong, aesthetically pleasing stone or brick that provides a stable foundation to hold soil and plants. We can customize the retaining wall to match your home's desired aesthetic, making it smooth or incorporating a textured overlay of bricks or stones that provide a more dynamic look.
Our team will design and build custom retaining walls that fit your outdoor space. We'll work the retaining walls into the landscape you already have to provide more room for flowers, shrubs or custom landscaping, or we can include retaining walls in a full landscape design that elevates the experience of your entire yard. If you already have hardscape elements such as patios or fireplaces, we can design a retaining wall that complement the materials that you already have or uses a complementary stone or brick for an interesting, eye-catching contrast.
Most people hire MetroGreenscape to build a retaining wall when they have a slope coming towards or away from their house and they want to extend space, or they simply have a drainage problem and do not want this continuing to hurt their home.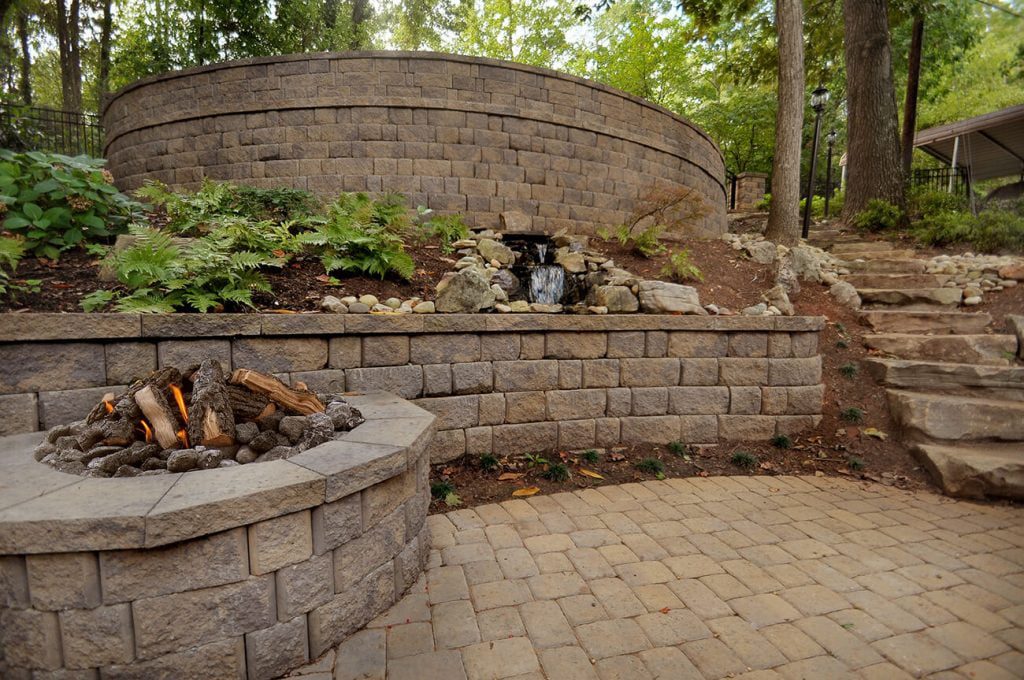 Custom Hardscape Design Example
Below is an example of one of our custom plans that we will provide you. This helps you visualize the work being completed. The custom plans are detailed and contain up to ten pages.  Ask us how you can incorporate custom landscaping into your overall backyard design as well!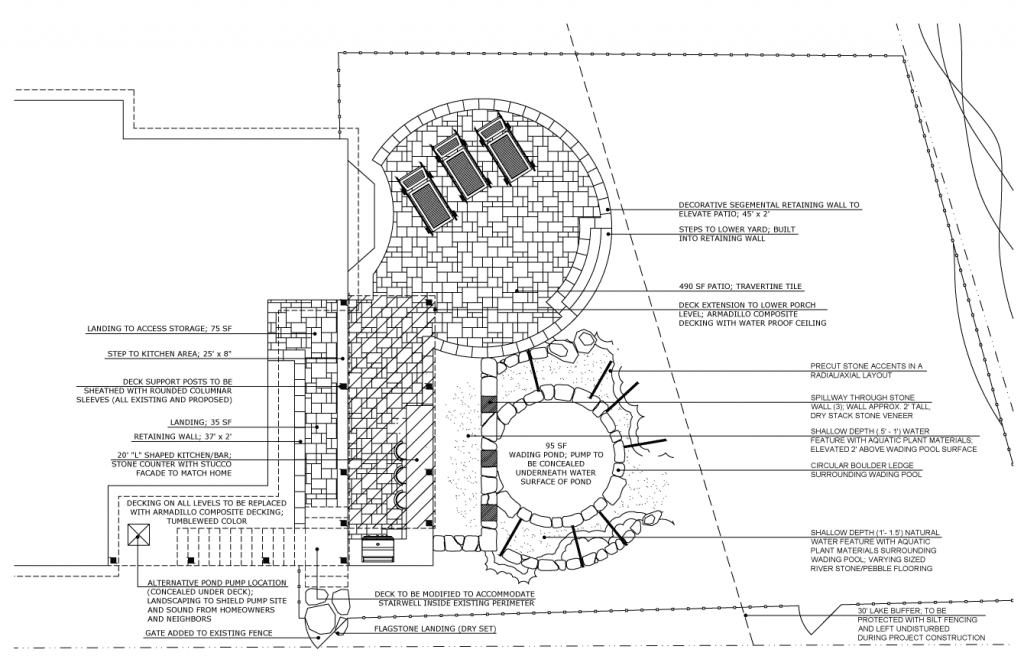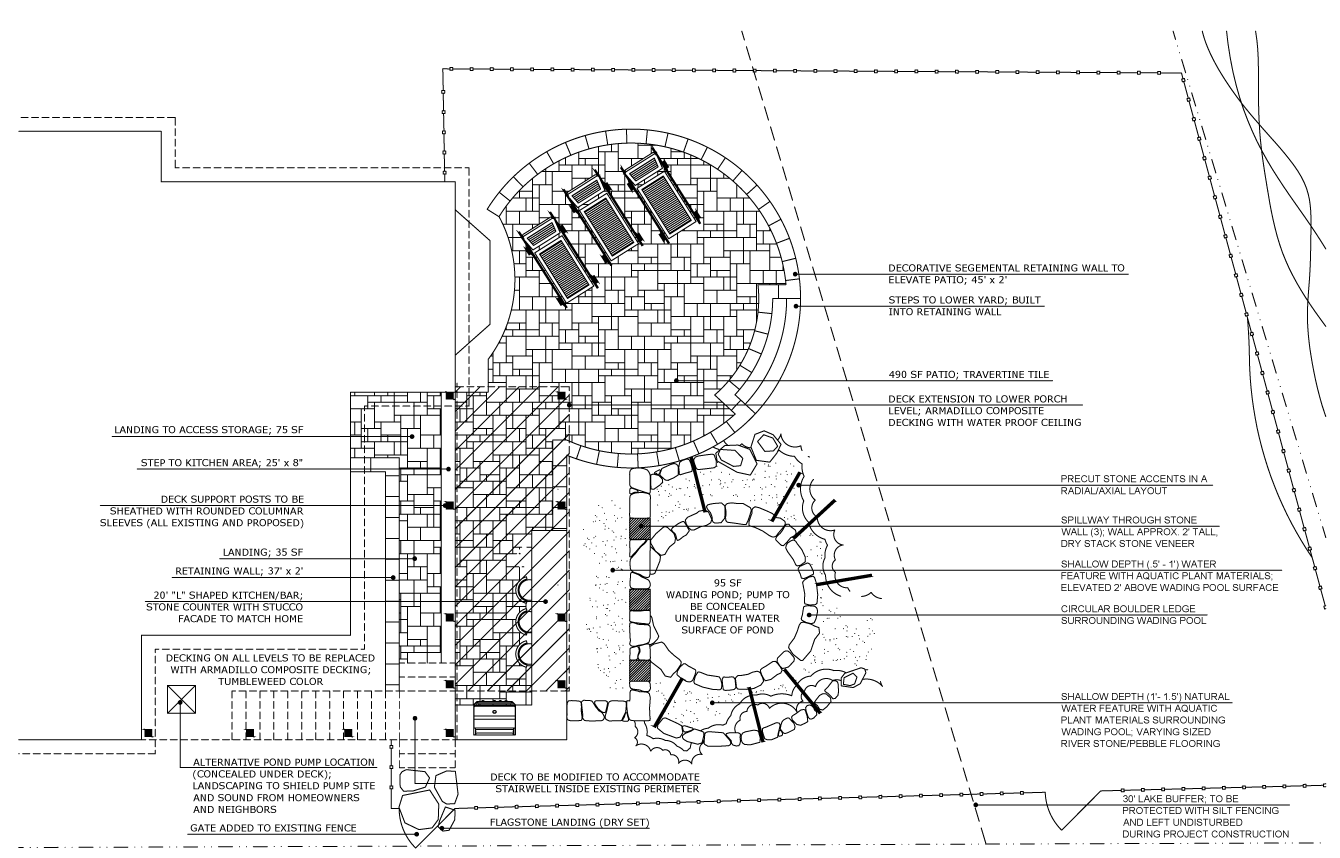 Frequently Asked Questions
What is hardscaping?
Referring to the "hardscape" of an area exterior to buildings means you are talking about the nonliving elements of the area. Hardscaping is the process of making an outdoor space more attractive by building or improving the nonliving elements. Hardscaping elements might include stone walls, patios, ponds or even a custom fire pit. Lawn service and hardscape companies like MetroGreenscape provide hardscape design and services for Charlotte home and business owners. Hardscape projects might include custom builds for water features, patios, retaining walls, walkways, fences, decks, porches and more.
What is included in a full outdoor kitchen?
A full outdoor kitchen can include anything you wish, from something simple with a grill and counter space to something more elaborate with seating for 6 people, a bar, ice chest, fridge, keg tap, smoker, built-in fire pit and so much more. If you can imagine it, we can build it.
Where can I find backyard fire pit designs that fit my space?
There are numerous websites that offer backyard fire pit designs, but there is no guarantee that they will fit your space. To find a fire pit design that works for your outdoor area, including sizing and materials that fit your existing landscape, you'll likely need to work with a professional.

Our professional services can create custom fire pit designs that can handle the spacing restrictions in your area as well as incorporate the construction materials that match your home. We also know local code and will build your backyard fit pit safely so there are no issues down the road. Our policy at MetroGreenscape is safety first!
How much does it cost to put in a patio?
Adding a patio to your home typically starts at $5,000 in Charlotte, NC, although that cost will vary significantly depending on your design, space requirements or material selection, the size of the patio you want, and the construction material you're interested in. Concrete patios are one of the most popular kinds of patio in Charlotte because they are cheap and can be installed fast. Typically, all builder concrete patios typically get replaced with stone, pavers or something more durable for the long haul that also extends the look of the inside of the house out.

For a more accurate estimate on cost, contact a hardscaping professional like MetroGreenscape. We can work with you to determine the size of the patio you want and the best material for your space, which will help us give you an accurate estimate. Start by thinking about how many people you want in the space during your largest gathering and we can determine size from there.
How much does a backyard renovation cost?
Backyard renovations can cost anywhere from $10,000 to tens of thousands of dollars depending on your space and the type of renovation you want. A good rule of thumb is to budget 10% of the value of your home for a brand new renovation.

Actual costs will vary based on what you want to include in your renovation, such as tearing out existing landscaping and hardscaping to put in a custom patio or deck, fire pit, an outdoor kitchen, seating walls or other hardscape design features. At MetroGreenscape, we start every renovation with the end in mind. We'll evaluate your space and discuss what you envision to be the backyard of your dreams, as well as any budget concerns you have. From there, we can provide a more accurate estimate of your renovation costs or even offer 0% financing to make this payment schedule work for your budget. We are here to help!