Follow Our Easy 3-Step Process
Schedule a time for one of our pros to evaluate where you want your desired outdoor kitchen project.
Schedule a consultation today!
Ready to build your dream outdoor kitchen? To make your vision a reality, our process begins with a one-on-one consultation. We'll answer your questions and provide suggestions for a successful project.
Learn more about our consultation process or go ahead and book yours today!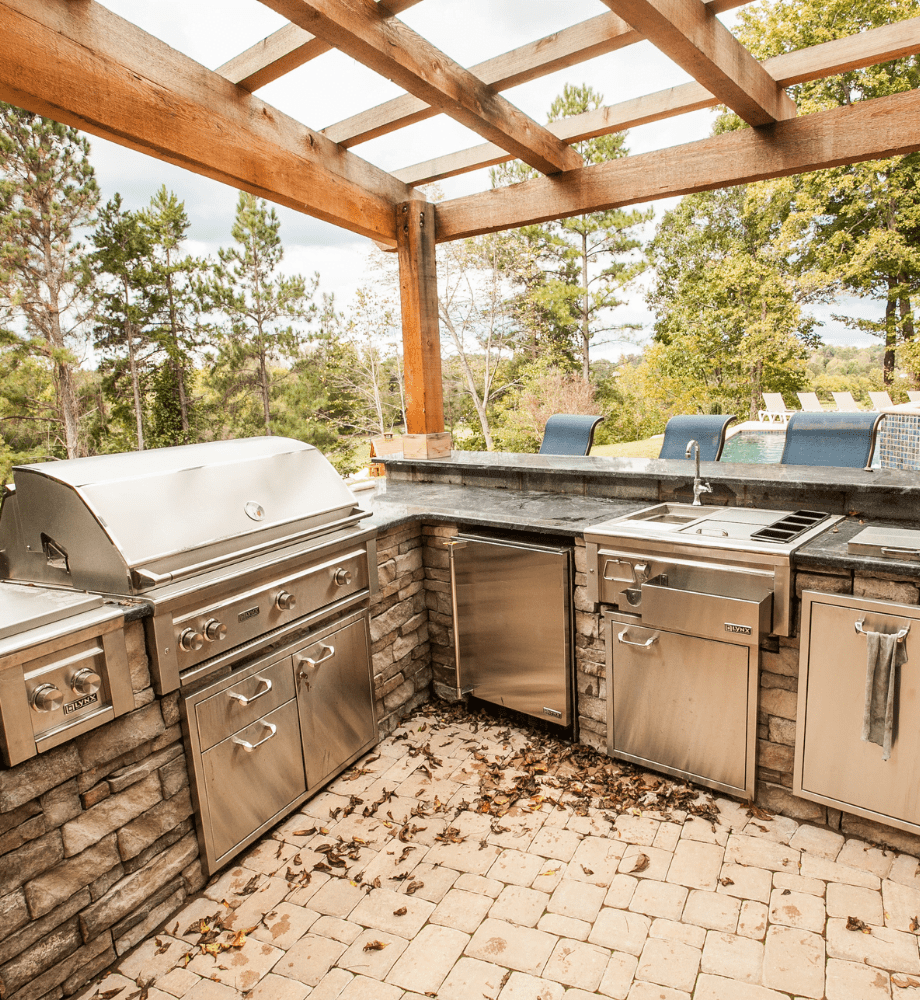 Benefits of an Outdoor Kitchen
One of the biggest benefits of an outdoor kitchen is that you can customize it to meet your needs and suit your space. From outdoor refrigeration to extra storage to outdoor furniture, whatever you want, MetroGreenscape can make it happen for you. Other benefits include:
An Extension of Your Living Space
An outdoor kitchen brings the comfort and convenience of a kitchen into your backyard. Essentially, it's a bonus room dedicated to cooking, entertaining and relaxing.
Lower Energy Costs
When you move your cooking outdoors, your AC does not have to work overtime to cool your house to alleviate the heat that is generated when cooking indoors.
Convenience
Outdoor kitchens are a dream come true. With an outdoor kitchen, outdoor food preparation has never been easier. Food moves easily from the refrigerator to the countertop to the grill, all within steps of each other. Storage features allow you to store everything you need, from cookware to dishes to serving utensils, all within easy reach.
Versatility
Outdoor kitchens often feature built-in grills, but that is just the beginning. Your outdoor kitchen may include additional outdoor kitchen appliances and features such as:
BBQ smokers
Kamado grills
Pizza ovens
Rotisserie
Teppanyaki grill
Flat-top grill
Side burners
Sinks
Kegerator
Wine cooler
Bar center
Trash compactors
Enclosed pantry
Outdoor TV
Outdoor speakers
Patio Heater
Outdoor fans and cooling
Patio furniture
Griddle
Beverage cooler
Ice maker, ice bins and coolers
It's your outdoor kitchen. You decide what you want, and we'll work with you to make it happen. We've worked with countless families in our area who've turned dreams into reality, and we pride ourselves on a low-stress, smooth process.
Great for Entertaining
Outdoor entertaining will never be easier than in a kitchen that has been professionally designed and installed by MetroGreenscape's skilled outdoor kitchen contractors. Additional features can be added to your outdoor living area such as:
Built-in seating
Water features
Fireplace
Firepit
Pergola
Arbors
Our designers will help you pick out everything you need to create the perfect spot to entertain family and friends.
Improved Quality of Life
There are many health benefits to being outdoors and breathing fresh air. Preparing food outside is more relaxing than inside food prep, and outdoor cooking often leads to cleaner and simpler eating. Plus, the enriching experience of spending quality time with friends and family just can't be overlooked. When you have an outdoor living space that includes all the conveniences of an outdoor kitchen, you've created luxury and improved your quality of life.
Save Money on Dining Out
Once you've mastered the perfect steak on the grill, you may never visit a steakhouse again. And, with a built-in pizza oven, you won't have to call delivery for your family pizza nights.
Schedule Consultation ›
Build a Dream Backyard Living Area and Outdoor Kitchen
The living area in your home's backyard should reflect who you are just as much as your home's interior. Begin your project by calling the professionals at MetroGreenscape – your place for everything outdoorsy. Our outdoor kitchen contractors and designers will work with you to create a dream backyard living space that you'll enjoy for years to come. Take a look at some of our completed projects for a bit of inspiration into what your outdoor kitchen may look like.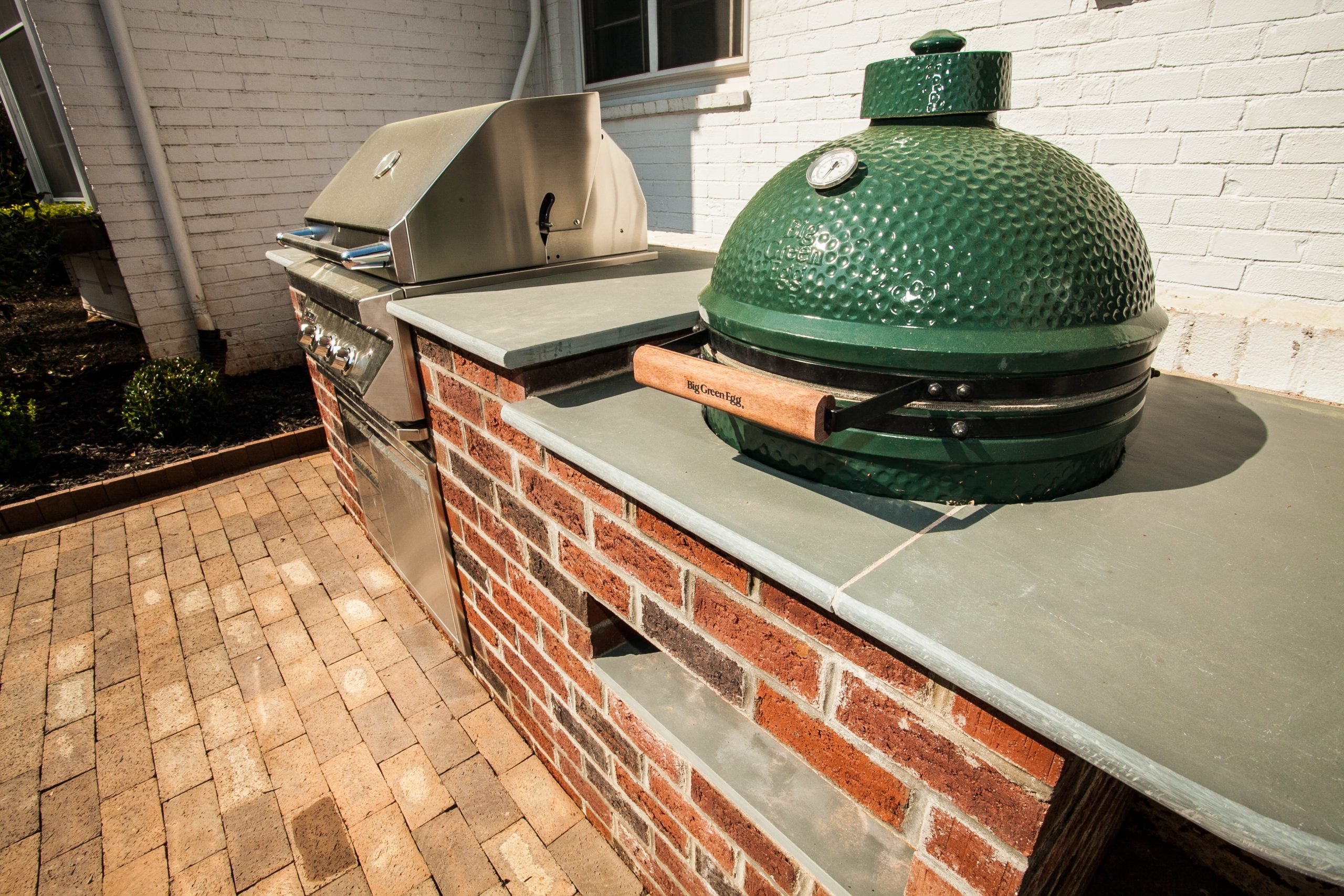 Why Choose MetroGreenscape
Our design experts and outdoor kitchen contractors will design and install the outdoor kitchen of your dreams, one that rivals many indoor kitchen installations. We begin with an in-depth consultation to understand the wants, dreams and desires that you have for your outdoor kitchen. Then, we work closely with you to create the perfect kitchen design. Lastly, our outdoor kitchen contractors bring your dream to life, carefully building it to your specifications.
Your MetroGreenscape outdoor kitchen contractor and designers only consider top-of-the-line products when designing and building your outdoor living space. We'll provide you with features and ideas you won't find in a catalog or on a shelf. Best of all, we guarantee that your outdoor kitchen will be built to last, providing comfort and memories for many years to come.
Schedule Consultation ›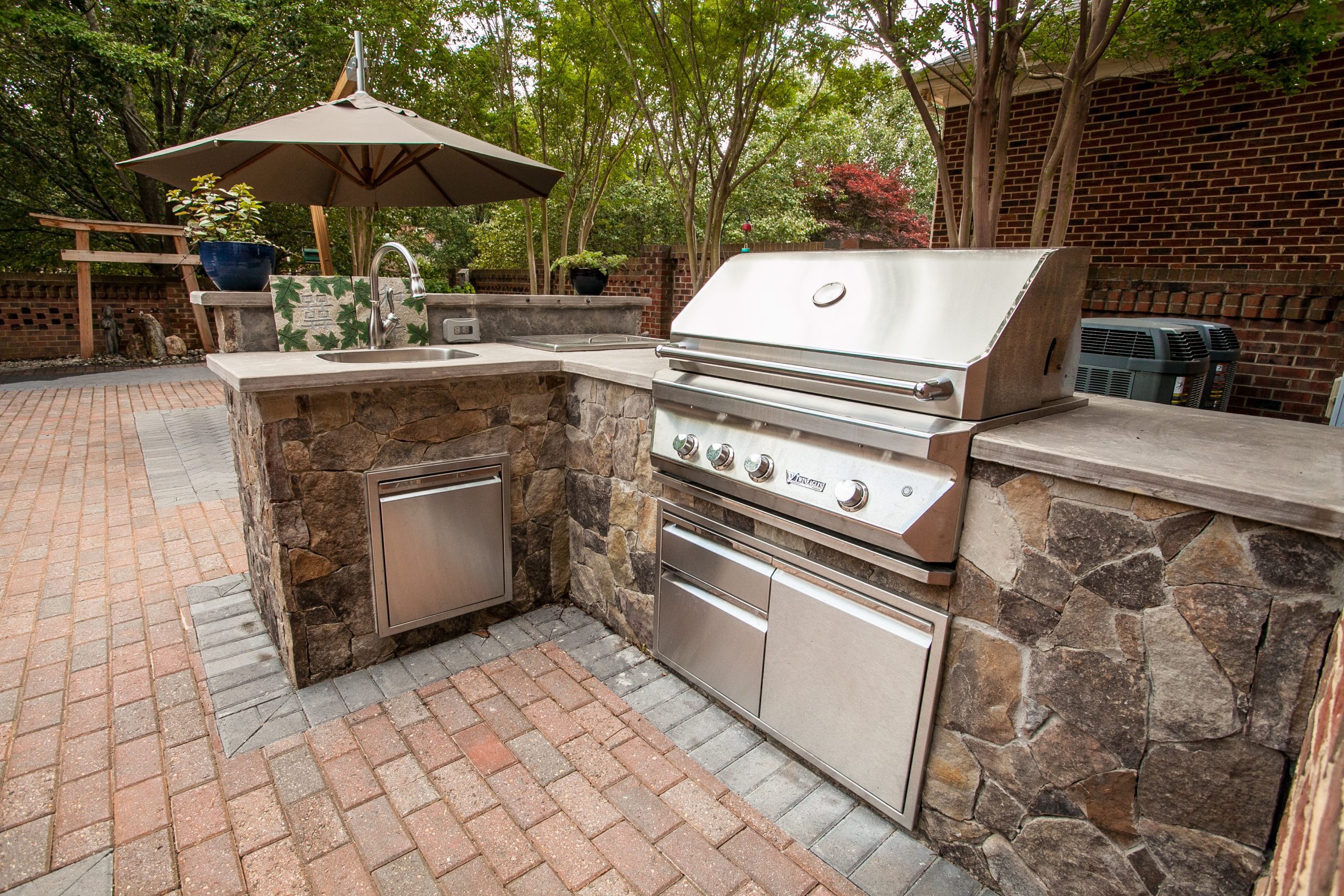 Ready to Add an Outdoor Kitchen?
You work hard, so why not play hard, too? With an outdoor kitchen, you'll have a place where you can unwind and relax year-round, right in your own backyard. An outdoor kitchen can be for more than just food preparation. It's also a place where you can enjoy the convenience of a bar, wine cooler, or kegerator. With the addition of heating and cooling features, you'll have even months in the year to create memories in your outdoor kitchen and living space.
Schedule Consultation ›
How We Can Help
Add-on Services to Complement Outdoor Kitchens in Charlotte
Whether just a weekly lawn mowing, or an entire custom patio, kitchen and outdoor living space we have a skill set in project management to ensure.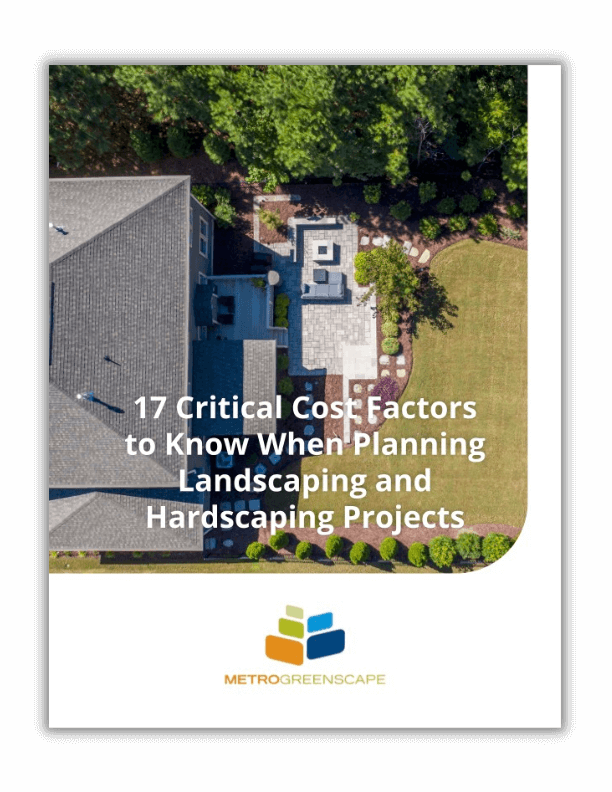 Download Our Free Guide: How to Plan Your Project
Discover 17 critical cost factors you should know while planning your next landscaping or hardscaping project.
Step 1:  Fill out this form and get the guide
Step 2:  We'll email you the PDF.
Step 3:  Learn everything you need to know about planning your project.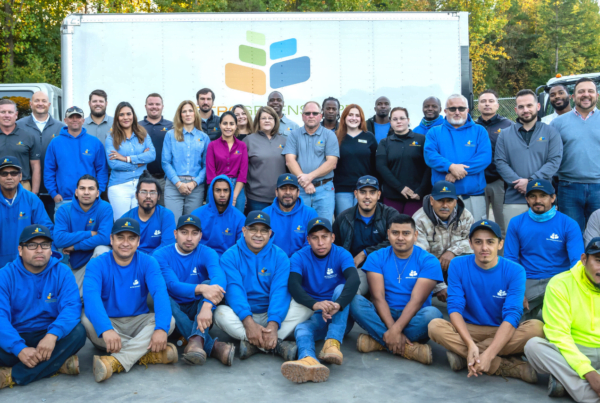 Looking for landscaping jobs Charlotte, NC? MetroGreenscape was recently honored as one of the top…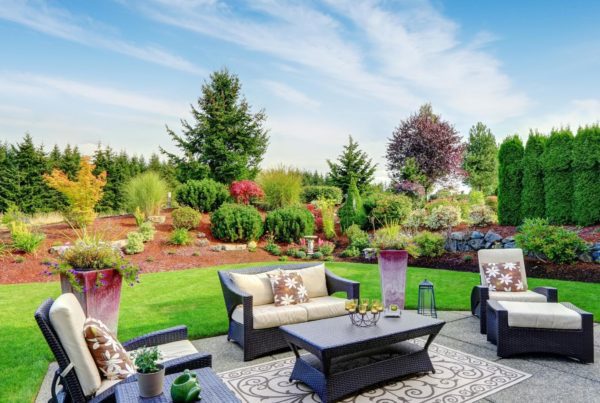 Many Charlotte homeowners schedule outdoor remodeling projects across the span of several years. One spring,…