Follow Our Easy 3-Step Process
Schedule a time for one of our pros to evaluate where you want your desired retaining wall project.
Request a consultation today!
Initial consultations $99
Retaining walls play an important role in creating your dream landscape. To begin building one in your backyard, schedule a consultation. One of our retaining wall experts will evaluate your space and make recommendations.
Learn more about our consultation process or go ahead and book yours today!
Designing Your Retaining Wall
Retaining walls are practical and sometimes a necessity for your yard—but that doesn't mean they can't be beautiful, too. At MetroGreenscape, our expert retaining wall builders work with you to design a retaining wall that solves the problems you're facing and beautifies your yard. 
There are many options for designing your retaining wall. Timber walls are inexpensive, but they may gather moisture and deteriorate over time. For a more modern look, we can build a retaining wall with interlocking blocks or poured concrete. If you're all about charm and character, consider natural stone. Together we'll come up with a plan for a retaining wall that holds back soil, allows for ample drainage, and lasts a lifetime. 
Schedule Consultation ›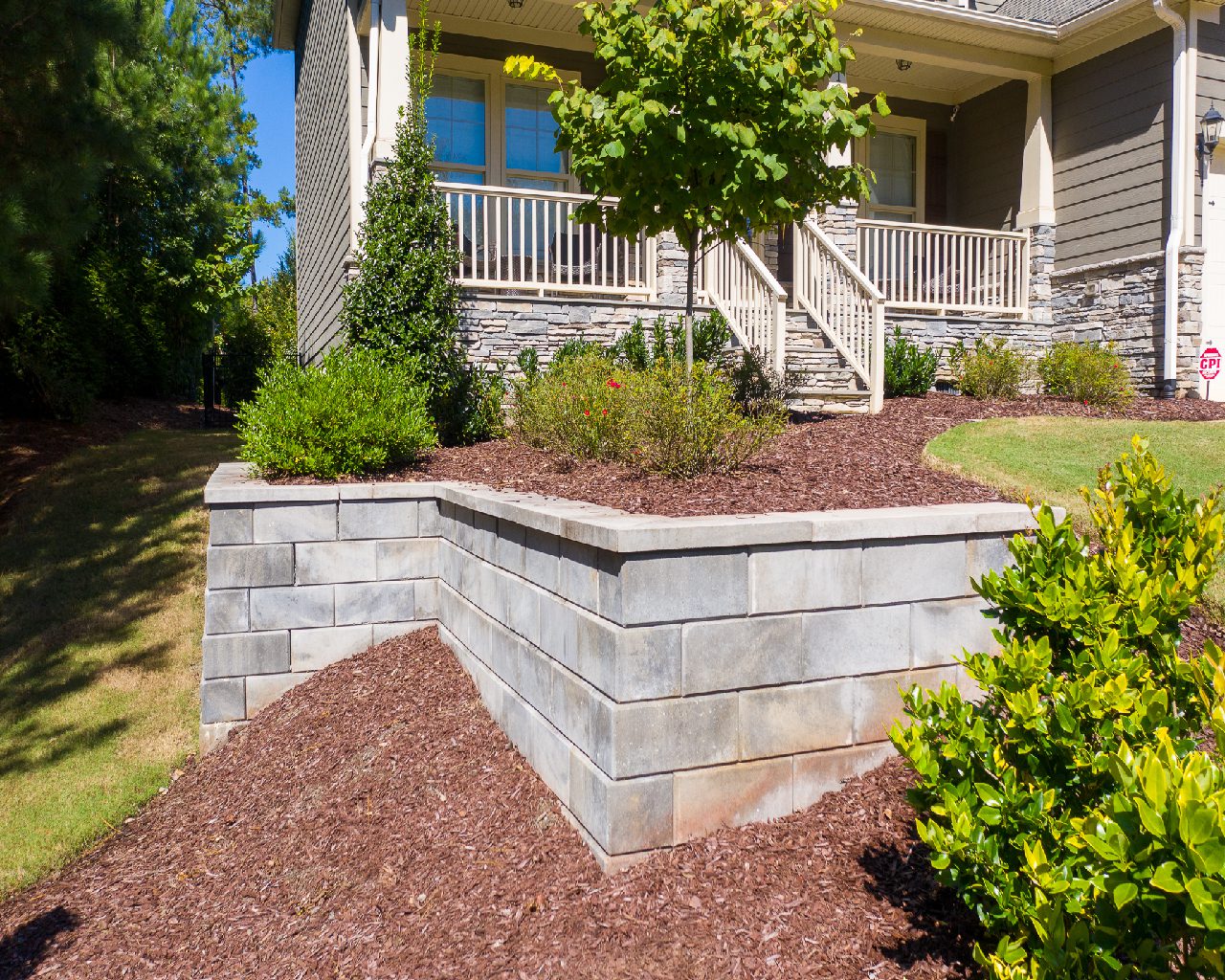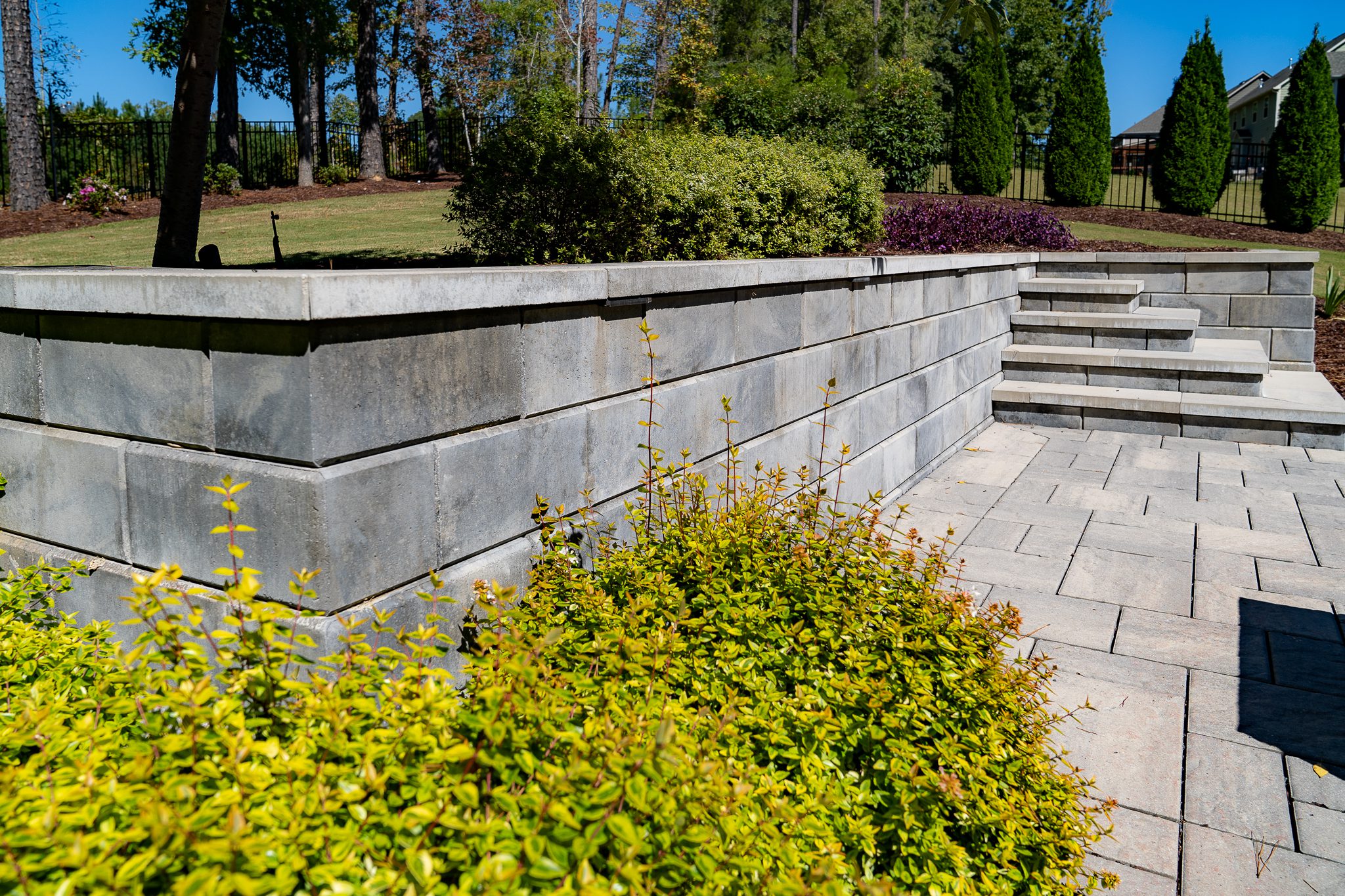 Our Process: Building Your Retaining Wall in Charlotte
Retaining wall construction requires a unique combination of architecture, physics, and landscaping knowledge, and that's just what MetroGreenscape brings to each retaining wall project. We work closely with our clients every step of the way to ensure they're pleased with the final product. 
Throughout our process, our retaining wall contractors consider the different elements that go into the functionality and aesthetics of your retaining wall, including: 
Location

: We consider property lines, utilities, slope, drainage patterns, and surcharge loads (the additional weight of objects above the retaining wall). 

Soil

: We need to understand the soil—including the type, bearing capacity (how much weight it can support), stress parameters, and its friction angle (how it will resist movement)—to ensure it offers the strength needed to support the wall. 

Drainage

: When retaining walls fail, it's usually because of poor drainage. That's why we prioritize drainage in all of our retaining wall designs. 

Design

: While the safety and functionality of a retaining wall is our priority, we design each project to meet our client's expectations and yard goals. 
Once we perfect our plan and break ground, our retaining wall builders work efficiently and thoroughly to build your retaining wall. With decades of combined experience, our craftsmen all understand the different elements of every retaining wall in order to execute our plan and ensure your retaining wall is built to last. 
Schedule Consultation ›
Retaining Wall Costs
Every retaining wall is unique and is designed to specifically address the needs of the landscape, its problems, and the homeowner's desires. Because each project is unique, so is its cost, which can vary based on: 
The slope being addressed

Challenges in location, like utilities and property lines

The underlying soil and its bearing capacity

The materials used to construct the wall 

The need to incorporate additional drainage or design elements
Our experts can work with you one-on-one to discuss the plans for your retaining wall hardscaping, including the materials, size, and intent of your project. Once we come up with a game plan, we're happy to provide an estimate for the cost of your retaining wall. 
Interested in building a retaining wall? Contact our retaining wall landscaping company today, and we'll work with you to put together an estimate for just $99. 
Schedule Consultation ›
Whether just a weekly lawn mowing, or an entire custom patio, kitchen and outdoor living space we have a skill set in project management to ensure.
Retaining Walls Frequently Asked Questions
What are the benefits of a retaining wall?
The greatest benefit of retaining walls is that they prevent erosion. If you have a lot of sloped land in your yard, retaining walls can level areas of your yard to provide more usable land. Retaining walls also address drainage issues and provide beauty and dimension to yards.
How do I incorporate a retaining wall into my steeply graded property?
A terrace pattern—which has been utilized in landscaping for eons in places like South America—is a great approach when it comes to building retaining walls on steeply graded land. MetroGreenscape has experience building retaining walls on severe slopes and can help you identify the perfect solution.
Are retaining walls bad for the environment?
No, retaining walls are not bad for the environment! In fact, it's quite the opposite. Retaining walls can manage runoff by slowing the flow of rainwater. Rather than send polluted street water into local rivers, a retaining wall can redirect rainwater into landscape features.
How long will it take to build a retaining wall?
The time it takes to build a retaining wall depends entirely on the project. The size, slope, and challenges of your lawn will all contribute to the timeline of your retaining wall construction. Retaining wall contractors in Charlotte can work with you to assess your yard and expectations and put together a timeline estimate for your project.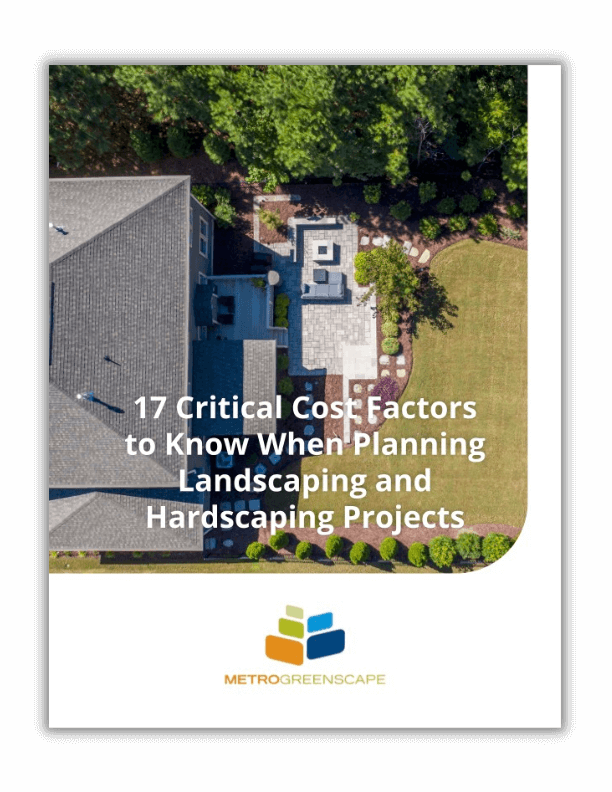 Download Our Free Guide: How to Plan Your Project
Discover 17 critical cost factors you should know while planning your next landscaping or hardscaping project.
Step 1:  Fill out this form and get the guide
Step 2:  We'll email you the PDF.
Step 3:  Learn everything you need to know about planning your project.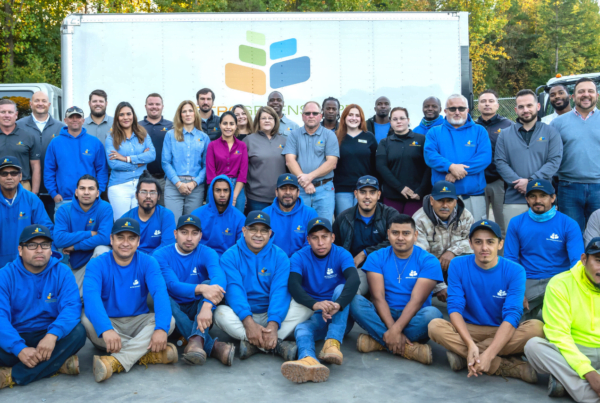 Looking for landscaping jobs Charlotte, NC? MetroGreenscape was recently honored as one of the top…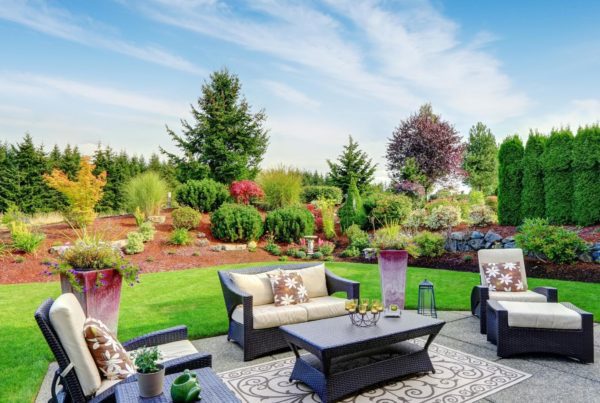 Many Charlotte homeowners schedule outdoor remodeling projects across the span of several years. One spring,…