METROGREENSCAPE
everything lawn care
Full-Service Lawn Care in Charlotte, NC
Anyone with a yard knows that lawn care and landscaping can be stressful. It takes time and effort to create a beautiful lawn, especially with the rain and humid climate in Charlotte and its surrounding cities. Lawn mowing needs to be done weekly, especially in the warm summer months, and you need to fertilize and aerate your lawn at the right time of year to create an outdoor space you can enjoy year-round.
MetroGreenscape's Charlotte full service lawn care services take all those tasks off your plate. We handle all aspects of lawn care so you can simply relax and enjoy your outdoor space with family and friends.
As a small, local business our team lives and works in the Charlotte, Rock Hill, and Fort Mill areas. We know exactly what yards in the south need to thrive so they're beautiful and functional spaces for you and your family. With our lawn care package, you'll receive lawn mowing services, fertilization, aeration, and weed and pest control for your yard, so you don't have to worry about a thing.
Annual Lawn Care Packages
When a member of our team is working with your yard, it means we've got a personal stake in how your outdoor space looks. We take great pride in making sure your lawn and landscape are as healthy as they can be.
We have a variety of lawn care services designed to meet the individual needs of your property. All our services include lawn mowing and services to keep your grass healthy, including lawn treatments when your grass needs a little extra boost. You can also add some extra services onto your base package so your lawn gets the care it needs.
MetroGreenscape Lawn Care Services List
MetroGreenscape offers two main lawn care packages in Charlotte, each of which can be customized to your property's unique needs.
Our lawn care services start at $300/month and provide top of the line care and maintenance for your landscape and grass. Each package is individually adjusted to meet the needs of your family and your home. 
Custom Charlotte Packages
Learn more about our landscape maintenance services including pruning, mulching and needles, leaf removal, and seasonal maintenance.
Expertise and Seasonal Needs
The best lawn care services adapt to meet the needs of the seasons. At MetroGreenscape, we have both cool and warm season services that are designed to enhance the soil structure and produce a dense, healthy root system for overall sustainability. 
From our staff, you will have access to years of seasoned knowledge in the turf industry to assist in having the best lawn in town. We understand that throughout the year different types of grasses will require different types and amounts of care. Whether this is fertilizer or weed prevention products, we know what needs to go down and when it needs to be applied to properly prepare your lawn for the upcoming seasons.
When your lawn is properly primed in the fall for the winter, you will notice it getting healthy and green faster in the spring. The same goes for appropriate care in the spring for the upcoming summer season.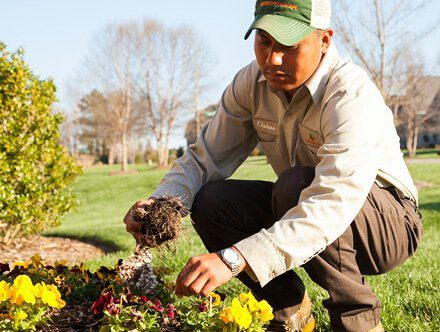 Charlotte Lawn Care Services
Our Charlotte lawn mowing service will take care of your grass and the area around your outdoor landscaping. Regardless of the type of grass or groundcover you have, our team will keep it in peak health.
During the cool season, our lawn cutting service will take care of your grass every one to two weeks, depending on the needs of your lawn. In the warm season, when grass is growing quickly, we'll mow your lawn every week, ensuring grass is cut to the optimal height. For most neighborhoods, that's between two and four inches, depending on the type of grass and HOA regulations.
To ensure your lawn is healthy and reduce the amount of waste we send to landfills, our team will use mulching lawn mowers instead of dump bag mowers. Mulching lawn mowers spread grass clippings evenly throughout your yard, returning nutrients to the soil without allowing cut grass to build up in any one area.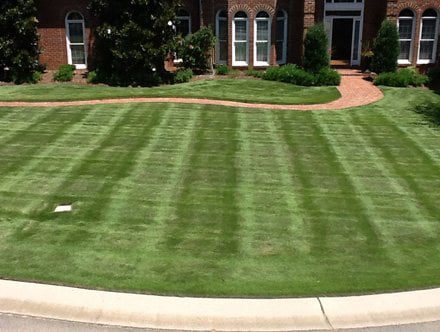 Aeration is important to create a healthy yard. When you aerate your lawn, you reduce soil compaction and allow nutrients to cycle through the soil to the roots of your grass. Since it helps nutrients move through your soil to where they're needed, lawn aeration is often described as allowing your lawn to "breathe."
MetroGreenscape does Charlotte lawn aeration at different times depending on the type of grass in your yard. In most cases, we aerate in early or late spring, when your grass is growing well and can recover from the aeration process, but before the peak of the growing season.
It's natural for grass to thin over time, especially in yards where homeowners enjoy spending time with kids or pets, or entertaining family and friends. Seeding your lawn can help reduce thinning and ensure you have a full, lush yard full of grass that enhances your home's appeal and is perfect for spending time outdoors.
With MetroGreenscape's professional lawn care services, you don't have to worry about seeding. Our experts will evaluate your lawn every time they mow or do maintenance tasks, noting any areas that are thinning. When it's the right time of year to seed, they'll take care of any problem areas so you never have bare patches of grass. In most cases, we'll reseed areas of your lawn every two to three years, sometimes more frequently depending on the amount of activity your lawn sees.
Fertilizing your lawn ensures grass has essential nutrients that may otherwise be washed away by Charlotte's rainstorms. The best lawn care companies offer multiple types of fertilizer so you can decide which will meet your needs.
At MetroGreenscape, we offer high-quality lawn fertilizer designed  to provide your lawn with the nutrients it needs. We'll help you choose the best fertilizer for your yard and evaluate your lawn's health and the seasonal conditions to determine the best time to apply the fertilizer. In most cases, we fertilize Charlotte lawns in early spring.
Weed Control & Fungus Treatments
North Carolina's humid climate makes it easy for weeds and fungus to invade your lawn. Once they take up residence, weeds and fungus can be hard to get rid of, affecting your enjoyment of your lawn.
Our local lawn care services include weed and fungus treatments as needed, so you don't have to worry about the health of your grass. We'll evaluate your lawn's health every time we provide lawn or landscape maintenance services. If you need weed or fungus treatment, we'll make sure it's taken care of quickly so you can continue to enjoy your yard. 
Sod is a quick and easy way to cover your yard with grass. MetroGreenscape can install sod as part of our residential lawn care services in Charlotte, preparing the soil and installing the sod so the grass takes root. After sod installation, we'll provide regular lawn care so your new grass grows into a healthy lawn with a deep root system.
Sod installation is ideal for businesses, new homes, and homes that have landscaping or hardscaping projects that have affected their lawns. If you're interested in a project, contact MetroGreenscape for more information. Our landscape and hardscape professionals can help you plan and create the perfect outdoor space while ensuring your lawn stays healthy.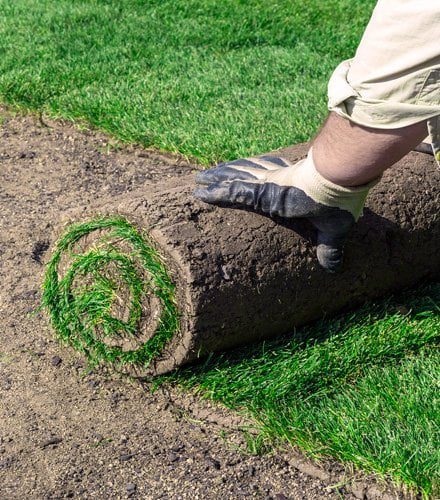 Frequently Asked Questions
Is the best time to fertilize your lawn before or after rain?
In many cases, the most effective time to fertilize is when you don't expect any rain for two to three days. At this time, you should fertilize, lightly water your lawn, and let the fertilizer sink into the soil. If you must fertilize around rain, you should fertilize before a light rain, but after heavy rain. Light rain can perform the same function as watering your lawn after you fertilize, helping the fertilizer penetrate the soil. Heavy rain, however, can wash away fertilizer.
Will watering dead grass bring it back?
If your grass is dead, watering it will not bring it back. You need to reseed your lawn or prepare it for sod installation instead. MetroGreenscape's lawn care services can help with both these tasks.
However, it's possible your grass isn't actually dead. During dry periods, grass may turn brown but not be dead. If it's been less than six weeks since your grass turned brown, you can try watering it and the moisture may stimulate the live roots to start growing new grass.
Why is my grass dying in patches?
Grass may die in patches for several reasons, including disease or fungus, too much fertilizer being laid down in certain areas, or even improper lawn mowing. Lawn care companies like MetroGreenscape can help prevent dead patches in your grass by ensuring lawn cutting services are done properly, along with even fertilizer application during the proper season. If your grass is dying from a fungus or other disease, we will provide control methods to eradicate the problem, then reseed the dead patches of grass so your lawn is full and beautiful again.
Why hire a lawn care service in Charlotte, NC?
Most homeowners hire lawn care services for one of two reasons: convenience or expertise. A lawn care service can greatly improve your life and make owning a home far more convenient. You no longer need to know your lawn or watch for common diseases or pests. With lawn care services, homeowners can simply enjoy their outdoor spaces without the usual lawn maintenance.
Lawn care service providers also have more expertise than most homeowners. In Charlotte, professional lawn care companies understand how North Carolina's heat and humidity affect lawns and the drainage problems that come with high amounts of spring rain. That expertise helps keep your lawn healthier and free from diseases and pests.
How much does lawn care cost per month?
Lawn care typically costs between $300 and $500 per month. That includes weekly lawn mowing and trimming along with other essential maintenance. However, the average cost of lawn care in Charlotte and around the country will vary greatly depending on what services are included, as well as their frequency. For example, lawn care and maintenance that doesn't include landscape maintenance will be less expensive than a combination package.