METROGREENSCAPE
everything pools
Now that you've got a great yard and the space for a pool, the finishing touch to making your home an ideal place for your family is a custom designed swimming pool. MetroGreenscape designs, builds, and installs custom swimming pools for homeowners in Charlotte, NC and the surrounding area. Our swimming pools will undoubtedly add beauty, value, and endless fun to your property.
One of the most requested outdoor living projects is the addition of a new pool and surrounding spaces. A pool is what literally transforms an outdoor living space into a "staycation" paradise and entertainment haven. Nothing can add more value on the outside of your home than an outdoor pool. The beauty of a well-designed pool and surrounding area truly is a gift that can give you enjoyment year after year. The sight of a clean pool with beautifully-designed spaces surrounding it is the best invitation you can have on a hot summer's day!
Our initial consultation is $99.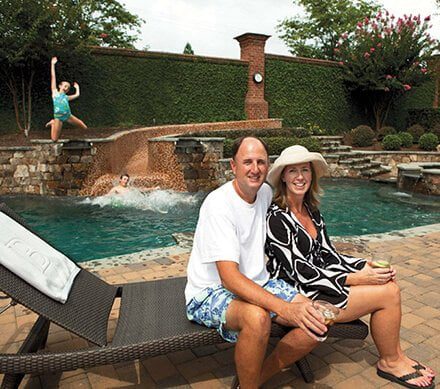 Our pool and outdoor living development team work closely with you to ensure that the design, construction and completion stages are on schedule and in budget. We are conscious of all required permits, inspections and special water and plumbing requirements that a pool installation project demands. Since we are outdoor living specialists, we also understand where to properly place a pool in association with varying property grades and circumstances. We can then make the area around the pool a true showplace, and functional outdoor living space for your family to enjoy.
When you decide to have us create your swimming pool, in addition to permitting and inspections, we will take care of all the extra necessities including excavation, pool decking and coping, and fence installation to keep the area safe.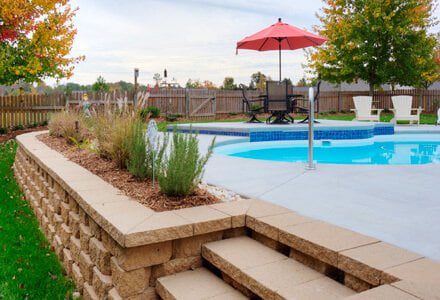 Below is an example of one of our pool plans that we will provide you. This helps you visualize the work being completed. The pool plans are usually up to 10 pages and are detailed enough for you to see the pool and any landscaping changes that will be made around your home.
Pool Plans starting at $3000.00