Follow Our Easy 3-Step Process
Schedule a time for one of our pros to evaluate where you want your desired hardscape project.
Request a Consultation Today
To deliver exceptional results, it's critical that we are on the same page as our clients. That's why, in addition to our audits, we also start every project with a one-on-one consultation. 
During the consultation, we'll discuss your vision and how to make it happen. By ensuring that we are in alignment with your vision, we can start the project off strong.
Learn more about our consultation process or go ahead and book yours today!
What Are Landscape Quality Audits?
Each quarter, a skilled Client Care Manager will spend 30-60 minutes walking through your property with you.
As a skilled landscaping professional, the Client Care Manager can quickly identify potential issues, like turf fungus or improper site drainage, and create a plan of action to address them during future visits.
The landscape quality audit is also an opportunity for you to ask questions and present concerns. For example, you may prefer that we adopt a more natural approach to pruning shrubbery. Or, you may want to be notified before we apply pesticides. Since no two clients are the same, we pride ourselves on offering a fully-customizable landscaping experience.
Book Consultation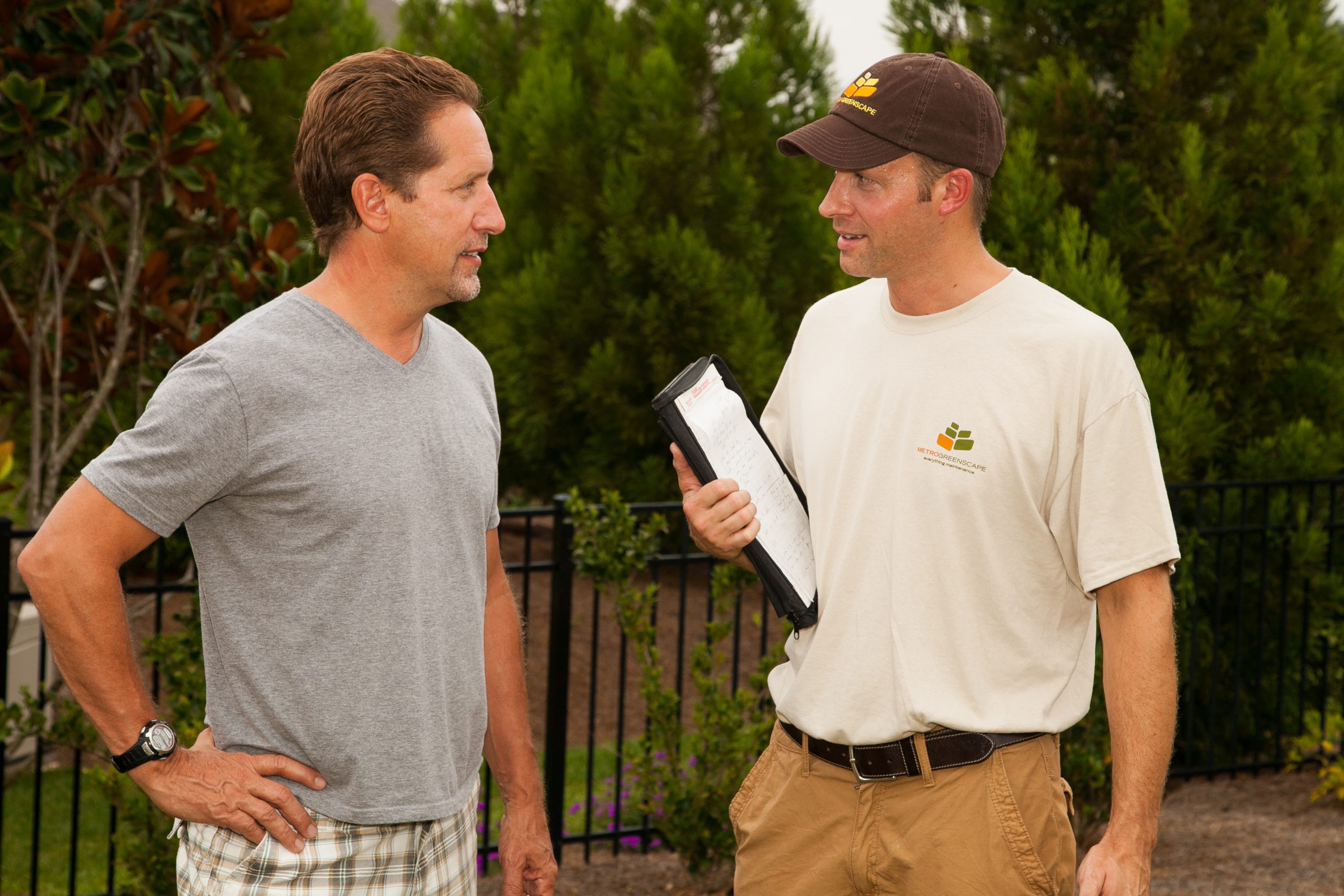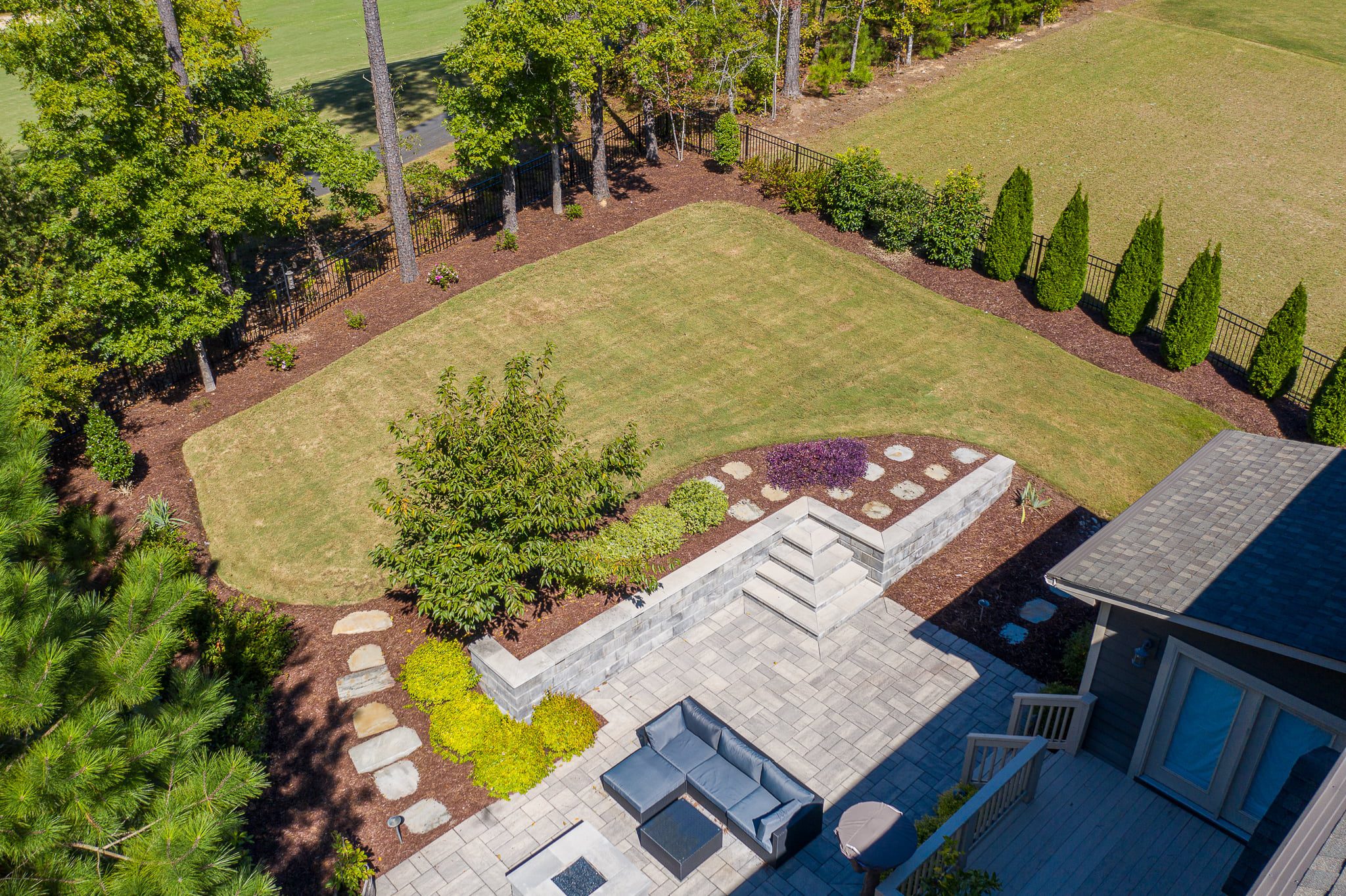 What Our Charlotte Landscape Quality Audits Evaluate
The Client Care Managers at MetroGreenscape are landscape maintenance experts who are trained to evaluate each property based on specific metrics.
Examples of these metrics include:
Turf Health:

When analyzing turf health, a Client Care Manager will look for patchiness, yellowing, browning, and other signs that indicate disease. In cases where a yard is continuously problematic, we can also recommend a plan for artificial turf installation.

Plant Health:

Client Care Managers monitor each plant on your property, searching for symptoms of pest infestations, blight, and other problems. 

Hardscape Appearance:

Your patios, paths, poolscapes, and other outdoor living spaces are of interest as well. A Client Care Manager may, for instance, note that a flagstone paver is cracked or that there is leaf debris on the sidewalks. 

Irrigation System Effectiveness:

To ensure that water is being distributed evenly throughout the yard, a Client Care Manager will pay close attention to the dryness of your soil. 

Overall Tidiness:

Aesthetics matter. That's why our Client Care Managers have a keen eye for stray weeds in garden beds and bushes that need pruning.
Book Consultation
How Often Are Landscape Quality Audits Performed?
We schedule landscape quality audits on a quarterly basis so that a Client Care Manager can visit your property in winter, spring, summer, and fall. During these visits, the Client Care Manager can help you understand the seasonality of landscaping and therefore the value of your annual service contract. 
In wintertime, for instance, attention is directed away from regular mowing and refocused on pruning. Come springtime, turf management picks up as does planting and mulching.  
Though most MetroGreenscape clients receive four quality audits per year, you can always request more visits. After all, we want to create a beautiful outdoor space that suits your needs. 
For more information on our audits, schedule a consultation online or call 704-486-5095.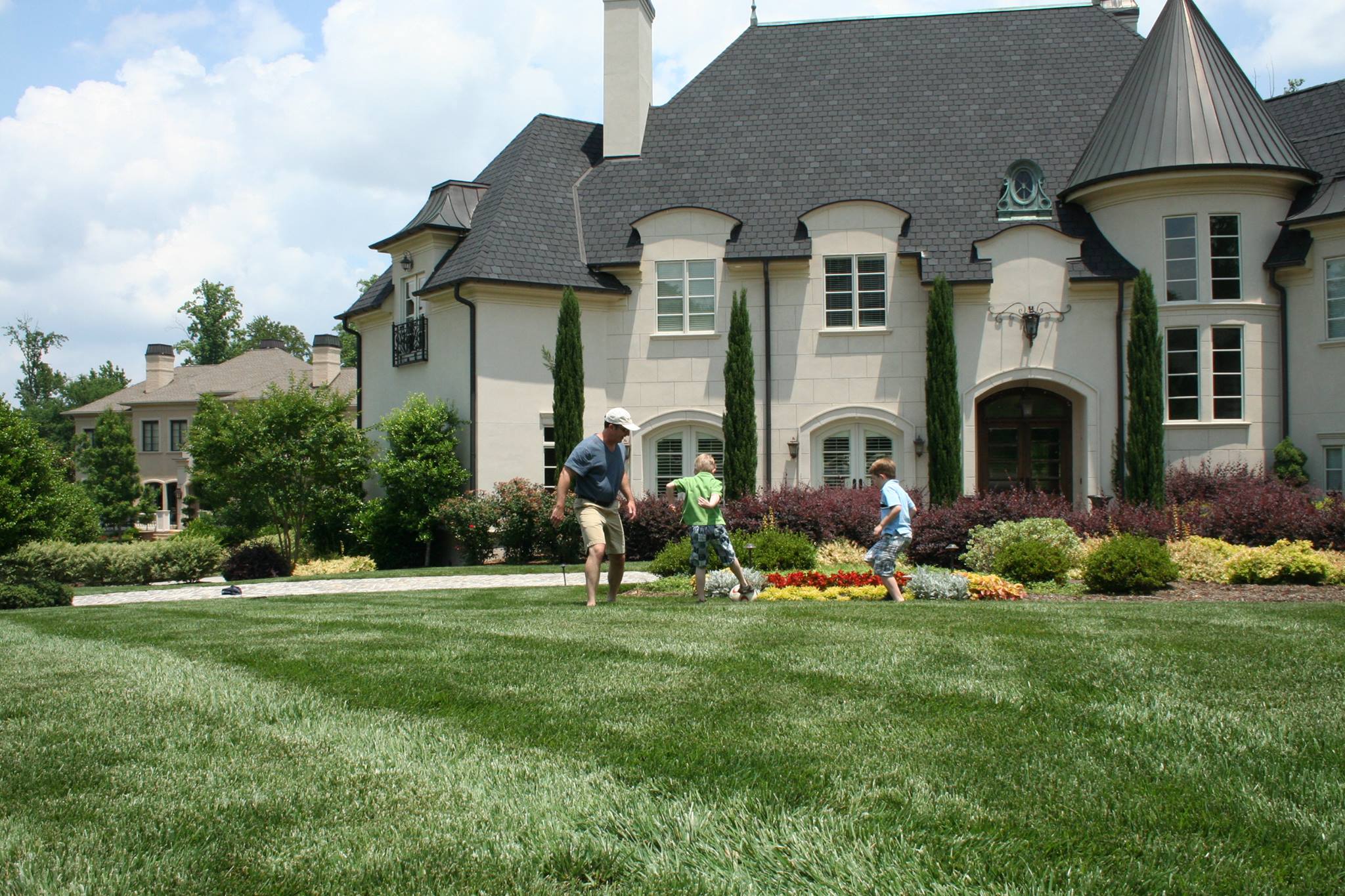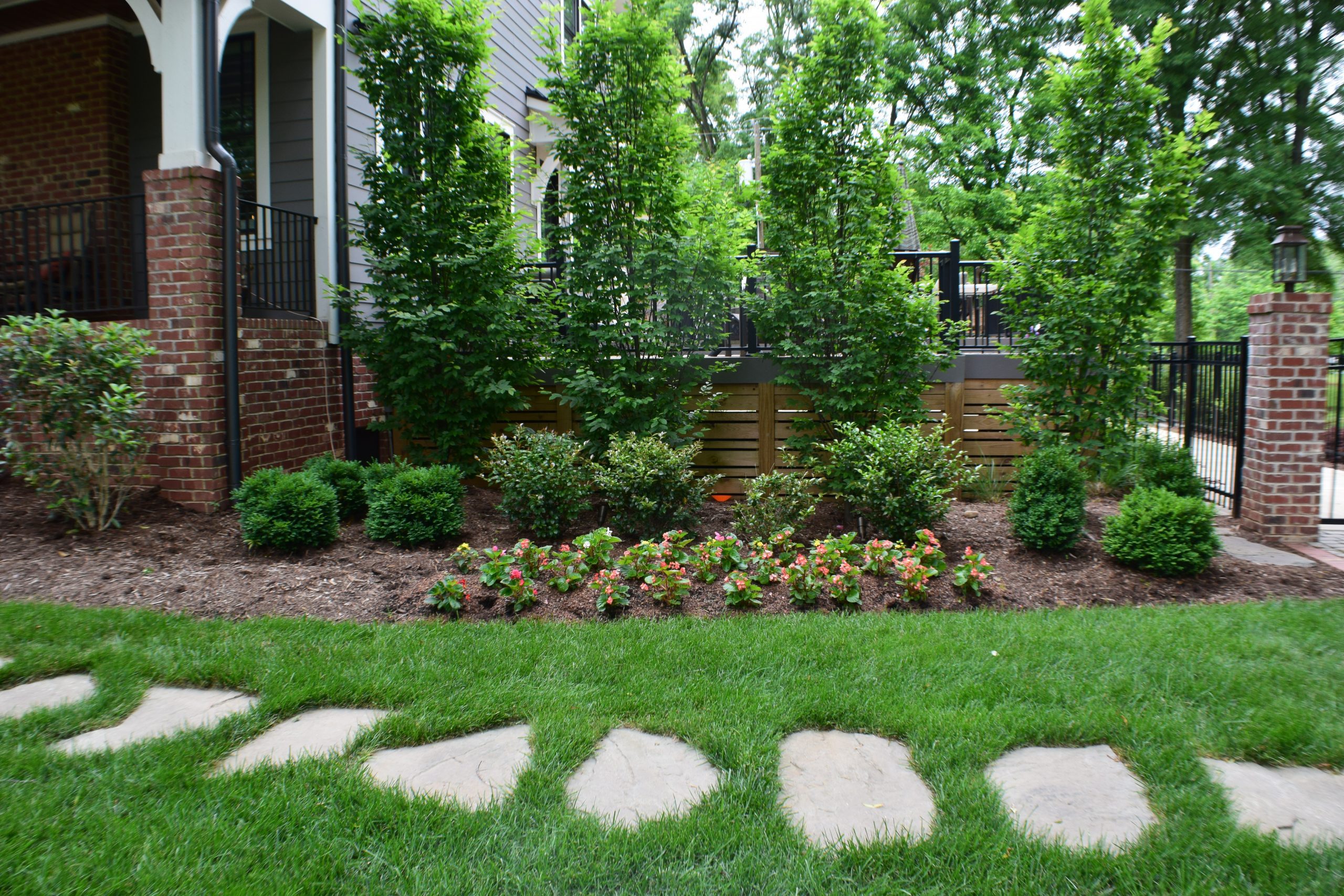 What Happens After the Landscape Quality Audit?
After your landscape quality audit, a list of action items will be generated and addressed in the next quarter. 
Oftentimes, when Charlotte homeowners meet with a Client Care Manager, they express interest in a service that's not covered under their annual contract. They may want an in-ground pool or outdoor kitchen installed.
As a hardscape contractor, MetroGreenscape is always happy to tackle these custom projects and can provide a consultation and cost estimate following your quality audit.
Book Consultation
Choose MetroGreenscape for Charlotte Landscape Quality Audits
At MetroGreenscape, we perceive landscape quality audits as opportunities to nurture a relationship with our clients. Lawn care quality audits empower clients, giving them more control over the look and feel of their outdoor spaces.
If you are interested in transforming your Charlotte backyard into a beautiful outdoor oasis, contact us online or give us a call at 704-504-0980. You can reap the benefits of our annual service contract for as little as $300 per month!
Whether just a weekly lawn mowing, or an entire custom patio, kitchen and outdoor living space we have a skill set in project management to ensure.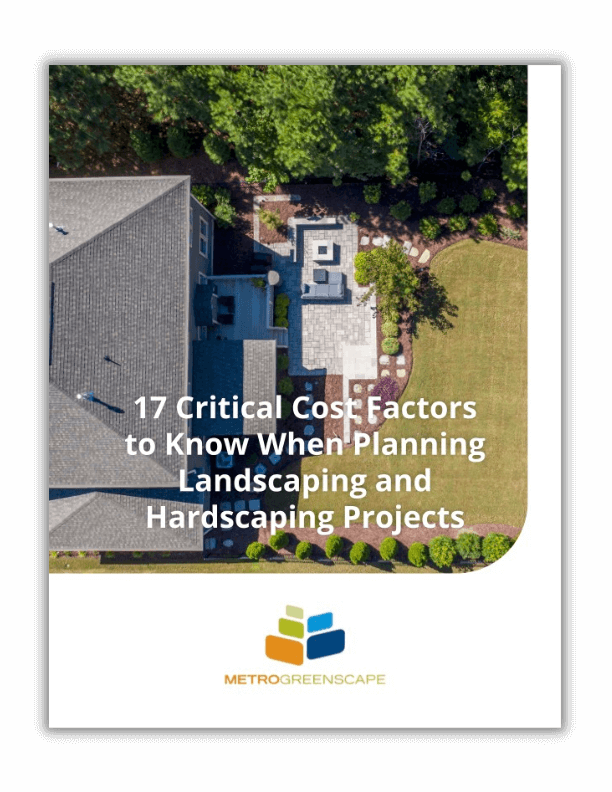 Download Our Free Guide: How to Plan Your Project
Discover 17 critical cost factors you should know while planning your next landscaping or hardscaping project.
Step 1:  Fill out this form and get the guide
Step 2:  We'll email you the PDF.
Step 3:  Learn everything you need to know about planning your project.