METROGREENSCAPE
everything landscapes
When you're at home, you want the landscaping to reflect both your style and your personality. To help make your ideal landscape a reality, MetroGreenscape offers a thorough consultation that includes a site inspection. Whether you're looking for our custom design work or leaning toward our higher end luxury projects, this inspection gives us insight into the most important aspects of your property and the prospective building site in order to determine the best options and solutions for your dream landscape or outdoor living space in Charlotte, NC and the surrounding area.
We are your home for comprehensive landscaping services. Whether that means choosing the correct grass and trees or making sure you've got plants that can thrive in our climate, we've got experts that know just what will and will not work for your situation. Please take a moment to view our gallery with the link below or find more information about all the landscaping services we offer below.
Our initial consultation is $99.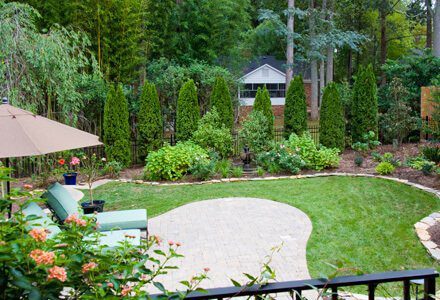 Health of Existing Plant Life
We check for disease, that existing plants are pruned correctly and not competing with the same sunlight and water source as nearby plants.
  Water Features
We can discuss any ideas for potential water features including fountains or ponds.
  Lawn Analysis
We check your lawn for dead patches, poor soil conditions, thatch build-up, and proper mowing height.
  Design Ideas
We will provide ideas with our initial thoughts on-site with the homeowner to discuss and answer questions prior to moving into a formal design phase.
  Irrigation Planning
We check existing irrigation and water system for lawn and landscaping needs, possible over watering situations, leaks, and then suggest ideas for water conservation if necessary.
  Site Drainage
We check your property and potential building site for erosion and proper drainage away from home and patio foundations.
  Trees
We identify trees that may be at risk or have disease and fungus. We will then propose an action plan to save the tree or consult with our certified arborist if necessary.
  Seasonal Color
We identify areas for seasonal color accents.
Irrigation Repairs / Installation / Turn On and Shut Offs
Our team designs and installs many types of irrigation systems in the greater Charlotte area.
We understand that water is the most important resource your plants need. It is paramount to have a properly designed irrigation system that will keep your plants healthy and vibrant. This also means your system should reduce risk of pest and disease damage and even protect the quality of your soil, all while reducing workload.
Poorly designed systems are failure-prone, can over- or under-water, and can even flood or erode landscaped areas. In most cases, low water pressure is the main reason for irrigation problems.
Before you plant, your soil should be tested for drainage and absorbance, and this will also help identify optimal ways to provide irrigation to the area. Our landscape designers can create and install a system that is designed for your home and your unique situation. This will help guarantee that all of your lawn and plants are getting the correct amount of water without the worry of not enough or too much water getting there.
In addition to installation of a system, our team can offer maintenance plans for irrigation systems in Charlotte, and the greater metro area. This helps keep your system running correctly for more years by catching any issue early and getting them repaired.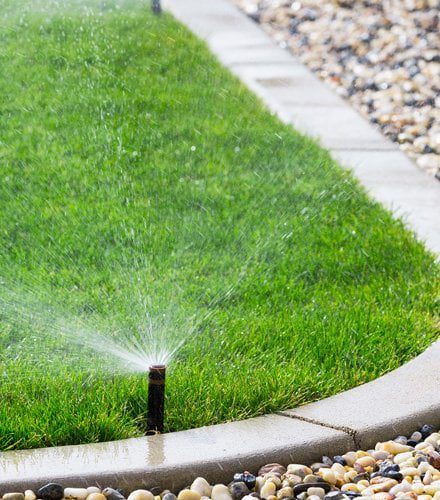 Drainage is one of the most overlooked landscape concerns and is one of the most important things to consider. It is the most likely contributor to persistent puddles and declining plants. Too many people, including professionals, ignore the need for good drainage. At MetroGreenscape, assessing any possible drainage issues or challenges is a natural part of our process. We provide installation of specifically designed drainage systems as well as replacement of older systems, including gutters and downspouts, to homeowners in Charlotte, and the greater metro area.
If you know you have drainage problems or suspect it may be causing other landscaping issues, give us a call. IF WATER SITS FOR MORE THAN 30 MINUTES OR IS MOIST AN HOUR LATER, YOU HAVE A PROBLEM. Let us be your drainage solution!
In addition to designing and installing drainage systems, we provide expert landscape grading services. If we determine grading is needed to combat a drainage issue, we will perform grading services as part of our landscaping plans as we typically do not do stand alone grading work. Landscape grading is a very important issue to discuss and include with your professional landscaping plan.
Not only should the existing drainage patterns of the proposed site be recognized, but also drainage problems that may exist or result from ground plane alterations during proposed development and construction should be solved. The design of landscape grading should be conscious to existing landscape while providing appropriate transition of architectural elements to grade. It also must provide for and guide the flow of surface runoff to retention basins that are designed creatively to blend with the surrounding landscape.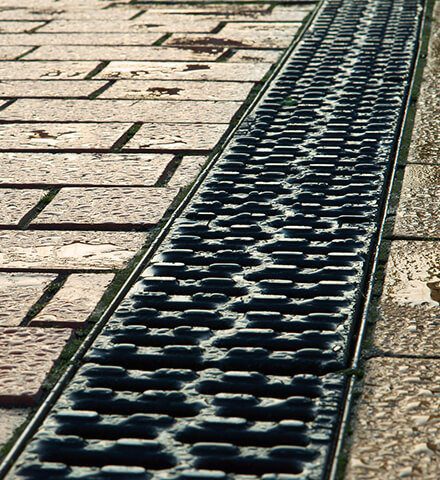 Sod Installation and Maintenance
Our team installs and maintains sod for homeowners in Charlotte, and the greater metro area. A beautiful sod lawn provides instant satisfaction and beauty to your property. We can properly determine what type of sod can be used in your area. It is important to note that not all sod can be installed in all areas. If you are installing sod in the southern part of the city, we need to order sod south of Rock Hill. If you are installing in Lake Norman, we will order your sod from the mountains.
When installing sod, you will need to know that it must be watered more frequently during the first few weeks, at least once a day, and more often in dry climates.
Rolling the sod is necessary during the first few days to remove any gaps between the sod and the soil underneath. Avoid foot traffic until the sod is well established. Mowing should be avoided for the first week or so.
Until the sod is well established, plan to mow to a height at least 50 percent taller than you will later want. If you want three-inch grass, you will want to initially mow it to 4.5 inches.
Make sure to add some commercial nitrogen soil amendment one month after planting, and again in the fall. While it depends on the grass variety you choose, remember that taller grass is usually hardier and more drought tolerant than shorter-cropped lawns.
While we encourage homeowners to maintain their own sod, we can implement our lawn maintenance services to ensure your sod will take root and go on to be a healthy lawn for many years to come.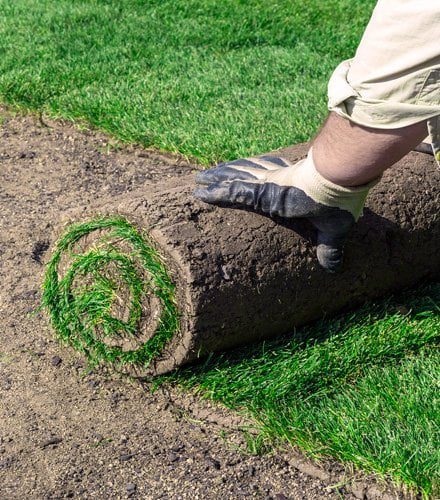 Below is an example of one of our landscaping plans that we will provide you. This helps you visualize the work being completed. The landscaping plans are rather simple with just the landscape changes to your yard. Landscaping plans can be up to three pages long.
Landscape Plans starting at $1000.00