Follow Our Easy 3-Step Process
Schedule a time for one of our pros to evaluate where you want your desired hardscape project.
Request a lawn maintenance estimate today!
We are your home for comprehensive, custom landscaping services. Whether that means choosing the correct grass and trees or making sure you've got plants that can thrive in Charlotte's mild climate, we've got landscaping contractors that know just what will and will not work for your yard.
Planning for Lawn Maintenance Success
As a professional lawn maintenance company, we offer years of experience caring for Charlotte lawn maintenance. From that experience, we have learned that the best way to achieve great results is by providing both lawn care and lawn maintenance services as part of our annual package. 
Lawn care services are related to nourishing turf health and include tasks like aerating and grass seeding.
Lawn maintenance services are related to curb appeal and encompass things like mowing, pruning, mulching, and flower care. 
Making sure that you have proper lawn, plant, and lawn management services will help guarantee the lifespan of your lawn and ensure any potential problems will be caught and treated early. Since we handle both lawn care and maintenance, you can rest easy knowing your yard will be healthy and beautiful year-round.  
| Services | MetroGreenscape | Other Companies |
| --- | --- | --- |
| Quality Audits | | |
| Leaf Removal | | |
| Mulch & Needles | | |
| Outdoor Lighting Management | | |
| Pruning | | |
| Weekly Lawn Mowing & Maintenance | | |
| Aeration | | |
| Grass Seeding | | |
| Irrigation Management | | |
| Plant Health Care | | |
| Seasonal Color | | |
| Turf Services | | |
| Weekly Prevention Treatments | | |
| Winter Service Visits | | |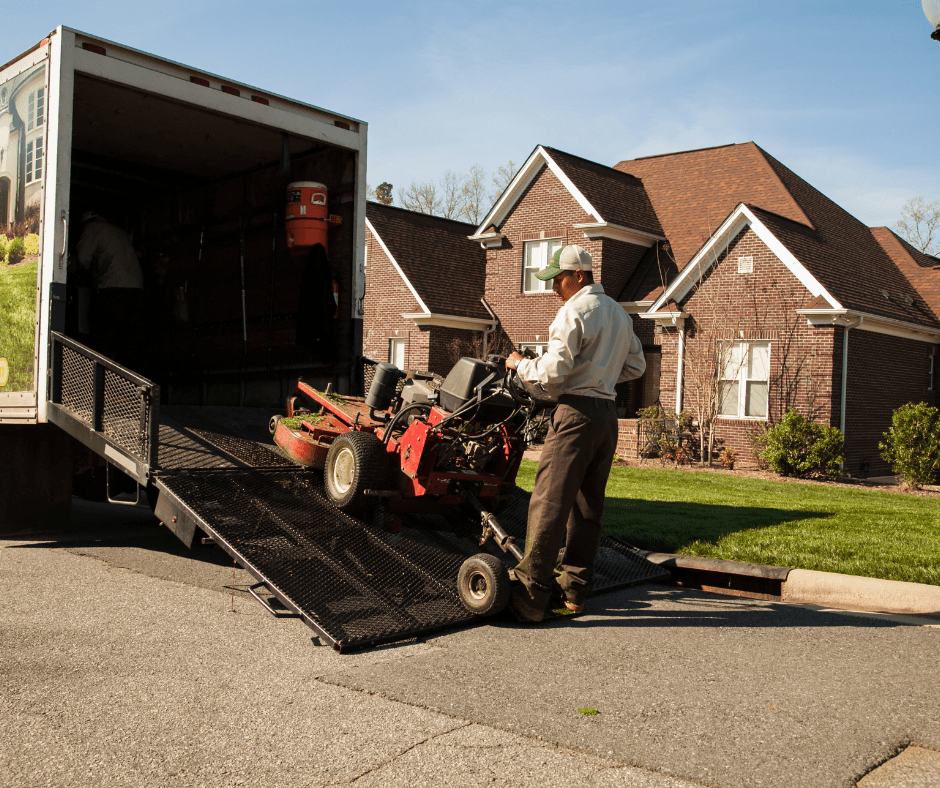 MetroGreenscape Charlotte Lawn Services List
Our local Charlotte roots, years of landscaping experience, custom outdoor solutions, and turnkey services make us Charlotte's top landscape and hardscape provider.
When you sign up for annual lawn maintenance, our technicians come to your home every 7 to 10 days to care for your lawn. During mowing season, we'll ensure grass is cut to your or your neighborhood's standards, usually between 3.5 and 4 inches with mulching mowers that return nutrients to your yard and reduce landfill material. This is for cool season turf. For Warm Season grass we will cut between 2-3 inches. In the fall and winter months we focus on taking care of leaf removal, aeration, and fertilization needs along with flower bed maintenance.
On top of weekly maintenance services like mowing, our annual programs  offer additional landscape maintenance services that make your life easier, such as mulching, pruning, or anything you want maintained on the property. As a full-service lawn maintenance company, we do it all! All our maintenance programs include periodic inspections to ensure you're receiving the highest quality service available, along with additional options that you can customize to meet your needs.
We offer Charlotte landscape maintenance and care under one annual contract so you can rest assured your lawn is being taken care of. Starting at $400 per month, our primary Charlotte packages can be customized based on the needs of your landscape and include:
Lawn mowing & weekly maintenance
Leaf removal
Lighting management
Irrigation management
Turf services
Aeration & seeding
Pruning
Winter pruning visits
Satisfaction audits
Add-On Services
Preventative weed treatments
Plant health care
Seasonal color
Mulch/needles
Charlotte Maintenance Services
Lawn Mowing
MetroGreenscape's lawn mowing service ensures your grass is taken care of regularly so you can enjoy a lush, beautiful lawn. We'll work with you and your family to set up a regular lawn mowing schedule that ensures your grass is cut to neighborhood standards without any work on your part. When they arrive, our team will evaluate your lawn's condition to make sure it's the right time to mow, then use a mulching lawn mower that returns essential nutrients to your yard, helping grass stay healthy.
Tree and Plant Health
Here at MetroGreenscape, we monitor the wellbeing of your plants, trees and shrubs throughout the season to maintain the health and vigor of your landscaping. This means we will have a leg up on any possible problems that may occur. These problems could be anything from lack of nutrients, which can cause your plants to have an inability to grow properly or possible season insects which have the potential to cause a lot of damage when not prepared for correctly.
If you're interested in maintaining plant and tree health around your home, you can add the below treatments to your annual maintenance package:
Plant fertilization to improve root growth and bloom color
Seasonal insect/disease monitoring and treatments
Make recommendations and/or adjust watering practices to avoid damaging plant health
Our plant and landscape maintenance service team is trained to look for minute details in each plant on your property to ensure we are providing the best possible care for the different potential dangers to your lawn and plants.
Outdoor Lighting
Outdoor lighting enhances the overall appearance and value of your home. It not only provides functional light but also decorative to really show off your landscaping.
LED lighting is the sustainable lighting of the future. At MetroGreenscape we can design, install, and maintain outdoor lighting systems.
When you have a properly designed and installed outdoor lighting system, it will really show. Our team can design landscape lighting for any outdoor area of your home. This includes walkways to the front door or pathways to the back yard, around your landscaping, around your outdoor areas including kitchens and patios, or any special location you want to showcase.
Once your lighting system is installed, it will generally need very little maintenance. This is the one of the great things about LED lighting, they are incredibly low maintenance. However, we know things can happen and when we install a system for you, we will perform any necessary maintenance so if you've got problems with the system once installed or notice any lights no longer lighting up or not as brightly as they used to, we can repair or replace as necessary.
Pruning
Many of Charlotte's most beautiful residential landscape designs include plants that need pruning to stay healthy. MetroGreenscape's pruning services can handle any type of plant in your yard, from grass and flowers to beautiful trees and shrubs.
Our team knows how to quickly identify each type of plant in your yard and determine the pruning regimen they need to stay healthy. Some shrubs may require weekly pruning, which we can complete when we mow your lawn, while others may require monthly or even seasonal pruning. Other times, pruning may be about keeping plants in check so they're stunning to look at and don't get in the way of your activities.
Whatever your plants need, our residential landscape maintenance services can handle it, including trimming grass along the edges of walkways and pruning plants at the optimal time to remove branches, leaves, or growth that doesn't fit into your landscape. We'll also handle any pruning that plants need to isolate and stop diseases, such as fungus, from spreading.
Mulching & Needles
To keep soil healthy, you need to ensure there are plenty of nutrients and that water doesn't evaporate too quickly in the hot summer months. Mulching, whether it's a combination of organic mulch or pine needles, helps keep your landscape healthy. Mulching will:
Add nutrients to the soil
Improve soil moisture
Discourage weeds
Enhance landscape aesthetics
At MetroGreenscape, we apply mulch or pine needles as part of our landscape maintenance packages. We'll apply mulch to your landscape based on the health of your soil and the look and feel you want for your outdoor space.
Leaf Removal & Seasonal Maintenance
Our seasonal services are designed to enhance your property. We have a number of custom and luxury maintenance packages to take care of your unique lawn and landscape.
With our custom packages you will be able to choose what services are both necessary to your home and most important to you in capturing that perfect landscape.
Irrigation
We will monitor your irrigation system and yard drainage throughout the year. This will help us keep your system working during the months it needs to and prevent any damage that could cause the system to stop functioning.
When it is in its operational season, we will make sure the system is watering properly and not leaking, which could cause damage to your lawn.
During the colder months, Charlotte irrigation systems are susceptible to damage and freezing. Our irrigation winterization services will help to keep your system protected throughout the winter.
After the winter season has ended, it is time for our spring irrigation service. During this we will check the integrity of the system and run the system to be sure it is working as intended and make any necessary repairs.
Aeration & Seeding
Most Charlotte landscape designs incorporate lush grass along with beautiful plants and trees. Unfortunately, it's also common for grass and groundcover to thin over time as nutrients decrease as you and your family enjoy your yard.
Our aeration and seeding maintenance services help ensure your outdoor space, especially your grass, stays lush and healthy. Aeration allows your soil to breathe, making it easier for nutrients to move from the soil's surface to the roots of your grass, where they're needed most. Seeding ensures grass and groundcover grow in thick, beautiful carpets in areas that naturally thin out over time.
As one of the most experienced landscape maintenance companies in Charlotte, MetroGreenscape's experts know the best time of year to do aeration and seeding so your grass is full and healthy. You don't have to worry about a thing, just enjoy your space. We'll make sure your lawn gets the care it needs, when it needs it.
MetroGreenscape: Charlotte Landscape Maintenance Company
What sets MetroGreenscape apart from our competitors is that we care about your property by providing the best products available to meet your budget, while communicating unforeseen needs and upcoming issues through superior communication.
We understand the importance of a properly prepared and implemented lawn care and landscape maintenance plan for Charlotte homes. When correctly maintained, you can avoid costly repairs and stay on top of any stray issues that may arise.
Let our team help you by designing the optimum landscaping maintenance services for your home's outdoor space.
Whether just a weekly lawn mowing, or an entire custom patio, kitchen and outdoor living space we have a skill set in project management to ensure.
Landscape Maintenance Frequently Asked Questions
What are lawn maintenance services?
Lawn maintenance services include any professional help caring for your lawn. Most lawn services companies include lawn mowing services, lawn fertilization, aeration, and weed control. Lawn mowing is the most common service you'll find, but many homeowners in the Charlotte area also want more and deserve more so we have put together packages that handle everything. Some of these services just in disease alone include handling brown patch, fairy rings, and rust, which can be treated with fungicides. Not to mention other services within turf care.
What is landscape maintenance?
Landscape maintenance is the regular care of non-grass areas of your yard. That includes maintaining shrubbery, trees, decorative plant and flower gardens, and other services, such as leaf removal in the fall. Trimming, pruning, fertilizing, mowing and pest control may also be part of a landscape maintenance plan that keeps your yard and property looking clean and beautiful throughout the year. MetroGreenscape's Charlotte landscape maintenance services are flexible enough to include some or all of these services. Before implementing a plan, our team will proactively evaluate the current condition of your home's outdoor space, make recommendations and then coordinate maintenance plans to accommodate based on your goals, schedule, budget and of course science does play a part.
What is the average cost of landscape maintenance in Charlotte?
The average cost of landscape maintenance is between $400 and $550 per month. Costs will vary widely based on your location as well as your landscape. Residential landscape maintenance in Charlotte, for example, is typically between $400 and $475 per month. Costs will also increase with the size of your landscape. The larger your landscaping area and the more intricate your landscape design, the more you'll pay in monthly maintenance fees.
What's the difference between landscaping and lawn care?
Landscaping includes all the living elements of your outdoor space, such as your yard (including the grassy areas) as well as flowerbeds, trees, and gardening areas. Landscaping maintenance includes diverse support for your entire yard, including lawn mowing, pruning, irrigation, fungus and disease treatment, and more. Lawn care typically focuses only on the grassy area of your yard. It includes lawn mowing and grass health services, but usually doesn't include support for your flower beds and other areas.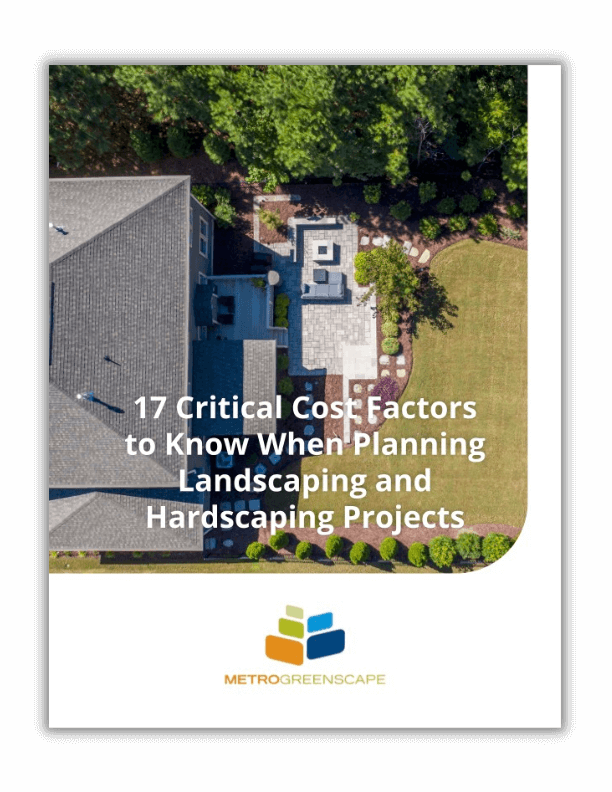 Download Our Free Guide: How to Plan Your Project
Discover 17 critical cost factors you should know while planning your next landscaping or hardscaping project.
Step 1:  Fill out this form and get the guide
Step 2:  We'll email you the PDF.
Step 3:  Learn everything you need to know about planning your project.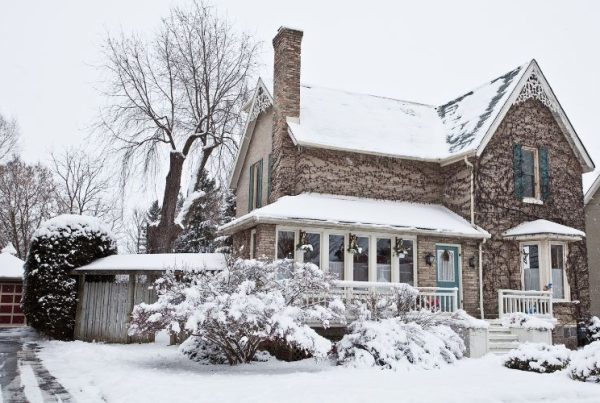 Even though your lawn might not be as green and lush as it once was…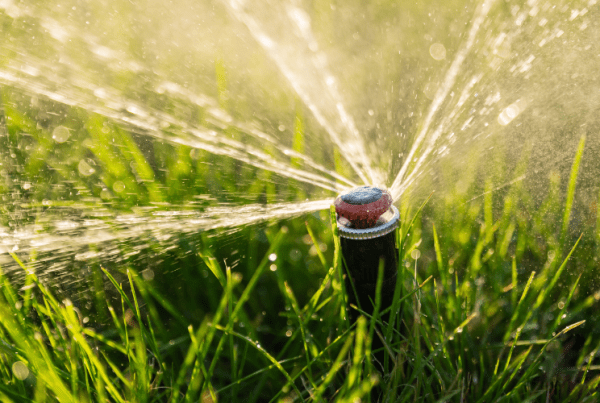 The average cost to winterize a sprinkler system can range greatly, but most homeowners spend…