Concord, NC Custom Outdoor Living and Landscaping
Concord, North Carolina has expressed noteworthy support in recent years for a variety of causes such as the North Carolina Green Power project. With Concord being particularly susceptible to dry periods, water conservation is something which is particularly close to the hearts of many of the city's homeowners. However, water use restrictions themselves don't impede upon MetroGreenscape's ability to provide high-quality home landscaping services.
Helping you express your personality through high-quality residential landscaping, our landscaping services don't just help beautify Concord homes and gardens. Rather landscaping the area around your home can be hugely beneficial to the local environment and can add tens of thousands of dollars to your property's overall value.
Luxury Design in Concord
At the forefront of MetroGreenscape's professional landscaping and design service, is our commitment to provide Concord home owners with functional as well as beautiful gardens. We, therefore, specialize in the installation of luxury landscaping features such as fire pits and outdoor fireplaces, not to mention socially orientated features such as seating walls and full outdoor kitchen installations.
Of course, how you landscape your garden is dependent in every case on your particular property type. However, our designers have several years experience providing cutting edge landscaping and design services for a wide variety of Concord property types.
Swimming Pools and Water Features
If your home or property is situated in an area prone to drought, you might feel that a pool or garden pond isn't appropriate. However, at MetroGreenscape, we pay close attention to all locally required permits, inspections and water and plumbing requirements.
As for the size and design of new pools and ponds, we always identify the most suitable place on your property for such features. We then design all water installations around your expectations of functionality, sociability, and overall visual appeal.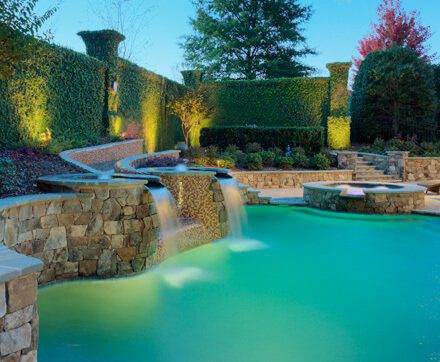 Custom Outdoor Spaces
Having the perfect outdoor space for your home can be a daunting task but our team is ready to help you. We can design the perfect kitchen or outdoor relaxation area to fit your yard and your style.
Landscape Maintenance
Do you need help with aeration, lawn pest control, fertilization of plants, or irrigation to water your lawn and garden?
As well as landscaping design, we offer comprehensive landscape maintenance services ranging from disease control to mowing, pruning and the maintaining of outdoor lighting and irrigation systems. In doing so, we help your garden make as big a year-round aesthetic impact as possible.
MetroGreenscape provides trusted, high-quality landscaping services throughout Concord and all across the rest of North Carolina. We work with new homeowners, property developers and Concord residents who are looking to revitalize their existing property landscaping. Are you one of the above? Contact MetroGreenscape today or call us at (704) 486-5095 in order to discuss your specific needs in more detail.
Everything Maintenance
Landscaping and lawn maintenance, both residential and commercial commercials, seasonal coloring and turf fertilization.
 Everything Landscapes
Landscape design and installation, seasonal landscaping, garden maintenance, all with a focus on sustainability.
 Everything Custom
Custom ponds and water features as well as swim ponds and swimming pools for your backyard or outdoor area.
 
Everything
Lighting
Increase your home's curb appeal and illuminate your landscape with a thoughtfully designed outdoor lighting project. 
Everything
Luxury
Everything for your outdoor area from patios and retaining walls to lighting, irrigation, and outdoor kitchens.
Consultation in Concord, NC
My husband and I are one of the @carbon custom homes victims(on FB) and our yard is a mess. We have patches where we have no grass, a couple of mountains of dirt the General Contractor left behind, and drainage problems. I called Metrogreenscape after reading all their great reviews since we cannot …