Concord Landscaping & Hardscaping
Follow Our Easy 3-Step Process
Schedule a time for one of our pros to evaluate where you want your desired hardscape project.
Request an estimate today
Initial consultations $99
We design and build around your hopes, dreams and desires for your family, providing you with turnkey solutions so that you can surround yourself with a lush, healthy outdoor space without investing any of your own time.
Popular Concord Landscaping Projects
Poor landscape design can be more problematic than many homeowners expect. Not only can landscaping errors lead to drainage issues and compromise the structural integrity of a house, but they can also dramatically affect the resale value of your Concord home. 
Our knowledgeable team understands the importance of both functional and beautiful outdoor spaces and can provide additional cutting-edge landscaping services for customers with an annual contract. 
Health of Existing Plant Life 
We monitor closely for diseases and pests that can kill your plants. We also prune existing bushes and trees to allow for new growth. 
Lawn Analysis 
We perform careful lawn analyses, examining the health of your Concord lawn and making recommendations to correct weed growth, dead patches and dry or wet soil. We even offer artificial turf installation for those looking for a less demanding lawn that looks green and healthy year-round.
Water Features 
There's nothing more relaxing than a tasteful water feature. Fountains and ponds can also add character to your Concord home. 
Landscape Design 
Thoughtful design is key to an aesthetically pleasing outdoor space. When our local experts arrive onsite, they take the time to understand your space and answer any questions before breaking ground. 
Privacy Trees & Shrubs
Unhealthy trees are unattractive and can pose a threat to your home and family. Because of this, we identify and treat trees that may be compromised by disease. 
Outdoor Lighting 
Outdoor lighting can dramatically change the ambiance of your home. It also deters trespassers. 
Irrigation Planning 
We survey Concord lawns, checking for existing irrigation and water systems. In doing so, we can guarantee that lawns are safe from overwatering. 
Seasonal Color 
No one likes a drab garden. We ramp up the curb appeal by designing outdoor spaces that offer visual interest year-round. 
Get your estimate today ›
Concord Hardscaping Projects
Your backyard can be an inviting place to relax or entertain, especially with the addition of a professionally designed and installed hardscape like a patio, a fully customized outdoor kitchen or a welcoming fire pit or fireplace. When outdoor spaces such as these are installed by experienced contractors, you'll enjoy years of worry-free comfort. 
At MetroGreenscape, we can tackle a variety of custom hardscaping projects for Concord homeowners with an annual service package. 
Patios are the perfect place to unwind, share a meal and play in the fresh air. 
We can design a warm space for friends and family to roast marshmallows, tell stories and bond. 
Erosion is not only detrimental to your outdoor spaces, it can also affect your home's foundation. Prevent potential problems with a retaining wall that matches your landscape. 
From traditional wood to fade-resistant composite, our team can build a deck that will last for decades to come.
Elevate your backyard with an outdoor fire pit that can be enjoyed during all four temperate seasons in Concord. 
Custom walkways and stairs make it both easier and safer to access outdoor spaces. 
Cooking alfresco is a cinch with a well-designed kitchen installed by professionals.  
Make your backyard a gathering space for friends, family and neighbors with expanded seating options.
Escape Concord's hot summers with a stylish and low-maintenance swimming pool. 
Get your estimate today ›
Swimming Pools and Water Features in Concord
If your home is situated in an area prone to drought, you might feel that a  swimming pool or garden pond isn't appropriate. However, at MetroGreenscape, we pay close attention to all local permits, inspections and plumbing requirements.
Before we break ground, we always identify the most suitable place on your property for the new pool or pond. We then design all water installations around your expectations of functionality, sociability and visual appeal.
Get your estimate today ›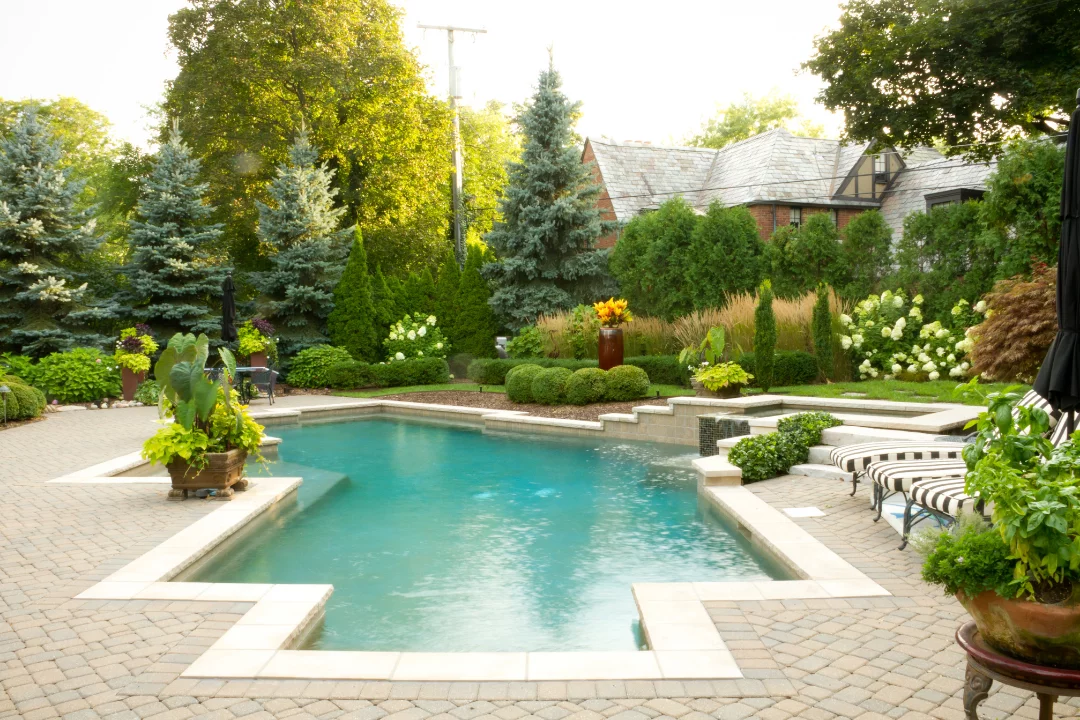 Outdoor Lighting
When the sun goes down, outdoor lighting completely transforms the ambiance of a home. At MetroGreenscape, we can install custom outdoor lighting that increases curb appeal and spotlights hardscapes, extending evenings on your deck or patio well into winter.
Outdoor lighting can also improve your home's safety and security. Friends and family are less likely to fall on well-lit walkways. Burglars are discouraged as well.
Get your estimate today ›
Financing and Payment Options
We are committed to designing beautiful and functional outdoor spaces for our Concord customers. But we are also committed to transparency. That's why we offer all homeowners a firm cost estimate during their consultation. We offer financing as well, allowing customers to decide which payment option best suits their needs.
View financing options ›
Concord Commercial Landscaping
For Concord businesses, tending turf is high stakes work. Your company's lawn is often the first impression for customers, and first impressions matter. When the grass is healthy and thriving, you communicate that your business is as well. 
With more than 20 years of experience maintaining commercial properties in Concord, you can trust that MetroGreenscape will nurture a lawn that you can be proud of. Our completely customizable commercial landscaping allow you to select services that fit your company's budgets and needs. 
Get your estimate today ›
Need some inspiration for your Concord home? Check out our latest projects.
Concord Landscaping & Hardscaping FAQs
How long do hardscaping projects take?
The projected timeline for a hardscaping project depends on the type of project. A customized backyard fire pit, for instance, may take four to eight hours while a straightforward deck construction may take one to two weeks. Comparatively, a more elaborate in-ground pool may demand six to 12 weeks.
Should I get lighting done by a professional?
Yes. By hiring a professional to outfit your Concord home with outdoor lighting, you are ensuring a better return on your investment. Professionals at MetroGreenscape can create a thoughtful lighting design that accents your home, installing lights that are more durable than store-bought solar lights.
Is it worth hiring a landscape service in Concord?
Yes. Though Concord offers a fairly temperate climate, droughts, hot summers, invasive weeds, and pests can make it difficult to bring your vision to life. Concord terrain is best handled by professionals with landscaping experience.