Cornelius Landscaping, Lawn Care, & Hardscaping Company
Located on the shores of Lake Norman, Cornelius offers a much-needed respite from the bustle of nearby Charlotte. Since this suburban town moves at a slower pace and is surrounded by natural beauty, it's a perfect spot to unwind in the great outdoors.
For nearly two decades, MetroGreenscape has helped Cornelius homeowners do just that. As a professional landscape design company, MetroGreenscape creates functional and inspiring outdoor spaces that bring homeowners' dreams to life.  
Contents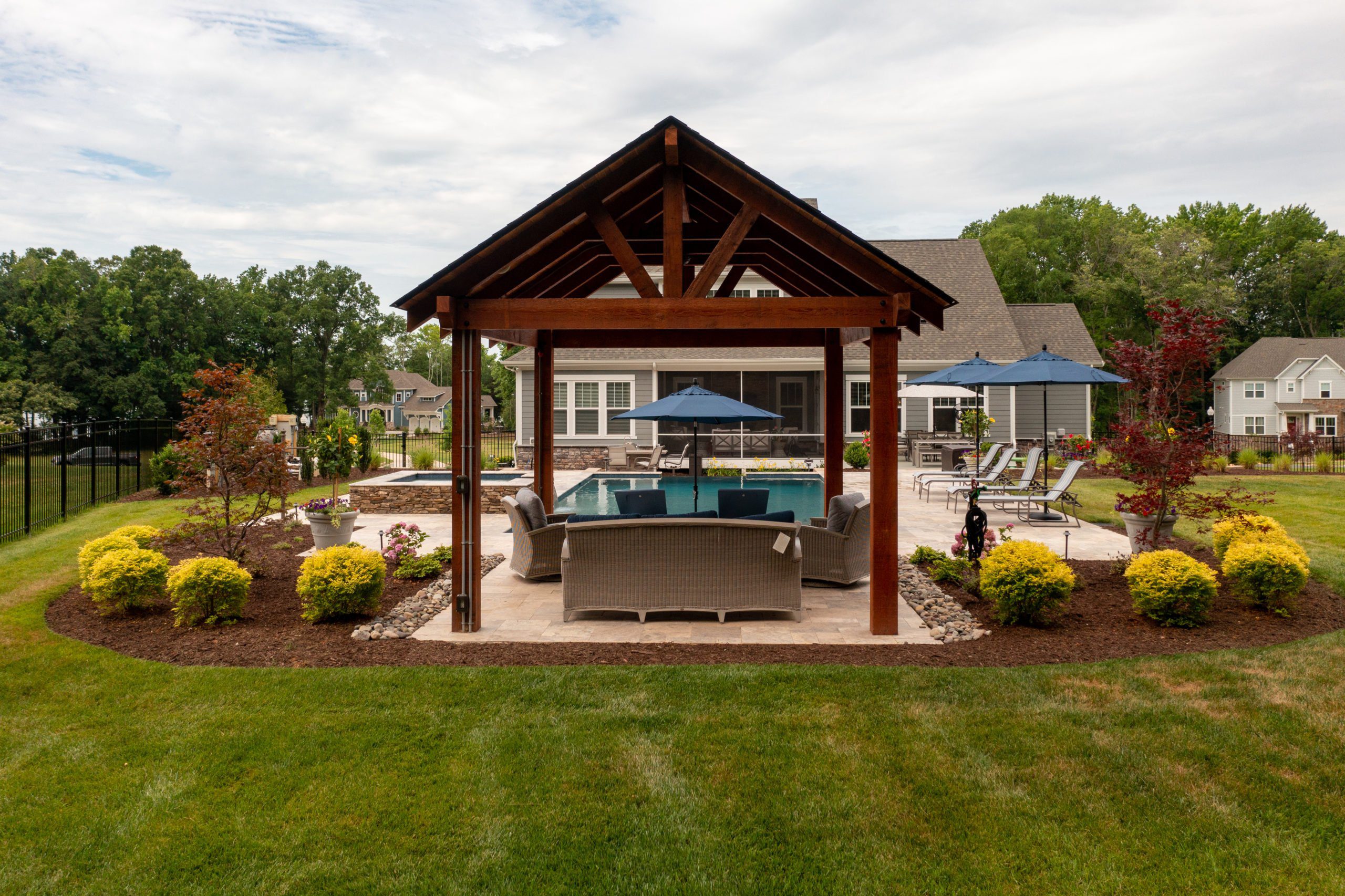 Request an estimate today
Initial consultations $99
We design and build around your hopes, dreams and desires for your family, providing you with turnkey solutions so that you can surround yourself with a lush, healthy outdoor space without investing any of your own time.
Lawn Care & Lawn Maintenance in Cornelius
Are you tired of inexperienced lawn care companies providing subpar service? Us too. That's why more than 20 years ago, we started offering Cornelius homeowners a comprehensive approach to lawn care. 
At MetroGreenscape, we believe the secret to keeping Cornelius lawns green and healthy is offering both lawn care and lawn maintenance services. Though less experienced landscapers may use these terms interchangeably, there's a significant difference between the two. Whereas lawn care seeks to improve the health of your turf through tasks like aerating and fertilizing, lawn maintenance seeks to improve the aesthetics of your property through mowing, edging, mulching and more. We also offer artificial turf installation for those looking for a less demanding lawn that looks green and healthy year-round.
Cornelius homeowners can receive exceptional lawn care and lawn maintenance services for just $325 per month when they sign an annual contract with MetroGreenscape.  
Get your estimate today ›
Popular Cornelius Landscaping Projects
Few Cornelius homeowners have the experience to deal with complicated landscaping issues like root rot, red thread lawn disease, improper site drainage or overgrown hedges. These issues can compromise the health of your Cornelius landscape and, ultimately, affect your home's resale value. 
That's where MetroGreenscape comes in. Because every property is different, MetroGreenscape offers thorough consultation services to existing Cornelius customers. During these inspections, our horticulturists can determine which additional services are needed to take your yard from average to extraordinary. 
Health of Existing Plant Life 
Is your magnolia tree dying? It might be honey fungus. Is your rhododendron turning brown? It could be root rot. At MetroGreenscape, we are adept at identifying and treating plant diseases. 
Lawn Analysis 
It can be frustrating to invest time and energy into your lawn only for it to turn brown and patchy. During a lawn analysis, we can identify exactly what is causing your turf's health to decline. 
Water Features 
Water features like a fountain can help you zen out after a long day at the office. 
Landscape Design 
At MetroGreenscape, our team creates thoughtful landscape designs that reflect your personality and complement your home's aesthetic. 
Privacy Trees & Shrubs
Many inexperienced landscapers prune trees too early or too late, which can actually harm a tree's health. Let us do it correctly. 
Outdoor Lighting 
Outdoor lighting can transform your Cornelius backyard, creating a warm and cozy ambiance year-round.  
Irrigation Planning 
To avoid issues associated with overwatering, the team at MetroGreenscape always checks for existing irrigation systems. 
Seasonal Color 
At MetroGreenscape, our experienced horticulturists select plants with seasonal color in mind. 
Get your estimate today ›
Popular Hardscaping Projects in Cornelius
Lake Norman offers breathtaking views at every turn. And though Cornelius residents can admire the lake by hiking or mountain biking at Lake Norman State Park, there's no better place to enjoy the water than from your own backyard. 
For 20 years, MetroGreenscape's designers and contractors have created stunning and functional outdoor spaces for Cornelius homeowners. Inspired by the allure of Lake Norman, our team has installed custom patios, outdoor kitchens, porches and swimming pools that add to, rather than detract from, the lake's natural beauty. Today, we offer a variety of hardscaping services for Cornelius homeowners with an annual service contract.   
A patio is one backyard feature that reliably adds value to every home. 
Outdoor fireplaces are welcoming focal points for your Cornelius backyard.  
Erosion is easily mitigated with an attractive and functional retaining wall by the professionals at MetroGreenscape. 
A custom back porch is an ideal multipurpose space, doubling as an outdoor living room, kitchen and even office. 
Fire pits are perfect for roasting marshmallows and telling ghost stories with the kids. 
Is the terrain to your back garden uneven and steep? Consider installing a stylish set of rock steps or a flagstone pathway.
Push the envelope this year by cooking outside. After all, outdoor kitchens are great for entertaining guests. 
More seating means you can host even more friends and family members during the holidays. 
Perfect your backstroke with a custom in-ground swimming pool. 
Get your estimate today ›
Swimming Pools and Water Features
Are you looking to increase your property's value? Consider a luxury swimming pool. Even a simple in-ground swimming pool can increase your home's value by upwards of 15 percent. In Cornelius, that translates to nearly $60,000.
At MetroGreenscape, our pool architects will personally meet with you to identify the best possible pool or water feature design for your property. To add further value, our designers will then advise you on complementary features like an outdoor fireplace or an outdoor kitchen. These features can transform your backyard into a residential paradise.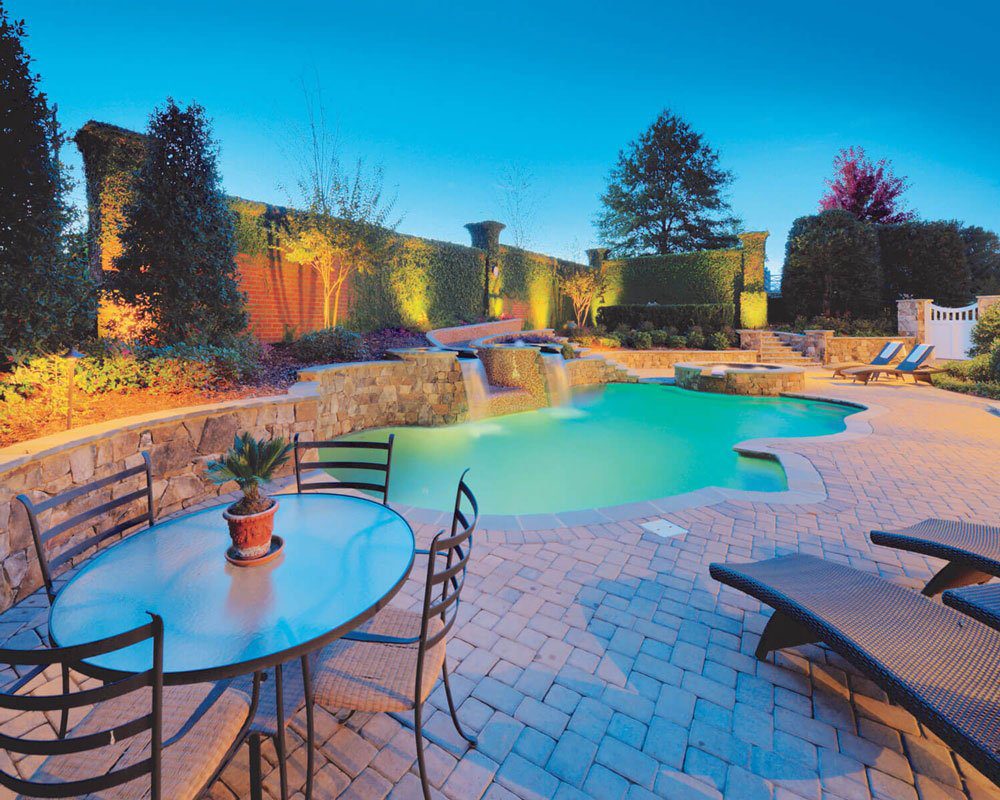 Outdoor Lighting
Cornelius homeowners underestimate the power of effective landscape lighting. When installed correctly by a professional, outdoor lighting can transform the ambiance of your home. It can highlight key architectural features and accentuate focal points in your gardens. Simply put, outdoor lighting can make your home stand out, even at night. 
MetroGreenscape can also install lighting that illuminates outdoor spaces like your back porch and patio. This allows your friends and family to enjoy the outdoors well past sundown. Pathway lights make walking around your Cornelius property safer too.   
View financing options ›
Financing and Payment Options
Are you worried that a functional and beautiful outdoor space won't fit your budget? Meet with the MetroGreenscape team to receive a firm cost estimate. We offer financing as well, allowing Cornelius residents the flexibility of paying over time.
View financing options ›
At MetroGreenscape, we believe Cornelius businesses should focus on what they do best, whether that's selling insurance, making burgers or cutting hair. They shouldn't be distracted by mowing, pruning, mulching, weeding or any other tasks related to managing a commercial property. 
Instead, Cornelius entrepreneurs should let us do what we do best: commercial lawn care and lawn maintenance. With 20 years of experience tending turf in Cornelius and the surrounding areas, we are confident that we can make your commercial property look beautiful. Since our commercial maintenance package is fully customizable, we are also confident that you will find services that meet your needs and budget.
Get your estimate today ›
Need some inspiration for your Cornelius home? Check out our latest projects.
Cornelius Lawn Care FAQs
How long do hardscaping projects take?
It's hard to say. The timeline for any hardscaping project depends on its scope. A fire pit, for instance, is fairly simple and may take a few hours. Comparatively, a custom deck may take several weeks while an in-ground pool may take several months.
Is it worth hiring a lawn care service in Cornelius?
Yes. Your Cornelius lawn deserves the experience and careful oversight of a trained horticulturist. MetroGreenscape can provide a comprehensive approach, offering both lawn care and lawn maintenance services so that your yard remains green and healthy.
Should I get outdoor lighting done by a professional?
Yes. Though you can purchase solar lights at any big-box store, these products aren't as durable as what a professional can install. A professional can also accent your home and landscape more effectively than an amateur.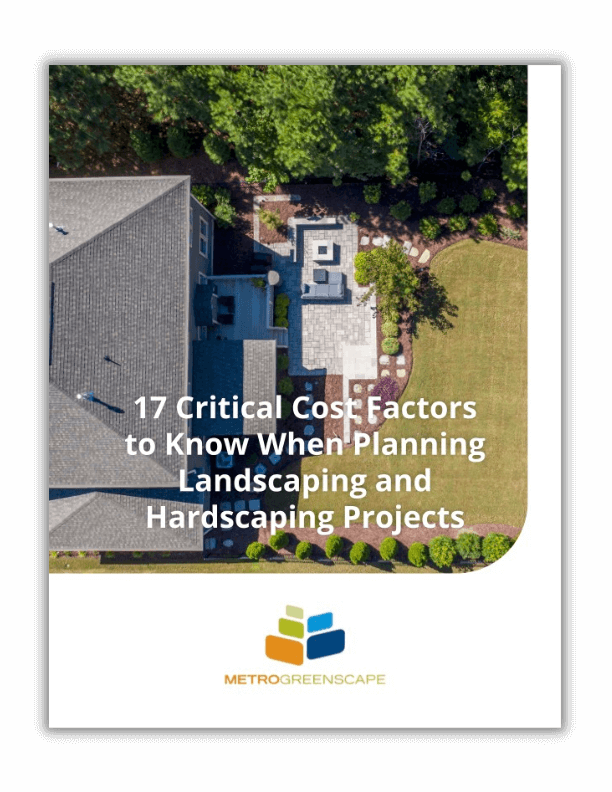 Download Our Free Guide: How to Plan Your Project
Discover 17 critical cost factors you should know while planning your next landscaping or hardscaping project.
Step 1:  Fill out this form and get the guide
Step 2:  We'll email you the PDF.
Step 3:  Learn everything you need to know about planning your project.