Davidson, NC Full-Service Landscaping Company
One of several iconic North Carolina lakeside towns, Davidson by Lake Norman is a small but spectacularly beautiful town which plays host each year to a variety of summer camps and local art festivals. However, many Davidson residents don't just spend summer time unwinding in Davidson's public park spaces. Rather, homeowners take pride in transforming their own gardens into beautiful recreational spaces.
Helping Davidson property owners turn their yards into vibrant and luxurious extra living spaces, MetroGreenscape is a Charlotte-based landscaping company who offer high-quality landscaping services all across North Carolina. Partnering with Davidson homeowners, we help people create iconic entertainment and recreational spaces, literally in their own back yard.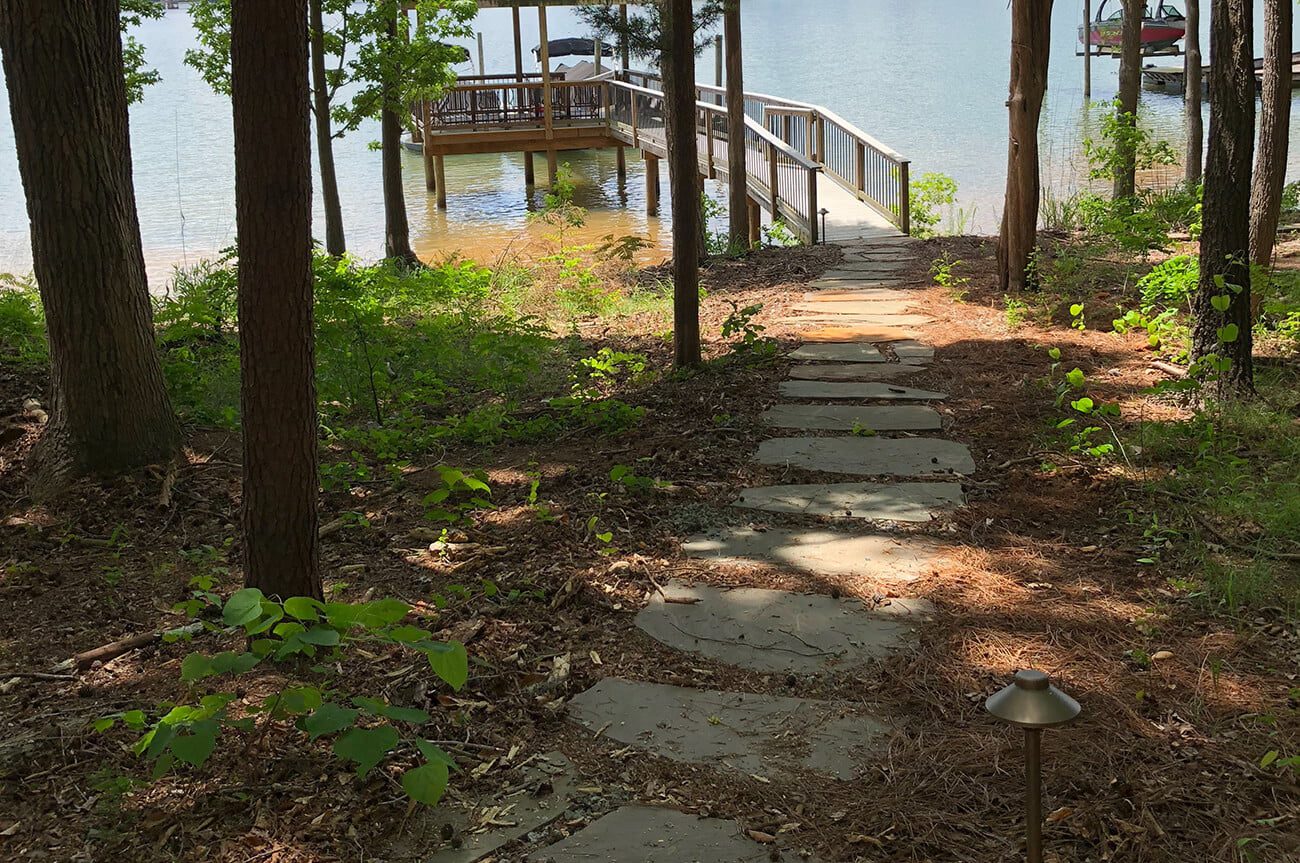 Request an estimate today
Initial consultations $99
We design and build around your hopes, dreams and desires for your family, providing you with turnkey solutions so that you can surround yourself with a lush, healthy outdoor space without investing any of your own time.
Transform Your Davidson Home into an Outdoor Oasis
Davidson is home to 19 parks and greenways, which is a good indication of how much Davidson residents enjoy time spent outside. To make enjoying the great outdoors even easier, many Davidson homeowners choose to transform their front or back yards into beautiful outdoor living and recreational spaces. The right landscape and hardscape design makes it possible for you to enjoy the beautiful outdoors year-round without having to leave your home.
Hardscape companies like MetroGreenscape make this possible with the installation of a custom patio design, fire pit, retaining wall, outdoor kitchen and other hardscape features. Our designers work closely with you to create a hardscape plan that meets your needs and will create a space where you can relax or have friends and family over. Whatever your priorities are – those are our priorities as well. Once we've come up with the perfect outdoor living design for your space, our hardscape contractors will create an outdoor living space you'll enjoy for many years to come.
Custom Swimming Pools and Ponds
The sub tropical North Carolina climate makes swimming pools and water features a must for many homeowners. However, as well as just adding a huge entertainment factor to properties, pools and ponds can also add anywhere between 8% and 15% to overall property values. In this case, pools are a great way to invest in your property's future appreciation.
The only problem with pools and ponds is that they have to be designed and installed in such a way so as to complement existing property designs. At MetroGreenscape, our designers help homeowners find the right pool designs for their properties while keeping the details in accordance with all locally required permits and water usage regulations.
Luxury Landscaping and Outdoor Living
Many Davidson homeowners want to landscape their gardens but simply don't know how to turn their landscaping dreams into a reality. This being the case, at MetroGreenscape, our landscape architects offer consultancy services to Davidson homeowners.
Whether you are looking to site a pool or thinking about installing a luxury outdoor kitchen area, our on-site property inspections will help identify where and how features should be placed in order to showcase not just your garden but your property overall. We'll advise you on what plants and in general floral designs will add year round color and atmosphere to your garden.
Davidson Landscaping
It's no secret that a professionally landscaped yard can be difficult to maintain in the long term. Less verdant lawns, trees and plants being burdened by pests and diseases, breakdowns in outdoor lighting and irrigation systems, can come about simply through homeowners not having the time to tend and maintain their garden to the highest possible standard.
Thankfully, MetroGreenscape can help. Specializing in the provision of residential landscaping and lawn maintenance services, our horticultural and design experts oversee everything from mowing and irrigation system maintenance, to professional pest and plant disease control.
Based out of Charlotte, the professionals at MetroGreenscape are passionate about transforming gardens into visually spectacular and luxurious outdoor living spaces. Even better, landscaping itself can add tens of thousands of dollars to Davidson property values. If you're thinking about landscaping the area around your home, call (704) 486-5095 or contact MetroGreenscape today in order to to discuss your own landscaping requirements in more detail.
Luxury Outdoor Living Spaces in Charlotte
Water features such as swimming pools and ponds are perfect for transforming landscapes around properties into family orientated recreational areas. Moreover, with Charlotte not having direct access to North Carolina's lakes or the Catawba River, a water feature is the perfect way to add a certain 'staycation' quality to your outdoor living space.
At MetroGreenscape, our Charlotte outdoor living teams work with homeowners to not just develop luxuriously elegant pools, but also accompanying poolsides. All of our pools are designed in mind of all locally required permits and designed to add maximum extra market value to your property.
Excelling in providing luxurious, outdoor landscapes with a unique visual flare, our outdoor living designers are just as passionate about helping you realize your yard's potential as you are. We are here to help if you're thinking about landscaping or turning your yard into a "staycation" paradise.
Contact our Charlotte Outdoor Living, Lawn Care and Landscaping experts today to discuss your specific needs in more detail.
How can we help?
Landscaping Services in Davidson
Whether just a weekly lawn mowing, or an entire custom patio, kitchen and outdoor living space we have a skill set in project management to ensure.