Davidson Lawn Care, Landscaping & Hardscaping Company
Davidson is a nature-centric college town located 25 minutes away from Charlotte. It's a stunning place where residents can grab a distinctive southern meal after biking the greenways, paddleboarding Lake Norman or exploring the Davidson College Arboretum. Many Davidson homeowners want to replicate this natural beauty in their backyards but lack the patience or know-how to make it happen.  
MetroGreenscape can help. Established more than 20 years ago, MetroGreenscape is a Charlotte-based landscaping company that offers high-quality landscaping services all across North Carolina. We keep lawns in Davidson looking healthy, but we also partner with Davidson residents to create vibrant and luxurious outdoor living spaces. 
Contents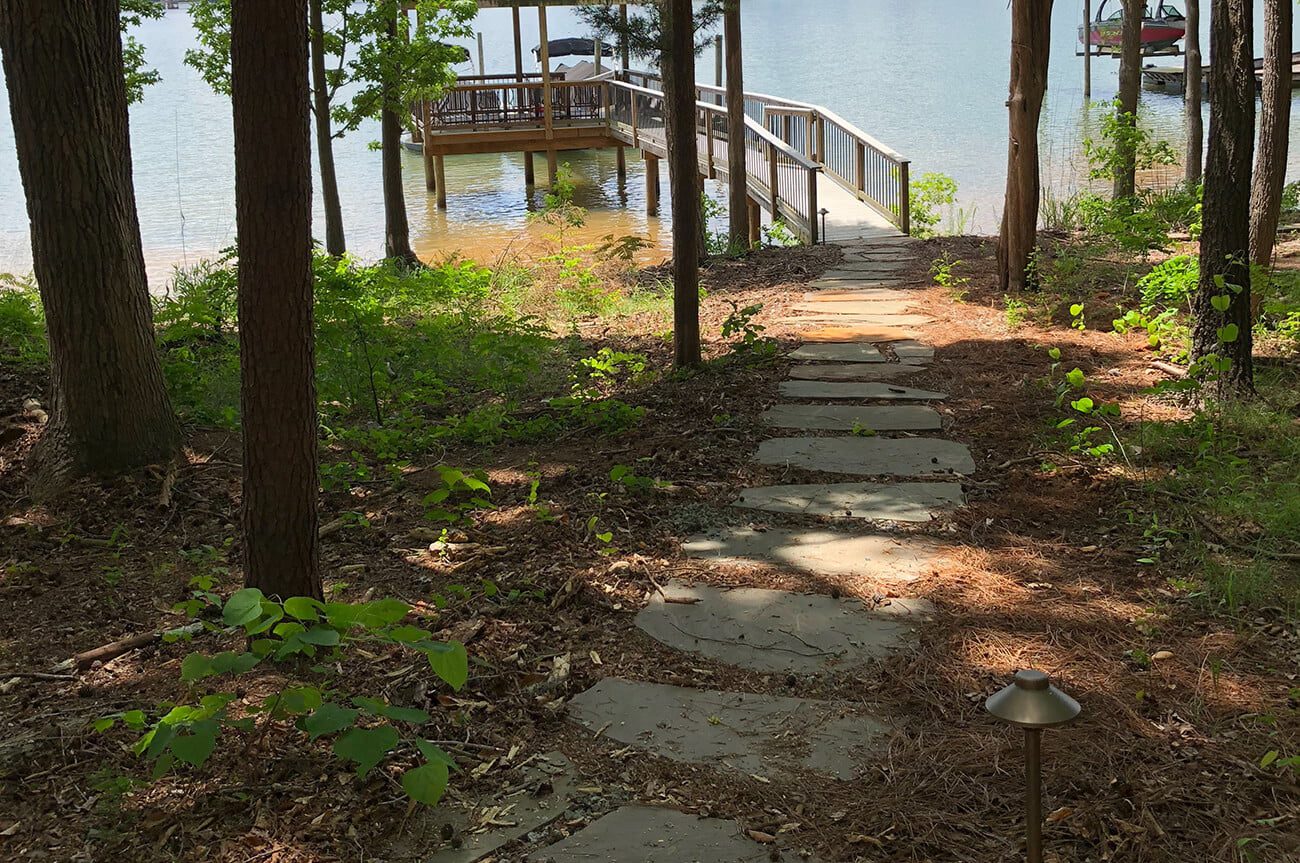 Request an estimate today
Initial consultations $99
We design and build around your hopes, dreams and desires for your family, providing you with turnkey solutions so that you can surround yourself with a lush, healthy outdoor space without investing any of your own time.
Davidson Lawn Care & Lawn Maintenance
MetroGreenscape is the top provider of landscaping services in Davidson, and that's not by accident. For nearly two decades, we have outdone our competitors by advocating for an all-inclusive approach to lawn care. 
While less qualified companies limit their services to mowing, we provide Davidson homeowners with both lawn care and lawn maintenance services. This comprehensive package includes lawn care services that boost turf health (like aerating) and lawn maintenance services that increase curb appeal (like mowing). We even offer artificial turf installation for those looking for a less demanding lawn. This attention to detail ensures Davidson lawns stay green and healthy. 
Davidson homeowners can benefit from MetroGreenscape's innovative approach for just $325 per month.
Get your estimate today ›
Popular Davidson Landscaping Projects
Is your lawn overrun by mosquitos and gnats? Are your kids constantly tracking in mud from the swampy backyard? Poor landscaping design is probably causing these issues. Though landscaping is often overlooked by Davidson homeowners, improper design can cause a host of problems like standing water and erosion. 
Fortunately, MetroGreenscape has a solution. For Davidson customers with an annual contract, our knowledgeable team provides additional landscaping services like irrigation planning and outdoor lighting installation. 
Health of Existing Plant Life 
Are the roots on your rhododendron rotting? Are the leaves on your rose bush starting to curl? The Davidson plant specialists at MetroGreenscape can fix that. 
Lawn Analysis 
If your grass is blotchy, it could be because your soil is too wet. Let us conduct a lawn analysis to identify the root cause of the issue.
Water Features 
A backyard fountain can do wonders for Davidson wildlife, providing a water source for butterflies and songbirds. 
Landscape Design 
At MetroGreenscape, our expert design team works to create outdoor spaces that are both functional and beautiful. 
Privacy Trees & Shrubs
Willow and cypress trees can create a living wall between you and your Davidson neighbor, affording lots of privacy. Our trained landscaping experts will monitor these trees for disease. 
Outdoor Lighting 
Do you want your home to look stunning even at night? Consider hiring MetroGreenscape to install outdoor lighting. 
Irrigation Planning 
MetroGreenscape will check your Davidson backyard for existing irrigation systems. This eliminates the issue of overwatering. 
Seasonal Color 
Planting species that offer color, no matter the season, is a simple way to boost curb appeal. 
Get your estimate today ›
Popular Hardscaping Projects in Davidson
Davidson residents are lucky. They spend mornings jogging the town's exquisite greenways and afternoons kayaking on Lake Norman, a 32,000-acre lake with hundreds of miles of shoreline. But residents don't have to venture far to enjoy the year-round splendor of Davidson. 
Thanks to MetroGreenscape, Davidson homeowners can enjoy customized outdoor spaces in their very own backyards. From an in-ground swimming pool to a covered patio, MetroGreenscape's licensed contractors build hardscapes that complement each customer's unique lifestyle. 
Research shows that nature can help us concentrate. So why not tackle work projects on your new patio? 
In the wintertime, temperatures in Davidson can drop well below freezing. Warm up with a custom outdoor fireplace. 
Erosion can destroy your home's foundation. Be proactive by hiring MetroGreenscape to install a retaining wall.  
Do you want more space to entertain family and friends? A custom deck might fit the bill. 
S'mores aren't just for camping trips when you add a fire pit to your Davidson backyard. 
A brick or flagstone path adds an element of elegance to your landscape. It also makes navigating your backyard easier.
Is your Davidson kitchen too cramped to entertain while cooking? Consider adding an outdoor kitchen. 
Give your guests more options for lounging and relaxing by adding seating walls. 
Do you love swimming but don't want to drive to Lake Norman? Add an in-ground swimming pool to your backyard.
Get your estimate today ›
Swimming Pools and Water Features
Davidson's subtropical climate makes swimming a must in the summertime. But custom in-ground pools do more than help you beat the heat. Market research suggests that pools and other water features increase property values by up to 15 percent. In Davidson, where the average home lists for $500,000, that's about $75,000. 
Of course, ROI depends on proper design. The water feature cannot clash with the home's architectural style and aesthetic. At MetroGreenscape, we help homeowners find the right design for their property. We also consider locally required permits and water usage regulations.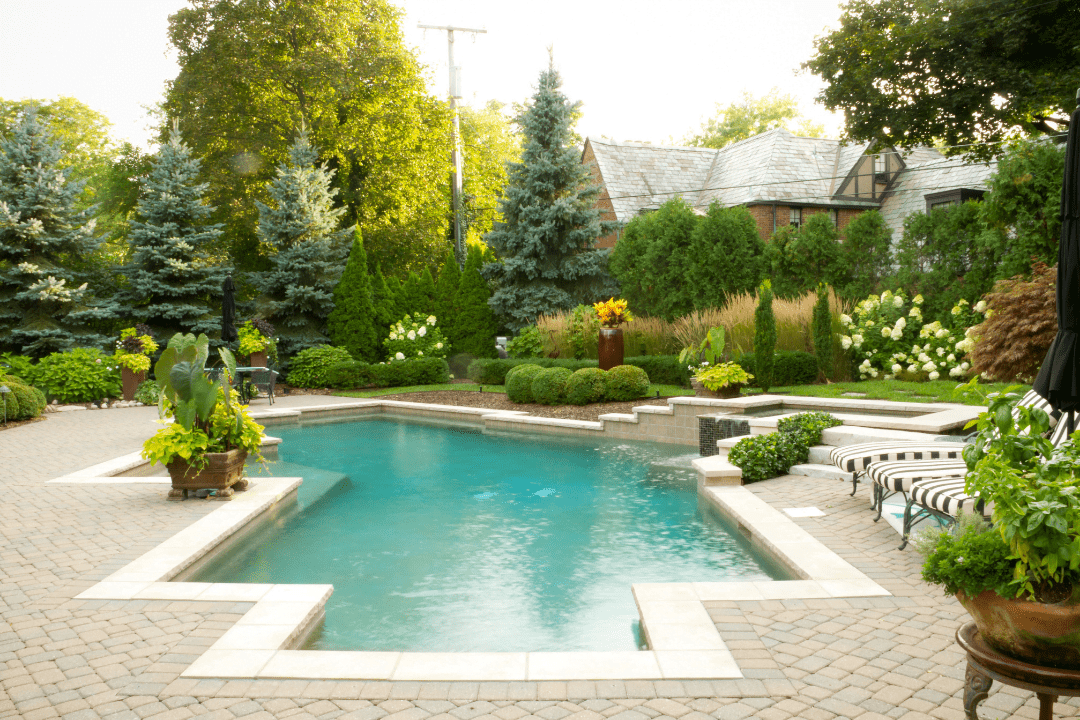 Outdoor Lighting
Outdoor lighting quite literally spotlights the beauty of your Davidson property. Does your back porch overlook Lake Norman? Show it off. Is your front entrance architecturally interesting? Call attention to it. At MetroGreenscape, we choose tasteful lights that enhance curb appeal. 
The lights we choose for your Davidson home are also practical. Pool lights, for instance, allow you to extend parties well into the evening. Path lights make it much safer to traverse the front walkway at night. Landscaping lights can even deter trespassers from targeting your home.
View financing options ›
Financing and Payment Options
We design outdoor spaces that are unique to each customer's needs. Shouldn't pricing be the same? At MetroGreenscape, we offer a firm price estimate during consultations. We offer financing as well, allowing Davidson homeowners to choose a payment option that fits their budget.
View financing options ›
Davidson Commercial Lawn Care
Small businesses owners face many challenges, though maybe the biggest is fatigue. The average entrepreneur works 60 hours per week, struggling to keep up with finances, employee management, marketing and other aspects of business. Let MetroGreenscape help by taking commercial lawn maintenance off your never-ending to-do list.
For the past 20 years, MetroGreenscape has managed commercial properties in Davidson and the surrounding areas. We pride ourselves on making the outside of your storefront or office reflect all the good that's happening on the inside. What's more, our commercial packages are completely customizable. That means you only pay for what you need, not what you don't.
Get your estimate today ›
Need some inspiration for your Davidson home? Check out our latest projects.
Davidson Landscaping and Hardscaping FAQs
How long do hardscaping projects take?
It varies. At MetroGreenscape, we work with Davidson homeowners to create unique and personalized spaces. Since each project is different, each project timeline is different. But generally, simple projects like a fireplace or flagstone path will take a few days. More complicated projects like an in-ground pool will take several months.
Is it worth hiring a lawn care service in Davidson?
Yes. The only way to address common turf problems like crabgrass and blight is to hire a trained professional. The knowledgeable team at MetroGreenscape can quickly conduct a lawn analysis to identify what is preventing your lawn from looking its best. We can then create an action plan.
Should I get lighting done by a professional?
Yes. Though you might be tempted to purchase LED lights at a big-box store, these lights aren't very durable or long-lasting. Comparatively, the lights installed by a professional will last for years, possibly even decades.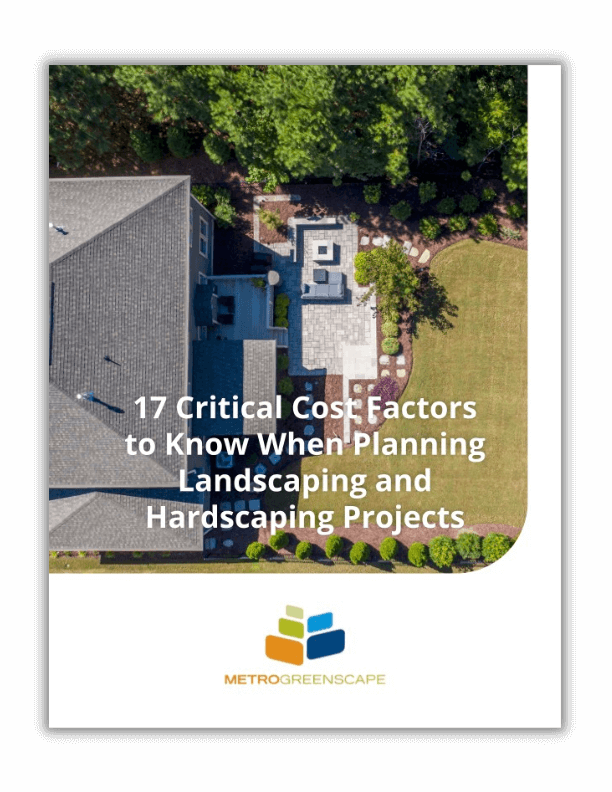 Download Our Free Guide: How to Plan Your Project
Discover 17 critical cost factors you should know while planning your next landscaping or hardscaping project.
Step 1:  Fill out this form and get the guide
Step 2:  We'll email you the PDF.
Step 3:  Learn everything you need to know about planning your project.