Denver, NC Custom Outdoor Living and Landscaping
Formerly known as Dry Pond, Denver, North Carolina has a rich farming and agricultural history. However, today the town is more predominantly associated with high-quality West Lake and Catawba Riverside property. Moreover, with homeowners in the area taking particular pride in such properties, MetroGreenscape is Denver residents no.1 landscaping contractor for bespoke landscaping and outdoor design services.
Based out of Charlotte, our landscape architects help anchor properties into their natural and urban environments by identifying and installing beautiful outdoor structures and custom designed functional features such as swimming pools, ponds, and outdoor fireplaces.
Landscaping Design Services
While tending to your garden can be hugely personally rewarding, professional landscaping services such as ours are essential for anyone looking to carry out more extensive landscaping. Things like yard grading, drainage, and irrigation all have to be taken into account when developing any area on your property. Likewise, it's important to site features such as pools and ponds in a way which will add maximum asthetic and monetary value to your property.
At MetroGreenscape, we help Denver homeowners identify how best to landscape properties by offering a comprehensive consultation service. During this consultation, we'll discuss your personal landscaping aspirations before advising you on not just how best to place features such as outdoor kitchen areas, but also, what seasonal color accents might best complement the overall theme of your garden.
Landscape Maintenance
Do you already have a fantastic outdoor space but are struggling with the overall health and vitality of your garden?
As well as turnkey landscaping, our horticultural experts can help you maintain your garden to the highest possible standard through everything from expert aeration and mulching to professional pest and disease control. In like manner, we can also attend to any basic pruning, lawn mowing and lighting and irrigation maintenance.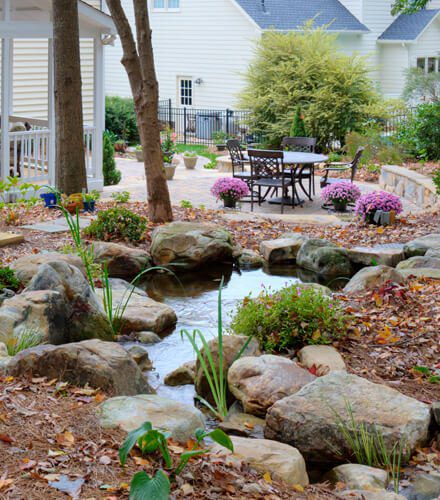 Luxury Swimming Pools and Waterfall Ponds
When landscaping a garden, a pool or pond can make an excellent focal point. Even better, a well-designed pool can add anything from between 8 to 15% to your homes overall market value. However, pools and ponds should in every case be professionally positioned. This and constructed in mind of all locally required permits, inspections and water and plumbing requirements.
Custom Outdoor Spaces
At MetroGreenscape, our outdoor living development teams work with Denver homeowners to develop luxuriously elegant pools and ponds which are perfectly suited to all kinds of home entertainment and recreational purposes. During the design stage, we will also be able to identify eye-catching complementary features such as outdoor kitchen areas and seating walls which will help showcase your new poolside.
Denver Landscaping Services
When landscaping a property, it's important not to rush into things. Hence, why at MetroGreenscape, we provide extensive on-site consultations services during which we can advise you on what features will best suit your particular property.
Are you thinking about landscaping the area around your home? Call (704) 486-5095 or contact MetroGreenscape today to start turning your dream outdoor living space into a reality.
Everything Maintenance
Landscaping and lawn maintenance, both residential and commercial commercials, seasonal coloring and turf fertilization.
 Everything Landscapes
Landscape design and installation, seasonal landscaping, garden maintenance, all with a focus on sustainability.
Everything
Pools
Custom ponds and water features as well as swim ponds and swimming pools for your backyard or outdoor area.
Everything Custom
From project management to master planning, our distinctive service and custom selection of materials will make your project perfect.
Everything
Luxury
Everything for your outdoor area from patios and retaining walls to lighting, irrigation, and outdoor kitchens.
MetroGreenscape in Denver, NC
Thank you so much, Darin… I so appreciate you…your kind heart…your intelligence…your business savvy…your honesty…your beautiful family! Rare in this day, which is a very sad commentary! Thanks for sending all this information…I will process it tonight when I can think about personal …