Gastonia Landscaping & Hardscaping Company
Follow Our Easy 3-Step Process
Schedule a time for one of our pros to evaluate where you want your desired landscape project.
Request an estimate today
Initial consultations $99
We design and build around your hopes, dreams and desires for your family, providing you with turnkey solutions so that you can surround yourself with a lush, healthy outdoor space without investing any of your own time.
Popular Gastonia Landscaping Projects
Most Gastonia homeowners struggle with day-to-day lawn care issues like poor plant health, saturated soil and patchy grass. Though these problems are seemingly benign, they affect your home's resale value, curb appeal and, in cases of erosion, even structural integrity. 
The team at MetroGreenscape can help by providing additional landscaping services to customers with an annual contract. Depending on your needs, our horticulturists will add year-round color to your garden, combat pests and address fertilization problems.   
Health of Existing Plant Life 
Our skilled horticulturists have remedies for persistent blights and pests that will destroy your garden. They also prune bushes and trees to allow for new growth.  
Lawn Analysis 
Is your grass patchy and yellow? We have a solution for that. After performing a precise turf analysis, we will determine the best approach to bring your Gastonia lawn back to life. We can also recommend and install artificial turf for those looking for an alternate solution.
Water Features 
The sound of moving water is scientifically proven to reduce blood pressure and stress hormones. That's just one reason why you should add a tasteful water feature to your Gastonia backyard. 
Landscape Design 
To bring homeowners' visions to life, our team meets with each customer to create a thoughtful and functional landscape design.  
Privacy Trees & Shrubs
Dead trees are a costly threat to your home and family. To avoid this problem, MetroGreenscape's horticulturists monitor privacy trees and shrubs for signs of disease.  
Outdoor Lighting 
Outdoor lighting is a sure way to amp up your home's curb appeal and market value.  
Irrigation Planning 
Standing water can damage plant life as well as your house's foundation. With this in mind, we examine Gastonia lawns for existing irrigation and water systems. 
Seasonal Color 
We believe all yards should shine, no matter the season. That's why we install plants that will stay green or even bloom when temperatures dip. 
Get your estimate today ›
Popular Hardscaping Projects in Gastonia
Gastonia is undeniably beautiful, with temperate winters and colorful falls. Because of this beauty, many Gastonia homeowners search for ways to maximize their family's outside time. They want to fully embrace the great outdoors, even during the dog days of summer and the cold of December.  
MetroGreenscape allows homeowners to do just that. By installing stunning but practical hardscapes like patios and outdoor kitchens, Gastonia residents can enjoy their backyard year-round. Our vetted and licensed professionals can complete a variety of hardscape projects for customers with an annual contract.  
Outdoor spaces should reflect your unique personality. That's why we design and install custom patios that bring your backyard to life.   
An outdoor fireplace can make your patio feel cozy and inviting no matter the temperature. 
Here's the ugly truth about erosion: it's unsightly and can damage your home's foundation. Fix the problem by installing a retaining wall. 
A custom deck is a natural extension of your indoor living space, providing your family with a natural gathering spot. 
Do your kids love camping? Consider adding a custom fire pit to your backyard.  
Walkways and stairs can make accessing your outdoor spaces even easier. 
Is your dining room too cramped to entertain all your friends? Consider adding an outdoor kitchen that allows you to cook while chatting with guests. 
Asking friends and family to bring their own chairs to a backyard gathering isn't very tasteful. Instead, install a seating wall. 
Let MetroGreenscape install an elegant and low-maintenance swimming pool that will entertain your kids for hours. 
Get your estimate today ›
Swimming Pools and Water Features
Pools are not only fun, they are practical. Recent research suggests that an in-ground swimming pool can increase your home's value by upwards of 15 percent. For the average home in Gastonia, that equates to roughly $35,000. 
Of course, a swimming pool or other water feature needs to complement your home's aesthetic. With that being said, MetroGreenscape's designers will work with you to create an outdoor space that is both beautiful and functional. We will also consider all permits, inspections and plumbing requirements.
Get your estimate today ›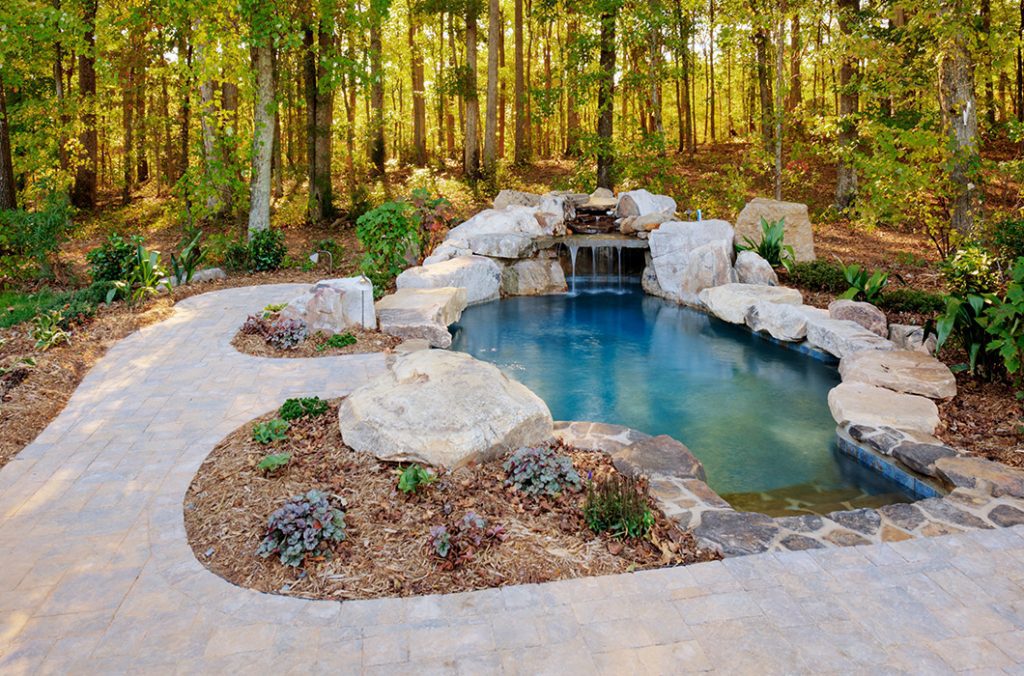 Outdoor Lighting
Navigating dark walkways at night is dangerous. That's why the professionals at MetroGreenscape offer custom outdoor lighting design and installation services, ensuring that you can walk Fido or leave for an early workday without the fear of falling. 
Landscape lighting also ramps up curb appeal, allowing your home to shine during the day and night. In fact, if your lightscape is well-designed and professionally installed, it can increase property value by up to 20 percent. 
Get your estimate today ›
Financing and Payment Options
At MetroGreenscape, we understand that hiring a vetted landscaping professional is a major investment. Though this investment will pay dividends, magnifying your home's functionality and resale value, it's still important for Gastonia homeowners to understand costs upfront. 
That's why we offer estimates during customer consultations. We offer financing as well, allowing homeowners to pick payment methods they can feel good about. 
View financing options ›
Need some inspiration for your Gastonia home? Check out our latest projects. 
Gastonia Landscaping, & Hardscaping FAQs
How long do hardscaping projects take?
How quickly you can expect MetroGreenscape to complete a hardscaping project depends on the scope of the project. An outdoor fire pit, for example, may require a few hours of work. A fully customized outdoor kitchen may require a week. An in-ground swimming pool may require several months.
Should I get lighting done by a professional?
Yes. Though installing store-bought solar lights yourself is a cheaper solution, these lights are less durable than what a professional would install. Professionals also understand the principles of landscape lighting design and can make your home stand out in ways you never thought possible.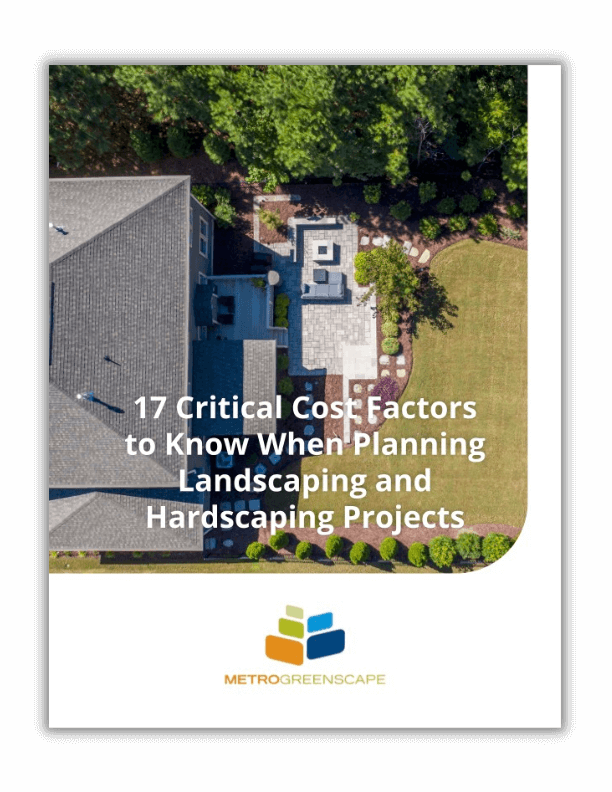 Download Our Free Guide: How to Plan Your Project
Discover 17 critical cost factors you should know while planning your next landscaping or hardscaping project.
Step 1:  Fill out this form and get the guide
Step 2:  We'll email you the PDF.
Step 3:  Learn everything you need to know about planning your project.