Huntersville Hardscapes and Custom Landscaping
Huntersville is one of the most popular suburbs of Charlotte. It is known for its annual outdoor festivals, the Lake Norman area, and beautiful homes that pay meticulous detail to their landscapes and hardscapes.
At MetroGreenscape, we are here to bring this passion to the forefront. We are a custom landscape and hardscape provider based in Charlotte. We take great pride in providing high-quality work to the Huntersville area at an affordable price. To make this happen, we employ a professional team of professional landscape and hardscape experts in the Huntersville, NC area. Our Huntersville landscape and hardscape design and contracting experts will make sure that the outdoor space around your home is filled with unparalleled beauty.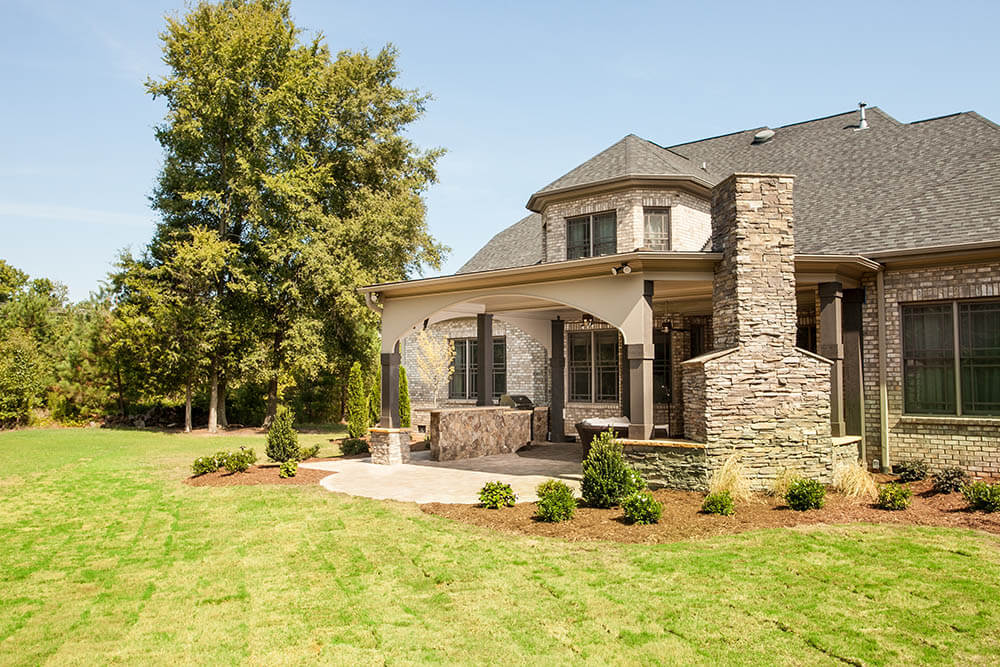 Request an estimate today
Initial consultations $99
We design and build around your hopes, dreams and desires for your family, providing you with turnkey solutions so that you can surround yourself with a lush, healthy outdoor space without investing any of your own time.
Custom Landscape Design
Custom landscape design is a central component of our services in Huntersville. Custom landscaping can greatly enhance your enjoyment of your home and even add thousands of values to the market value of your property.
If you live near Lake Norman, we want you to be able to sit back and enjoy the view. If you want to have gorgeous bushes and meticulous gardens that provide you with joy and fulfillment, we want to make this vision come to life. If you want beauty without having to work hard to maintain it, we can make that happen.
Our custom landscape design services will take your landscape dreams and make them come true. We take the time to sit down and listen to your vision. Then, we come up with a beautiful rendering that we can work with you to tweak until we've ironed out every detail and fulfilled every wish you have for your outdoor space. Finally, we will handle all the heavy lifting to get you the space you want, ensuring that you are kept in the loop every step of the way as you watch your dream outdoor living space come to life.
Hardscapes in Huntersville, NC
Hardscapes encompass all the non-living aspects of your outdoor space, including patios, outdoor kitchens, fire pits, and more. At MetroGreenscape, we provide hardscapes Huntersville, NC, including everything from custom design to expert implementation. Our Huntersville hardscape contractors have a tremendous amount of experience in the industry that allows them to create beautiful hardscape designs that can be built quickly and safely.
Our high-quality services exceed those from the best hardscape companies in the region at affordable prices. At MetroGreenscape, our custom hardscape services will turn your outdoor space into a beautiful, functional area for relaxing or entertaining with retaining walls, outdoor kitchen services, gorgeous outdoor patio designs, and more. We employ patio contractors, outdoor kitchen contractors, retaining wall contractors, walkway contractors, and more to ensure we can fulfill all your hardscape needs. We also have connections throughout the industry and in Huntersville that allow us to get the best materials at the best prices – which we then pass on to you. When it comes to hardscapes Huntersville NC, nobody can match us!
Hardscapes in Huntersville, NC
Two of our most popular hardscape services in Huntersville are custom patio design and custom fire pit design. Whether you have an existing outdoor patio or just an empty space, we can turn your home's yard into an area where everyone will want to come and hang out. At MetroGreenscape, our patios are known for being both luxurious and durable and affordable.
If you want to add a custom fireplace, we can make that happen as well. We're known for our custom fire pits, which combine innovative and classic design elements to match your home. No matter what type of fire pit or outdoor fireplace you're interested in, you can trust our Huntersville hardscape contractors to bring your dreams to life.
Luxury Outdoor Living
When it comes to high-quality outdoor living, MetroGreenscape is the clear choice. We work with you to identify the home and outdoor space you've always wanted, then we find the best way to make that a reality. From beautiful stone patios to custom landscaping, our outdoor living services will transform your space add value to your home. We will turn your outdoor area into a place that you will love during every part of the year.
How We Can Help
Landscaping Services in Huntersville
Whether just a weekly lawn mowing, or an entire custom patio, kitchen and outdoor living space we have a skill set in project management to ensure.