Huntersville Lawn Care, Landscaping & Hardscaping Company
Huntersville is located less than 15 miles from Charlotte — North Carolina's biggest city. Despite this, Huntersville finds a balance between urban and rural living, offering residents a thriving nightlife as well as opportunities to get outside and hike, kayak, and mountain bike.  
Based in the Queen City, MetroGreenscape understands this delicate balance. For the past 20 years, we have helped Huntersville residents connect with the great outdoors while still living just 20 minutes from a booming metropolis. We do this by transforming rocky and sun-parched backyards into beautiful spaces that can be enjoyed by the entire family. 
Contents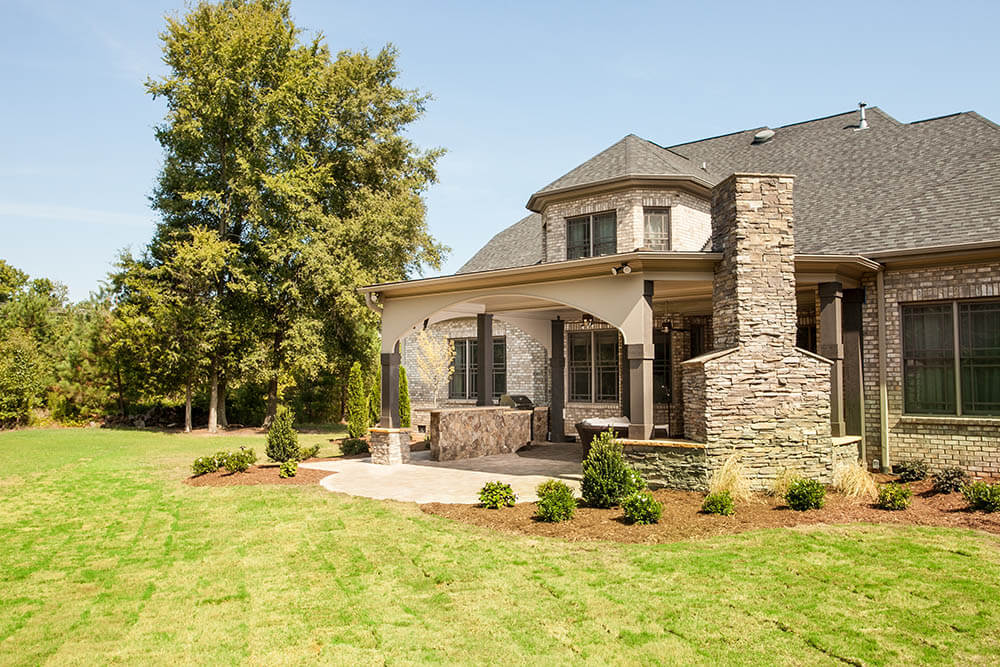 Request an estimate today
Initial consultations $99
We design and build around your hopes, dreams and desires for your family, providing you with turnkey solutions so that you can surround yourself with a lush, healthy outdoor space without investing any of your own time.
Huntersville Lawn Care & Lawn Maintenance
Are you unsure of how often to fertilize your Huntersville lawn? Do you spray weeds only to have crabgrass and sedge multiply? If so, you're not alone. These common landscaping problems are hard to tackle if you don't have the right tools or know-how. 
That's why we founded MetroGreenscape more than 20 years ago. As a professional landscaping company, we provide Huntersville homeowners with the services needed to keep their lawns green and healthy. Unlike our competitors, we offer both lawn care and lawn maintenance services. This comprehensive approach addresses turf health through tasks like aerating and turf appearance through tasks like mowing and mulching. 
Huntersville homeowners can reap the benefits of MetroGreenscape's innovative approach for just $325 per month.
Get your estimate today ›
Popular Huntersville Landscaping Projects
Like other Huntersville homeowners, you may unintentionally neglect the outside of your house. You may assume that the overgrown garden bed can wait or that the patchy front lawn isn't a big deal. However, these issues can seriously damage the health of your Huntersville landscape and, over time, decrease the value of your home. 
As the leading provider of landscaping services in Huntersville, MetroGreenscape can quickly address almost any backyard problem. Since each Huntersville property is different, we begin by inspecting your lawn. We will then suggest additional landscaping services that will improve your yard's health and appearance. These services are available to all Huntersville homeowners with an annual service contract.
Health of Existing Plant Life 
Deadly pests like the emerald ash borer can decimate an entire population of trees. That's why we continually monitor existing plant life for invasive species.  
Lawn Analysis 
Grass is finicky. Even a slight pH imbalance can cause blotchiness and disease. A lawn analysis conducted by one of our trained team members will help us create a comprehensive maintenance plan or recommend artificial turf for those looking for an alternate solution with fewer ongoing maintenance needs. 
Water Features 
Listening to moving water can put us in a meditative state. Zen out with a custom water feature. 
Landscape Design 
Whatever vision you have for your Huntersville backyard, our designers and contractors will work tirelessly to make it a reality. 
Privacy Trees & Shrubs
A diseased tree can fall on your home and potentially injure you or your children. At MetroGreenscape, we monitor and treat all privacy trees and shrubs to avoid this issue. 
Did you know that outdoor lighting makes burglars less likely to target your home? It also makes walking down driveways and other paths at night safer.  
Irrigation Planning 
To avoid overwatering turf, our Huntersville landscaping specialists check all lawns for existing irrigation systems.  
Seasonal Color 
If you want year-round color, we can suggest plants that bloom even in the dead of winter.
Get your estimate today ›
Popular Hardscaping Projects in Huntersville
Often overshadowed by North Carolina's coastal and mountain towns, Huntersville is an outdoor mecca. Residents can kayak on Lake Norman, hike at the Buzzard Rock Nature Preserve or play disc golf at Bradford Park. But what if Huntersville homeowners want to enjoy the outdoors without navigating I-77?
That's where MetroGreenscape comes in. Our team of skilled hardscape contractors can turn any backyard into a functional oasis. We have tremendous experience in this industry and have transformed the steepest, most unsuitable spaces into outdoor living areas. 
Skip the breakfast nook and drink coffee on your custom flagstone patio instead. 
Warm up this winter with a custom outdoor fireplace. These backyard additions create a cozy ambiance while boosting home value. 
Is your property steep and unusable? A retaining wall can create terraced areas that are great for gardening. 
A custom deck adds square footage to your Huntersville home without breaking the bank. 
Fire pits bring warmth and stay-cation vibes to your Huntersville yard. 
Are your kids ruining the grass when they walk to the backyard pool? Add a flagstone path. 
Food just tastes better when it's cooked outside. If you agree, you'll love a custom outdoor kitchen thoughtfully designed by our team. 
Is your living room tight on space during holiday gatherings? Consider adding seating walls and moving the party outside. 
You can go for a dip whenever you'd like when you hire MetroGreenscape to create an aquatic paradise.
Get your estimate today ›
Swimming Pools and Water Features
Exercise, particularly low-impact cardio like swimming, releases feel-good neurotransmitters like serotonin and dopamine. It's also great for the heart, burning almost as many calories as running. At MetroGreenscape, we can design a pool that is perfect for working out, sunbathing or both. 
Before we break ground, our design team will schedule a consultation with you. During this consultation, they will listen to your vision and then discuss pool shape, type and luxury features like sun shelves and waterfalls. Before installation, our licensed contractors will also meet with local building inspectors to discuss local water and plumbing regulations.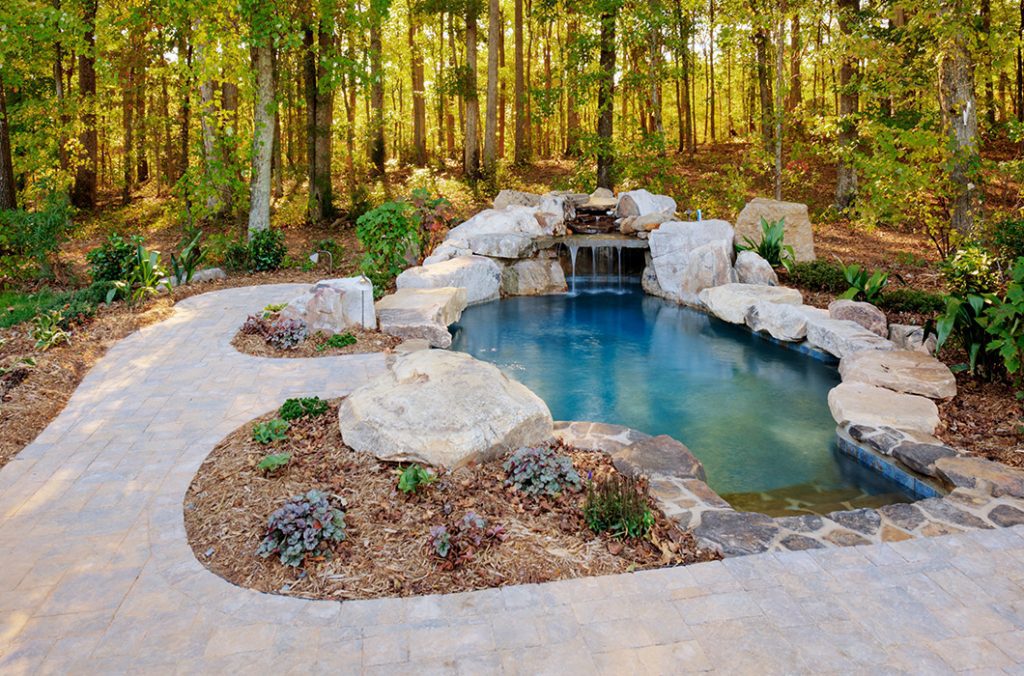 Outdoor Lighting
Do you want to increase your property value? Skip the paint and shiplap and instead invest in outdoor lighting. If installed by a professional, landscape lighting can increase a home's value by 20 percent. Based on the average price of a home in Huntersville, that's about $85,000.
But outdoor lighting is more than a cash cow. It's also a safety consideration. When you illuminate your pathways and outdoor spaces, you make it safer to traverse your property in the dark. Outdoor lights also discourage trespassers from targeting your home.
View financing options ›
Financing and Payment Options
At MetroGreenscape, we believe in transparency. That's why we offer customers a firm price estimate during consultations. We offer financing as well so that Huntersville homeowners can select a payment option that works for them.
View financing options ›
Huntersville Commercial Landscaping
At MetroGreenscape, we think grass is a company's best marketing tool. That's because the outside of your business says something about the quality of work happening on the inside. When a potential customer drives by your storefront and sees a patchy lawn, they assume your company is unorganized or subpar. Is that the first impression you want to make?
For the past 20 years, MetroGreenscape has managed commercial properties in Huntersville and the surrounding areas. As business owners ourselves, we understand the importance of first impressions. We have an eye for detail and will address everything from the faded mulch in your front garden to the crabgrass lining your sidewalks. Our commercial package is also fully customizable.
Get your estimate today ›
Need some inspiration for your Huntersville home? Check out our latest projects. 
Huntersville Landscaping and Hardscaping FAQs
How long do hardscaping projects take?
It depends on the project. Some projects are fairly straightforward. Installing a fire pit, for instance, takes a few hours. Adding a simple flagstone path may take a few days. Other projects are very complicated and, therefore, demand more time. Installing a custom in-ground swimming pool, for example, often takes several months.
Is it worth hiring a lawn care service in Huntersville?
Of course. The best way to keep your Huntersville lawn green and healthy is by hiring someone trained in turf management. These professionals provide mowing, edging, weedeating, mulching and other services that boost your lawn's appearance. But they also provide services that address turf health like aerating and fertilizing.
Should I get lighting done by a professional?
Yes. Though lights from an online website or big-box store might be cheaper, they are less durable than what a professional would install.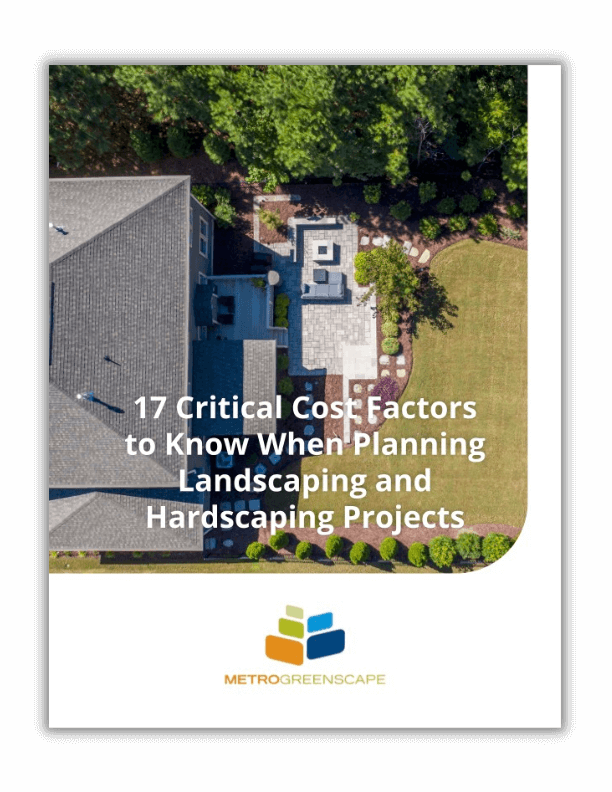 Download Our Free Guide: How to Plan Your Project
Discover 17 critical cost factors you should know while planning your next landscaping or hardscaping project.
Step 1:  Fill out this form and get the guide
Step 2:  We'll email you the PDF.
Step 3:  Learn everything you need to know about planning your project.