Kannapolis Landscaping & Hardscaping Company
Follow Our Easy 3-Step Process
Schedule a time for one of our pros to evaluate where you want your desired hardscape project.
Request an estimate today
Initial consultations $99
We design and build around your hopes, dreams and desires for your family, providing you with turnkey solutions so that you can surround yourself with a lush, healthy outdoor space without investing any of your own time.
Popular Kannapolis Landscaping Projects
MetroGreenscape's landscaping solutions are both aesthetically pleasing and practical. Research suggests that professional landscaping can increase a home's property value by tens of thousands of dollars. That makes sprucing up your yard a solid investment decision.  
But as a homeowner, you need to protect your investment through regular care and maintenance. For customers with an annual contract, our experienced landscaping team can provide a variety of additional services. 
Health of Existing Plant Life 
Slugs and beetles can destroy your beautiful Kannapolis garden. That's why we monitor closely for pests and diseases. 
Lawn Analysis 
We examine the vitality of your Kannapolis grass, checking for specific issues like lawn blight. From there, our experienced horticulturists can make effective treatment recommendations or assist in planning an artificial turf installation for those looking for an alternate lawn care solution.
Water Features 
Do you want to relieve stress naturally? Consider installing a water feature. The gentle bubbling of a fountain can do wonders for anxiety. 
Landscape Design 
A functional outdoor space is rooted in thoughtful design. When our local experts arrive onsite, they take the time to understand your vision. 
Privacy Trees & Shrubs
Ailing trees can drop limbs on your home, threatening your roof and family. Because of this, we create treatment plans for diseased trees and shrubs. 
Outdoor Lighting 
Outdoor lighting is one of the best ways to transform the atmosphere of your outdoor living spaces. 
Irrigation Planning 
We survey Kannapolis lawns, checking for existing irrigation and water systems. This helps Kannapolis homeowners avoid issues associated with overwatering.  
Seasonal Color 
A vibrant garden can add drama and visual interest to your home. Let our experienced landscaping professionals select plants that are beautiful year-round. 
Get your estimate today ›
Popular Hardscaping Projects in Kannapolis
With mild winters and vivid falls, it's little wonder that so many Kannapolis residents dream of building functional outdoor living spaces. Our licensed hardscape contractors can make those dreams into a reality, using your vision to design a space that transforms your Kannapolis property.  
From custom fireplaces to outdoor kitchens, we can do it all for Kannapolis homeowners with an annual service package. 
A patio is an affordable and low-maintenance addition to your Kannapolis home. 
Do you want to enjoy winters in North Carolina? Consider installing an outdoor fireplace so you can stay cozy and warm, no matter the temperature. 
When steep banks on your property erode, that sediment pollutes nearby creeks and rivers. Address the issue with a retaining wall. 
Can you imagine yourself lounging with a good book on a covered deck? Let MetroGreenscape make that dream a reality.  
In the south, fire pits are iconic. These backyard additions are natural gathering spaces where friends and family can make memories. 
A flagstone path might be the next best addition to your cottage garden. At MetroGreenscape, we can install custom walkways and stairs to make your outdoor spaces more accessible. 
Want more than a backyard grill? Let the team at MetroGreenscape design a full outdoor kitchen for your Kannapolis home. 
It can be challenging to host more than a handful of people without proper outdoor seating. Seating walls allow you to invite the entire family. 
Make a splash by adding a stylish and low-maintenance swimming pool to your Kannapolis backyard. 
Get your estimate today ›
Swimming Pools and Water Features
Swimming pools and ponds can be wonderful additions to any backyard. These water features add drama, visual interest and, in the case of a pool, family memories that will last a lifetime. 
At MetroGreenscape, our landscaping specialists can help you create a design that complements your existing landscape. During the initial consultation process, we will consider all required permits, inspections and plumbing requirements. We will then break ground, making your yard one of the most inviting spaces in the neighborhood. 
Get your estimate today ›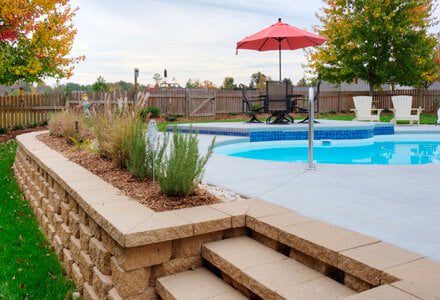 Outdoor Lighting
Outdoor lighting is often overlooked by lesser qualified landscaping professionals. But at MetroGreenscape, we think your home should shine even at night. That's why we work with Kannapolis homeowners to create a lighting design that transforms the ambiance of their property. We can spotlight everything from garden beds to patios. 
Outdoor lighting not only adds visual interest, it's also practical. Friends and family are less likely to fall while traversing illuminated walkways at night. Trespassers are also less likely to target well-lit homes. Lastly, when you light up your deck and swimming pool, you can extend parties well into the evening. 
Get your estimate today ›
Financing and Payment Options
Kannapolis homeowners deserve beautiful and functional outdoor spaces. They also deserve transparency. That's why we offer cost estimates during customer consultations. We offer financing as well, allowing homeowners to pick payment methods they can feel good about.
View financing options ›
Kannapolis Commercial Landscaping
For Kannapolis businesses, healthy turf means a healthy bottom line. When a company chooses an experienced commercial landscaping company to care for their grass, they're communicating professionalism to potential customers. They're saying, "We care about the details."
With more than 20 years of experience maintaining commercial properties in Kannapolis, MetroGreenscape also cares about the details. That's why we offer companies the option of customizing their landscaping package, selecting services that fit their budget and needs.
Get your estimate today ›
Need some inspiration to design your Kannapolis landscape or hardscape? Check out our latest projects.
Kannapolis Landscaping & Hardscaping FAQs
How long do hardscaping projects take?
It depends. Kannapolis homeowners who want to extend their indoor living space with a deck can expect the project to take one to two weeks. Others who are interested in a customized backyard fire pit can expect the project to be completed in a single day. More elaborate projects like in-ground swimming pools can take nearly three months.
Should I get lighting done by a professional?
While many Kannapolis homeowners buy store-bought solar lights, they're not nearly as durable as a lighting system installed by a professional. Professionally installed lights are more effective and add more value to your home.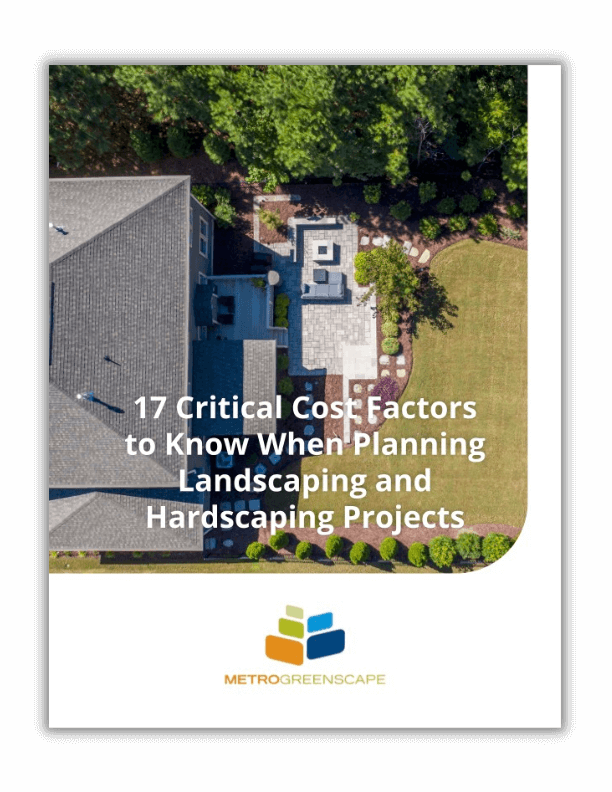 Download Our Free Guide: How to Plan Your Project
Discover 17 critical cost factors you should know while planning your next landscaping or hardscaping project.
Step 1:  Fill out this form and get the guide
Step 2:  We'll email you the PDF.
Step 3:  Learn everything you need to know about planning your project.