Kannapolis, NC Custom Outdoor Living and Landscaping
Kannapolis is often cited as one of North Carolina's most beautifully landscaped cities. From the Bakers Creek Greenway to the city's several parks, urbanization and environmental responsibility is paired beautifully in Kannapolis. This, in turn, leads to a tangibly relaxed atmosphere. Even better, the noticeable green and openness of Kannapolis helps complement city events such as the several farmers markets which take place in the city throughout the year.
However, beautiful landscaping in Kannapolis doesn't start and end with just the city's pristine parks and open spaces. At MetroGreenscape, we help Kannapolis, NC homeowners implement high-quality landscaping around their own properties also.
Custom Landscape Design
Whether you are the proud owner of a beautifully landscaped garden looking to add further features, or a new homeowner looking to create your own perfect outdoor area, MetroGreenscape can help.
Hardscape and Outdoor Living Services
Living in one of North Carolina's most beautifully landscaped cities, is it any wonder that Kannapolis residents also want to beautiful outdoor living spaces on their own properties? MetroGreenscape is a landscape and hardscape company that has been working with Kannapolis homeowners to make those desires into reality. Our professional designers, along with our licensed hardscape contractors, design and create outdoor living spaces every single day. Using your ideas and your vision, we come up with a hardscape design that fits your Kannapolis property and its physical features. From a custom fire pit or outdoor fireplace to a luxurious patio and outdoor kitchen, every feature blend perfectly with your landscape and garden to create an outdoor space you can enjoy all year.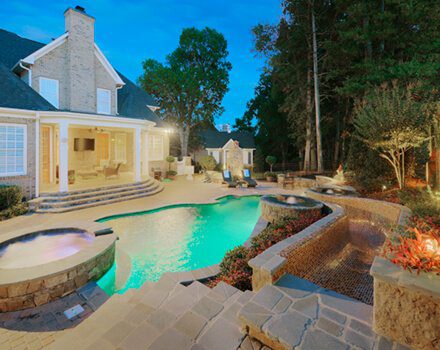 Luxury Outdoor Living Spaces
As well as patio, outdoor lighting, and sod installation, we also offer luxury landscaping services such as the installation of outdoor kitchen areas and seating walls. Whether combined or added singularly, our luxury landscape services succeed in every case in adding vibrant functionality and sociability to garden areas.
Lawn Maintenance Services 
The key to the long-lasting appeal of any garden is regular landscape maintenance. However, at MetroGreenscape, we don't just maintain lighting and water features. Our professional horticulturalists specialize in plant and lawn health and can even implement action plans targeted helping shrubs and trees recover from damage and disease. In like manner, MetroGreenscape can also be called upon to carry out professional aeration and irrigation system maintenance.
Swimming Pools and Ponds in Kannapolis
The most popular centerpiece to any garden usually takes the form of a swimming pool or pond. At MetroGreenscape, our pool and landscaping specialists will, therefore, help you establish what design will best complement your existing landscape. Part of this consultation process will take into account all required permits, inspections and water and plumbing requirements. Post such a consultation, we'll then go about pool installation and the transformation of surrounding patio areas into some of the most inviting on your property.
The Benefits of Professional Landscaping
Based out of Charlotte, North Carolina, MetroGreenscape aren't just passionate about providing Kannapolis homeowners with beautiful and ultimately functional landscaping solutions. Rather, professional landscaping can add tens of thousands of dollars to a property's value. In this respect, we help provide landscaping solutions and services which property owners can count on as a rock solid investment opportunity. Call (704) 486-5095 or contact MetroGreenscape
Everything Maintenance
Landscaping and lawn maintenance, both residential and commercial commercials, seasonal coloring and turf fertilization.
 Everything Landscapes
Landscape design and installation, seasonal landscaping, garden maintenance, all with a focus on sustainability.
Everything
Pools
Custom ponds and water features as well as swim ponds and swimming pools for your backyard or outdoor area.
Everything Custom
From project management to master planning, our distinctive service and custom selection of materials will make your project perfect.
Everything
Luxury
Everything for your outdoor area from patios and retaining walls to lighting, irrigation, and outdoor kitchens.
Lawn Care in Kannapolis, NC
Thanks for the response. As always, thanks for your top notch service. I am very pleased with your work and will be using you again in the future when we finish up the right side of the driveway.
Belmont Custom Landscaping
Belmont Custom Landscaping
Belmont Custom Landscaping
Belmont Custom Landscaping