Monroe Landscaping & Hardscaping Company
Despite being just 30 minutes south of Charlotte, Monroe is a truly wild city. Located in the Piedmont of North Carolina, this buzzing metropolis offers residents sprawling greenways, well-maintained parks and a temperate climate, making it the perfect place to enjoy the great outdoors year-round.
But homeowners don't need to leave their properties for some fresh air. Professional landscapers with MetroGreenscape can help you create functional and aesthetically pleasing outdoor spaces in your own backyard. 
Contents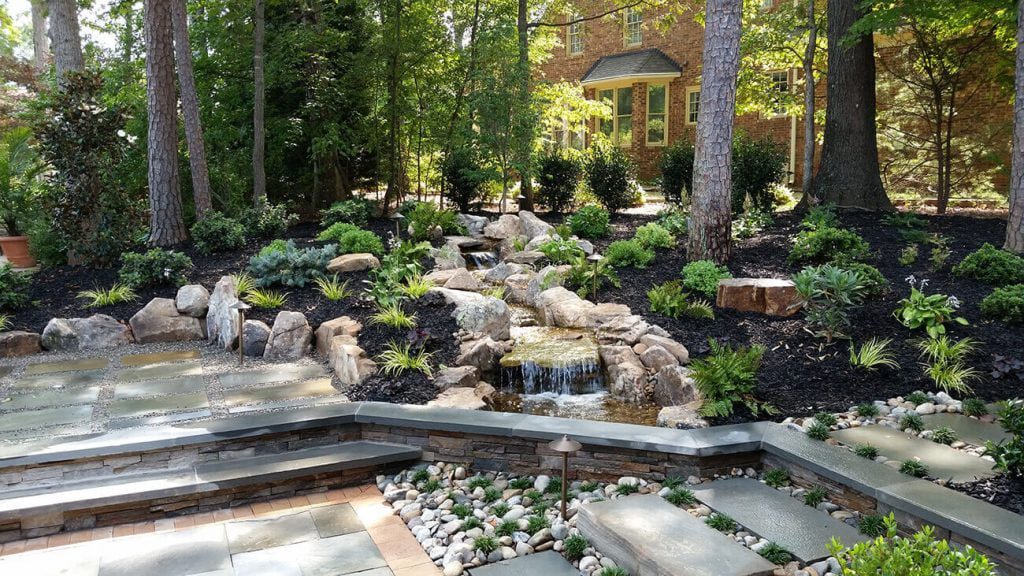 Request an estimate today
Initial consultations $99
We design and build around your hopes, dreams and desires for your family, providing you with turnkey solutions so that you can surround yourself with a lush, healthy outdoor space without investing any of your own time.
Popular Monroe Landscaping Projects
Thoughtful landscape design doesn't just look good. Thoughtful landscape design also prevents issues that threaten the structural integrity of your Monroe home. 
At MetroGreenscape, we understand there's more to landscaping than planting flowers and spreading mulch. That's why customers with an annual contract gain access to a variety of additional landscaping services. 
Health of Existing Plant Life 
Diseases like powdery mildew and blight can decimate your garden. But don't worry — we continuously monitor the health of existing plant life and, when needed, create treatment plans. 
Lawn Analysis 
Our trained horticulturists conduct thorough lawn analyses, examining the health of your Monroe turf and making recommendations to solve rampant crabgrass, parched soil and more. We even offer artificial turf installation for those looking for a less demanding lawn that looks green and healthy year-round.
Water Features 
Water sounds are naturally soothing, making fountains and ponds a wonderful addition to any backyard garden. 
Landscape Design 
Excellent design is at the forefront of what we do. Our local landscapers work with expert designers to plan a space that is practical and charming.   
Privacy Trees & Shrubs
Diseased trees can become expensive very quickly when they fall. We prevent this issue by treating trees suffering from blight and mildew. 
Outdoor Lighting 
Outdoor lighting boosts curb appeal and property value. Let us install a low-maintenance lighting system that spotlights your home and landscapes. 
Irrigation Planning 
We always check yards for existing irrigation systems. This guarantees that your Monroe lawn won't suffer from overwatering. 
Seasonal Color 
Did you know your garden can be striking no matter the season? Our expert horticulturists are adept at selecting plants that offer dimension and color even in the winter. 
Get your estimate today ›
Popular Monroe Hardscaping Projects
Do you want your backyard to be more than a mess of weeds? Let our expert landscapers design an outdoor space you'll be proud of. At MetroGreenscape, we can install maintenance-free patios, decks, swimming pools and more. All projects are customized to your wants and needs. Monroe homeowners can benefit from a long list of hardscaping services. 
Patios are a great way to extend your indoor living space. They are also perfect for exercising or just relaxing. 
Fireplaces make outdoor fun possible even during North Carolina's winters. 
Erosion shouldn't be taken lightly. Not only can it crack your home's foundation, it can also pollute nearby bodies of water. A retaining wall can protect vulnerable slopes. 
At MetroGreenscape, we can build decks from low-maintenance materials that complement your home's aesthetic.  
Backyard glamping feels even more authentic with a customized fire pit installed by our licensed contractors. 
Does your Monroe home feel disconnected from the outdoors? Improve accessibility with custom walkways and stairs. 
A dinner cooked outside just tastes better. Whip up some mouthwatering meals with a fully customized outdoor kitchen designed by our experienced team.  
Make your guests feel even more at home with additional seating. 
The dog days of summer in Union County can be scorching. Find some respite with a customized swimming pool. 
Get your estimate today ›
In-Ground Swimming Pools and Water Features
Backyard water features provide the luxury of a vacation without the fuss. At MetroGreenscape, our licensed contractors can install in-ground swimming pools that are designed with your needs in mind. Our professionals can also install backyard ponds that attract songbirds and butterflies. 
But all water features must be thoughtfully designed. Before starting construction, we want to hear about your vision for the property. We also collaborate with building inspectors to ensure all projects meet local guidelines.
Get your estimate today ›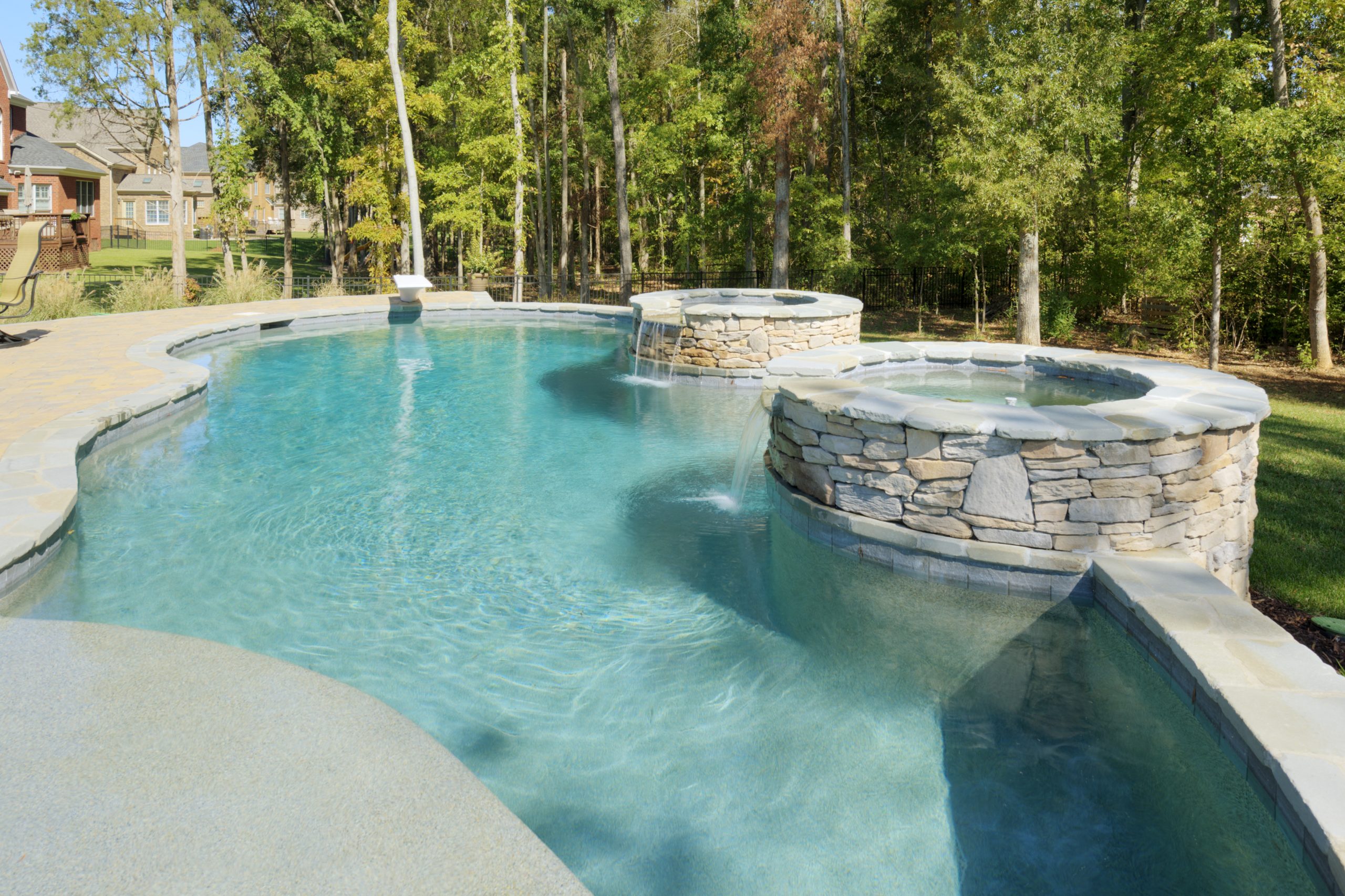 Outdoor Lighting
Your home should always turn heads, no matter the time of day. Spotlight your property each evening with custom outdoor lighting installed by the landscaping professionals at MetroGreenscape. Our team can create lighting designs that illuminate your driveway, back porch, garden patio and more.  
It's also worth noting the practicality of outdoor lighting. Even a modest lighting system can make walkways safer while discouraging trespassers from targeting your home.
Get your estimate today ›
Financing and Payment Options
Monroe homeowners want beautiful and functional outdoor spaces. They also want to know if their landscaping or hardscaping project will suit their budget. We understand that and offer all homeowners a firm cost estimate during their consultation. We offer financing as well, allowing Monroe residents the flexibility of paying over time.
View financing options ›
Monroe Commercial Landscaping
Running a business is time-consuming work. There are employees to manage, books to balance and customers to serve. For many busy Monroe entrepreneurs, that means turf health and appearance are placed on the back burner.  
Fortunately, the team at MetroGreenscape can handle your commercial landscaping needs. We have serviced commercial properties in Monroe for the past 20 years and pride ourselves on growing beautiful lawns. Businesses can also customize their service packages, selecting what they need and forgoing what they don't. 
Get your estimate today ›
Need some inspiration for your Monroe home? Check out our latest projects. 
Monroe Landscaping & Hardscaping FAQs
How long do hardscaping projects take?
It's hard to say. The timeline for a hardscaping project in Monroe is influenced by its scope. If a homeowner wants a customized fire pit, for instance, that may take a day or less while deck construction will likely take two weeks. More complicated endeavors — like installing a swimming pool, for example — can require several months.
Should I get lighting done by a professional?
Yes. Though homeowners are often tempted to install store-bought solar lights themselves, these lights are significantly less durable than what professionals would install. By hiring a landscaping expert, you are ensuring a solid return on your investment.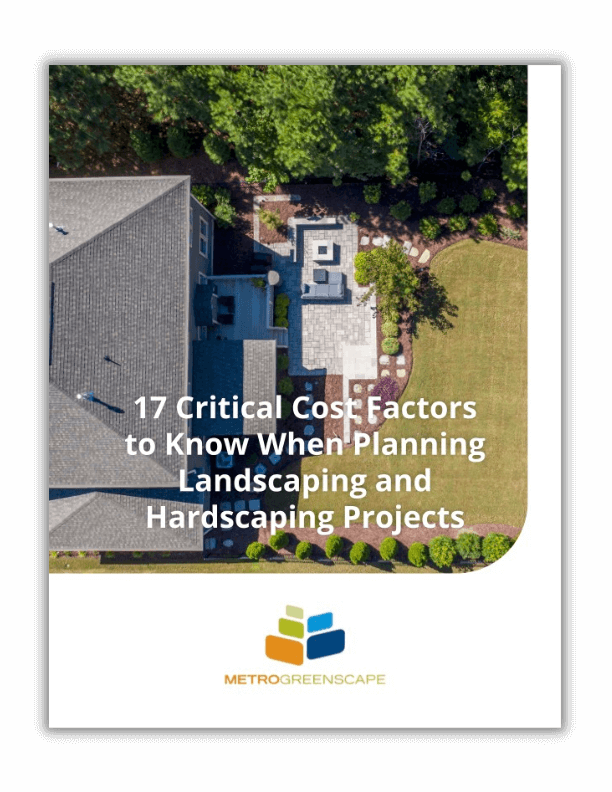 Download Our Free Guide: How to Plan Your Project
Discover 17 critical cost factors you should know while planning your next landscaping or hardscaping project.
Step 1:  Fill out this form and get the guide
Step 2:  We'll email you the PDF.
Step 3:  Learn everything you need to know about planning your project.