Mooresville Landscaping, Lawn Care, & Hardscaping Company
Even though Mooresville is located in North Carolina's piedmont, many consider it a tropical locale. That's because it's home to Lake Norman, a 32,475-acre body of water referred to as the state's "Inland Sea."  
Given Mooresville's lakeside location, homeowners are always looking for ways to spend more time outside. MetroGreenscape, a professional landscaping company with roots in Iredell County, works with Mooresville residents to maintain and enhance their existing landscapes. For more than 20 years, we have been transforming backyards into at-home oasis. 
Contents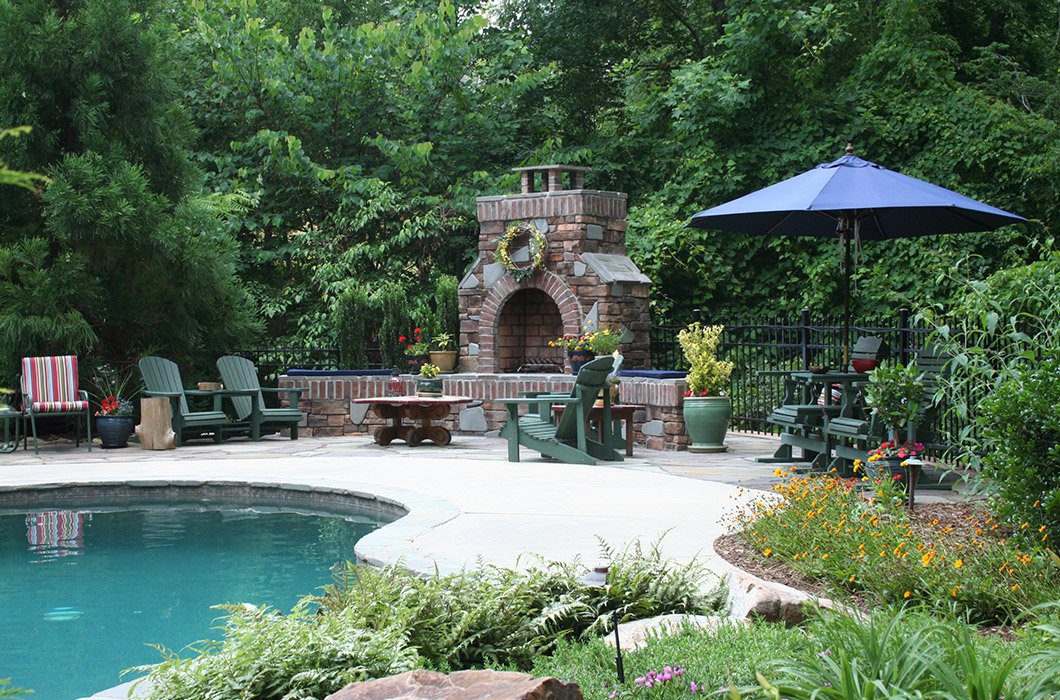 Request an estimate today
Initial consultations $99
We design and build around your hopes, dreams and desires for your family, providing you with turnkey solutions so that you can surround yourself with a lush, healthy outdoor space without investing any of your own time.
Mooresville Lawn Care & Lawn Maintenance
Nearly two decades ago, MetroGreenscape emerged as the leading provider of lawn care services in Mooresville and the surrounding areas. The secret to our success? We do lawn care differently. 
Whereas our competitors only offer weekly or bi-weekly mowings, we have adopted a comprehensive approach that includes both lawn care and lawn maintenance services. Though these two types of services are very much connected, lawn care services like aerating focus on turf health while lawn maintenance services like mulching focus on appearance. 
Mooresville residents can reap the benefits of our wraparound approach for just $325 per month with our annual service contract. 
Get your estimate today ›
Popular Mooresville Landscaping Projects
Is your Mooresville yard nothing more than weeds and rocks? If so, it's costing you. Research suggests that thoughtful landscape design can increase your home's market price by up to 20 percent. The opposite is true as well. If your lawn is unsightly and ill-maintained, it's likely decreasing your property value by thousands of dollars. 
Fortunately, the trained horticulturists at MetroGreenscape offer a variety of additional landscaping services for Mooresville customers with an annual contract. Our team can address anything from patchy grass to erosion. 
Health of Existing Plant Life 
Blight, canker and powdery mildew may all sound deadly but, if caught early on, these plant diseases can easily be addressed by a skilled landscaper. 
Lawn Analysis 
Is crabgrass ruling your front yard? Is your backyard spotty and dry? Let us conduct a lawn analysis. 
Site Drainage 
Most Mooresville homeowners know that standing water creates mud. But few know that it can also create home foundation issues. Because of this, we always address site drainage problems. 
Water Features 
Drinking wine by a tasteful fountain is the best way to destress after navigating Iredell County traffic. 
Landscape Design 
Every team needs a game plan. MetroGreenscape is no different. Before planting a single flower, we generate a thoughtful landscape design that mirrors your vision. 
Privacy Trees & Shrubs
Boxwoods and holly trees are prolific hedge shrubs, growing quickly to provide shade and privacy. The team at MetroGreenscape will regularly trim these shrubs to ensure new growth. 
Outdoor Lighting 
Outdoors lights are an affordable and effective way of deterring trespassers while also increasing your home's value.  
Irrigation Planning 
To avoid overwatering your Mooresville lawn, we always check for existing irrigation and water systems. 
Seasonal Color 
Our trained horticulturists know which plants will create a pop of color in your garden no matter the season.
Get your estimate today ›
Popular Hardscaping Projects in Mooresville
There's no shortage of outdoor fun in Mooresville. Residents can reach top speeds at Mazeppa Park Mountain Bike Trail or slow down and relax at Lake Norman State Park. Though these attractions are just minutes away, many Mooresville homeowners want to bring a sense of adventure and wildness to their own backyards. 
That's where MetroGreenscape comes in. Our landscape architects are experienced at helping homeowners design hardscapes that allow them to enjoy the great outdoors. From patios to in-ground swimming pools, we can do it all for Mooresville residents with an annual service contract. 
Even on rainy or snowy days, you can enjoy the beauty of Mooresville with an enclosed patio designed and installed by MetroGreenscape. 
Outdoor fireplaces are natural gathering spots where friends and family can create lifelong memories. 
Retaining walls can create terraced garden beds in areas that would otherwise be too steep for planting. 
If your Mooresville home feels cramped, consider installing a custom deck. Made of durable materials, a deck by MetroGreenscape can add needed square footage. 
Do you love to camp but are tired of overbooked campgrounds? Give backyard glamping a try with a custom fire pit. 
Well-designed pathways and stairs can boost the curb appeal and functionality of your Mooresville property. 
What's better than a grill? A thoughtfully designed outdoor kitchen by MetroGreenscape. 
You can host more friends and family members when you add seating walls to your outdoor spaces. 
Ditch the gym membership and install an in-ground swimming pool in your own Mooresville backyard. After all, swimming burns almost as many calories per hour as running.
Get your estimate today ›
Swimming Pools and Water Features
Swimming pools and other water features can add an entirely new dynamic to your Mooresville property. Science shows that moving water creates negative ions — electrically charged molecules that are critical to relieving stress. That being said, a tasteful fountain or pond can bring some much-needed zen to your backyard space. 
At MetroGreenscape, we design all water features with your vision and home's aesthetic in mind. As licensed professionals, we also adhere to all local building codes.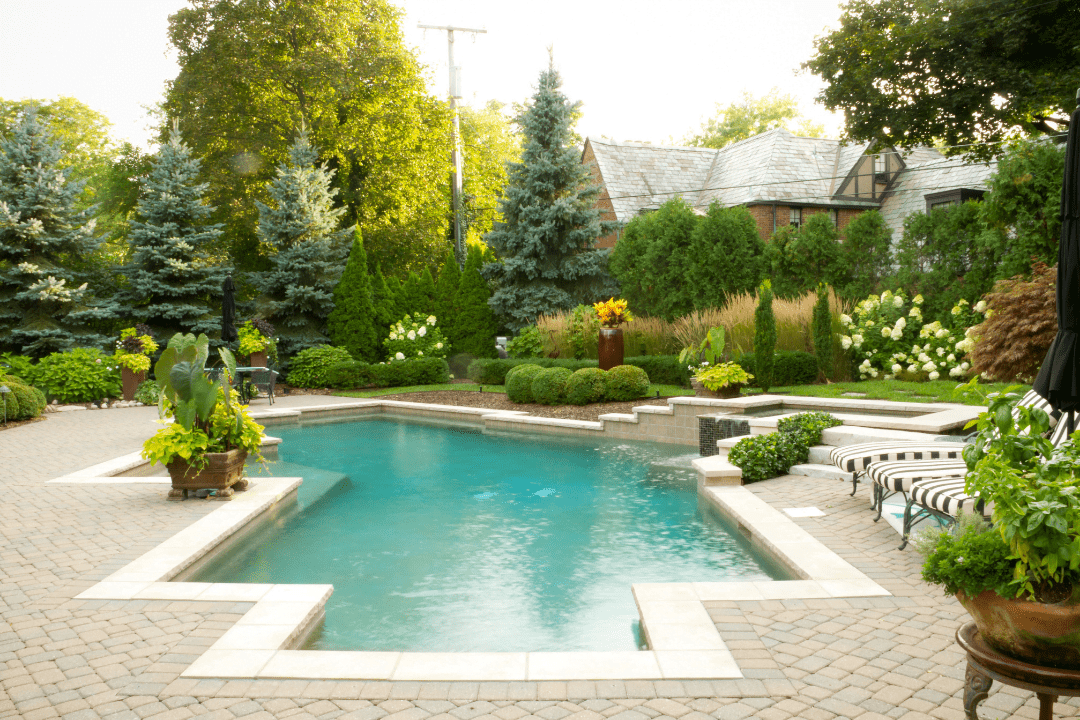 Outdoor Lighting
Outdoor lighting enhances the beauty and aesthetic of your Mooresville property. Is there a stunning oak tree in your front yard? Spotlight it. Are there interesting architectural details on your front stoop? Show them off. When installed by skilled professionals, outdoor lights create depth and interest. 
Safety is another consideration. Path lights can illuminate the way from your parking spot to your front door, helping guests at night. Lights can also illuminate steps and staircases, reducing the likelihood of a fall.
View financing options ›
Financing and Payment Options
Are you interested in transforming your Mooresville backyard but are concerned about what it'll cost? Don't worry. We offer all homeowners a firm cost estimate during their consultation. We offer financing as well, allowing Mooresville residents the flexibility of paying overtime.
View financing options ›
Nearly 25 percent of small business owners work 60 hours a week. At MetroGreenscape, we understand that running a company is stressful and time-consuming. Let us help by taking care of your grass. 
With more than 20 years of experience managing commercial properties in Mooresville, we understand what it takes to create stunning lawns that attract customers. That's why we offer a comprehensive approach, providing services that simultaneously address turf health and appearance. We also offer business owners the option of fully customizing their service package.  
Get your estimate today ›
Need some inspiration for your Mooresville home? Check out our latest projects. 
Mooresville Lawn Care, Landscaping, & Hardscaping FAQs
How long do hardscaping projects take?
The completion time for your Mooresville hardscaping project will vary. More complex projects like custom in-ground swimming pools will require several months of work. Simpler projects like a fire pit or outdoor fireplace will require a few hours to a few days of work.
Is it worth hiring a lawn care service in Mooresville?
Yes. Only the experts with MetroGreenscape can provide a truly comprehensive approach, offering services that ensure your lawn stays both green and healthy.
Should I get outdoor lighting done by a professional?
Yes. The solar lights available online or in big-box stores are less durable and less effective than the lights installed by a professional. A skilled expert also knows exactly where to place outdoor lights to maximize curb appeal.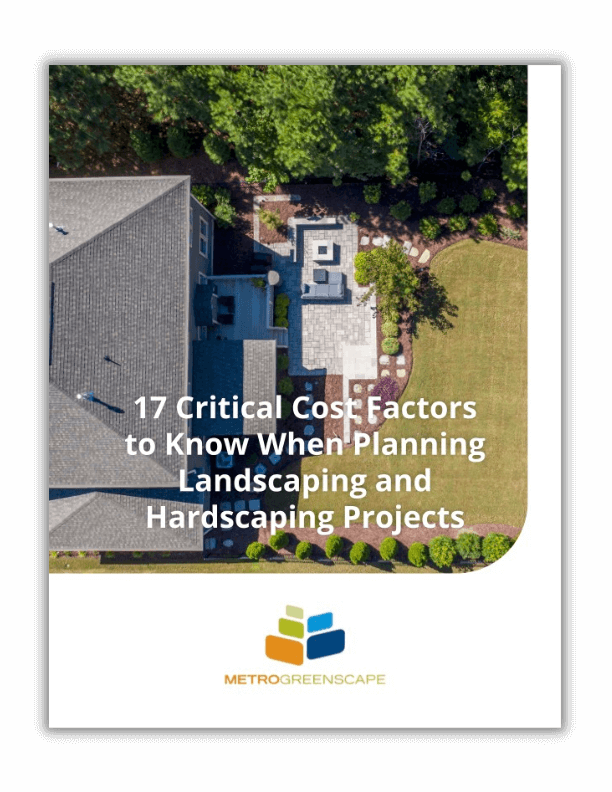 Download Our Free Guide: How to Plan Your Project
Discover 17 critical cost factors you should know while planning your next landscaping or hardscaping project.
Step 1:  Fill out this form and get the guide
Step 2:  We'll email you the PDF.
Step 3:  Learn everything you need to know about planning your project.