Mooresville, NC Custom Outdoor Living and Landscaping
Situated on Lake Norman, Mooresville, North Carolina is a historic town which is often referred to as 'Race City' due to the high amount of NASCAR racers and racing car technology firms which have originated in the area in recent years. Mooresville located near some of North Carolina's most beautiful river and lakeside scenery.
Given Mooresville's lakeside location and atmosphere, many homeowners in the area are particularly proud of the outdoor areas around their properties. Based just 22 miles away in Charlotte, MetroGreenscape works with Mooresville homeowners to maintain and expand upon their existing landscaping features by providing beautiful landscaping design services suitable for all kinds of properties.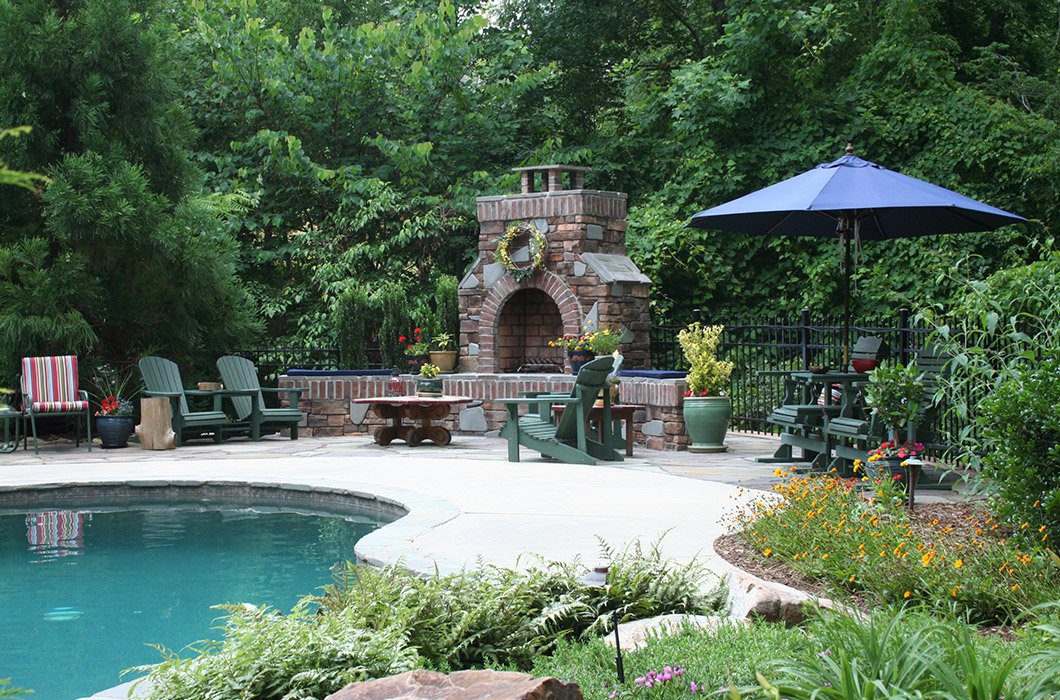 Request an estimate today
Initial consultations $99
We design and build around your hopes, dreams and desires for your family, providing you with turnkey solutions so that you can surround yourself with a lush, healthy outdoor space without investing any of your own time.
Mooresville Landscaping
Your landscaping is an extension of you but that means almost nothing if your garden is purely ornamental. Our landscape designers will help you transform your outdoor area into a functional living space. Whether by providing turnkey custom pool installations or adding entertainment centered features such as outdoor fireplaces, our designers pride themselves on being able to turn gardens into full featured outdoor living spaces.
Swimming Pools and Ponds
Water features such as swimming pools and ponds can add an entirely new dynamic to properties. From fun family areas to pool areas created in mind of more private relaxation, we provide bespoke in ground pool design services designed around adding increased social as well as monetary value to properties.
Custom Outdoor Spaces
Surrounded by beautiful river and lakeside scenery, many Mooresville residents discover that they want to improve their outdoor living spaces to better enjoy the scenery. MetroGreenscape's outdoor services, which include landscape design and hardscape design, as well as building and implementation of those designs, can help.
Our landscape architects are experienced at helping people just like you put together a hardscape design that allows your outdoor living space to blend into your property's natural environment in the Mooresville area. From the addition of a retaining wall, patio, outdoor kitchen, custom fire pit or other features that will create the space you want, our professional hardscape contractors are experienced at turning dreams into realities. If you've been looking at hardscape companies, look no further. MetroGreenscape will help you create your own little piece of paradise right outside your own home.
Of course, where and how you place a pool can be hugely important. In this case, if you're considering adding a pool or pond to your property, we'll work with you to discover not just the best possible customized pool design, but also the best possible accompanying features such as patios, seating walls, and fireplaces.
Luxury Outdoor Living in Mooresville
Landscaping a property on your own can be both arduous and unnecessarily expensive. This being the case, let us help.
At MetroGreenscape, we provide turnkey landscaping services designed around your family's individual hopes, dreams, and desires for your property. Even better, we provide a comprehensive overview of properties as part of our initial consultancy service. To book yours, simply call (704) 486-5095 or contact MetroGreenscape today in order to schedule an on-site visit from one of our landscape architects.
Lawn Care and Maintenance
From laying new sod to providing lawn fertilization, pest, and disease control services, MetroGreenscape is able to partner with homeowners in order to provide comprehensive landscape maintenance solutions.
Through professional aeration, mulching, and irrigation system maintenance, we help enhance the year-round visual appeal of properties. In like manner, we take care of all the little things like lawn mowing, trimming, and edging, which many homeowners simply don't have time for.
How We Can Help
Landscaping Services in Mooresville
Whether just a weekly lawn mowing, or an entire custom patio, kitchen and outdoor living space we have a skill set in project management to ensure.