Mount Holly, NC Custom Outdoor Living and Landscaping
Straddling over 10 miles of pristine Catawba River frontage, Mount Holly, North Carolina is famed for the small city's botanical gardens and in general rural ambiance and atmosphere. Being a green and floral city popular with outdoors enthusiasts, it should, therefore, come as no surprise that many Mount Holly residents take special pride in how their own properties are landscaped and presented.
Based just five minutes away, MetroGreenscape provides Charlotte-based landscaping services targeted at creating functional as well as beautiful gardens. Our designers help create socially orientated garden areas suitable for all manner of entertainment and leisure purposes.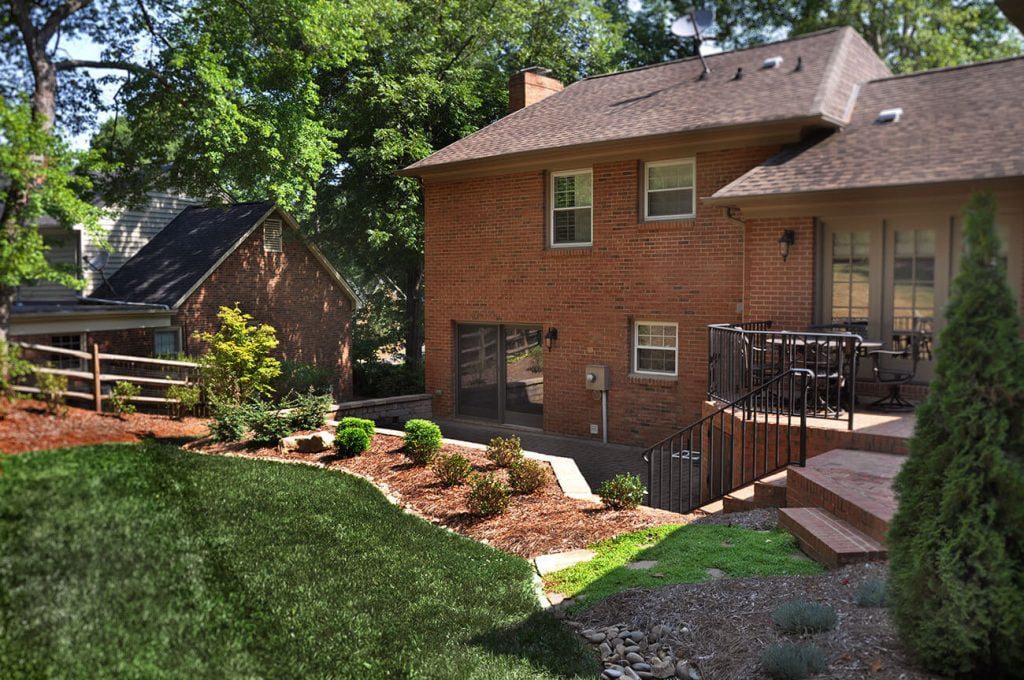 Request an estimate today
Initial consultations $99
We design and build around your hopes, dreams and desires for your family, providing you with turnkey solutions so that you can surround yourself with a lush, healthy outdoor space without investing any of your own time.
Mount Holly Landscaping
At MetroGreenscape, we help homeowners transform the area around their property by offering a thorough evaluation of the area. Our landscaping service allows you to begin to realize your gardens full potential in not just terms of sod and plant placement, but also in terms of which areas can be transformed customized additions.
Custom Hardscape and Outdoor Spaces
Mount Holly residents enjoy the fact that their city is known for being a green and floral city with a rural ambiance and atmosphere. Hardscape companies like MetroGreenscape help bring that ambiance into your own property with the perfect hardscape design that blends with your home and landscaping. We incorporate high-end design features into every project, making sure elements are customized based on how you want to use your space. Whether that means you need a custom patio design, a retaining wall, or a fire pit, we can create the space you dream about.
If you've wanted to create an outdoor space that is truly yours, our custom division is here to provide just that. Your unique style should be represented by your home. This means creating an outdoor kitchen areas and/or having the space complemented by features such as fire pits and outdoor fireplaces.
Lawn Care and Landscape Maintenance
It's no secret that a beautifully landscaped property can be challenging to maintain in the long term. To assist homeowners in this regard, MetroGreenscape provide full-service maintenance services. From basic lawn mowing and mulching to more complex maintenance of electrical and outdoor plumbing systems, we can be approached in order to provide both one off and regular grounds maintenance services all across Mount Holly.
Custom Swimming Pools and Ponds
Water features such as swimming pools and ponds transform landscapes around properties into family and socially orientated recreational areas. Helping you add significant monetary and aesthetic value to your home, our designers can identify the best possible location to site a pool or water feature, whilst also installing such features in compliance with any locally required permits, inspections and water and plumbing requirements.
Landscaping Suitable For All Property Types
Whether you are based near the Catawba River and are in need of landscaping services which complement your home's natural setting, or are just looking to improve upon an existing outdoor structure, MetroGreenscape can help. If you are based in Mount Holly, simply call or contact one of our representatives today. This way we can start discussion in regard to your landscaping aspirations. Even better, you will also be able to benefit from our consultation service. Call (704) 504-0980 or contact MetroGreenscape.
How We Can Help
Landscaping Services in Mount Holly
Whether just a weekly lawn mowing, or an entire custom patio, kitchen and outdoor living space we have a skill set in project management to ensure.