Mount Holly Landscaping & Hardscaping
Follow Our Easy 3-Step Process
Schedule a time for one of our pros to evaluate where you want your desired landscape project.
Request an estimate today
Initial consultations $99
We design and build around your hopes, dreams and desires for your family, providing you with turnkey solutions so that you can surround yourself with a lush, healthy outdoor space without investing any of your own time.
Popular Mount Holly Landscaping Projects
Landscaping is an underestimated science. Though many Mount Holly homeowners believe they can maintain their own lawns, they often don't know how to handle problems like diseased plants, erosion and yellowing grass. These issues can affect your backyard's functionality, making it less of a gathering spot and more of an eyesore.     
The trained landscaping professionals at MetroGreenscape can help by addressing everything from ailing trees to site drainage problems. These additional landscaping services are available to all Mount Holly homeowners with an annual service contract. 
Health of Existing Plant Life 
Are voles destroying your petunias? Is blight devastating your ferns? The experts at MetroGreenscape have a solution for that. 
Lawn Analysis 
A patchy and yellowing lawn is unsightly. The trained horticulturists at MetroGreenscape can ramp up curb appeal after conducting a thorough lawn analysis and recommending a comprehensive lawn care plan or artificial turf installation for those looking for an alternate solution.
Water Features 
Water in motion produces negative ions — electrically charged molecules that are shown to reduce stress. That's why a tasteful backyard water feature can do wonders for your mood. 
Landscape Design 
Our team values the vision you have for your outdoor space. Because of this, we work hard to ensure the final landscape design reflects that vision. 
Privacy Trees & Shrubs
Diseased trees are a massive liability. They can fall on your home or your neighbor's home, creating a nightmarish situation. We help you avoid needless headaches by treating and replanting privacy trees and shrubs.
Outdoor Lighting 
Outdoor lighting is one of the simplest and most affordable ways to boost your home's curb appeal. 
Irrigation Planning 
Is your soil swampy in some places but parched in others? We can help by checking your Mount Holly lawn for existing irrigation systems. 
Seasonal Color 
Vibrant flowers not only boost curb appeal, but they also boost happiness. Let us install a variety of plants that are beautiful year-round. 
Get your estimate today ›
Popular Hardscaping Projects in Mount Holly
Mount Holly residents love to get outside, and with good reason. The city provides endless opportunities to be in nature. Residents can jog the Mountain Island Park Trail, canoe the Catawba River or play baseball at Tuckaseege Park. But Mount Holly homeowners don't need to travel far to enjoy the great outdoors. 
MetroGreenscape can make any backyard functional and beautiful. For the past 20 years,  our experts have designed and installed custom hardscapes in Gaston County. From patios to outdoor kitchens, we can do it all for Mount Holly customers with an annual service package. 
Does your home feel cramped during family gatherings? Consider extending the living space with a custom patio.  
Outdoor fireplaces are a wonderful way to add warmth and ambiance to your backyard. 
Erosion is a silent killer. Erosion can cause a home's foundation to sink and settle, which can cause water problems. Get ahead of the issue by installing a retaining wall.  
A deck can add thousands of dollars to the resale value of your home. It's also a great place to read, grill out or just relax. 
There's nothing quite like a marshmallow roasted over a campfire. Bring the camping experience to your home with a custom fire pit. 
A flagstone pathway that leads to your garden can be both functional and visually striking. 
Seasonal grilling just got better with a custom outdoor kitchen by MetroGreenscape.  
Seating walls are great additions to a custom patio or outdoor kitchen. They ensure every guest feels comfortable during large backyard parties.  
Mount Holly can be sweltering during the dog days of summer. Beat the heat with a custom in-ground swimming pool. 
Get your estimate today ›
Swimming Pools and Water Features
Now more than ever before, Mount Holly families understand the importance of creating fun recreational areas at home. An in-ground swimming pool, for instance, can keep your kids entertained during the long summer days while adding significant value to your property. 
The team at MetroGreenscape will work with you to bring your backyard vision to life, designing a swimming pool or other water feature that matches your home's aesthetic. We install these additions in compliance with local building standards. 
Get your estimate today ›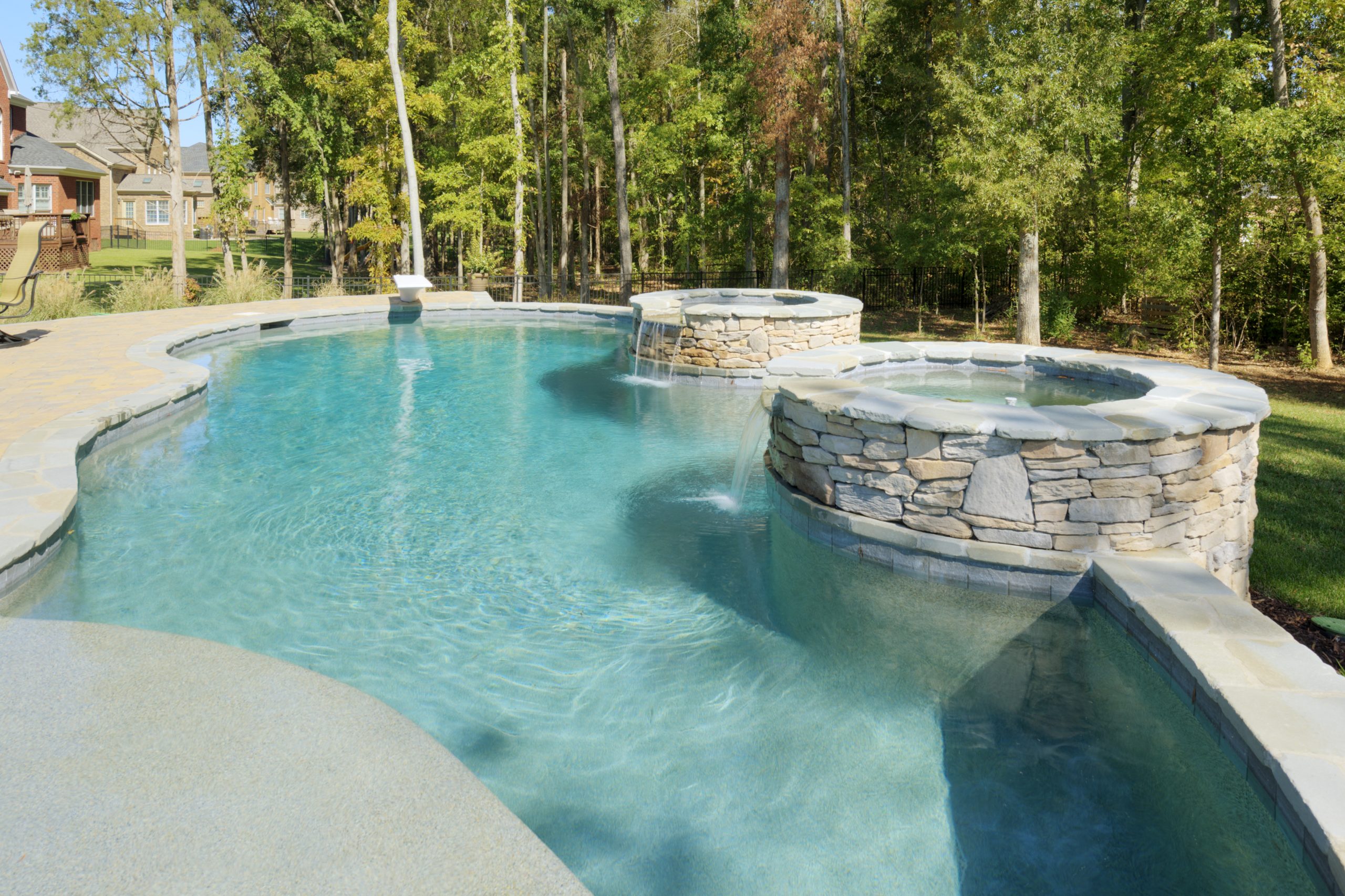 Outdoor Lighting
Are your outdoor gatherings cut short when the sun goes down? MetroGreenscape can help by installing outdoor lighting that illuminates your backyard. Outdoor lighting can spotlight your patio, swimming pool, walkways, stairs and even gardens. 
In addition to extending parties well into the night, landscape lighting can deter trespassers from targeting your family's home. Well-lit pathways are also easier to traverse when you come home late at night or walk the dog early in the morning. 
Get your estimate today ›
Financing and Payment Options
At MetroGreenscape, we want to create an outdoor space that matches your personality, lifestyle and budget. That's why we offer cost estimates during customer consultations. We offer financing as well, allowing homeowners to pick payment methods they can feel good about.
View financing options ›
Mount Holly Commercial Landscaping
In Mount Holly, bad grass means bad business. That's because when your company's lawn is patchy and yellow, you make a bad first impression with prospective customers. You communicate negligence and a lack of attention to detail.  
Let MetroGreenscape set a better tone. Our skilled horticulturists can bring your Mount Holly lawn back to life, applying a comprehensive approach that nurtures turf health and appearance. We also offer customizable commercial landscaping, allowing businesses to select the services that meet their needs. 
Get your estimate today ›
Need some inspiration for your Mount Holly home? Check out our latest projects. 
Mount Holly Landscaping & Hardscaping FAQs
How long do hardscaping projects take?
The timeline for your Mount Holly hardscaping project depends on its scope and complexity. An in-ground swimming pool, for instance, will require months of labor whereas a fire pit may take a few hours. Other projects like decks and patios may take a few weeks.
Should I get outdoor lighting done by a professional?
Yes. Store-bought solar lights are less durable and less effective than the lights installed by a professional. A landscaping expert can also create a thoughtful lighting design that showcases your home's best features.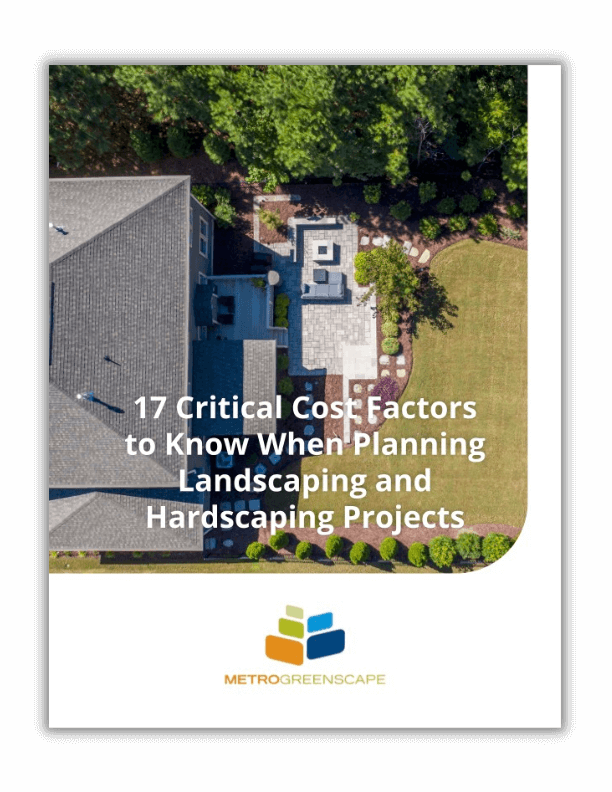 Download Our Free Guide: How to Plan Your Project
Discover 17 critical cost factors you should know while planning your next landscaping or hardscaping project.
Step 1:  Fill out this form and get the guide
Step 2:  We'll email you the PDF.
Step 3:  Learn everything you need to know about planning your project.