Thinking about transforming your backyard with a custom pool design and installation? You're in the right place! Browse our pool project gallery and get inspired by these designs made for homeowners throughout the Charlotte area. Click on specific projects for further details and photos.
VIEW MORE
Cutomer Reviews
Comprehensive Backyard Transformation
My wife and I purchased a new home that was a blank slate. Metrogreenscape provided a beautiful design. They expedited all permits and broke ground in December so we could enjoy the yard by spring. They managed all aspects of the project, from Pool to planting. The process could not have been better! They provided an amazing crew as well as administrative support throughout the process. We are thankful and completely thrilled with the end product.
Michael Schiavo
Attention to detail and professionalism
MetroGreenscape is definitely one of the best choices we ever made when it comes to the care of our home. They are without a doubt worth every penny!! They have exceeded our every expectation with their attention to detail and professionalism. From the employees in the office to the ones in the field, they are all committed to keeping our outdoor living space in superb condition. Family and friends are now giving us compliments on our backyard.
James Norman
Design and Installation of Backyard Entertainment Space
MetroGreenscape far exceeded my expectations in every step of the process. Chris caught my vision and expanded it, giving me several possibilities for design and cost. Joe was on the job site daily to give us a report of how the project was progressing and to answer questions. He was a delight to work with. The crew was the hardest working group of young men I've ever seen, working tirelessly to get everything just right and leaving a clean job site every afternoon when they left. They are true craftsmen. I am so impressed with the professionalism of every person I encountered and could not be more pleased with our new backyard! Thank you for making this such a painless transformation!
Kelly Goley – Charlotte, North Carolina 28226
Entertain & Enjoy With Your Ideal Backyard Pool
As a landscape-hardscape company with 20+ years of experience in the Charlotte area, our outdoor living experts have perfected the planning, design, and implementation process. We begin every project with an onsite consultation. We get to know your vision and lifestyle to design an all-in-one pool and outdoor entertainment space that becomes the perfect place for you to gather with your friends and family.
Ready to transform your home with a backyard pool? Book a consultation with MetroGreenscape today!
Book Consultation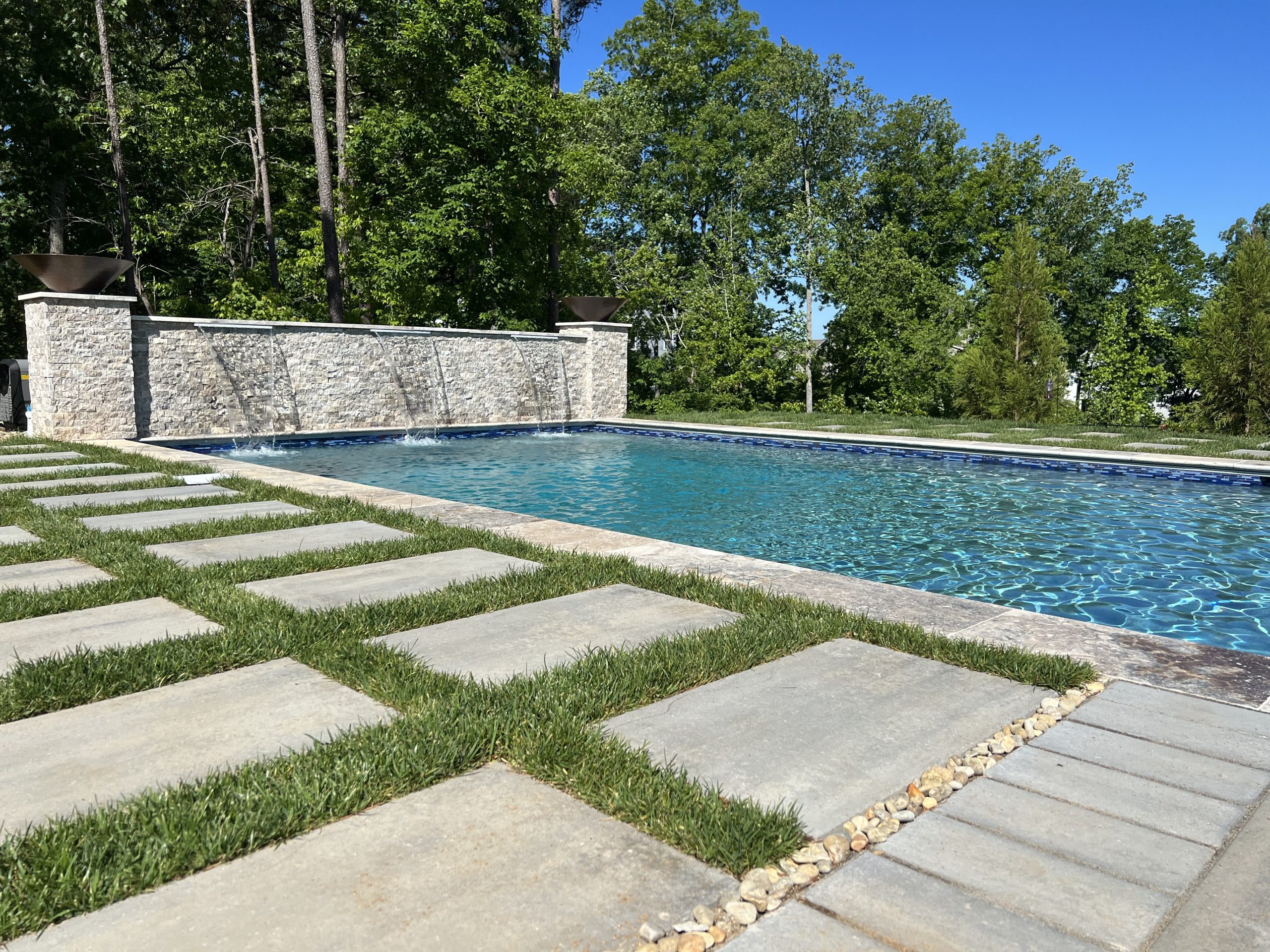 MetroGreenscape's Easy 3-Step Process for Charlotte-Area Pool Design & Installation
Book Your Consultation
A MetroGreenscape team member will be scheduled for an onsite consultation where you will be able to ask questions and get clear on your vision.
Get Your Customized Plan
Our outdoor living experts will provide you with an estimate customized to your vision and discuss your personalized pool plan.
Enjoy Your New Outdoor Space
Spend quality time outside with friends and family as you entertain, relax, and make the most of your new, beautiful outdoor living space!
Book Consultation