Stallings, NC Custom Outdoor Living and Landscaping
From humble beginnings in 1912, the town of Stallings has grown into a prospering area that straddles the Mecklenburg and Union county line. Incorporated in 1975, the town still maintains a small town mentality while continuing to grow.
Helping homeowners all across Stallings visually anchor their properties into their natural and urban environment, our custom landscaping services specialize in beautifying any and all outdoor areas. Available for home and commercial hire, our architects and designers can provide homeowners and local authorities with everything from completely custom pool features, to high-quality outdoor cooking areas and patios.
 Stallings NC Landscaping
Professional landscaping should in every case take into account the local climate and what plants and outdoor structures are ideally suited to a specific locality. Based out of Charlotte, MetroGreenscape is intuitively familiar with the North Carolina area and provide bespoke landscaping services which reflect this familiarity.
As part of our service, we offer a comprehensive consultation service. During this initial consultancy, we'll carry out a ten point inspection of your property. This will allow you to learn not just what water features, flora, and outdoor structures might best suit your property, but also where best it will be best to place such features in the first place.
Custom Outdoor Spaces
When it comes time to increase the functionality of your home's outdoor space, a custom hardscape design can't be beat. Using the best materials from around the world combined with local experts who live and work in and around Stallings, MetroGreenscape's outdoor services can enhance your space. The designers and licensed hardscape contractors at MetroGreenscape will work diligently to turn your dreams of the perfect outdoor living space into a reality. From the creation of a design that seamlessly blends into your current landscape and garden to a custom fire pit design, patio design, retaining wall or an outdoor kitchen, our professional team will create a beautiful and functional outdoor living space that will make you the envy of all your neighbors.
Offering high-end services such as outdoor kitchen and pool design, our number one goal is to transform your garden into an extra living space which can be enjoyed all year-round by you, your family and your friends and neighbors.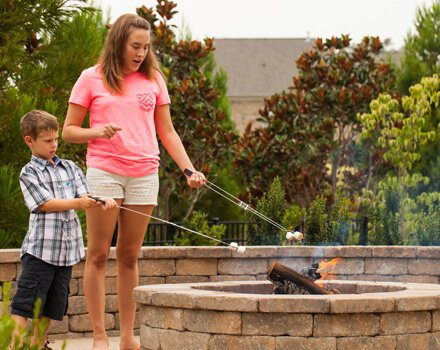 Lawn and Landscape Maintenance
Are you struggling to keep your lawn or the trees and other plants in your garden looking as vibrant as they used to? Whether caused by poor weather or simply you not having the time to tend to your garden as much as you would like to, our horticulturists can help restore your garden to it's former glory in next to no time.
In like manner, as well as lawn aeration and pest and disease control, MetroGreenscape can also assist you with everything from exterior lighting repair services to irrigation and outdoor plumbing maintenance.
Custom Built Swimming Pools and Ponds
The first thing which you need to think about when considering adding a pool or pond to your property is where best it will be to site such a feature. In mind of this, our designers are able to create custom pools and ponds which always complement the visual appeal of properties.
Helping you add significant monetary and aesthetic value to your home, our designers always install such features in compliance with locally required permits and water and plumbing requirements. In like manner, our landscaping team can provide beautiful accompanying features such as seating walls, outdoor fireplaces and custom patio installations.
Outdoor Lighting Services
Stallings strikes a stunning balance between suburban and rural with gorgeous homes and landscaping that can be showcased with outdoor lighting. Our outdoor lighting services include everything from path lights to make walking outside easier at night to pond lights that illuminate your pool. We also offer in-ground lights, spotlights, wall lights, and strip lights, among other options.
Our Stallings lighting services will help you highlight your home and its landscaping in ways that are attractive and functional. If you're updating or maintaining an existing system, we'll help you put in low-maintenance LED lights that are highly reliable and flexible so you can enjoy your lights without the stress of maintaining them regularly. If you're putting in new lighting, we'll help you find the most attractive, durable options so you get more our of your investment and your space.
Stallings NC Full-Service Landscaping Company
High-quality landscaping doesn't just turn heads. When done right, custom landscaping services such as ours can add tens of thousands of dollars to property values. This being the case, if you're based in Stallings, call (704) 486-5095 or contact MetroGreenscape today in order to take advantage of our introductory landscaping consultancy service.
Everything Maintenance
Landscaping and lawn maintenance, both residential and commercial commercials, seasonal coloring and turf fertilization.
 Everything Landscapes
Landscape design and installation, seasonal landscaping, garden maintenance, all with a focus on sustainability.
Everything
Pools
Custom ponds and water features as well as swim ponds and swimming pools for your backyard or outdoor area.
Everything Custom
From project management to master planning, our distinctive service and custom selection of materials will make your project perfect.
Everything
Luxury
Everything for your outdoor area from patios and retaining walls to lighting, irrigation, and outdoor kitchens.
Landscaping in Stallings, NC
Michelle and I would like to take this opportunity to say how pleased we are with our back yard. The retaining wall project has had a substantial impact on our ability to utilize what we thought would be an unusable area. You were able to listen to our needs and create a plan that completely …