If you are considering adding a swimming pool in your backyard, you probably have a lot of questions running through your mind. After all, this is your home we are talking about! You want to make sure that you are well-informed and making all the right decisions before starting a new pool project. We're breaking down the top ten questions our customers ask when we first sit down to discuss building a pool.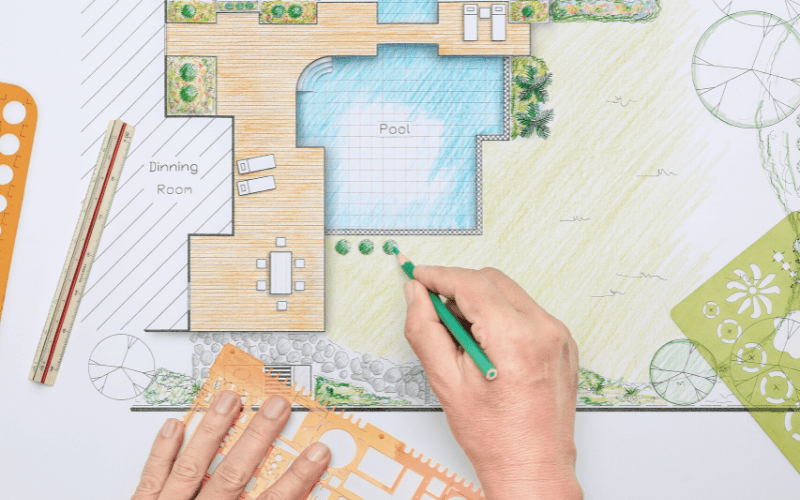 Frequently Asked Questions When Building A Pool
When is the best time of year to build a pool?
With the frigid cold air and the gray skies, you might not be thinking too much about a new pool during the winter. However, this is one of the best times of year to start building your dream pool area. Starting in the winter allows you plenty of time to work on your pool project, helping to ensure that every additional water feature, along with the surrounding landscape and hardscape, matches up to your ideal aesthetic right in time to jump into the summertime fun.
How much does building a pool cost?
The cost of your custom in-ground swimming pool will be impacted by various factors. This includes things like shape, size, location, landscaping, luxury features, and more. At MetroGreenscape, we strive to design pools that suit your needs and budget. With that in mind, we offer firm cost estimates during each consultation. We offer financing as well, allowing you the flexibility of paying over time.
Can I install a pool in my small, sloped yard?
At Metrogreenscape, we are experienced at installing in-ground pools into almost any type of backyard in the Charlotte area. We have taken on projects in small, steep, and shaded yards. With our team of experienced outdoor living specialists, we understand where and how to properly place an in-ground pool based on property grades and other factors.
What is the best type of pool for my lifestyle?
An important thing to think about when designing your pool is what its main purpose will be. The design typically ends up determining the main function of the pool. For example, a pool for fitness may be designed very differently than a pool that is designed for a family to entertain and play in during the summer. From there we can match you up with the pool style that is the best fit for your backyard.
Are pools difficult to maintain?
Swimming pools should not be difficult or time-consuming to maintain. In fact, with the proper equipment, it should make weekly maintenance simple. The four most important things are to make sure that you are cleaning regularly, circulating the water, maintaining the pool chemistry, and maintaining pool equipment. By staying consistent you will save yourself a lot of time and hassle.
How long does a pool project typically take?
The projected timeline for your custom in-ground pool will depend on the design's complexity. However, the majority of our Charlotte customers can expect building a pool to be completed in six to twelve weeks.
What are the most popular pool features?
There are certain "add-on" features that we believe are necessary to enjoy the best experience in your new backyard space. These features go beyond just enjoyment but are also about functionality and design. These include pool patios, outdoor kitchens, landscape lighting, retaining walls, walkways and steps, outdoor fire pits, and surrounding pool landscaping.
Should I get a saltwater or chlorine pool?
While neither choice is better than the other, there are different elements to both that can make one option a better fit for you and your desires. While saltwater pools are more expensive initially, the annual cost is only about $100. Saltwater is also gentler on the skin and the eyes. Chlorine pools will require more upkeep, but generally are quick fixes in comparison to saltwater pool problems, which usually need a technician. Chlorine homeowners can expect to spend $700 annually on their pool but are easy to find and purchase.
How deep should my pool be?
The recommended depth, or "deep end", for a pool is around 5 feet. This allows you enough room to do strokes in the pool without ever scraping the bottom but will still allow you to comfortably stand in your pool.
What kind of plants are best for landscaping my yard with a pool?
Determining what kind of plants to include in your yard can play a huge part in your experience and aesthetic. Our trained horticulturists will ask you to consider several factors when making the decision of what plants will make the best asset to your space. Some plants we typically recommend are Styrax, Hydrangea, Viburnum Dogwood varieties, Vitex, Purple Coneflower, Shasta Daisy, and Catmint.
Ready To Start Building A Pool?
Still have more questions that you want to be answered? No problem! Book a consultation today and our team of experts will cover everything you need to know about your specific space before you start building a pool!