Fort Mill Landscaping & Outdoor Living Company
Fort Mill is a small South Carolina town located just 20 minutes outside of Charlotte. It's touted as a place where residents can reconnect with nature, either by kayaking the calm waters of Lake Wylie or biking the Anne Springs Close Greenway. But what if a Fort Mill homeowner wants to reconnect with nature in their own backyard?
That's where MetroGreenscape comes in. Established more than 20 years ago, MetroGreenscape is a Charlotte-based provider of high-quality yet affordable home landscaping services. Our team keeps lawns in Fort Mill looking lush and green, but we also partner with residents to transform backyards into luxurious, custom outdoor spaces.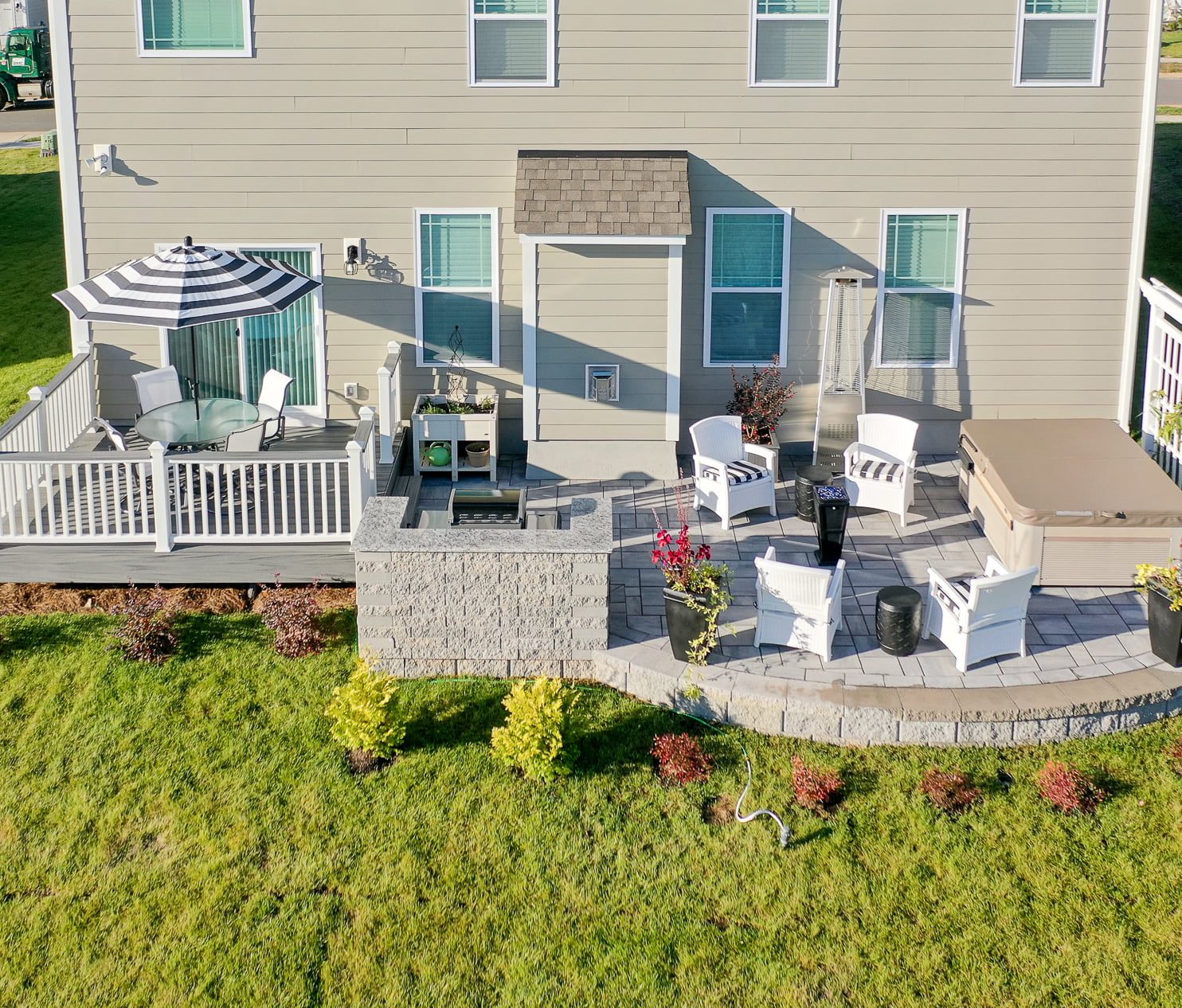 Request an estimate today
Initial consultations $99
We design and build around your hopes, dreams and desires for your family, providing you with turnkey solutions so that you can surround yourself with a lush, healthy outdoor space without investing any of your own time.
Fort Mill Lawn Care & Lawn Maintenance
MetroGreenscape is the top provider of landscaping services in Fort Mill because we think differently. While less qualified companies see lawn care as nothing more than mowing and weeding, we see it as a science.
For more than 20 years, we have offered Fort Mill and the surrounding areas a comprehensive approach to lawn care. Unlike our competitors, we provide both lawn care and lawn maintenance services. Lawn care services like aerating keep the grass healthy while lawn maintenance services like mowing keep the grass beautiful. From our experience, this wrap-around solution is the most effective approach to turf management. If you are looking for an alternate solution with fewer ongoing maintenance needs, we also offer artificial turf installation.
Fort Mill residents can receive MetroGreenscape's all-inclusive services for just $300 per month. Give MetroGreenscape a call 704-504-0980 today to schedule a consultation.
Popular Fort Mill Landscaping Projects
Do you spend hours vacuuming and dusting your Fort Mill house only to neglect the outside? If so, that needs to change. Though an unsightly yard doesn't seem like a big deal, poor landscaping can cause huge problems like erosion, standing water, and even cracks in your home's foundation.
Fortunately, the landscaping professionals at MetroGreenscape can quickly address invasive plants, pesky bugs, and everything in-between. These additional services are offered to Fort Mill customers with an annual service contract.
Though blight and canker can decimate your garden, the MetroGreenscape team is armed with a host of treatment options.
Lawn Analysis
A lawn analysis is an evaluation during which our experts look for weeds, detrimental insects, sun exposure issues, and more.
Water Feature Installation
Research suggests that the sound of flowing water can improve cognitive abilities. So get smart and add a tasteful fountain to your Fort Mill property.
Landscape Design
No matter the vision you have for your Fort Mill backyard, our team will work to make it a reality.
Privacy Tree & Shrub Installation
We keep your privacy trees and shrubs healthy with regular pruning. We also monitor for disease, creating effective treatment plans if we spot blight or fungus.
Outdoor lighting calls attention to your property's most beautiful features.
Did you know that over-watered lawns are more susceptible to disease? That's why MetroGreenscape checks for existing irrigation systems.
Flower Planting
Our Fort Mill plant specialists can suggest species that shine year-round.
Get your estimate today ›
Popular Hardscaping Projects in Fort Mill
Research says sunshine is good for mental and physical health. Luckily, Fort Mill residents enjoy 211 sunny days per year. Residents spend those bright, clear days kayaking the Catawba River, biking Baxter Village Trails, and camping at Ebenezer Park. Thanks to MetroGreenscape, they can also enjoy the sunshine in their very own yards. 
At MetroGreenscape, our landscape architects can transform rocky and unusable Fort Mill backyards into relaxing oases. We install a variety of hardscapes, from custom decks to walkways and stairs, for all Fort Mill customers.
Are you ready to master that challenging yoga pose? Consider practicing daily on your covered patio.
Temperatures in Fort Mill dip well below freezing in the winter. Warm up by an outdoor fireplace.
Erosion is a serious problem, one that can compromise your home's foundation. A retaining wall can fix the issue.
Are you tired of writing reports in your home office? Get more work done on a custom deck.
Give your outdoor space a rustic feel by hiring MetroGreenscape to install a fire pit.
A cobblestone pathway adds elegance to your Fort Mill backyard.
A steak cooked inside just doesn't compare to a steak cooked in your Fort Mill outdoor kitchen.
Seating walls make your guests feel more comfortable by providing space for everyone to relax.
Do you want to keep your kids entertained this summer? Consider a custom in-ground swimming pool.
Get your estimate today ›
Swimming Pools and Water Features
The average gym membership costs $600 per year. Save money by working out in a custom in-ground swimming pool designed and installed by MetroGreenscape. As vetted and licensed pool contractors, we can create a poolscape perfect for morning cardio, late-night parties, and everything in-between. 
MetroGreenscape installs other water features as well. A custom garden pond, for instance, can add whimsy to your Fort Mill property while providing a habitat for beneficial critters like frogs, birds, and butterflies. Pond features like fountains and spitters also create soothing noises that are proven to reduce anxiety.
Give MetroGreenscape a call 704-504-0980 today to schedule a consultation.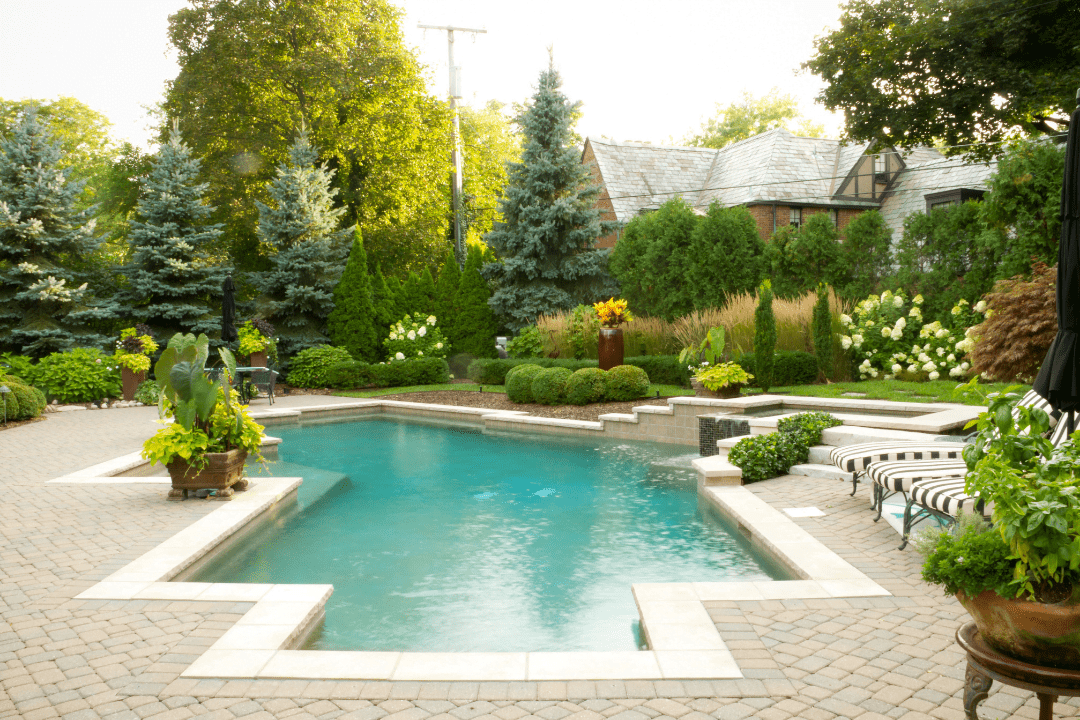 Outdoor Lighting for Fort Mill Homes
Do you want your Fort Mill property to turn heads? Consider outdoor lighting. When installed by a professional, exterior lighting can accentuate your home's most beautiful architectural features. Do you have a dramatic entryway? Spotlight it. Is there a stunning tree in your front yard? Accent it. Outdoor lighting ensures that your home will make an impression, well past sundown.
But outdoor lighting is about more than aesthetics; it's about practicality. Path lights and step lights, for instance, make traversing your front walkway at night safer and easier. Exterior lights can also increase visibility and keep trespassers at bay.
Get your estimate today ›
Financing and Payment Options
Are you worried about the cost of your Fort Mill landscaping or hardscaping project? Don't be. At MetroGreenscape, we offer a firm price estimate during the initial consultation. We also offer financing so that Fort Mill residents can pay slowly over time.
View financing options ›
Fort Mill Commercial Lawn Care
More than 30% of small businesses are understaffed. That means employees are spread thin, working long hours and forgoing vacation time just to keep the lights on. Though the lawn care specialists at MetroGreenscape can't work the counter at your coffee shop, we can alleviate some stress by cutting the grass. 
In addition to offering residential lawn care and lawn maintenance services in Fort Mill, we also provide commercial services. Unlike our competitors, we pride ourselves on our attention to detail. Our commercial package is also fully customizable. This allows busy entrepreneurs to pick and choose which services they actually need.
Get your estimate today ›
Need some inspiration for your Fort Mill home? Check out our latest projects. 
Fort Mill Landscaping and Hardscaping FAQs
How long do hardscaping projects take?
It varies—the more complicated the hardscaping project, the longer the timeline. In-ground swimming pools, for instance, require months of work. For comparison, a set of garden steps or a flagstone path typically takes a few days to complete.
Is it worth hiring a lawn care service in Fort Mill?
Yes—trained landscaping specialists understand the science of turf management. They can quickly identify common issues like blight and then create an effective treatment plan. This knowledge and attention to detail will keep your Fort Mill lawn beautiful and healthy.
Should I get lighting done by a professional?
Yes—though big-box stores sell solar lights, these products aren't durable. Make a smarter and more sustainable investment by hiring a professional to install exterior lighting.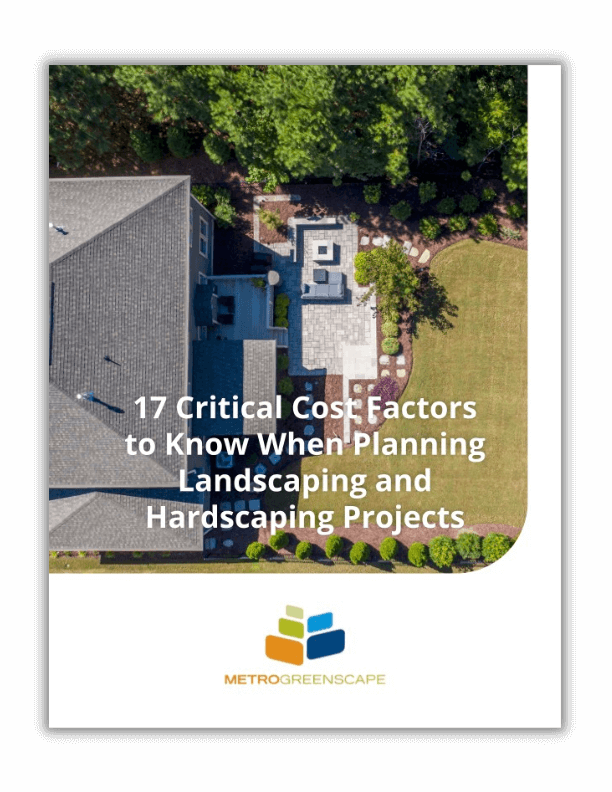 Download Our Free Guide: How to Plan Your Project
Discover 17 critical cost factors you should know while planning your next landscaping or hardscaping project.
Step 1:  Fill out this form and get the guide
Step 2:  We'll email you the PDF.
Step 3:  Learn everything you need to know about planning your project.