Indian Trail, NC Custom Outdoor Living and Landscaping
Named after the Waxhaw Indian train which originally passed through the area, Indian Trail, North Carolina is one of Charlotte's fastest growing suburban areas. In like manner, with Indian Trail being home to a variety of parks and water based activities, Indian Trail residents are passionate about summer outdoor events such as Crossing Paths Park movie nights and community festivals. However, just as many Indian Trail homeowners choose to entertain and relax at home courtesy of professionally landscaped gardens and poolsides.
Based just ten miles away in Charlotte, MetroGreenscape help Indian Trail homeowners realize their gardens full potential by providing beautiful and ultimately function enhancing landscaping services.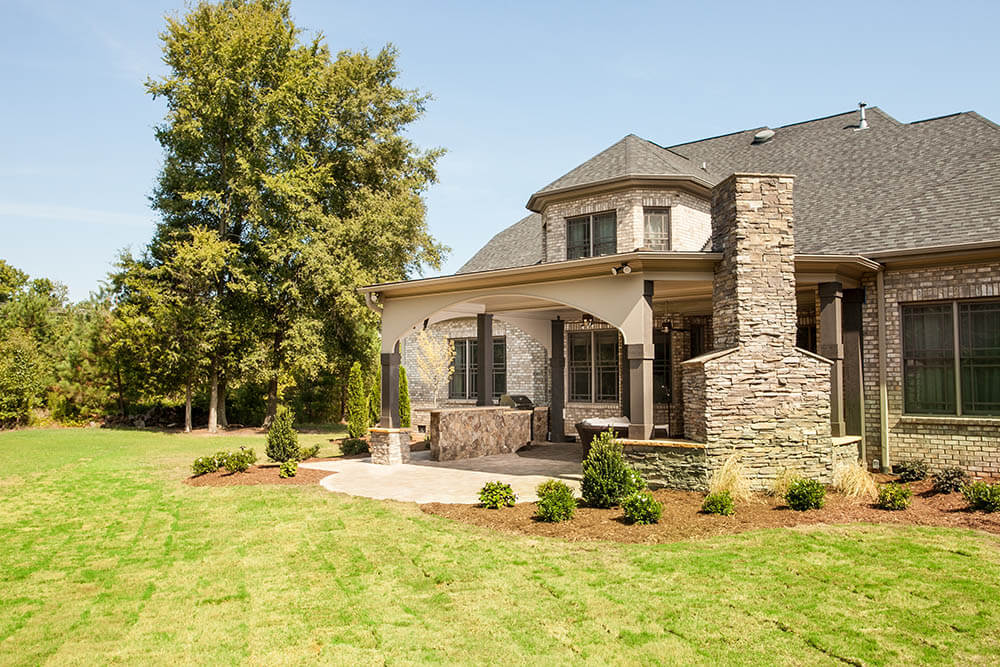 Request an estimate today
Initial consultations $99
We design and build around your hopes, dreams and desires for your family, providing you with turnkey solutions so that you can surround yourself with a lush, healthy outdoor space without investing any of your own time.
Lawn Care & Landscape Maintenance
Specializing in private and commercial garden maintenance as well as turnkey landscaping and design services, our horticultural experts can help you add year round color and vibrancy to your garden.
Available for both private and commercial hire, we strive to meet all Indian Trail garden maintenance needs. Just like with any other lawn maintenance service, our landscaping teams will take care of all lawn mowing and pruning on your property. However, at the same time, our maintenance crews will also help you keep on top of any outdoor lighting, irrigation and pest control issues.
Indian Trail Landscaping
Professionally landscaped gardens can add tens of thousands of dollars to property values. However, our custom landscaping and design services aren't just about adding monetary value to properties.
Custom Outdoor Living
Indian Trail is located in Union County, which is one of the ten fastest-growing counties in the United States. Surrounded by all this growth, you just might want to do a little expansion of your own by adding or customizing your home's outdoor living space. The hardscape design specialists and licensed contractors at MetroGreenscape can help.
We'll work with you to develop a custom hardscape design that will enlarge or enhance your current outdoor living space. We'll help you identify which features will best meet your needs — from a custom fire pit or outdoor fireplace to a luxurious patio or outdoor kitchen. If you have trouble areas in your landscape, retaining walls can help to deal with erosion, provide additional planting areas and give you additional seating spaces. Whatever your landscape design needs may be, we can help!
At MetroGreenscape, we believe that your garden should serve as an extension of you and your family's personality. From family 'staycation' orientated pools, to outdoor kitchens designed around entertaining, our designers help you transform the area around your property into a functional and ultimately beautiful outdoor living space.
Outdoor Lighting
Just 10 minutes from Charlotte, residential homes in Indian Trail tend to have more space for outdoor areas, including walkways, gardens, and landscaping features. MetroGreenscape's outdoor lighting brings those beautiful spaces to life at night. Whether you have residential lighting needs for your garden, outdoor kitchen, or retaining wall, our landscape lighting installation services and LED products will help you get the job done.
Our outdoor lighting products and services are known for being reliable and durable. LED lighting fixtures require little maintenance and are versatile enough to come in many different styles. Our outdoor lighting installation professionals will help you find the lighting solutions that fit your space's look and feel, walking you through the project from start to finish. From pond lights to spotlights, we'll make sure we create the outdoor space you want.
Full-Service Outdoor Living Solutions
Professional landscaping can add tens of thousands of dollars to a property's market value. This being the case, always make sure to approach professional landscape architects such as ourselves in order to benefit from the highest possible service and attention to detail.
Are you thinking about landscaping the area around your home? Call (704) 486-5095 or contact MetroGreenscape today in order to to discuss your own landscaping aspirations in more detail.
How We Can Help
Landscaping Services in Indian Trail
Whether just a weekly lawn mowing, or an entire custom patio, kitchen and outdoor living space we have a skill set in project management to ensure.