Indian Trail Landscaping & Outdoor Living Company
The suburban town of Indian Trail, North Carolina, is named for a trade route that once ran from Virginia to gold mining areas near present-day Union County. Today, centuries later, Indian Trail is a gold mine for families seeking respite from the hustle and bustle of nearby Charlotte.
In Indian Trail, residents can explore scenic greenways, fish babbling creeks, and relax with friends at outdoor breweries. With MetroGreenscape, our professional landscaping company serving Indian Trail, residents can also enjoy nature in their very own backyards. For the past 20 years, our skilled team has helped homeowners create functional and luxurious outdoor spaces.
Contents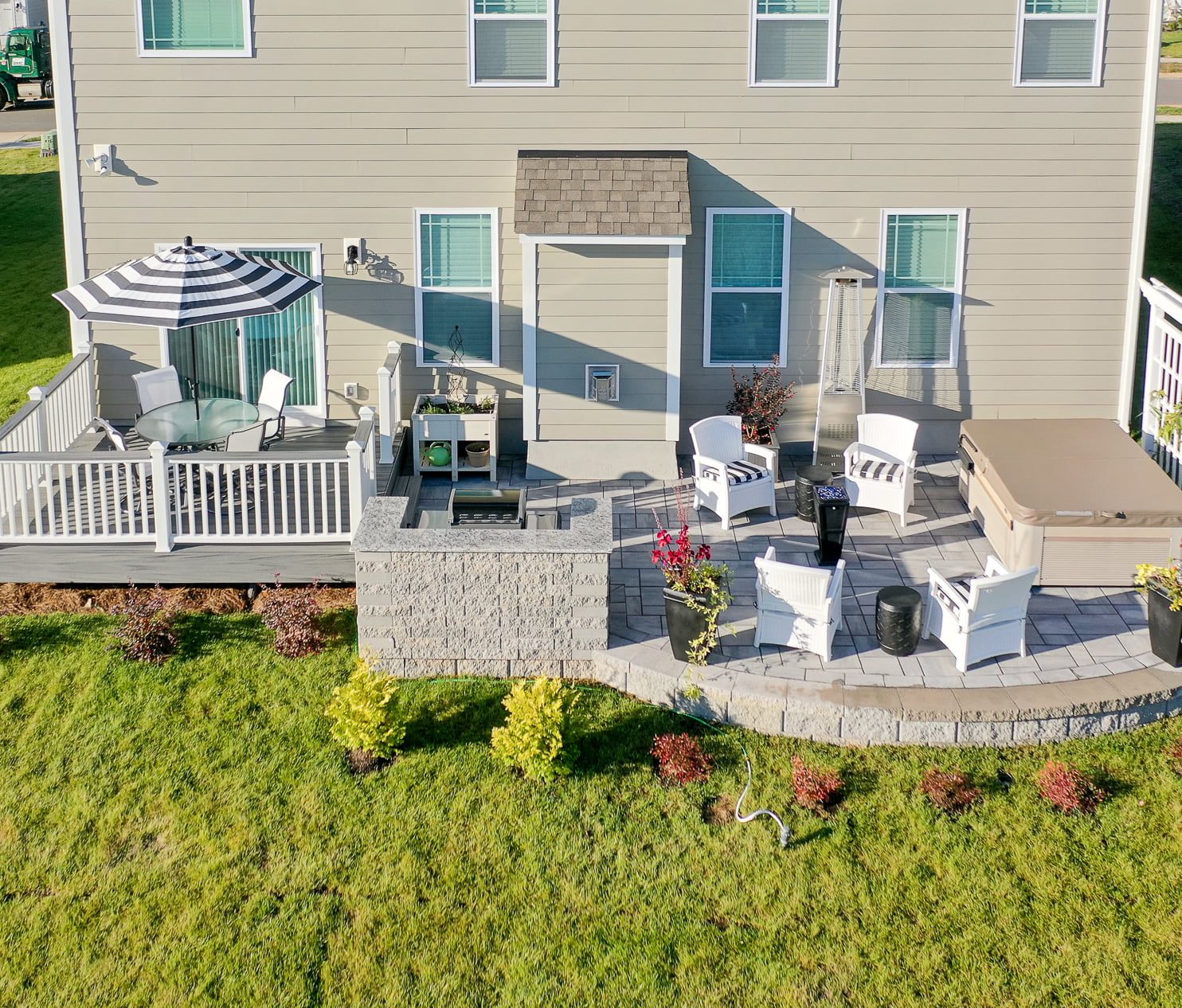 Request an estimate today
Initial consultations $99
We design and build around your hopes, dreams and desires for your family, providing you with turnkey solutions so that you can surround yourself with a lush, healthy outdoor space without investing any of your own time.
Indian Trail Lawn Care & Lawn Maintenance
Does your current lawn care company leave behind weeds and patchy grass? If so, you deserve better. That's why, 20 years ago, we founded a professional landscaping company that would offer Indian Trail homeowners an alternative to subpar service.
MetroGreenscape does lawn care differently. Unlike our competitors, who limit their services to mowing and weedeating, we have adopted a comprehensive approach. Our trained landscaping professionals offer Indian Trail residents both lawn care and lawn maintenance services. 
Lawn care services like fertilizing and aerating boost the health of your turf while lawn maintenance services like mowing and mulching boost curb appeal. Fortunately, you can reap the benefits of our comprehensive approach for just $325 per month.
Contact MetroGreenscape online or give us a call at 704-504-0980 today!
Popular Indian Trail Landscaping Projects
Like other Indian Trail homeowners, you may be overlooking your home's landscaping. If you are, it's costing you. Improper landscaping design can decrease curb appeal, lowering your home's value in return. But common problems like diseased trees and erosion can also threaten your family's safety. 
Protect your home and children by hiring MetroGreenscape. As trained landscaping professionals, we can quickly and effectively address issues like yellowing grass and standing water. We offer a variety of additional landscaping services for Indian Trail customers with an annual service contract.
Are your ferns browning? Is your prized Japanese maple beginning to wither? We can create a treatment plan for the plants in your Indian Trail backyard.
Lawn Analysis
Patchy and brown grass might be caused by overwatering, acidic soil, or even fungus. Our trained landscaping professionals will determine the exact cause during a lawn analysis and can then recommend a comprehensive lawn care plan or an artificial turf installation.
Water Feature Installation
Add an element of zen to your Indian Trail backyard with a pond, fountain, or other water feature.
Landscape Design
Do you want your backyard to feel like an English garden? Or do you want a more modern aesthetic? Our dedicated design team will ask about your vision during the consultation process.
Privacy Tree & Shrub Installation
Keep prying eyes out of your Indian Trail backyard by keeping your privacy trees and shrubs healthy.
Forget the hardwood flooring and granite countertops. If you want to boost your property value, install outdoor lighting.
Did you know that overwatering your grass is worse than underwatering? That's why MetroGreenscape always evaluates existing irrigation systems.
Flower Planting
Beautiful blooms aren't just for springtime. Ask one of our Indian Trail plant specialists about plants that shine year-round.
Get your estimate today ›
Popular Hardscaping Projects in Indian Trail
Despite being located just 20 minutes south of Charlotte, Indian Trail offers many opportunities to get outside. Families can play at Crooked Creek Park or pick strawberries at Wise Acres Farm. Meanwhile, young couples can drink craft beer outside at Sweet Union Brewing or go for a run at Irwin Creek Greenway. But what if an Indian Trail resident wants to connect with nature without leaving their house?  
That's where MetroGreenscape comes in. For the past 20 years, we have transformed rocky and forgotten Indian Trail backyards into outdoor paradises. We create spaces that are beautiful, but also perfect for morning yoga and late-night barbeques. From in-ground swimming pools to outdoor kitchens, we can handle all hardscaping projects for Indian Trail customers.
Custom patios are the perfect spots for alfresco dining, reading, and even exercise. 
Though summers in Indian Trail can be hot, winters can be chilly. Warm up by an outdoor fireplace.
If your Indian Trail backyard is steep and sloping, consider installing a retaining wall. Retaining walls prevent erosion and also create functional terraced areas.
Boost the value of your home with a custom deck. On average, porches increase property values by $13,000.
Ghost stories feel even scarier when told around a custom fire pit. Let us build yours today.
Is your flagstone path old and uneven? Are your garden steps beginning to rot? Let us give your property's walkways and stairs a facelift.
Offer friends and family a unique culinary experience in your custom outdoor kitchen. 
Does your Indian Trail bungalow feel crowded during holiday gatherings? Seating walls allow you to host events outside.
Beat the Indian Trail heat with a custom in-ground swimming pool designed and installed by MetroGreenscape.
Get your estimate today ›
Swimming Pools and Water Features
Swimming is a popular pastime in Indian Trail, where summer temperatures easily top 90 degrees. But instead of driving to the community pool, hire MetroGreenscape to install a custom in-ground swimming pool or other water feature that matches your home's aesthetic. 
At MetroGreenscape, our design team can make your dream a reality. We begin by discussing your vision during a thorough consultation session. Our licensed contractors then consult with local building inspectors to determine required permitting and water regulations. Once we break ground, you can expect a vacation-worthy poolscape within six to 12 weeks.
Give MetroGreenscape a call at 704-504-0980 today to schedule a consultation.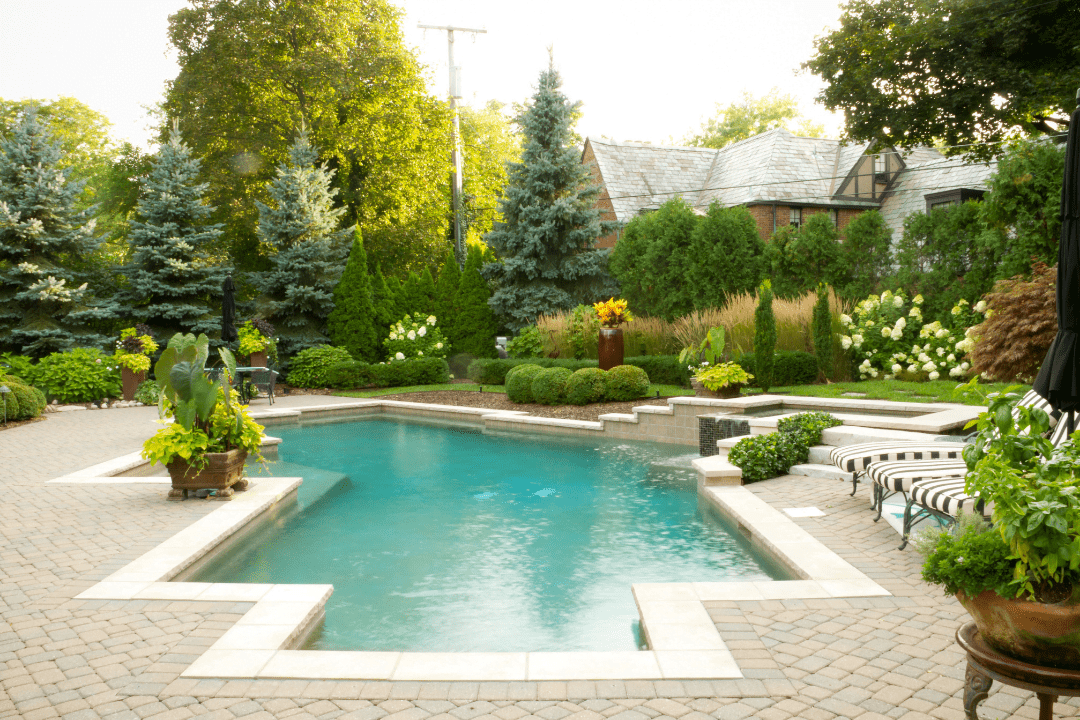 Outdoor Lighting for Indian Trail Homes
Are you tired of cutting your backyard barbeques and pick-up football games short when it gets dark? With outdoor lighting installed by MetroGreenscape, you don't have to. Our landscaping professionals can create an outdoor lighting design that spotlights your backyards and extends evening get-togethers.
Plus, if you plan to sell your Indian Trail home, outdoor lighting can make it more desirable to potential buyers. A recent study suggests that exterior lighting can increase a home's value by 20%. In Indian Trail, that's about $70,000.
Get your estimate today ›
Financing and Payment Options
Do you want a backyard oasis but are worried about the price? To help our Indian Trail customers feel more at ease, we offer a firm price estimate during the initial consultation. We offer financing so that Indian Trail homeowners can select the perfect payment option!
View financing options ›
Indian Trail Commercial Lawn Care
At MetroGreenscape, we believe the most effective marketing tool is landscaping. When a storefront's grass is lush and green, it says something about the work happening inside. Effective landscaping tells customers, "We don't settle for less than perfect."
MetroGreenscape doesn't settle either. For the last 20 years, we have managed commercial properties in Indian Trail and the surrounding areas. Unlike our competitors, who offer subpar service, we pay attention to the smallest of details. We also offer our business partners flexibility, allowing them to customize a commercial package that meets their needs.
Get your estimate today ›
Need some inspiration for your Indian Trail home? Check out our latest projects. 
Indian Trail Landscaping and Hardscaping FAQs
How long do hardscaping projects take?
It depends on the type of project. More complicated projects like in-ground swimming pools take several months to complete. Simpler projects like fire pits and flagstone paths take a few days.
Is it worth hiring a lawn care service in Indian Trail?
Yes. Keeping grass green and healthy in Indian Trail is time-consuming. Besides mowing, you also have to worry about chores like fertilizing, aerating, mulching and pruning. When you hire an expert to handle these tasks, you give yourself more free time to do what you love most.
Should I get lighting done by a professional?
Yes. Like other Indian Trail homeowners, you may be tempted to buy LED or solar lights from a big-box store. Though cheaper, these lights won't last when exposed to the elements. Make a better investment by hiring a professional to install durable outdoor lighting.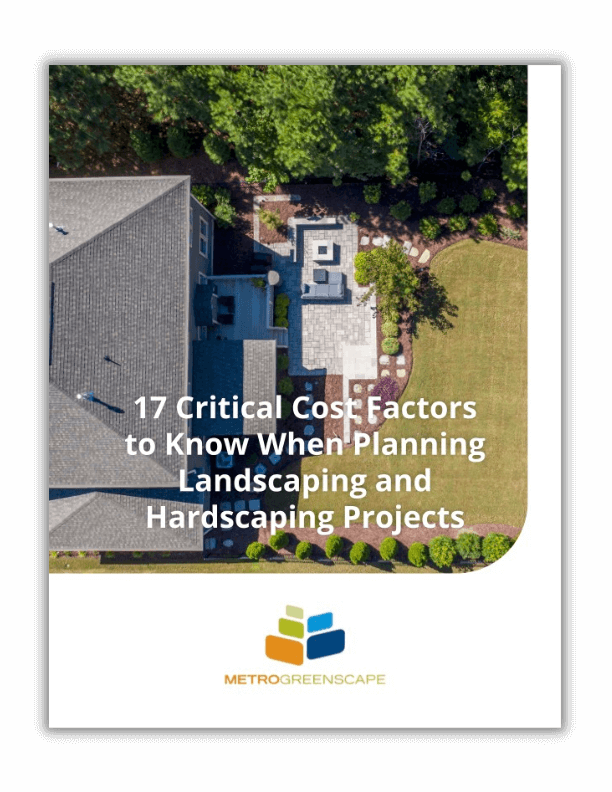 Download Our Free Guide: How to Plan Your Project
Discover 17 critical cost factors you should know while planning your next landscaping or hardscaping project.
Step 1:  Fill out this form and get the guide
Step 2:  We'll email you the PDF.
Step 3:  Learn everything you need to know about planning your project.