Having a pool in your backyard is like having a giant magnet in your yard that draws in family and friends, which is one of the reasons many people choose to install one.
Over the years, we've seen homeowners install a custom swimming pool for lots of reasons. If you're toying with the idea of installing your own swimming pool, here are a few of the most convincing benefits.
Pools Encourage Socializing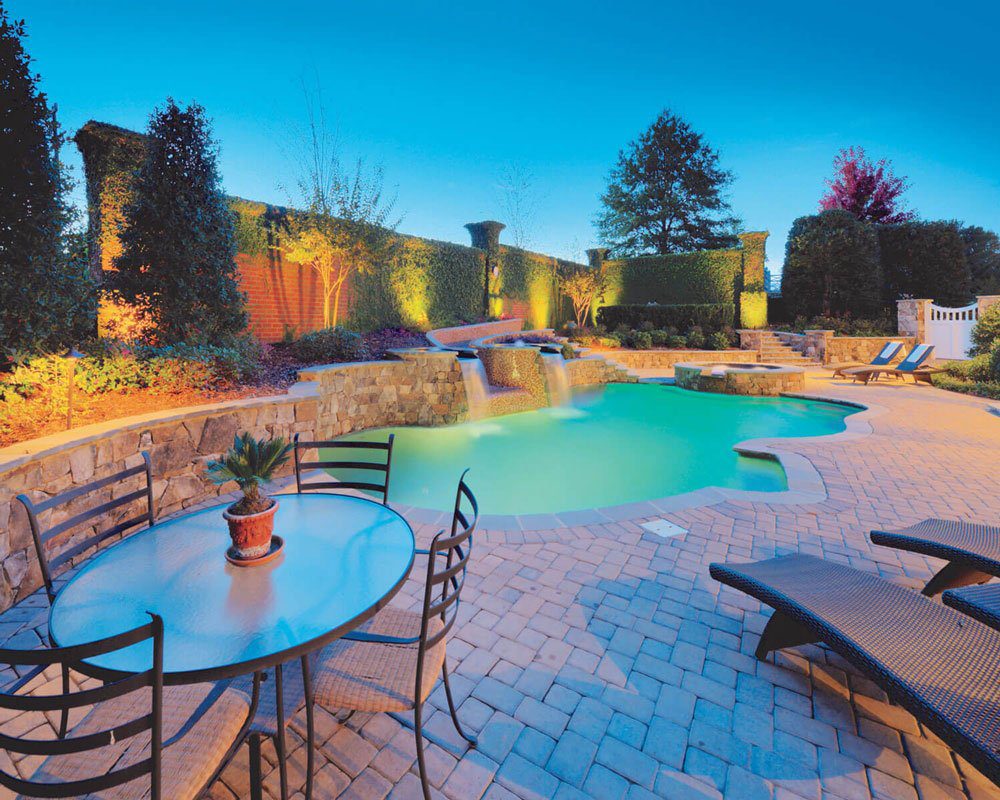 In this age of electronic gadgets, too many of us communicate online at the expense of face-to-face relationships, and far too many kids spend their after-school and weekend hours glued to their smart phones or computer screens. Some studies suggest that kids are spending on average, more than 6 hours a day using electronic devices such as TVs, mobile devices, computers, video game consoles, etc.! Remember when kids used to spend most of their free time outside using their imaginations and their bodies? A pool is a great way to invite kids outside to play. It also encourages hard-working, stressed-out adults to spend some of our own precious free time in a relaxed setting in the company of family and friends.
Your Kids (and Their Friends) Will Spend More Time at Home
During warm weather, kids and pools are inseparable. That's because kids love to play and hang out with their friends and a pool provides a perfect setting for both activities. Ask yourself, isn't it better to have your kids and their pals engaging in healthy activities at home rather than out with friends trying to find possibly dangerous ways to amuse themselves?
And if you've got grandchildren, you won't have to worry about not seeing them as much as you'd like because they'll love spending time splashing and having a great time — not to mention showing off their diving skills to their doting grandparents!
A Pool Provides a Great Reason to Get Outside More
It's a scientific fact that nature is healing for body, mind and spirit. According to the Harvard Health Letter (pub. June 2010), spending time outdoors benefits people in several ways including raising Vitamin D levels, exposing yourself to more light which is shown to elevate mood, improving concentration and even accelerating physical healing. There's nothing like lounging around your pool on a beautiful afternoon, reading, sipping a tall, cool drink and just feeling the stress of the workweek melt away. You'll probably find yourself spending at least as much — and maybe even more — time outside as you spend indoors.
It's a Natural Setting for a Great Outdoor Get-Together!
Outdoor parties and pools just seem made for each other, and with the help of a full-service landscape designer, your pool area can include spaces for different activities like lounging, chatting, dining or gathering around a fire pit under a starry sky — oh, and of course, swimming! Best of all, a pool party appeals to people of all ages, so your party doesn't have to be strictly for kids or for "adults only".
A Pool Gives You a Great Opportunity to Work Out
Swimming is a great whole-body workout that's easy on the joints. That's because when the human body is submerged, it automatically becomes lighter — 50% lighter, when submerged just to the waist and an amazing 90% lighter when submerged to the neck! That makes a pool the perfect place to work stiff muscles or sore joints. In fact, swimming or doing water aerobics in a pool are deemed the "right kinds of exercise" for people with arthritis since they don't stress already compromised joints, according to the Arthritis Foundation.
Having your own pool makes it easy to get a daily workout that doesn't feel like a chore and that's actually easy on the body. It's exercise you'll actually look forward to because it feels more like fun than exercise! (How many exercise regimens can make that claim?!)
A Pool Adds a Focal Point to Your Landscape
Even if you never do more than dip a toe in it, a pool can add an atmosphere of beauty and serenity to your home, and create an amazing focal point for the rest of your landscaping.
Pool landscaping can accomplish several goals, including accommodating dinner guests, providing spaces for conversation, for kid-friendly activities, and much more. It's the hub of your landscape, an anchor of sorts that you can surround with things like a functional patio, an outdoor kitchen, an arbor or a gazebo for those times when you feel the need to get out of the sun for a little while.
Pools bring focus and structure to backyard landscapes, bring neighbors closer together, and provide years of enjoyment for the lucky families that choose to install them.
Homeowners in the Charlotte area are invited to discover the difference that true landscape architects can make in designing and installing a pool that meets all of their needs and desires. MetroGreenscape's Landscape Architecture not only designs and installs one-of-a-kind pools, we can also accommodate your desire for special features like waterfalls and fountains, outdoor kitchens, pergolas, outdoor fireplaces, and so much more! We're a unique team that blends the technical aspects of landscape architecture with the practicalities of maintenance and the magic of nature to create unforgettable landscapes that our clients literally fall in love with. That's because we actually love what we do. It's not just our chosen career — it's also our passion, and that makes all the difference in the world!
Contact us today and let us help you plan a unique pool environment that works perfectly for you and your lifestyle — one that you'll love and enjoy for years to come!