Matthews Landscaping & Outdoor Living Company
Imagine strolling through a forest of Loblolly and Shortleaf pine. A stream babbles nearby, its banks fringed with maples and alders. Marbled salamanders squirm on the creek banks and a nuthatch croons somewhere in the distance. You're not in Whistler or Jackson Hole. No, you're in Matthews, North Carolina, a suburb of Charlotte.
Though Matthews may seem decidedly urban, there are plenty of opportunities to get outside and experience nature. Residents can jog the Four Mile Creek Greenway, kayak the Catawba River or go fishing at Squirrel Lake Park. But the skilled landscape experts at MetroGreenscape can also transform a rocky and sun-soaked Matthews backyard into a luxurious outdoor oasis.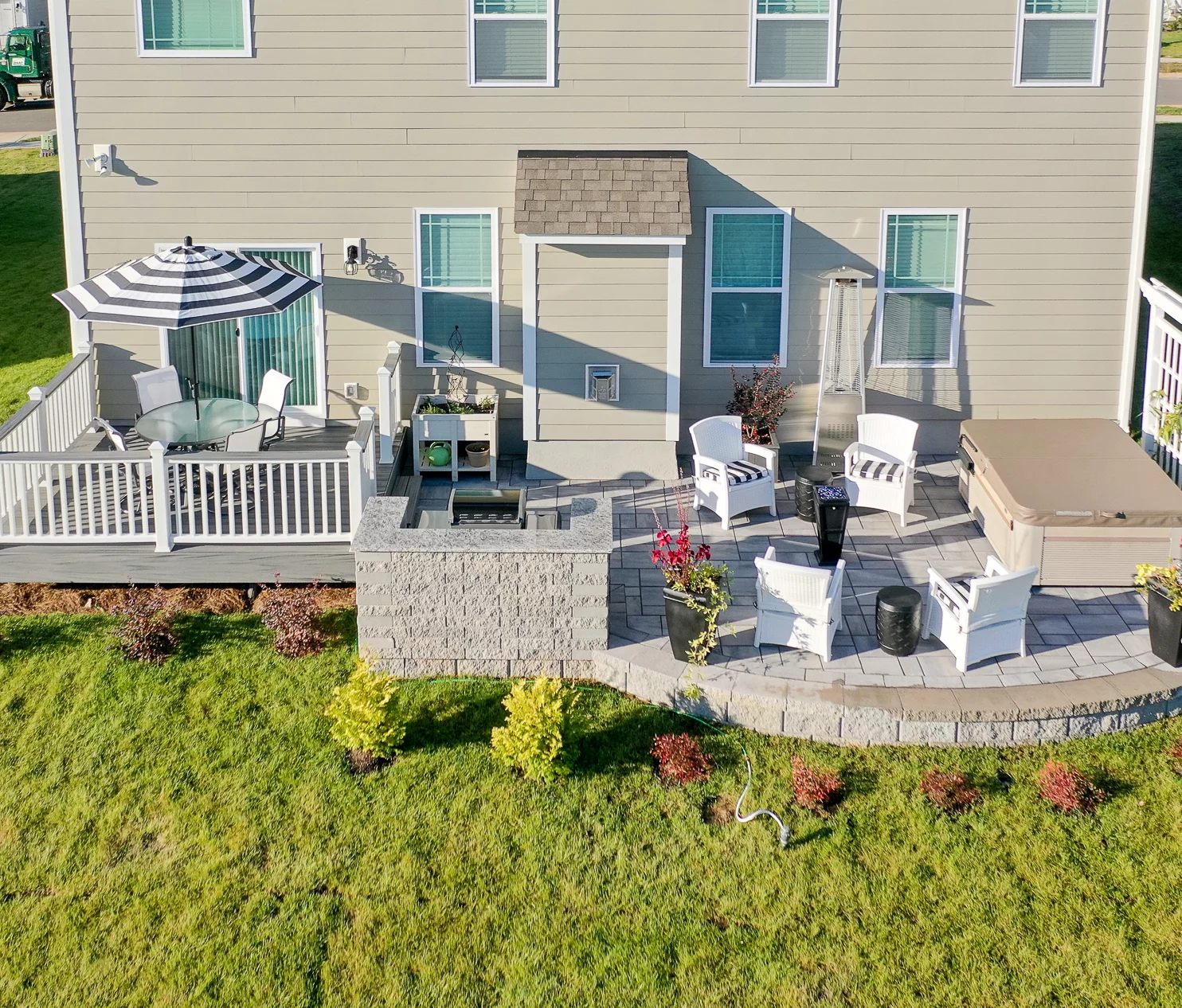 Request an estimate today
Initial consultations $99
We design and build around your hopes, dreams and desires for your family, providing you with turnkey solutions so that you can surround yourself with a lush, healthy outdoor space without investing any of your own time.
Matthews Lawn Care & Lawn Maintenance
The average Matthews resident spends about 90% of their time indoors. MetroGreenscape wants to change that. As a professional landscaping company, we provide Matthews homeowners with the services needed to make backyards more beautiful and functional.  
For the past 20 years, we have offered Matthews and the surrounding areas a different approach to lawn care. Unlike our competitors, who often limit themselves to weekly mowings, we provide both lawn care and lawn maintenance services. That means we address turf health by providing services like fertilizing. We also amp up curb appeal by providing services like mowing and mulching. Our approach is comprehensive and effective.
Are you ready to get outside? You can become a MetroGreenscape customer for just $300 per month. Contact MetroGreenscape online or give us a call at 704-504-0980 today!
Popular Matthews Landscaping Projects
Do you feel busier than ever? You're not alone. Americans are putting in longer hours at the office and, thanks to smartphones, bringing work home too. With so much to do, many of us neglect our turf. Though it may seem like a small issue, improper landscaping can decrease the value of your home, increase utility bills and even damage your home's foundation. 
At MetroGreenscape, we prioritize your yard so you don't have to. As the leading provider of landscaping services in Matthews, we can quickly fix a swampy backyard or drab garden. These additional services are available to all Matthews homeowners with an annual service contract. 
Aphids, bagworms, and flea beetles are common pests that decimate backyards. Fortunately, MetroGreenscape can address these pesky bugs before they become an issue.
Lawn Analysis
Is your grass yellow and patchy? Our team can determine the exact cause after conducting a lawn analysis. We can also recommend artificial turf installation for those looking for a less demanding lawn that looks green and healthy year-round.
Water Feature Installation
Tasteful water features like a fountain or pond add elegance to any outdoor space.
Landscape Design
Do you want your Matthews backyard to look like the Davidson College Arboretum? Or how about the famous Biltmore Estate? Our landscape designers can do just that.
Privacy Tree & Shrub Installation
Diseased privacy trees are ugly. But they also pose a threat to your property and family. Let us address the problem by pruning and treating all privacy trees and shrubs.
Do you want to host pool parties that last all night long? Consider adding some outdoor lighting to your poolscape.
Overwatered grass is just as bad as underwatered grass. That's why the MetroGreenscape team always checks yards for existing irrigation systems.
Flower Planting
Do you want your garden to shine even in the winter? Our Matthews landscaping specialists can help by selecting plants that offer year-round color.
Get your estimate today ›
Popular Hardscaping Projects in Matthews
Matthews residents are surrounded by public greenspaces like Squirrel Lake Park and Idlewild Road Park. These beautiful recreation areas are perfect for walking and biking with friends, but what if you just want to relax?
At MetroGreenscape, we believe you deserve more tranquility than a public park can provide. That's why we have spent the last 20 years creating visually striking yet functional outdoor spaces for Matthews homeowners. Inspired by the pine forests and rivers surrounding Matthews, our team installs in-ground swimming pools, retaining walls, outdoor kitchens, and other hardscaping features for customers with an annual service contract.
Morning meditation is proven to drop your blood pressure and stress hormones. Why not get zen on your custom patio?
Do the kids love roasting marshmallows and hotdogs? If so, an outdoor fireplace could keep them entertained for hours.
Erosion can compromise the foundation of your Matthews home. Fix the problem with a retaining wall.
Is your Matthews farmhouse feeling too small for your growing family? A custom deck designed and installed by MetroGreenscape adds elbow room.
Do you miss your family's vacation home in the mountains? Recreate that cozy ambiance with a backyard fire pit.
Custom walkways and stairs add feng shui to your Matthews backyard.
Skip the rusty grill and instead cook some steaks in your brand new outdoor kitchen.
Make hosting Thanksgiving a cinch with seating walls. Seating walls ensure that every guest has a place to sit down and relax.
Do you want your Matthews backyard to make a splash? Consider hiring MetroGreenscape to install a custom in-ground swimming pool.
Get your estimate today ›
Swimming Pools and Water Features
Did you know that 75% of runners experience an injury each year? That's because running is a high-impact activity. To burn the same amount of calories without tweaking your knee, consider adding a custom in-ground swimming pool to your Matthews backyard. 
At MetroGreenscape, we can design a pool that is perfect for early morning workouts. But we can also design a pool that is perfect for sunbathing and relaxing. To help make your vision a reality, our design team will schedule a consultation with you. From there, our licensed and vetted contractors will meet with local building inspectors to discuss permitting and water regulations.
Give MetroGreenscape a call 704-504-0980 today to schedule a consultation.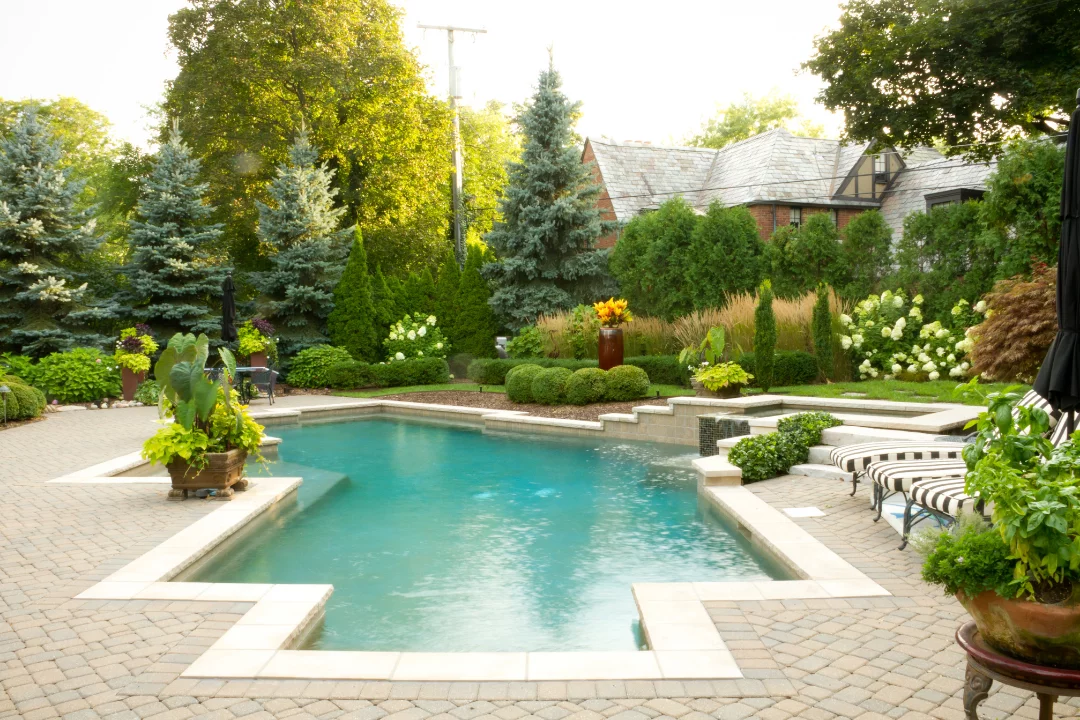 Outdoor Lighting for Matthews Homes
Do you want to keep your family safe from burglars and trespassers? Instead of a pricey security system, consider outdoor lighting. Research shows that, if installed correctly and by a professional, landscape lighting deters criminals from targeting homes.  
Outdoor lighting has other uses too. When installed along footpaths, it makes taking the dog out at night or leaving early for work much safer. When installed near your patio or poolscape, outdoor lighting helps extend the backyard party well into the evening.
Get your estimate today ›
Financing and Payment Options
Are you ready to soak up the sun in your Matthews backyard but are worried about the cost? To help our customers feel more comfortable, we offer a firm price estimate during the initial consultation. We offer financing, as well, so that Matthews homeowners can select a payment option that matches their budget.
View financing options ›
Matthews Commercial Lawn Care
At MetroGreenscape, we think the secret to good business is good turf. When the grass outside your company's office or storefront is green and healthy, you make an impression. You show customers that you care, even about the smallest of details. 
For nearly two decades, MetroGreenscape has managed commercial properties in Matthews and the surrounding areas. We pride ourselves on tending turf that attracts customers and increases profits. But unlike our competitors, we don't believe in limiting business owners to a one-size-fits-all service package. That's why our commercial package is completely customizable.
Get your estimate today ›
Need some inspiration for your Matthews home? Check out our latest projects. 
Matthews Landscaping and Hardscaping FAQs
How long do hardscaping projects take?
It varies—installing an in-ground swimming pool can take several months. Simpler projects, like installing a flagstone path or outdoor steps, can take a few hours to a few days. Your hardscaping contractor will give you an estimated timeline during the initial consultation.
Is it worth hiring a lawn care service in Matthews?
Yes—trained landscaping experts can identify turf issues like blight and fungus and then create a treatment plan. This attention to detail ensures your grass stays green and healthy for years to come.
Should I get lighting done by a professional?
Yes—don't purchase LED or solar lights from a big-box store. These lights aren't as durable as what professionals install. Professionals can also create a lighting design that enhances the architectural features of your home.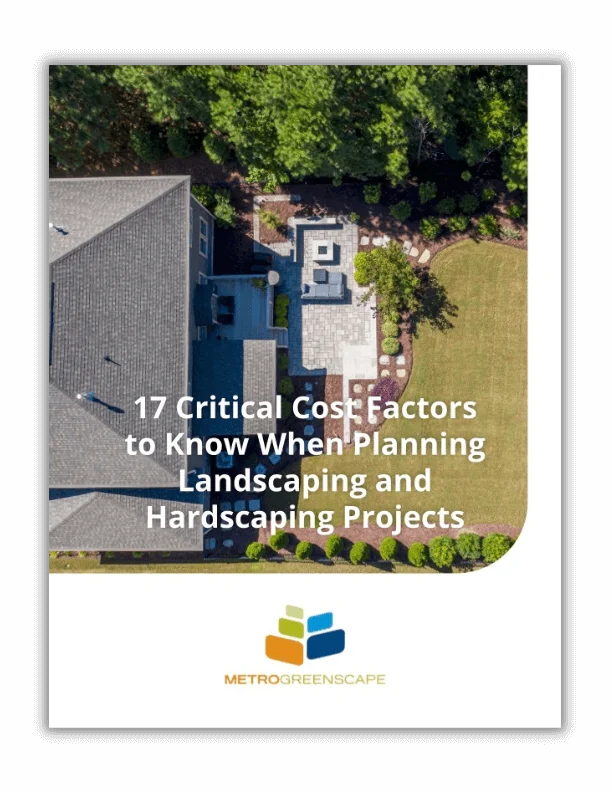 Download Our Free Guide: How to Plan Your Project
Discover 17 critical cost factors you should know while planning your next landscaping or hardscaping project.
Step 1:  Fill out this form and get the guide
Step 2:  We'll email you the PDF.
Step 3:  Learn everything you need to know about planning your project.