Rock Hill Landscaping & Outdoor Living Company
Though Rock Hill is considered the commercial center of South Carolina's piedmont, this city still dishes up a healthy serving of outdoor recreation. Residents can hike the Piedmont Medical Center Trail, camp at Kings Mountain State Park, or kayak the Catawba River. But what if you just want to soak up some sun in your Rock Hill backyard?
MetroGreenscape can help with that. As Rock Hill's leading provider of high-quality yet affordable landscaping services, MetroGreenscape knows exactly how to keep lawns looking lush. Let our team transform your backyard into a luxurious, custom-built outdoor living space.
Contents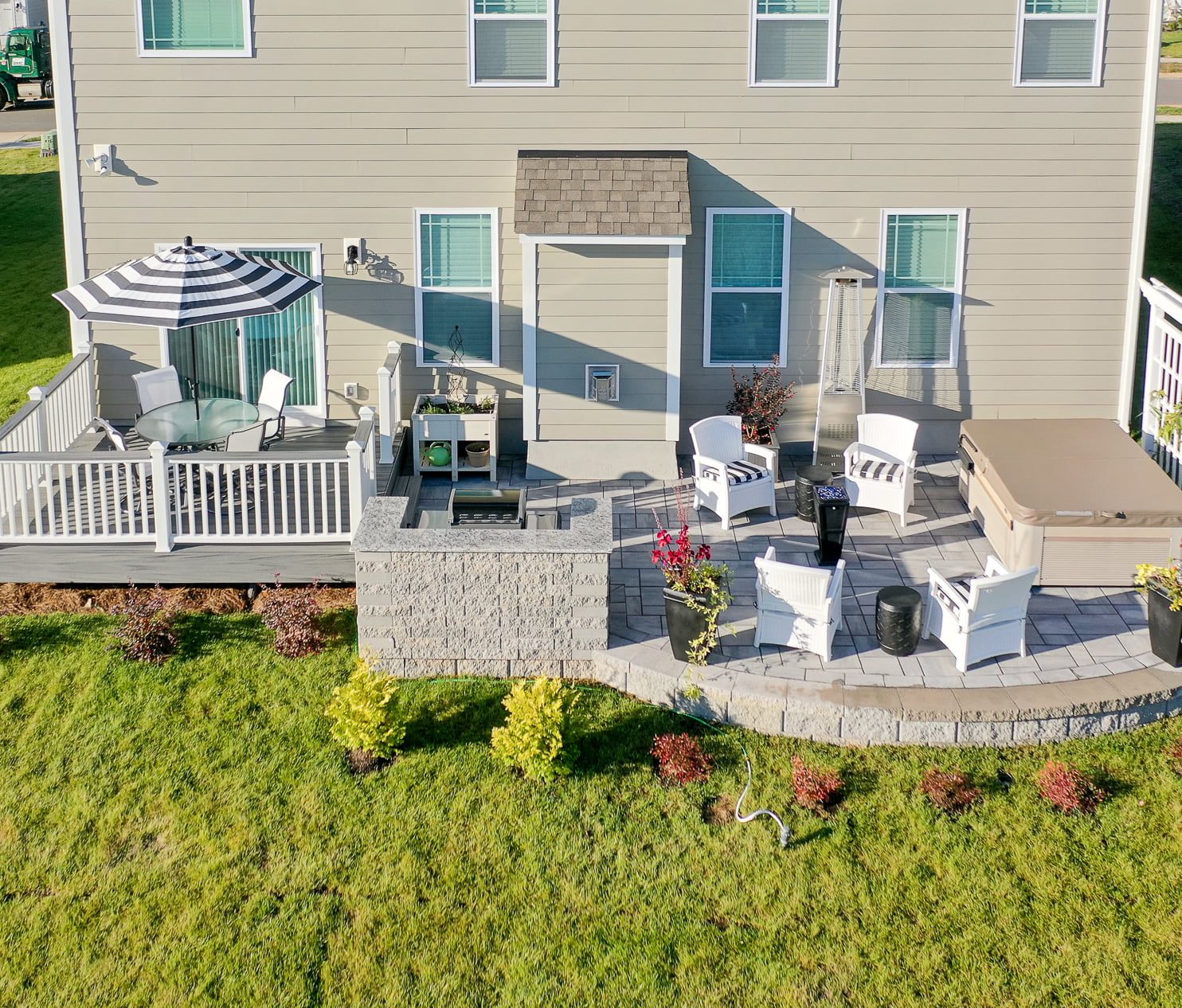 Request an estimate today
Initial consultations $99
We design and build around your hopes, dreams and desires for your family, providing you with turnkey solutions so that you can surround yourself with a lush, healthy outdoor space without investing any of your own time.
Rock Hill Lawn Care & Lawn Maintenance
Is your front lawn patchy and brown? Do you struggle to keep pests and weeds at bay? If so, you're in the majority. Most Rock Hill homeowners lack the patience and expertise to manage their yards. That's why they come to us for help.   
For more than 20 years, we have provided Rock Hill and the surrounding areas a distinctive take on lawn care. We do more than just mow and spray crabgrass. Our five-star approach includes both lawn care and lawn maintenance services. What's the difference? Lawn care services like aerating address turf health while lawn maintenance services like mowing are more concerned with aesthetics. This all-inclusive solution keeps lawns lush and green.
Does your Rock Hill lawn need some help? If so, our annual service package is just $300 per month. Contact MetroGreenscape online or give us a call at 704-504-0980 today!
Popular Rock Hill Landscaping Projects
A leaky roof or busted pipe is a homeowner's worst nightmare. But what about a neglected backyard? Not only does poor landscaping look bad, but it can also contribute to costly problems like pests and high utility bills. It can even lower your home's value and compromise your home's foundation. 
At MetroGreenscape, we address landscaping oversights before they turn into a nightmare. As the leading provider of landscaping services in Rock Hill, we can quickly fix a patchy front lawn or diseased privacy hedge. These additional services are available to all Rock Hill customers with an annual service contract.
Common garden plant diseases like gray mold and leaf spots can destroy your garden. Let us treat these issues before they get out of hand.
Lawn Analysis
During our lawn analysis, our landscaping experts will determine exactly what is causing your lawn to be yellow and blotchy. We can also recommend artificial turf installation for those looking for a less demanding lawn that looks green and healthy year-round.
Water Feature Installation
Did you know that the sound of flowing water reduces stress? Let us install a tasteful fountain in your Rock Hill backyard.
Landscape Design
Do you want your Rock Hill backyard to look like it was designed by Frederick Law Olmsted? We can do that.
Privacy Tree & Shrub Installation
Diseased trees are unsightly, but they can also be dangerous. That's why we continually monitor privacy trees and shrubs, creating treatment plans when necessary.
Are you worried about trespassers? Outdoor lighting can increase visibility and deter intruders.
Too much of a good thing is a bad thing, especially when it comes to watering your grass. To avoid over-watering, we always check Rock Hill lawns for existing irrigation systems.
Flower Planting
Do you want your garden to shine, even in winter? Our plant specialists can choose varieties that provide year-round color.
Get your estimate today ›
Popular Hardscaping Projects in Rock Hill, SC
Rock Hill residents have plenty of public greenspaces to choose from. They can go for a run at Cherry Park or cast a line at River Park. But what if you're craving a more secluded outdoor experience?
At MetroGreenscape, we provide Rock Hill homeowners with private outdoor spaces that are perfect for unwinding. With more than 20 years of experience in custom hardscaping, we understand that the best patios, pools, and outdoor kitchens balance quietness and peace with visual interest. With this in mind, our team installs quality in-ground swimming pools, retaining walls, fire pits and more.
Skip the gym and instead exercise outside on your covered patio.
There's nothing quite like sipping a hot beverage by a custom outdoor fireplace.
Erosion can have a domino effect, later causing foundation problems and flooding. Prevent these issues altogether by installing a retaining wall.
Add some square footage to your Rock Hill bungalow with a custom porch.
Fire pits are natural gathering areas where your kids can roast marshmallows, tell spooky stories and bond.
Do you want to make your Rock Hill backyard more functional? A walkway or set of stairs might do the trick.
Cook Thanksgiving al fresco this year with an outdoor kitchen designed by our team at MetroGreenscape.
Do you have a large extended family? Seating walls give your guests a place to sit down and relax.
Summers in Rock Hill are sweltering. Stay cool with a custom in-ground swimming pool.
Get your estimate today ›
Swimming Pools and Water Features for Rock Hill Homes
Do you want to increase the value of your Rock Hill home? If so, think twice about the marble floors and double vanity. An in-ground swimming pool might be a better investment. In fact, research suggests that a pool or other water feature can increase a home's value by upwards of 15%. That's about $40,000 in Rock Hill. 
But to get the most bang for your buck, your water feature must be installed by a team of professionals, like those with MetroGreenscape. To protect your investment, we will meet with you one-on-one to hear more about the vision you have for your poolscape. We will then meet with the local building inspector to ensure that our design meets all regulations and requirements.
Give MetroGreenscape a call at 704-504-0980 today to schedule a consultation.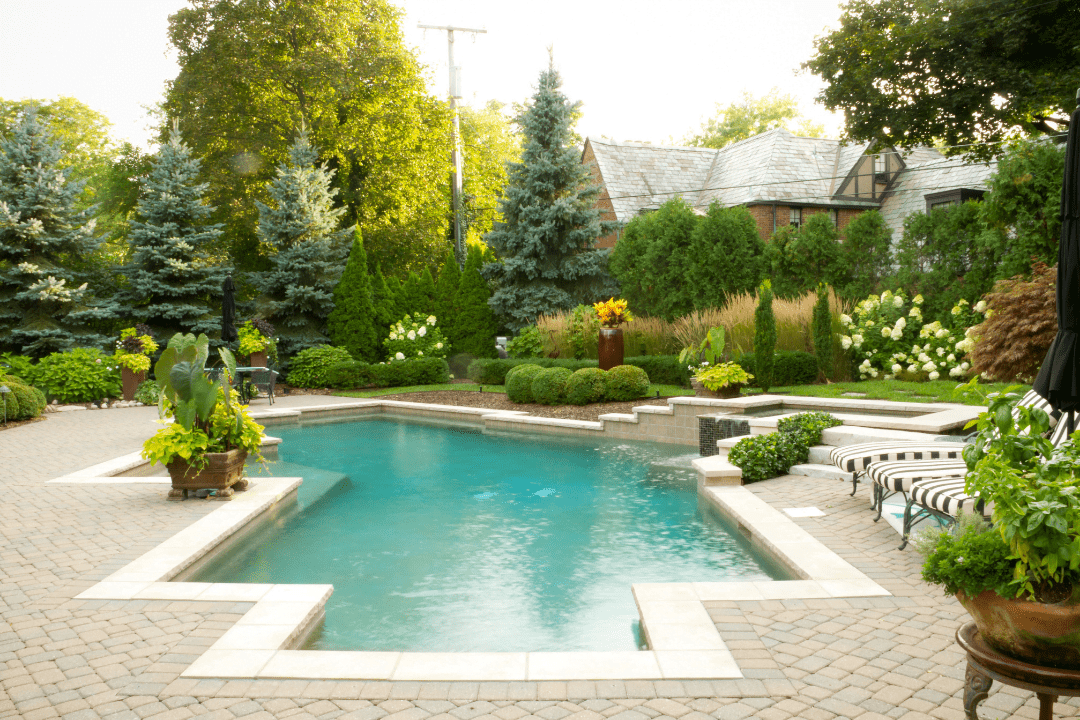 Outdoor Lighting for Rock Hill Backyards
Exterior lights are like the baseboards of the landscaping world—they're often overlooked. But not installing outdoor lighting is a missed opportunity to enhance your Rock Hill property. Outdoor lighting can add a cozy ambiance to your hardscapes and accentuate the best features of your home. Simply put, it does wonders for curb appeal.
MetroGreenscape can also install lighting that makes your home safer. Path lights, for instance, help your friends and family traverse walkways at night. Floodlights can also increase visibility, keeping trespassers at bay.
Get your estimate today ›
Financing and Payment Options
At MetroGreenscape, we value transparency. That's why we offer a firm price estimate during the initial consultation. Since we also offer financing, Rock Hill homeowners can select a payment option that meets their needs.
View financing options ›
Rock Hill Commercial Landscaping
At MetroGreenscape, we believe Rock Hill businesses should stick to what they know best, whether that's making lattes or designing websites. There's no reason to waste time spreading mulch, fertilizing grass or pulling weeds, especially when you could be serving customers. 
That's why in addition to offering residential lawn care and lawn maintenance services, MetroGreenscape manages commercial properties in Rock Hill. With 20 years of experience tending turf in Rock Hill and the surrounding areas, keeping grass healthy and beautiful is what we know best. We also offer a fully customizable commercial package to fit every entrepreneur's needs.
Get your estimate today ›
Need some inspiration for your Rock Hill home? Check out our latest projects. 
Rock HillLandscaping and Hardscaping FAQs
How long do hardscaping projects take?
It depends. More complicated hardscaping projects like an in-ground swimming pool, for instance, may take several months to complete. Other projects, like a fire pit or walkway, may take a few days.
Is it worth hiring a lawn care service in Rock Hill?
Yes. Only a trained landscaping professional can identify complicated lawn issues like elevated soil pH or blight. These professionals can also create comprehensive treatment plans that quickly and effectively address the issue.
Should I get lighting done by a professional?
Yes. Many Rock Hill homeowners buy solar or LED lights from a big-box store. Though these lights are cheap, they simply aren't durable compared to what a professional will install.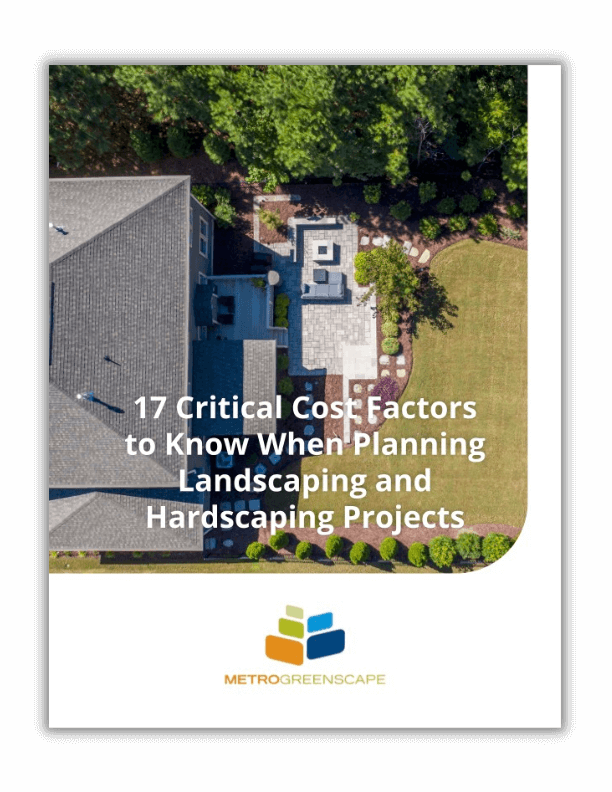 Download Our Free Guide: How to Plan Your Project
Discover 17 critical cost factors you should know while planning your next landscaping or hardscaping project.
Step 1:  Fill out this form and get the guide
Step 2:  We'll email you the PDF.
Step 3:  Learn everything you need to know about planning your project.