Rock Hill, SC Custom Outdoor Living and Landscaping
Hosting signature annual festivals such as Christmasville and the Glencairn Garden BloomFest, Rock Hill, South Carolina is a city which is passionate about community and the great the South Carolina outdoors.
Helping exemplify this passion, MetroGreenscape is a Charlotte based provider of high-quality and yet affordable home landscaping services. Our landscapers and horticultural experts provide professional and ultimately beautiful landscaping services suited to all kinds of homes and properties.
Landscape Maintenance
Whilst MetroGreenscape pride ourselves on being able to provide high-quality landscaping services, we are also keenly aware of the importance of ongoing landscape and maintenance.
From poor plant and lawn health to irrigation and lighting system problems, we provide professional lawn and landscape maintenance services all across North and South Carolina. Moreover, the benefits to you are simple. Our horticulturists and garden service teams will add year round color and vibrancy to your garden, leaving you and your family free to simply enjoy the area around your property.
Landscaping Design Services
A professionally landscaped garden can add tens of thousands of dollars to your property's market value. However, at MetroGreenscape, our landscaping and design services aren't just about adding monetary value to properties.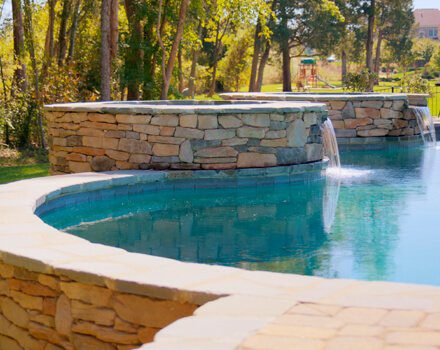 Truly Custom Spaces
Instead, at MetroGreenscape, we believe that Rock Hill gardens should be transformed wherever possible into functional extra living spaces. From outdoor fire pits to full outdoor kitchen installations, we subsequently help Rock Hill property owners dramatically enhance the visual, social and recreational appeal of their gardens.
Custom Built Swimming Pools and Ponds
Installing an in ground swimming pool on your property can add anywhere between 8 to 15 percent to your properties overall market value. However, a pool or pond feature needs to complement your existing property design in order to do so.
Luxurious Outdoor Experience
The above being the case, at MetroGreenscape, we work with Rock Hill homeowners to not only create the functional spaces but also to make them specifically tailored to your exact specifications. This is what will really set your home apart for the rest of the neighborhood.
Full-Service Outdoor Living Solutions
High-quality landscaping isn't just about turning heads. Rather, professional landscaping is about transforming outdoor areas into places of year-round livability and enjoyment. This being the case, if you're based in Rock Hill, call (704) 486-5095 or contact MetroGreenscape today in order to start realizing your own gardens full potential finally.
Everything Maintenance
Landscaping and lawn maintenance, both residential and commercial commercials, seasonal coloring and turf fertilization.
 Everything Landscapes
Landscape design and installation, seasonal landscaping, garden maintenance, all with a focus on sustainability.
Everything
Pools
Custom ponds and water features as well as swim ponds and swimming pools for your backyard or outdoor area.
Everything Custom
From project management to master planning, our distinctive service and custom selection of materials will make your project perfect.
Everything
Luxury
Everything for your outdoor area from patios and retaining walls to lighting, irrigation, and outdoor kitchens.
Landscaping in Rock Hill, SC
Thank you for the fantastic job MetroGreenscape did in landscaping my yard. I was very impressed with your professionalism, quality of work and, most of all, the service you provided during the course of our project. I intend to use your company for my future landscaping needs and would recommend …