Waxhaw, NC Custom Outdoor Living and Landscaping
Just 3 hours from the mountains and 4 hours from the beach, Waxhaw is a North Carolina town which has grown exponentially over the course of the past 15-20 years. Moreover, given that Waxhaw enjoys on average 211 days of sunshine and only 4 inches of snow fall each year, many residents take particular pride in the outdoor areas around their properties.
Based just 30 miles away in Charlotte, MetroGreenscape help Waxhaw residents make the most of the local climate by providing beautiful landscaping design services suitable for all kinds of properties. Our aim, is to help Waxhaw homeowners transform garden areas into year-round recreational spaces which are reflective of each property owners individual tastes and interests.
Lawn Care & Landscape Maintenance
From laying high-quality sod to providing full fertilization and pest and plant disease control services, MetroGreenscape is able to partner with Waxhaw homeowners in order to provide comprehensive landscape maintenance services.
By maintaining your garden, we help you enhance the year-round visual appeal of your property. However, at MetroGreenscape, we don't just take care of all the little things like lawn mowing, trimming, and edging. Rather, we also specialize in professional aeration of soils and lawns, mulching, and expert repair of garden lighting and irrigation systems.
Waxhaw NC Landscaping 
Your garden is an extension of who you are. However, professional landscaping is also about grading and anchoring a property seamlessly into it's natural and urban surrounds. This being the case, our landscape architects offer a comprehensive consultancy service to Waxhaw homeowners.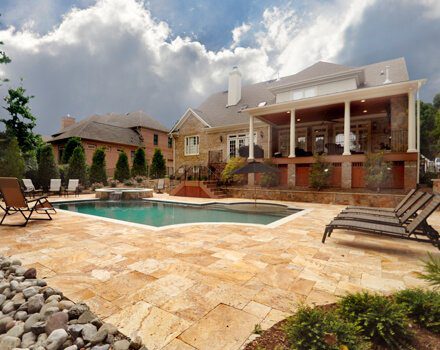 Custom Outdoor Spaces​
MetroGreenscape's outdoor services help you create custom patio designs, fire pits, and other physical features in your backyard.
A carefully designed luxury patio, which is just one element of a great hardscape design, is a wonderful way to seamlessly transition from an indoor living space into the landscaped expanse of your backyard. And why not have a custom fire pit or outdoor fireplace expertly installed adjacent to the patio to increase its ambiance? Professionally designed and installed hardscape features such as these will increase your pleasure and enjoyment of these outdoor living spaces. With the addition of a fully customized outdoor kitchen, you may find yourself spending the majority of your time enjoying the temperate climate of south-central North Carolina in your own personal outdoor oasis.
During our initial consultancy with you, we will identify what features can be used to enhance your garden both visually and functionally. Drawing on your own aspirations for your property, we will recommend the best place to site features such as pools and ponds, before also identifying what outdoor buildings, flora and other design elements will help grade each such feature into the overall landscape of your garden.
Custom Swimming Pools and Ponds​
Water features such as pools and ponds can dramatically enhance the visual and recreational appeal of a property. However, pools alone can also help add between 8% and 15% to overall property values. This being the case, we provide bespoke pool design services which add real monetary as well as social value to properties.
Of course, where you site a pool or a pond and how you stage the area around it is hugely important also. This being the case, as well as identifying where on your property will be most suitable for your new pool installation, we'll work with you to identify the best possible accompanying features such as patios, seating walls, and outdoor fireplaces.
Outdoor Lighting Planning and Installation
Waxhaw homes are some of the most beautiful in the area and they can be made even more fantastic with the right outdoor lighting. At MetroGreenscape, our outdoor lighting services cover landscape lighting, walkway and driveway lighting, and lighting that showcases your home. 
Our team will advise you on how to draw attention to the best features of your Waxhaw property, including custom hardscaping elements like a fire pit or outdoor kitchen. Landscape lighting is also one of our specialties and our team can help you identify where to add lighting features and install them so you can enjoy your outdoor space at all hours. 
We handle everything from maintenance and repairs to replacements and upgrades. So whether you're working with an existing lighting system or need to put in new outdoor lighting, we can make your vision a reality.
Waxhaw Outdoor Living Solutions
Landscaping a property on your own can be both arduous and unnecessarily expensive. In this case, let us help. If you're thinking about landscaping the area around your home, simply call (704) 486-5095 or contact MetroGreenscape today in order to discuss your landscaping aspirations in more detail and inquire about our consultancy service.
Everything Maintenance
Landscaping and lawn maintenance, both residential and commercial commercials, seasonal coloring and turf fertilization.
 Everything Landscapes
Landscape design and installation, seasonal landscaping, garden maintenance, all with a focus on sustainability.
Everything
Pools
Custom ponds and water features as well as swim ponds and swimming pools for your backyard or outdoor area.
Everything Custom
From project management to master planning, our distinctive service and custom selection of materials will make your project perfect.
Everything
Luxury
Everything for your outdoor area from patios and retaining walls to lighting, irrigation, and outdoor kitchens.
Backyard Hardscape And Landscaping in Waxhaw, NC
Major project with Metrogreenscape last year ( 2016) – entire backyard redone with literally no stone left unturned. After some issues with some of the crew Darin the owner stepped in and handled the job personally up to and including digging and moving dirt. The completed job met our expectations …