Weddington Landscaping & Outdoor Living Company
Though Weddington has just 10,000 residents, this sleepy North Carolina suburb is home to some of the best schools in the country, a 1,000-acre public park, and award-winning eateries. In short, Weddington residents expect excellence. So does MetroGreenscape. For more than 20 years, MetroGreenscape has provided Weddington homeowners with unparalleled landscaping services. Unlike other lawn care companies, our trained experts do more than just mow the grass. Rather, we transform Weddington backyards into year-round living spaces that are as luxurious as they are functional.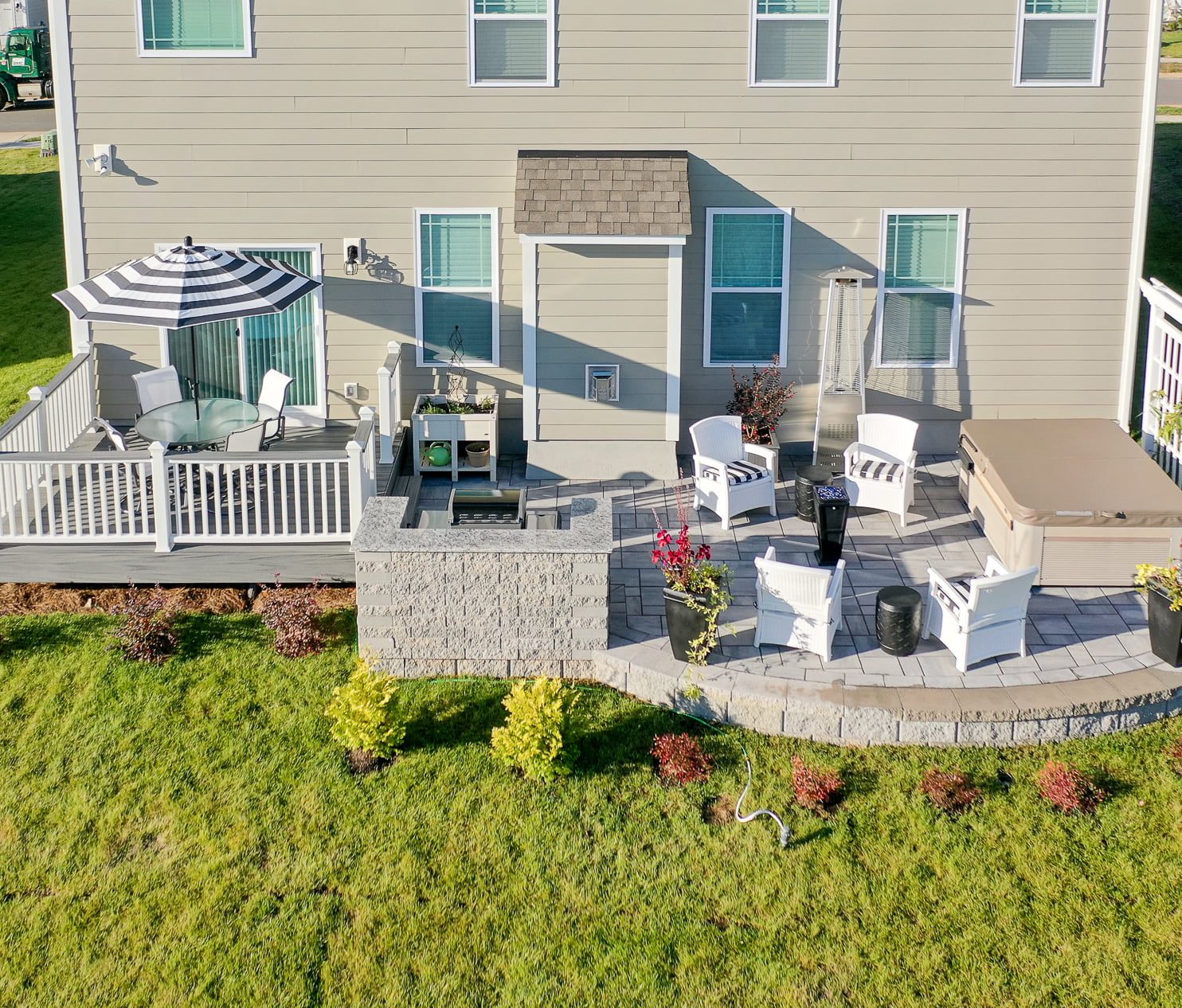 Request an estimate today
Initial consultations $99
We design and build around your hopes, dreams and desires for your family, providing you with turnkey solutions so that you can surround yourself with a lush, healthy outdoor space without investing any of your own time.
Lawn Care & Lawn Maintenance
Are you unsure of how often to aerate your lawn? Do you spread mulch too early, unintentionally stunting your plants? If so, you're not alone. These common landscaping issues are difficult to address unless you have knowledge and experience. 
That's why we founded MetroGreenscape more than 20 years ago. As the leading provider of landscaping services in Weddington, we provide both lawn care and lawn maintenance services. What's the difference? Lawn care services like aerating and fertilizing ensure that your grass stays healthy. Lawn maintenance services like mowing and mulching ensure that your grass stays beautiful. We also offer artificial turf installation for those looking for a less demanding lawn that looks green and healthy year-round.
Weddington homeowners can benefit from our comprehensive approach for just $300 per month. Give MetroGreenscape a call 704-504-0980 today to schedule a consultation.
Popular Weddington Landscaping Projects
The average person spends 1,248 days of their life performing lawn care. At MetroGreenscape, we think you deserve to be spending those 3.5 years doing what you love most, not pruning trees and spreading mulch. 
As the leading provider of landscaping services in Weddington, we save homeowners time by addressing potentially dangerous landscaping problems like erosion, standing water, and diseased trees. These additional services are available to all Weddington homeowners with an annual service contract.
Any number of reasons could be making your roses wilt, but our plant specialists can determine the exact one.
Lawn Analysis
During a lawn analysis, our expert landscaping professionals will identify soil nutrient deficiencies and turf diseases.
Water Feature Installation
Did you know that the sound of water increases blood flow to the heart and brain, causing us to relax? Chill out with a tasteful water feature.
Landscape Design
Before planting a single flower, our expert landscaping professionals consult with homeowners to better understand their vision.
Privacy Tree & Shrub Installation
The MetroGreenscape team prunes privacy trees and shrubs to foster new growth.
Outdoor lighting elevates your Weddington home by adding drama and visual interest.
If your Weddington backyard is muddy, you might have an irrigation issue. Let us fix that.
Flower Planting
Our Weddington plant experts can suggest species that offer seasonal color.
Get your estimate today ›
Popular Hardscaping Projects in Weddington
Is your Weddington backyard rocky and sun-parched? If so, it could be costing you. An unsightly outdoor space can severely affect your home's property value, dropping its resale value by up to 10%. That's about $100,000 in Weddington. It's also hard to make memories in a dysfunctional backyard.
At MetroGreenscape, we help Weddington homeowners protect their investments and spend more quality time with family by creating functional outdoor spaces. Our licensed contractors build patios, decks, outdoor kitchens, and other hardscapes for customers.
Custom patios are perfect spaces for exercising, reading, or just relaxing.
Outdoor fireplaces allow you to enjoy your backyard well into the winter.
Is your Weddington property steep and sloping? A retaining wall can create a terraced area for gardening.
A custom deck will add square footage to your Weddington home without breaking the bank.
Do your kids love to roast hotdogs and marshmallows? Install a fire pit in your Weddington backyard.
A flagstone path or set of granite steps can add whimsy to your cottage garden.
Swap the charcoal grill for a custom outdoor kitchen installed by MetroGreenscape.
Are holiday gatherings starting to feel claustrophobic? Install seating walls on your patio to accommodate more guests.
Beat the Weddington heat with a custom in-ground swimming pool designed by MetroGreenscape.
Get your estimate today ›
Swimming Pools and Water Features
Do you want to make a statement with your Weddington backyard? Consider a backyard pool When installed by a professional landscaping company like MetroGreenscape, pools add drama and elegance to your property. Before breaking ground, we will schedule a consultation to hear more about the vision you have for your poolscape. From there, we will make that vision a reality.
Give MetroGreenscape a call 704-504-0980 today to schedule a consultation.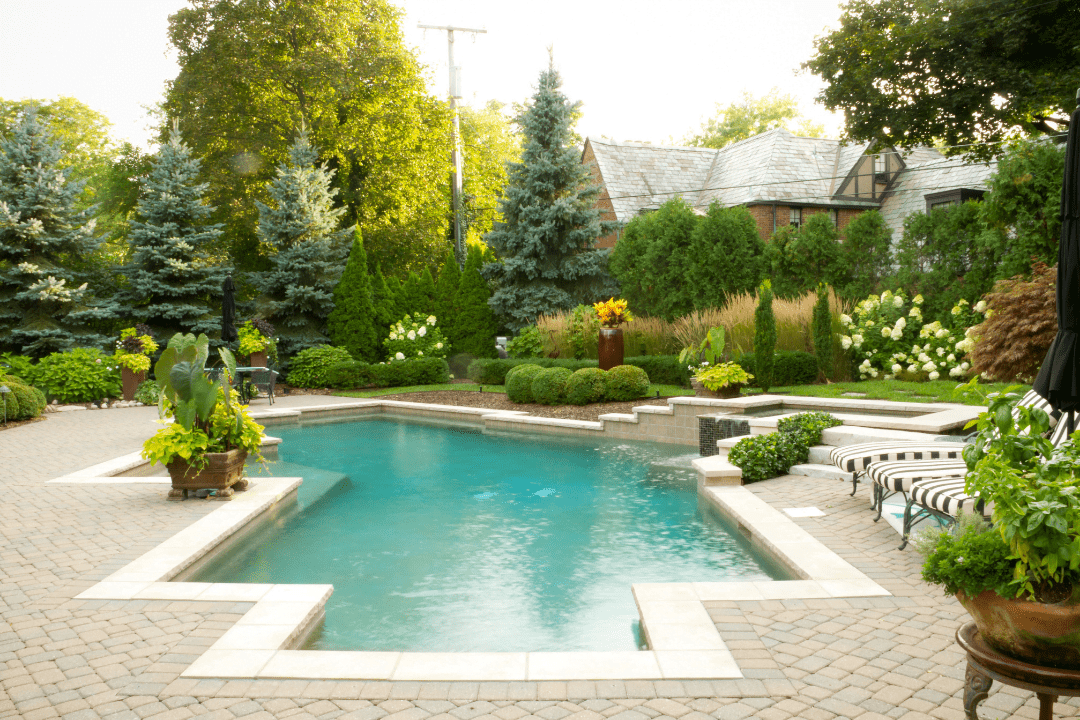 Outdoor Lighting for Weddington Homes
Let's face it: Your smartphone is a horrible flashlight. Its weak beam does little when you're walking the dog at night or leaving for an early work meeting. Make wayfinding easier and safer by hiring MetroGreenscape to install custom outdoor lighting. Our landscaping experts can select lighting options that make sense for your property, like path lights or step lights. 
But outdoor lighting is about more than practicality; it's also about beauty. Exterior lighting brings your home to life, turning heads even after the sun goes down. Accent lighting, for instance, adds drama to walkways, doorways, and even trees on your Weddington property. Meanwhile, ambient lighting makes outdoor spaces like patios and decks feel cozier.
Get your estimate today ›
Financing and Payment Options
Like other Weddington homeowners, you may assume that you can't afford a custom outdoor space. We're here to prove you wrong. At MetroGreenscape, we offer a firm price estimate during the initial consultation. We also offer financing so that you can pay at a pace that makes sense for your budget.
View financing options ›
Weddington Commercial Lawn Care
At MetroGreenscape, we think the best marketing tool for Weddington companies is grass.  That's because when a customer drives by your storefront or office building, your grass makes an impression. If the turf is poorly managed, you look careless and disorganized. If the turf is lush and green, you look orderly and professional. 
For two decades, we have helped Weddington businesses increase sales and boost brand visibility by offering superb lawn care and maintenance services. Unlike our competitors, who overlook weeds and wilting plants, we pay attention to the details. We also offer a fully customizable commercial package so even the smallest of businesses can afford five-star landscaping services.
Get your estimate today ›
Need some inspiration for your Weddington home? Check out our latest projects. 
Weddington Landscaping and Hardscaping FAQs
How long do hardscaping projects take?
The timeline for Weddington hardscape projects varies. If you're adding a fire pit or flagstone path to your backyard, it may take a few days. However, if you're adding an in-ground swimming pool, expect the project to take several months.
Is it worth hiring a lawn care service in Weddington?
Yes—maintaining a Weddington yard requires several hours each week. But by hiring a landscaping professional, you free up your schedule and give yourself more time to do what you love most. Landscaping professionals also have the skills to keep your lawn green and healthy.
Should I get lighting done by a professional?
Yes—don't be tempted by the solar or LED lights sold at big-box stores. These lights are cheaply made and won't last when exposed to the elements. Instead, hire a professional to create a thoughtful and effective lighting design.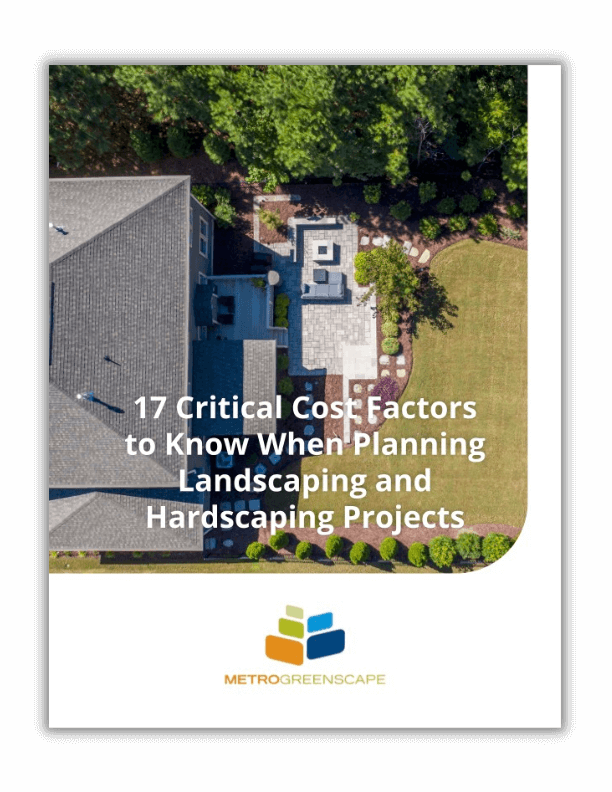 Download Our Free Guide: How to Plan Your Project
Discover 17 critical cost factors you should know while planning your next landscaping or hardscaping project.
Step 1:  Fill out this form and get the guide
Step 2:  We'll email you the PDF.
Step 3:  Learn everything you need to know about planning your project.