Weddington, NC Custom Outdoor Living and Landscaping
Weddington, North Carolina is a small but affluent suburb located in the greater Charlotte metropolitan area. Named after a prominent member of the community, Reuben B. Weddington, the town has grown and prospered since it was first established in 1842. The town was officially incorporated into Union county in 1983 and remains as a testament to small town character.
Based out of Charlotte, MetroGreenscape helps complement Weddington resident's love of community and the North Carolina outdoors by providing custom and yet affordable home landscaping services. Moreover, we don't just help beautify Weddington homes and gardens. Rather, we help transform Weddington gardens into year round extra living spaces which add extra sociability and recreational value to properties.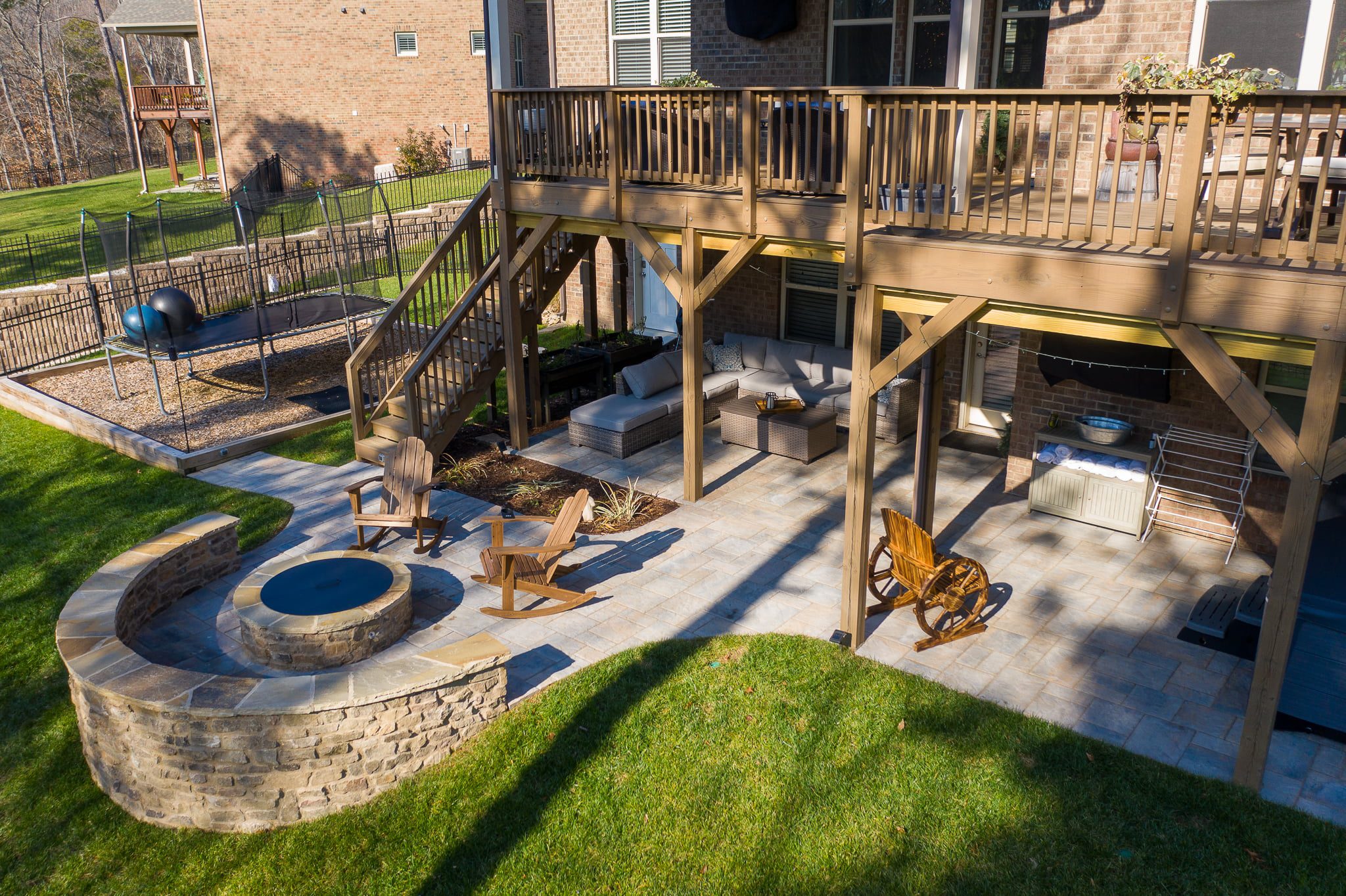 Request an estimate today
Initial consultations $99
We design and build around your hopes, dreams and desires for your family, providing you with turnkey solutions so that you can surround yourself with a lush, healthy outdoor space without investing any of your own time.
Weddington Landscaping
At the forefront of MetroGreenscape's professional landscaping and design service, is our commitment to provide Weddington home owners with functional as well as beautiful gardens. Specializing in the installation of luxury landscaping features such as fire pits and outdoor fireplaces, we help make gardens truly magical places to unwind and relax in.
Of course, how you landscape your garden is dependent on your particular property type. Our landscape architects have several years experience providing iconic landscaping and design services all over North and South Carolina. From pools to seating walls and eye-catching outdoor structures, we strive to revolutionize how you use your yard, while adding to your home's overall market value.
Landscape Maintenance Programs
Are you struggling to maintain your garden to the highest possible standard?
As well as offering custom landscaping and outdoor design services, MetroGreenscape also offer comprehensive landscape maintenance services. From professional horticultural support to lawn mowing and pruning, we help maintain lawns throughout Weddington, NC in order to help your outdoor area stay as vibrant and verdant as possible throughout the year.
Outdoor Lighting for Weddington Homes
Residents of Weddington take pride in their homes and their meticulously landscaped properties. You work hard during the day — so why shouldn't you relax in the evenings and on weekends?
MetroGreenscape's outdoor living team can help you create a place to do just that, with a luxurious and elegant hardscape design that blends into the look and feel of your home. Using features such as a patio, custom fire pit, or outdoor kitchen, our landscape architects and hardscape contractors work together to create an outdoor living space that is perfectly suited to your home and family, including your entertainment and recreational needs. Our team is experienced in all hardscape design and features, so regardless of whether you want a kitchen, patio, or retaining wall, we can customize your space to fit your needs.
Whether you're hosting a gathering for friends and family at your Weddington home or just relaxing on your own, MetroGreenscape can help you enjoy your outdoor spaces after sunset. Our outdoor lighting design and installation services help you illuminate your space, including lighting up paths and gardens, or simply showcasing your home's architecture.
We offer some of the latest and most advanced lighting products on the market, including outdoor LED lighting fixtures that reduce maintenance and provide optimal design choices. Our team will take care of you from the start of your project to finish, helping you find the lighting fixtures that fit your home's look and feel then installing them so you don't have to worry about a thing.
Custom Built Swimming Pools and Luxury Ponds
Whether in Weddington or anywhere, a pool or pond can add between 8% and 15% to a property's value. At MetroGreenscape, we therefore provide custom pool design services which in every case serve to complement your existing property design.
Always taking care to identify the most suitable place on your property for your chosen water feature, we design all water installations around your expectations of functionality, sociability, and overall visual appeal. Even better, in order to enhance the visual appeal of a new or existing pool, we can install a range of complementary features such as outdoor fireplaces, kitchens and poolside seating walls.
Luxury Outdoor Living
Are you a new homeowner, property developer, or Weddington resident looking to revitalize the area around your property? If so, let us help. If you're thinking about landscaping the area around your home, call (704) 486-5095 or contact MetroGreenscape today to discuss your landscaping aspirations or ongoing landscaping maintenance concerns with one of our team.
MetroGreenscape & You
Based out of Charlotte, MetroGreenscape provides trusted, high-quality landscaping services all across North and South Carolina.
How We Can Help
Landscaping Services in Weddington
Whether just a weekly lawn mowing, or an entire custom patio, kitchen and outdoor living space we have a skill set in project management to ensure.