Having a solid plan regarding landscape lighting is more important than you might imagine. Properly illuminating areas in your yard and your home during the night not only provides a fantastic view of your house but can also deter potential vandals or burglars.
If you're not sure where to start with landscaping lights, you're in the right place! Here is our handy outdoor lighting guide, where we will walk through where to place landscape lighting, what types of lights to use, and how to use light for the best effect. With help from experienced exterior lighting professionals, MetroGreenscape is here to help you enjoy your landscapes and hardscapes during the day and night.
Jump Ahead
Where to Place Landscape Lighting
It is important to light your surrounding landscapes and hardscapes for safety, entertaining, and aesthetic purposes. Although you may be tempted to light up your entire yard for the best visibility, this strategy is ultimately expensive and washes out the space. Strategically illuminating specific features such as walls, ponds, and trees will help create an attractive space for hosting. Outdoor lights also have a functional component, as landscape path lighting and other strategies will make your yard easier to navigate and welcome guests to your home.
Path Lighting
Highlighting paths makes the landscape easier to navigate for you and your guests, especially for obstacles such as stairs. Path lighting is typically staggered to illuminate the whole path and can create a romantic element to the walkways around your home.
Patio Lighting
Patio lights help provide lights for entertaining and bathe the space in a nice ambiance. This is especially important during seasons when it gets dark earlier, allowing you to grill and host guests late into the night.
Deck Lighting
Illuminating decks and steps is necessary to maneuver around the outside of the home. Strategic placement can define the entertainment area in a comfortable manner and extend the amount of time spent outdoors.
Garden Lights
Lighting up gardens creates an appealing atmosphere and enhances the beauty of the plants and surrounding yard. This allows you to spend more time in nature and enjoy your glowing garden at any time. As an additional practical benefit, LED lights can stimulate plant growth.
Hardscape Lighting
Hardscapes such as retaining walls, rocks, and wooden arbors come alive during the night with the right lighting. The best hardscape lighting can add dimension that is unnoticeable during the day and highlight the natural beauty of your surroundings.
Yard Lights
Proper illumination of your front and back yards will look inviting to guests while discouraging any intruders through increased visibility. Well-placed lights will showcase your home's landscaping and increase curb appeal.
Pond Lighting
Ponds are a great focal point that the proper lighting can draw attention to. Highlighting ponds and other water features adds drama and intrigue to your landscape.
Types of Landscape Lighting
Along with considering what objects to light, there are different types of outdoor lighting to use in your yard. You should consider their individual characteristics when choosing the low-voltage lighting option best suited for your needs. You can also choose to mix a variety of light options for the full illumination of outdoor spaces.
Post Cap Lights
Post cap lights are incorporated with deck posts and add a glow and ambiance to your entertaining spaces. They make for good decoration and add safety as guests move around the space.
Well-Lights
Well lights, or inground lights, are circular fixtures that are used to illuminate walkways, driveways, flowerbeds, and trees in a sophisticated manner. They are installed directly into the ground so that the light effect stands out instead of the fixture itself.
Floodlights/Spotlights
Floodlights and spotlights are both used to visual interests in the yard such as statues, shrubs, or trees. They are differentiated by the spread of light produced. Where spotlights are more concentrated to highlight specific details, floodlights have a wider beam to illuminate general areas. Where to place landscape spotlights depends on what interesting features you want to highlight in your yard.
Path Lights
Use these for lining any hard-to-see areas in your yard, flowerbed, or walkway. They add an outdoor ambiance and provide safety as well. These lights also help increase safety and curb appeal for your home.
Deck lights
Deck lights are used to improve safety when walking up or down deck stairs at night. They are directly installed into the hardscape or on the deck itself to accentuate architectural details and light up entertainment spaces.
Post Lights
Like path lights, post lights help accentuate a pathway by brightening spaces that get lost in the dark. They are larger and taller and set an ambient tone without being too bright.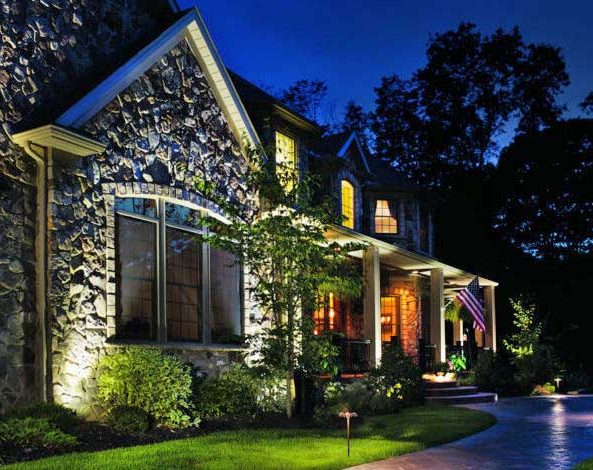 Landscape Lighting Design
Along with various types of yard lights, there are different strategies to highlight certain areas. The effects of landscape lighting design can create a certain mood or ambiance in the space.
Highlighting
Using light to illuminate the shape, color, and form of interesting objects is known as highlighting. This is achieved by placing floodlights or spotlights at the foot of the feature. The distance and angle of the beam can be adjusted until the desired effect is achieved on the plant, statue, or unique architecture.
Silhouetting
Placing spotlights or well-lights behind an object or plant can highlight dramatic shapes that aren't as noticeable during the day. The light source is hidden and creates a silhouette as it shines towards the path or yard.
Accenting
Another strategy for emphasizing specific features such as trees, statues, and other décor is accenting. This is accomplished by focusing a narrow spotlight, either down or up, on the object from a hidden position.
Shadowing
As the name suggests, shadowing creates a shadow on the wall or hardscape behind the item for a moody effect. You can do this by placing a spotlight, well light, or floodlight between the vantage point and object or plant to be illuminated.
Moonlighting
Moonlighting is a technique that uses spotlights high in trees angled downward to create the effect of moonlights. A soft light fixture bathes the ground below in gentle light and creates soft shadows from the tree's lower branches.
Washing
Washing is produced by illuminating a large wall or hedge with light at an indirect angle. Floodlights are used to cast an even gentle light in an entertainment area.
Downlighting
A method for accenting planting beds or garden features from above by mimicking natural light is downlighting. This makes a garden safer and more secure, while also creating a warm and natural glow. This effect is produced by fixing outdoor lights in a tall trellis, eave, or hardscape.
Uplighting
Uplighting can create different angles of luminescence by placing spotlights or well-lights close to the base of an object. This strategy creates drama with tall structures such as trees or statues by showing off its form from below.
Grazing
If you have flat surfaces, grazing can be used to take advantage of their texture by creating dramatic shadows. This can be done by using well lights or hardscape lights to graze the surface of different hardscape items.
General Landscape Lighting Tips and Best Practices for DIYers
Since most outdoor lighting is low-voltage, you don't need electrical experience to install. For a DIY landscape lighting project, the only tool you need is a wire stripper. Here are some safe and secure tips:
Even though LED lights are more common these days, you don't have to rip out any old halogen fixtures. You can still enjoy the benefits of LEDs with retrofit bulbs. Replace the halogen bulbs with ones that are the same base type and have the same wattage.
After planting, then you should install underground wiring, so you don't risk accidentally cutting it with a shovel.
Get rid of factory-installed connectors because standard connectors will work buried underground for only a short while before they corrode and fail. Make splice connections with gel-filled wire connectors, which are specially made for the outdoors.
Don't focus lights directly onto a patio. What works well is indirect lighting, by illuminating trees, boulders and other objects around the space.
You don't want to overlap pools of light. Make sure you don't mount fixtures too close to one another.
Now's the Time to Install Outdoor Lights
At MetroGreenscape, we know that the right lighting can help your hardscapes and landscapes stand out in your neighborhood. We want your yard to look as eye-catching at night as it does during the day. That's why our team offers planning, installation, and maintenance services, taking care of the outdoor lighting process from start to end.
As your landscape experts, we know which trees, gardens, and hardscape features to highlight, and which light features are best for the job. When combined with professional installation and high-quality products, you will have outdoor lighting that will last for years. For more help with landscape lighting, feel free to contact us.