As you get ready to entertain, you might want to add some flower containers to your patio or outdoor living space.  It's the prime time to refresh your garden containers with plants that work well into the fall. Most of the plants you'll see in garden centers right now are meant to transition into autumn, and their colors and shapes complement fall décor. 
Thriller / Filler / Spiller Formula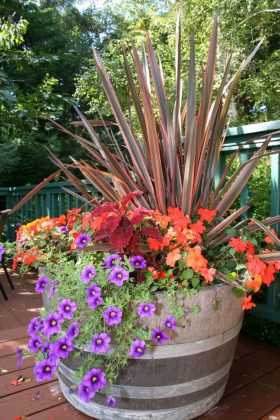 Rather than planting one container with the same type of plant, use this formula to create the most attractive container for your patio or outdoor living space.
Thrillers are plants that add drama, height, and texture and set the tone for choosing the remaining plants, the Fillers and Spillers, in the container.  They can be either flowering or foliage plants or ornamental grasses.  A Thriller can be placed either in the center or back of the container (if viewing from only one side). An excellent choice for fall is an ornamental grass both because of the height and because it will sway in a fall breeze.  Muhly grass and purple fountain grass works well.  Snap Dragons can be just the focal point you're looking for.
Now that you've chosen your Thriller, let's look at choosing your Filler.  A Filler is made up of mounding plants that fill in gaps around the Thriller and make the container look full. Fillers are generally placed in front of, or around, the Thriller to showcase it. You may want to consider either mums or pansies as your Filler; they will add tons of color this Fall.
Lastly, you add the Spillers. If the container is viewable from all sides, place the Spillers on all sides. A Spiller is a plant that trails over the edge of the container, breaking up the line of the pot's rim and gives it a more natural look. Cora bells, ornamental cabbage and diascia are all great choices.
Don't overthink it.  You can go to your local nursery or home improvement store's garden center to see what options they have available.  The most important thing is to have fun with it!  Add in your fall décor, and you will have the best patio or outdoor living space in the neighborhood.
Now would be a good time to add a firepit to your backyard…We'll talk more about that next time.
Happy Gardening!