From a large boulder centering a corner lawn to crushed-stone garden beds and pathways, there are limitless possibilities for landscaping design with rocks. Whatever the size or scale of the project, MetroGreenscape has lots of experience helping Charlotte homeowners select the perfect type or types of stone to best construct the right look and use.
To provide a bit of background information and (hopefully) a whole lot of inspiration, here's a primer on landscaping rock: what it can do for your property, what it can look like, and where it can go.
Why Use Rocks in Landscaping Design
Rocks have loads of advantages in landscaping—both utilitarian and aesthetic. Before we dive into ideas for landscaping designs with rock, let's run through some of the clear benefits going the "stony route" offers.
Rocks Are Easy to Maintain: Properly laid and arranged, rocks require only minimal maintenance, coming pretty close to a "set it and forget it" project. Compared with the mowing, weeding, trimming, and fertilizing associated with lawns, garden beds, hedges, rocks demand very little upkeep, saving you time, money, and hassle.
Rocks Don't Attract Pests: Plant cover lures potential pests as both a food source and habitat and mulch can sometimes introduce invertebrates to your yard-scape. Rocks don't have the same attraction to most undesirable organisms, reducing your pest-control needs and potentially safeguarding the green parts of your landscaping.
Rock Landscaping Lasts a Long Time: Compared with, say, turf, dirt, or wood chips, rocks are generally more resilient in the face of frequent and heavy-duty footfalls. That's certainly true of solid stone such as pavers, but also of properly installed gravel, river rocks, and other smaller-size pieces. Rock, therefore, is a great choice for pathways, pool or fire-pit borders, and any other parts of your yard that see a lot of use. The inherent strength and durability of rock means it holds up well not only against foot traffic, but also sunshine, wind, precipitation, and the other elements.
Rock Landscaping Offers Variety: In Charlotte, NC, landscaping design with rocks can take any number of forms—from pea-gravel pathways to monolithic boulders, from uniform gray or brown rockeries to multicolored accents. Rock landscaping can be done with rocks of any size, color, shape, and texture.
Rocks Can Facilitate Better Drainage: In areas where you're struggling with ponding or soggy soil, consider a rockscape: Gravel, river rocks, lava rocks, and they can help drain water quickly and naturally improve your lawn's irrigation.
Rock Landscaping Can Save Your Money: The low maintenance and long lifespan of rock-based landscaping can translate to significant cost savings. Save time and money on upkeeps, remulching, or weeding.
---
Live in the Charlotte, NC area and need help with your landscaping project? Click "Get the Guide" to see our pricing guide today!
---
Landscaping Rock Ideas
Landscaping rock can accomplish a wide range of practical and design goals, lightening your yard workload, boosting your landscape, and upping your all-around property value. From anchoring elements to edging accents, rocks beautifully perform both starring and supporting roles.
Retaining Walls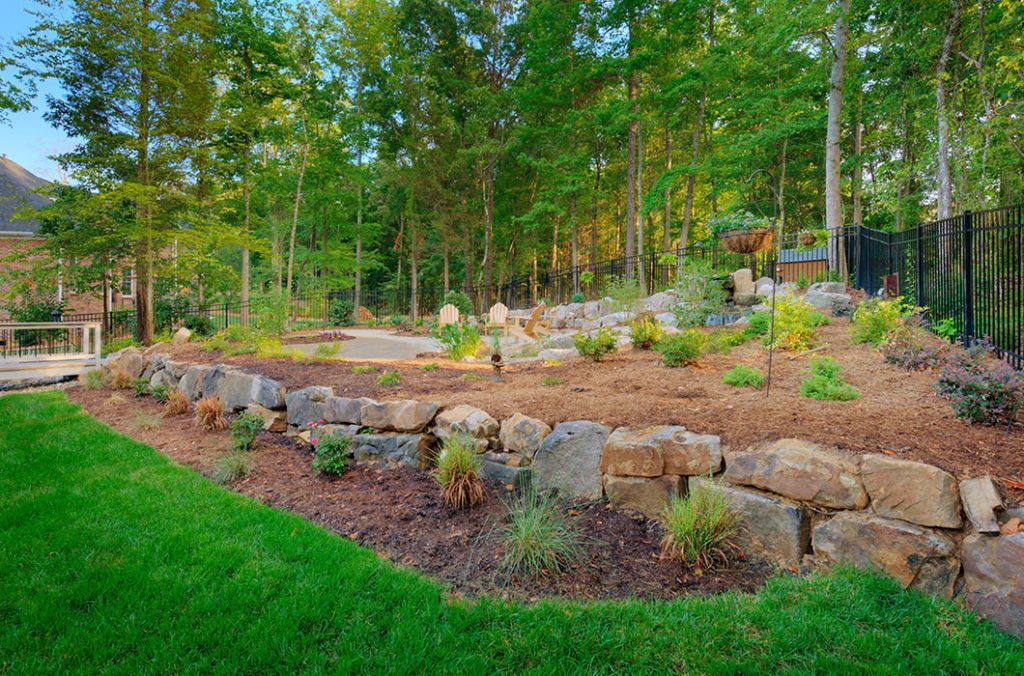 On the practical side of things, stone retaining walls can significantly expand the usable space you've got to play within a sloping property, turning a sloping grade into stabilized and level ground—maybe a tier or two of it—better suited to garden plantings or hardscaping hangouts. They also offer their own vertical planting surfaces for vines and rock-garden herbs. Furthermore, rock wall landscaping is also visually appealing, breaking up the softness of lawn or garden and can also provide pleasant seating around a fire pit, outdoor kitchen, pool, or other hardscape.
Creating Color & Pattern with Landscaping Rock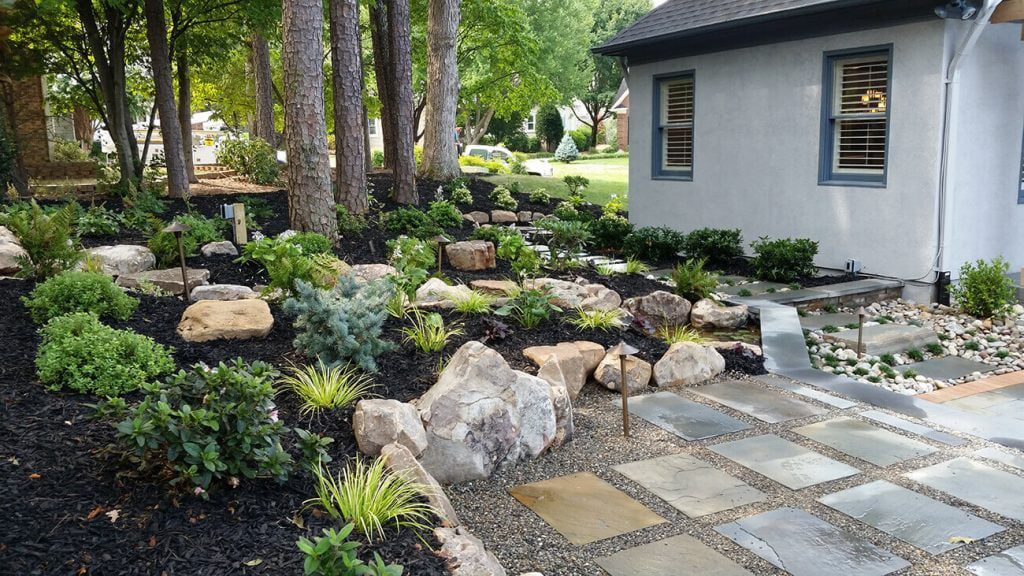 When creating a stone or gravel pathway, cutting through a lawn or garden, the natural roughness and mineralized swirls of a rock wall or boulder garden offer a nice contrast. The different sizes, shapes, colors, and patterns of rock give you a lot to play around with in shaping your landscaping's overall look and feel. You might think of rocks as uniformly gray, but you've actually got a broad spectrum of colors to choose from—from burnt red, yellowish-green, or pinkish to slate black or near-white. Many stones are monochromatic; others, like river rocks, may present a swirl of mingled tones. And there's textural variety, too: from the porous ruggedness of lava rock to the polished sheen of pea gravel and river rock.
Rock Mulch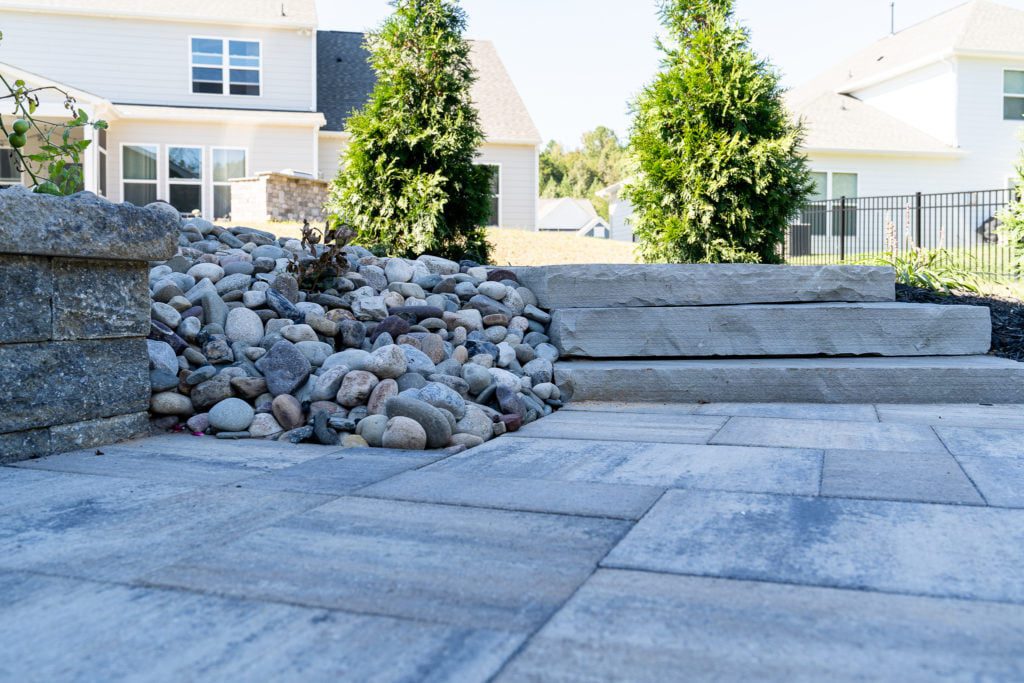 Stones present an appealing alternative to organic mulch, especially for small garden beds or zones where you're planting low-moisture, drought-tolerant plants. When weighing rock vs. mulch landscaping, you may find rock beds ultimately winning the day because of their lower maintenance, better drainage, greater resiliency, and lower long-term cost.
Feature Boulders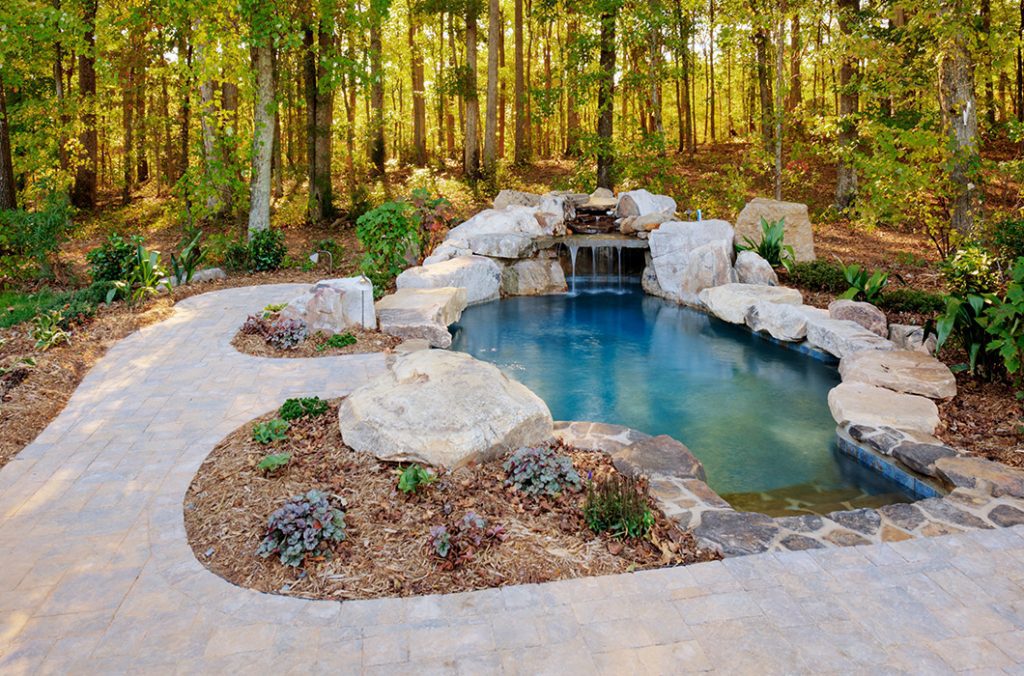 Few things can so dramatically enhance the look of a drab patch of lawn or pavement than a large boulder. Boulder landscaping draws the eye, as large boulders give dimension and complexity to the flat ground. They can be placed in many settings that, for one reason or another, aren't conducive to turf or garden plantings. If you have space, you can expand the visual power and appeal of boulder landscaping by expanding it into a full-on rock garden.
Stone Paths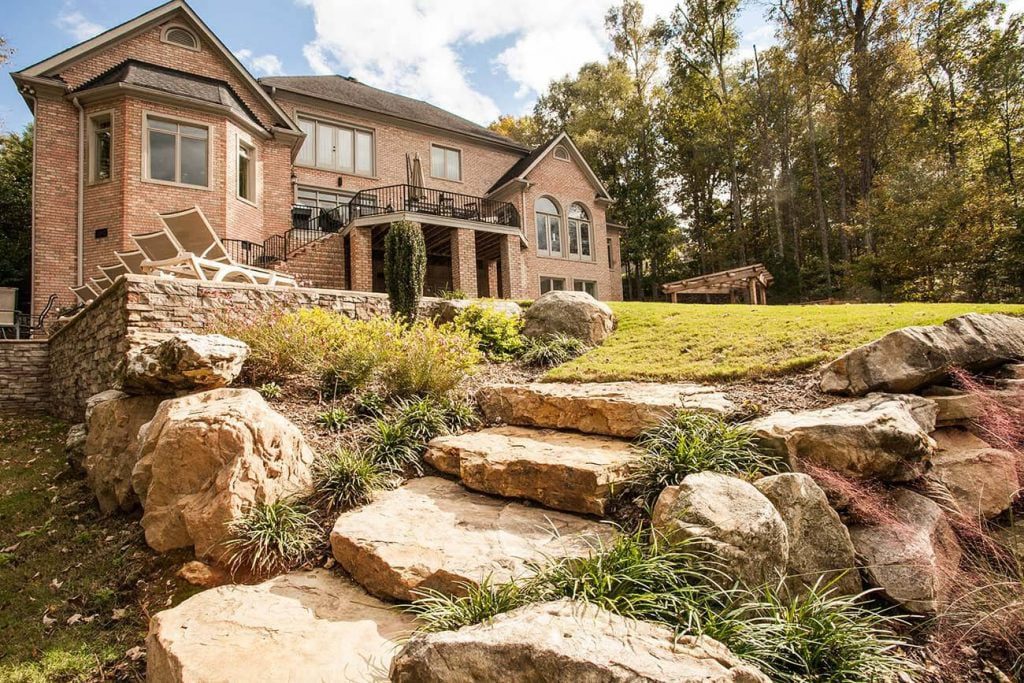 One of the most popular rock landscaping in Charlotte is stone pathways. From crushed-stone paths to paver-stone walks, the material is natural for these corridors, given they can withstand a lot of foot traffic and withstand the elements without requiring much year-to-year upkeep. The fact that such stonework footpaths can diversify an otherwise homogeneous lawn or garden-scape is another bonus.
Borders & Accents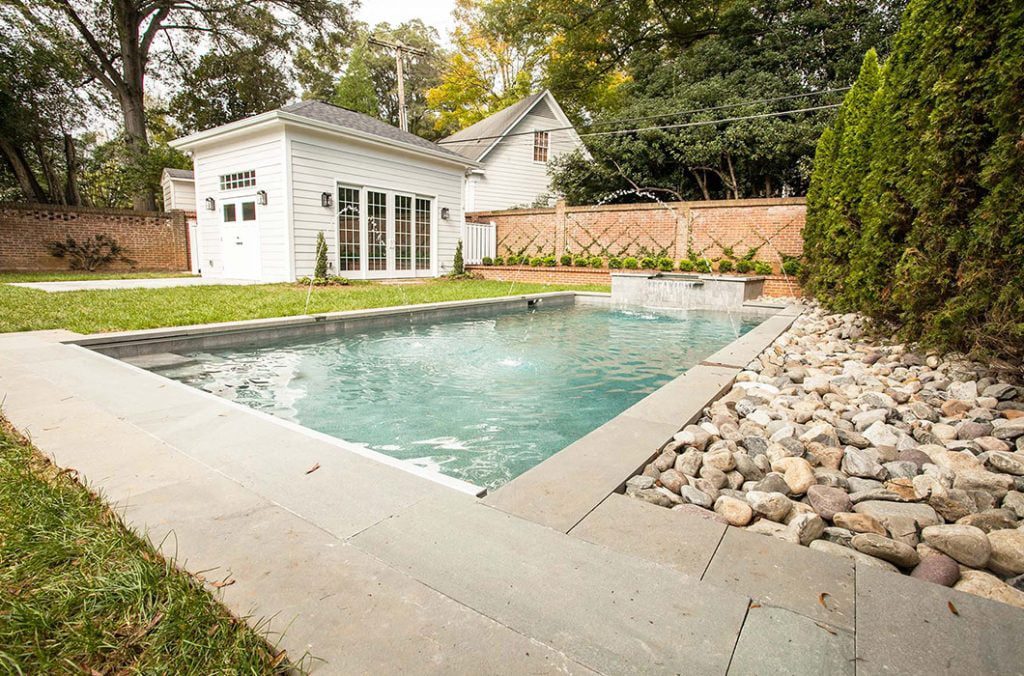 Rocks are also natural and low-maintenance options for edging everything from garden plots to pools and fountains. In these contexts, they can present pleasantly contrasting colors, textures, and patterns against the featured landscaping element while also enduring plenty of footfalls.
The Best Rocks for Landscape Design
Think all rock's the same? Think again. Landscaping rock can come in all shapes, sizes, and appearances, with each different type offering its own unique advantages. Here's a rundown of some of the most widely used kinds.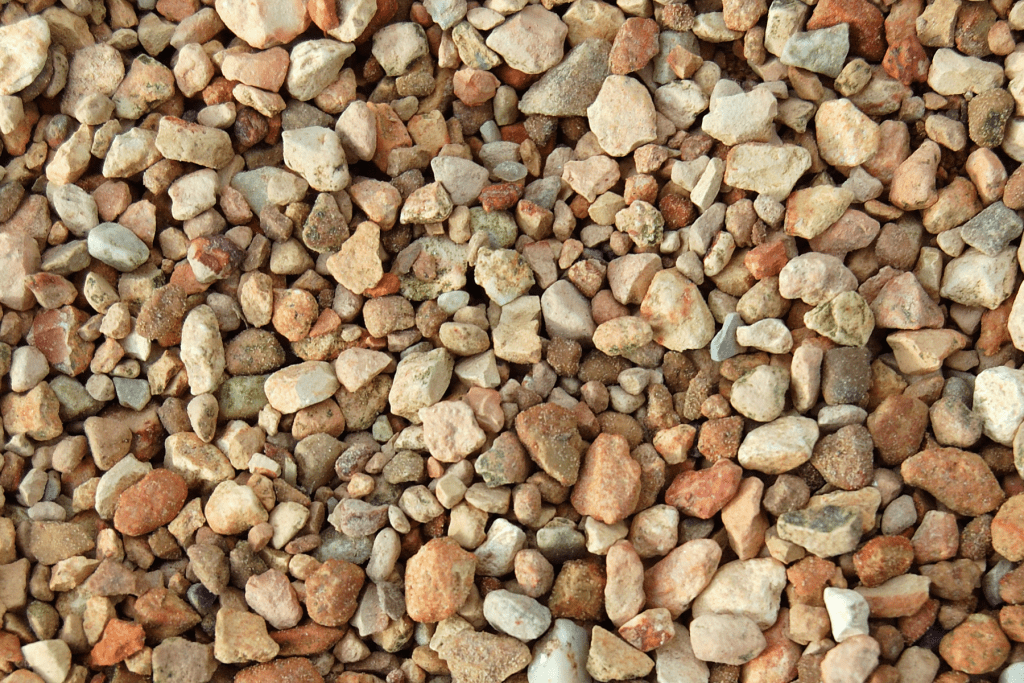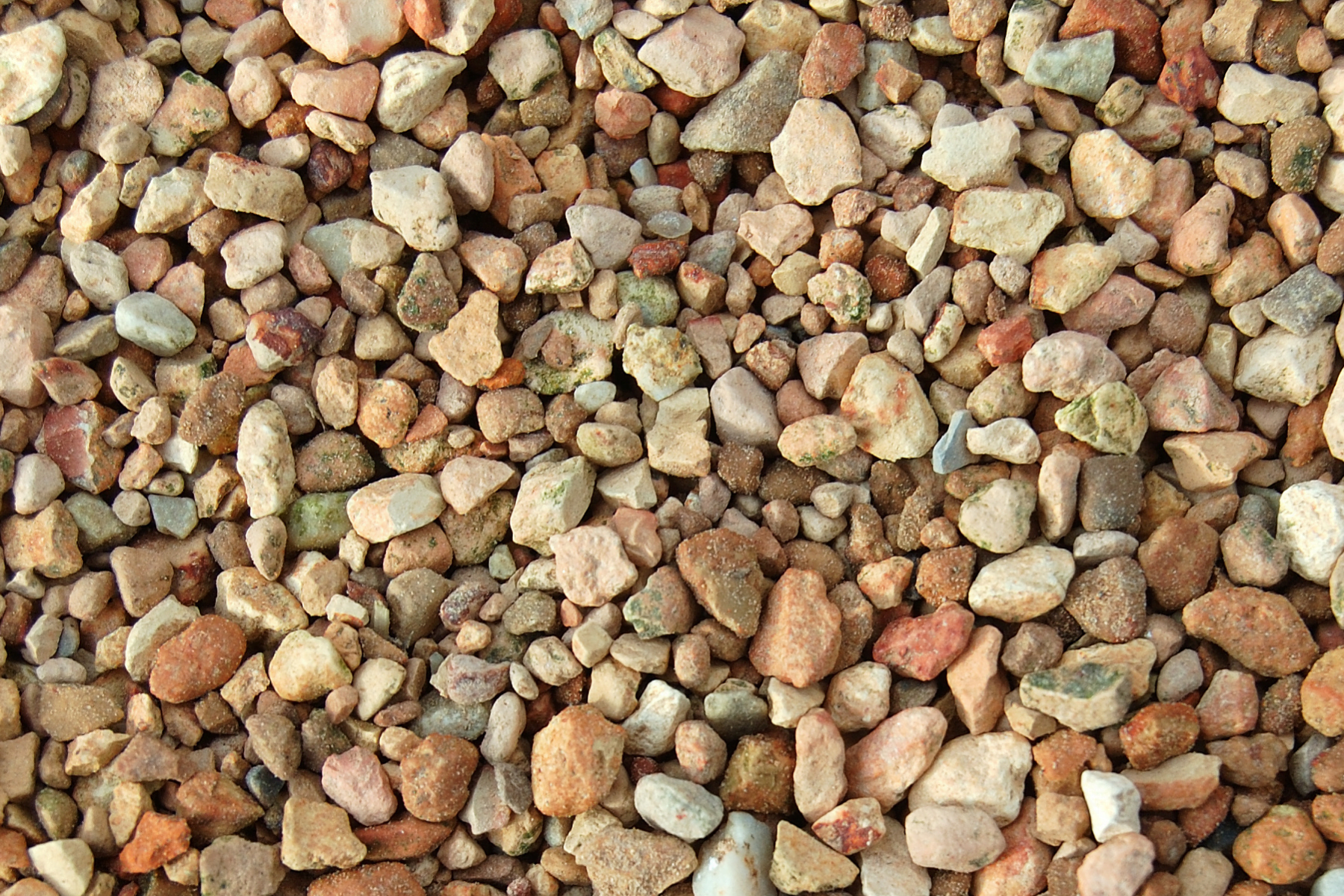 Pea Gravel
Small, smooth, polished pea gravel landscaping provides an attractive material for mulching a flower bed, filling in the edges of your hardscaping, jor layering a pathway or patio. Pea gravel landscaping is among the more affordable options, especially when purchased in large quantities. Coming in multiple colors and gentle even on bare feet, pea gravel should be well contained with some kind of solid edging to keep it from scattering across pavement or lawns.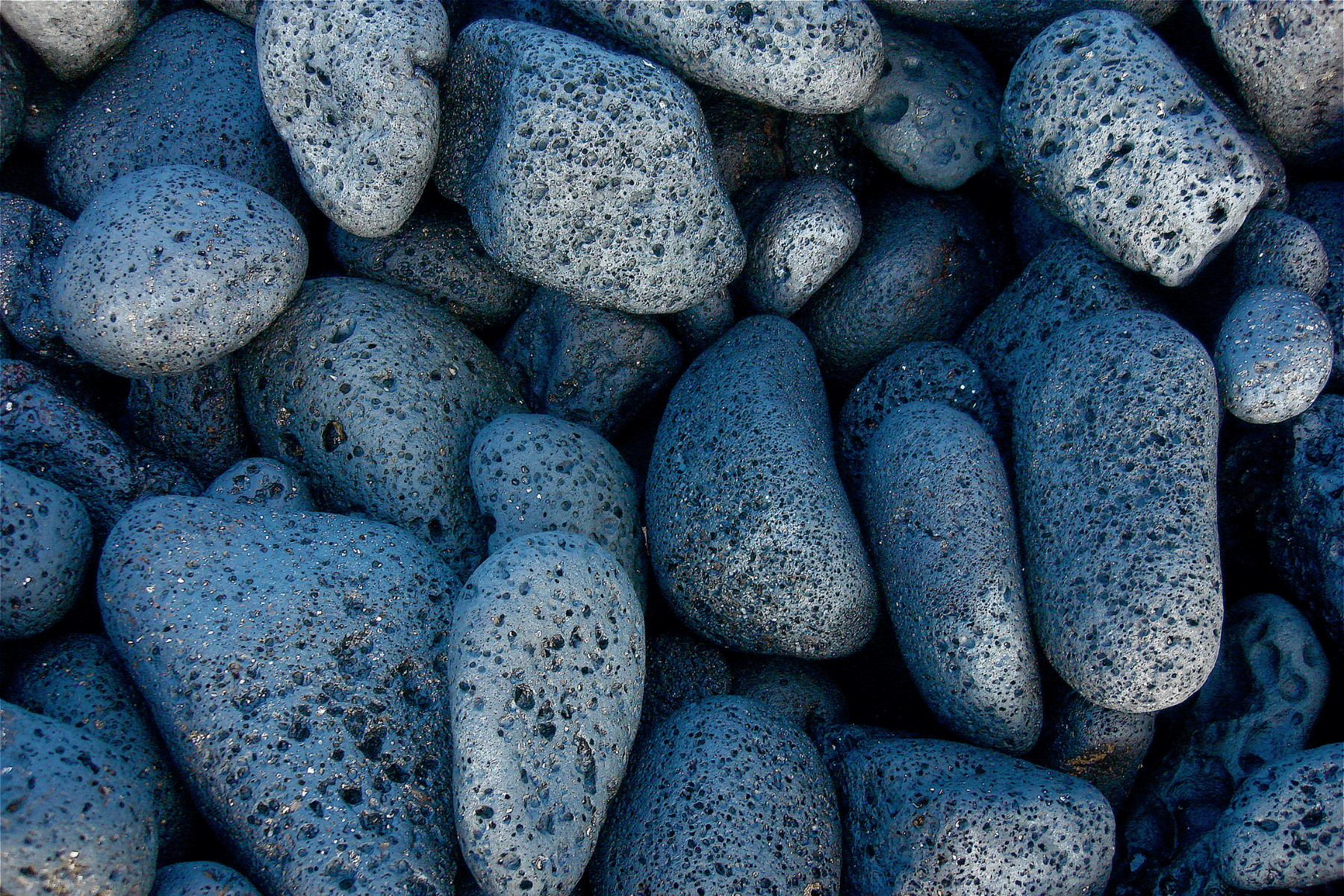 Lava Rock
The fiery red and rugged contours of lava rock landscaping can provide a zesty mulch or edging accent material. Lava rock landscaping tends to be a bit more expensive than pea gravel.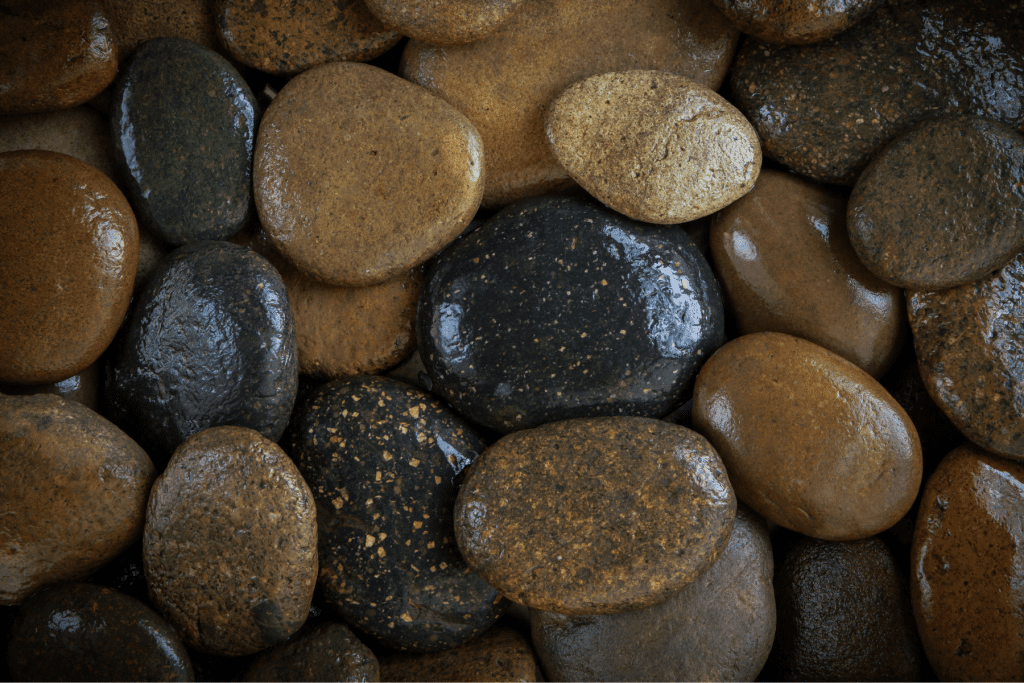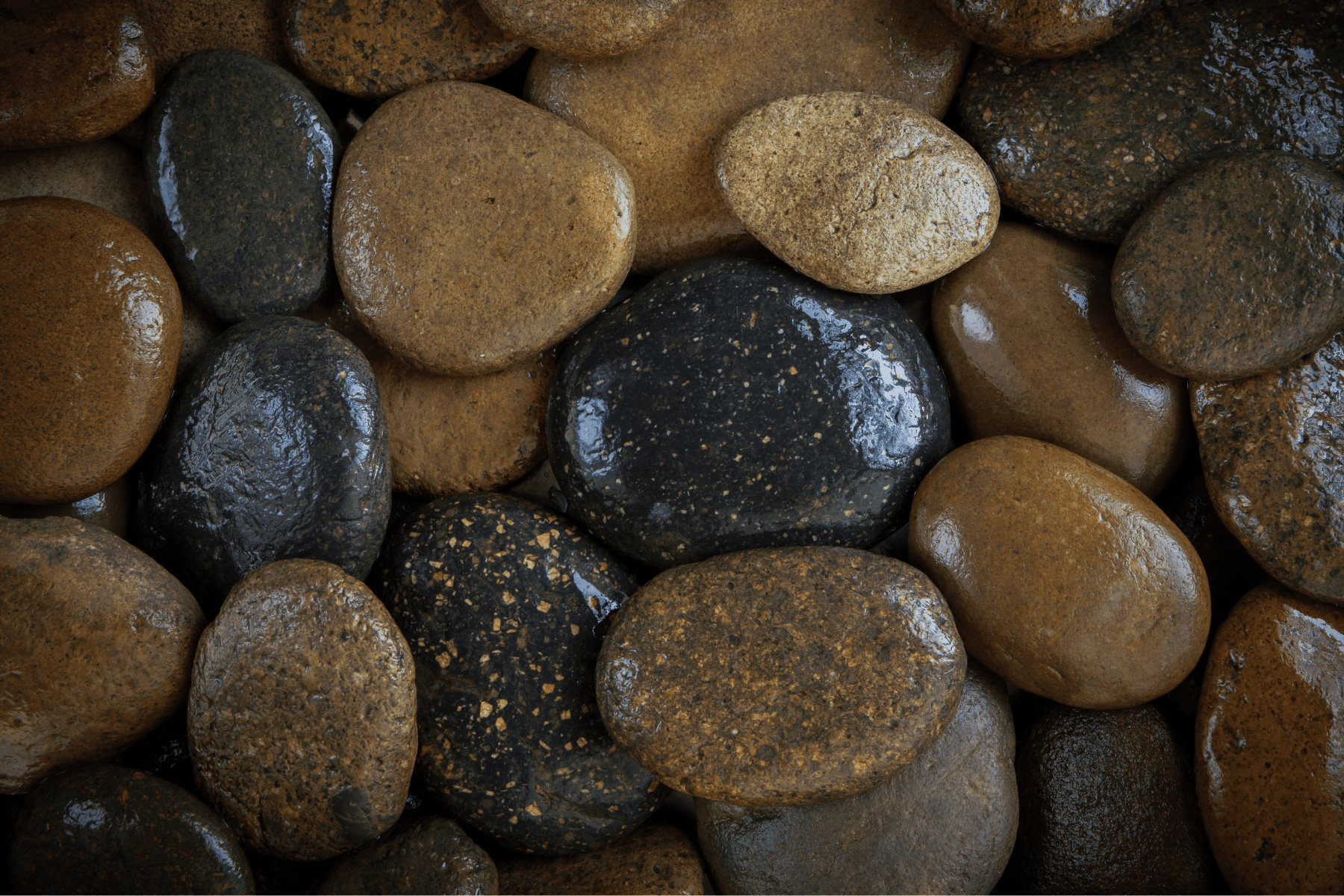 River Rocks
River rocks are essentially larger and yet more polished versions of pea gravel, and they offer a marvelous range of shade and pattern. River rock landscaping is incredibly versatile. You can find choices for everything from flower and garden beds to accenting and edging features around walls, statues, fountains, pools, and other features you really want to emphasize. River rock landscaping ranges widely in price depending on size, color, and other characteristics of river rocks.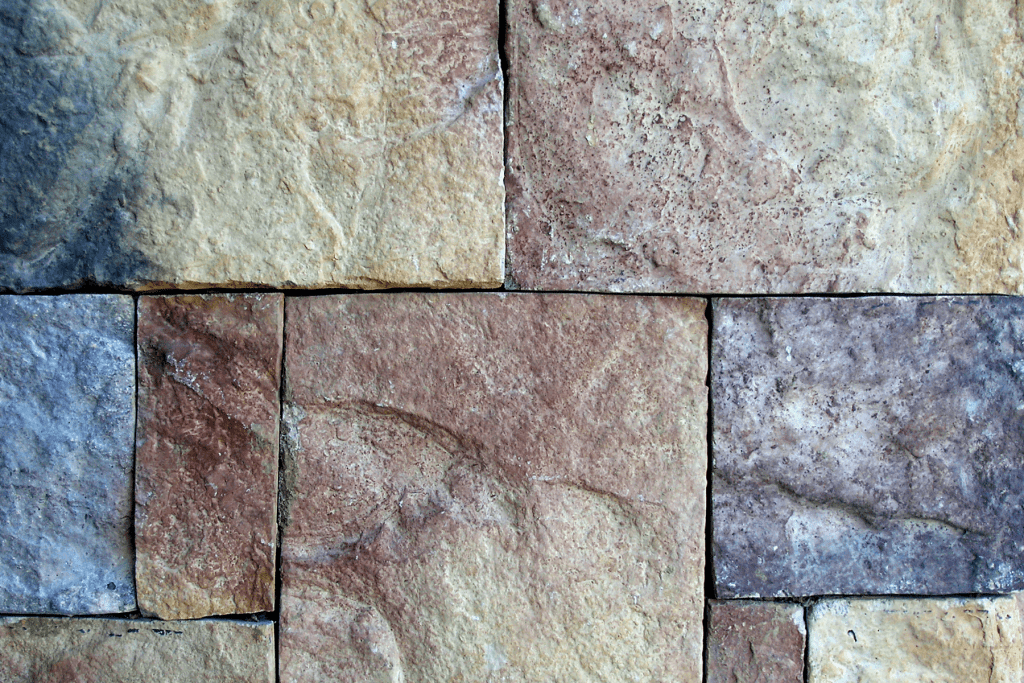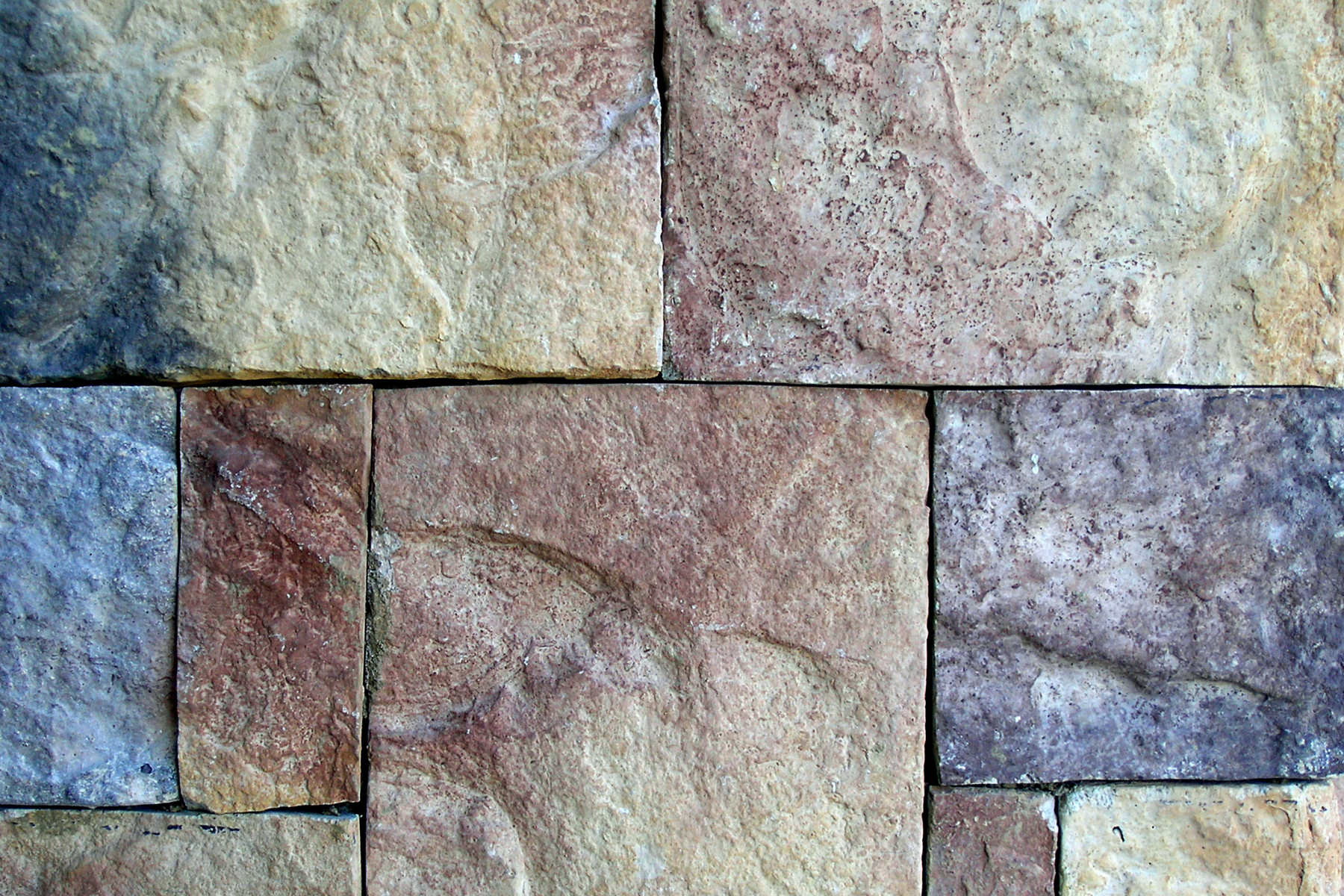 Flagstone
Flagstone's the classic choice for pathways, patios, pool borders, and many other high-traffic corners of your hardscape. Flagstone landscaping offers a smooth, flat, nicely textured, and long-lasting substrate, and can be attractively arranged within a bed of gravel or grass. The cost of flagstone landscaping varies quite a bit depending on the kind of flagstone you select.
Rock Landscaping in Charlotte, NC
With all of the rock landscaping ideas to choose from, sometimes choosing which rock material is the hardest part. At MetroGreenscape, we have over 20 years of experience as a landscaping company in Charlotte, and we know a thing or two about landscaping design with rocks. Our team of professionals will help you find the very best color, size, and price point as well as help you design the optimal rock pathway or boulder layout. To get started, contact us today for a consultation.