Follow Our Easy 3-Step Process
Schedule a time for one of our pros to evaluate where you want your desired swimming pool project.
Schedule a consultation today
Initial consultations $99
At MetroGreenscape, our experienced designers work with Charlotte residents to select an in-ground pool that matches their budget, aesthetic, and backyard space. This process begins with a one-on-one consultation. We take the time to understand your goals and budget, offering advice to make your dream a reality.
Learn more about our consultation process or go ahead and book yours today!
Pool Design
Our pool and outdoor living development teams work closely with homeowners to ensure that the design, construction and completion stages are on schedule and budget. We are conscious of all required permits, inspections and special water and plumbing requirements that a pool installation project demands. Since we are outdoor living specialists, we also understand where to properly place a pool based on property grades and other circumstances. We can then make the area around the pool a truly functional showplace.
When you hire MetroGreenscape to install a custom swimming pool, we handle permitting, excavation, pool decking, pool coping and fence installation to keep the area safe. We also offer Charlotte homeowners a variety of pool choices.
Schedule Consultation ›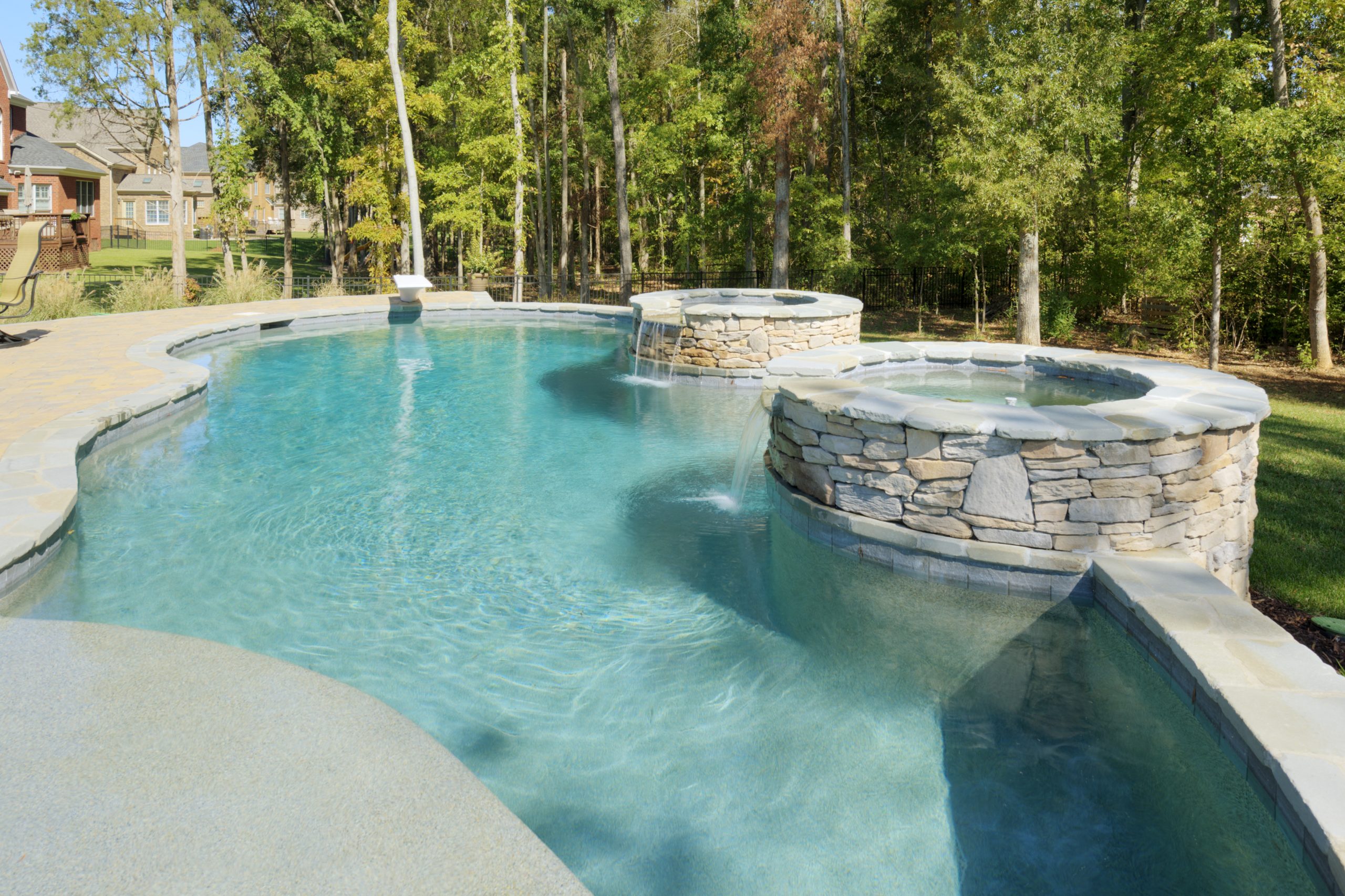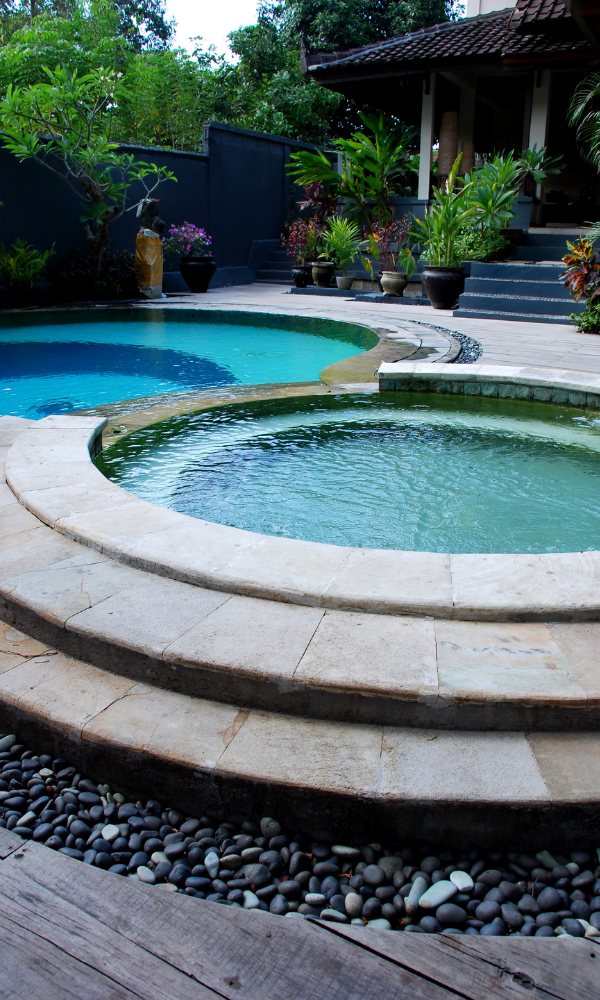 Add beauty, value and endless fun to your property
Pool design styles
Freeform Pools
As the name suggests, freeform pools are organic in shape and lack any harsh right angles or sharp lines. These pools are perfect for small backyards because they can fit into virtually any space.
Freeform With Walls
A steep, sloping property can make installing a freeform pool difficult. At MetroGreenscape, we make your backyard dreams a reality by adding functional yet beautiful retaining walls to your poolscape.
Geometric Pools
Geometric pools take on symmetrical shapes like ovals, circles, squares, rectangles or triangles. These backyard additions offer clean, straight lines and complement modern or contemporary homes.
Classic Pools
Classic pools are timeless. Dating back to centuries-old Greek and Roman architecture, this design combines a rectangular shape with angled modifications for visual interest.
Schedule Consultation ›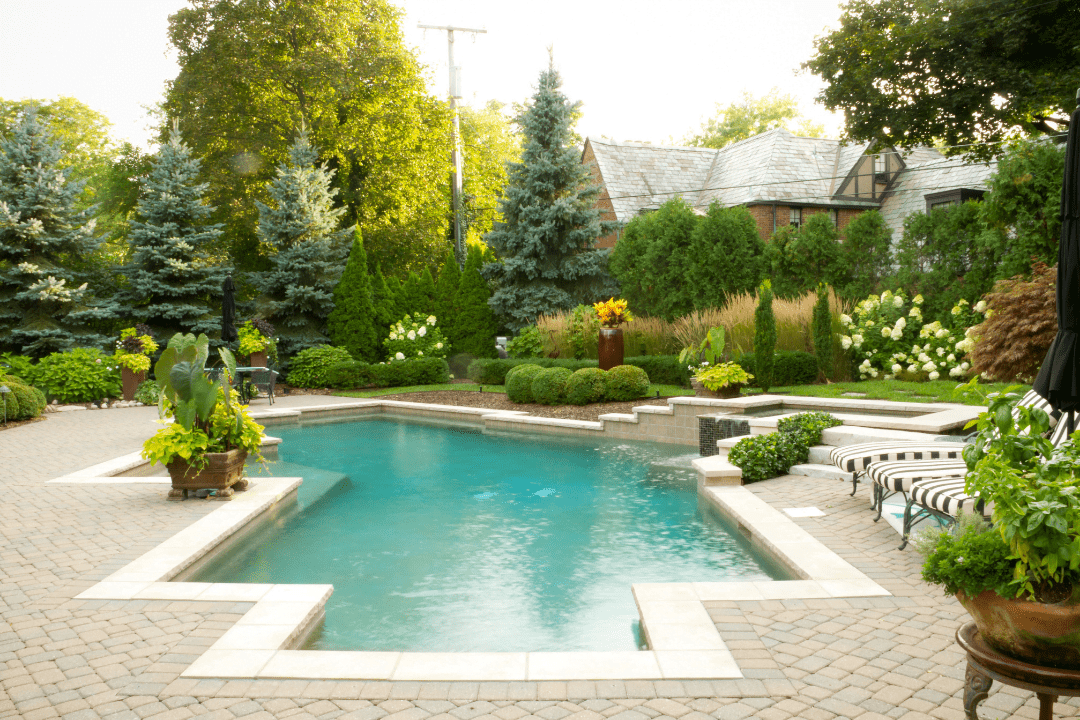 Pool Landscaping
Pool landscaping creates a welcoming backyard oasis and improves the overall aesthetic of your property. But creating the perfect poolside landscape is more complicated than just planting a few trees and flowers. That's where the trained horticulturists at MetroGreenscape come in.
Our Charlotte professionals understand the importance of choosing low-maintenance plants that complement, rather than detract from, your custom in-ground pool. With more than 20 years of landscaping experience, MetroGreenscape's team will select plants that thrive without attracting bees or dropping leaves.
Additionally, our pool landscapers in Charlotte will suggest shrubs to create privacy and flowers to add depth and beauty year-round. If you are interested in extending pool parties well into the evening, we also help customers find the right outdoor lighting to showcase their swimming pool at night.
Schedule Consultation ›
Helpful Information
Pool Planning Example
Below is an example of one of our pool plans that we will provide you. This helps you visualize the work being completed. The pool plans are usually up to 10 pages and are detailed enough for you to see the pool and any landscaping changes that will be made around your home.
The projected timeline for your custom in-ground pool will depend on the design's complexity. However, the majority of our Charlotte customers can expect their backyard pools to be completed in six to 12 weeks.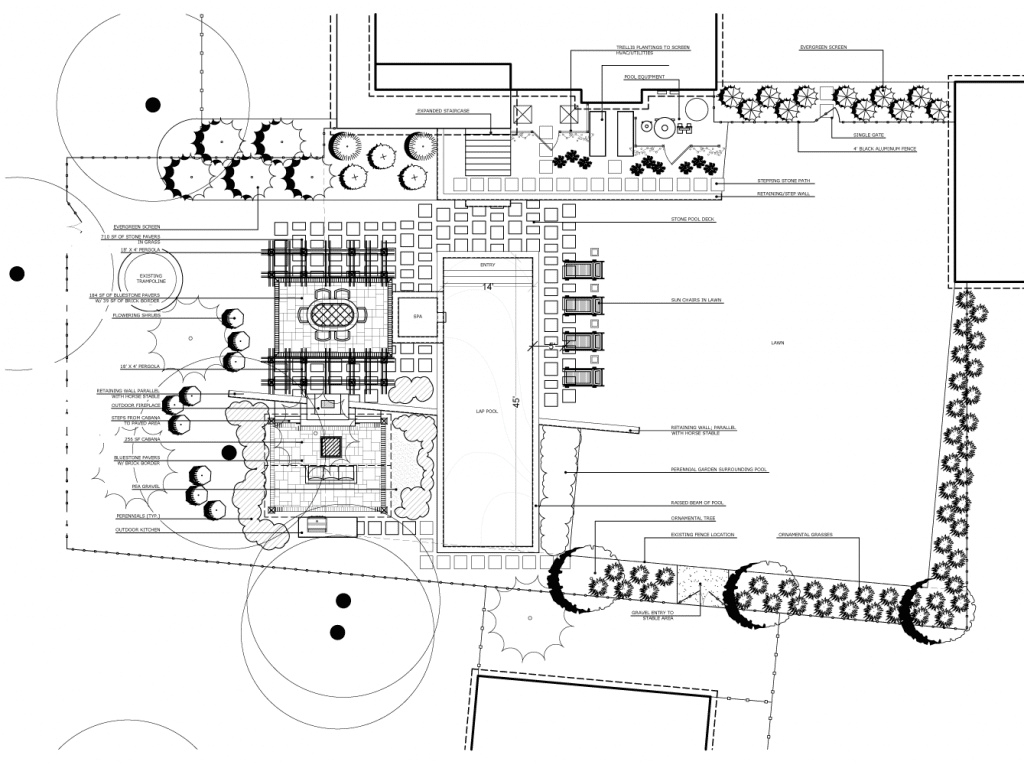 Saltwater Pools vs. Chlorine Pools
When you meet with our experienced designers to plan your custom in-ground swimming pool, you will be faced with a big question: saltwater or chlorine? Though neither option is better than the other, it's important to understand the pros and cons of each to make an informed decision. 
Saltwater Pools
Did you know that the salt content of a saltwater pool is more like a teardrop than the ocean? That's because these pools actually require a comparatively small amount of salt — about 50 pounds per 2,000 gallons of water. A device called a saltwater chlorine generator then converts the sodium chloride into chlorine that will kill algae and bacteria, keeping your pool clean and safe. 
The most obvious benefit of a saltwater pool is that you don't have to handle chlorine since the saltwater chlorine generator naturally produces the chemical for you. The water also feels silky and, unlike the ocean, doesn't taste or smell briny. Research also suggests saltwater is gentler on the skin and eyes. 
A saltwater pool is gentle on your recurring budget too. Though a saltwater pool is more expensive initially, the annual chemical cost is only $100.
Chlorine Pools 
In the early 1900s, chlorine emerged as an effective sanitizer for pool water. It has remained a popular choice ever since, and with good reason. Traditional chlorination systems are less expensive to install compared to saltwater systems. Plus, chlorine is good at its job, quickly killing algae, viruses and bacteria that may make your family sick.
Though your chlorine pool will require more upkeep than a saltwater pool, most issues can be resolved by simply testing the water and adding the necessary chemicals to create a safe swimming environment. Comparatively, problems with a saltwater chlorine generator often require a skilled technician. 
Charlotte homeowners can expect to pay nearly $700 a year for chemicals for their chlorine pool. However, these chemicals can be purchased at almost any big-box store whereas the salt for a saltwater pool is harder to find. 
Need help deciding between a saltwater and chlorine pool? Schedule a one-on-one consultation with one of our pool experts. We'll weigh in on the best option based on your needs and vision. 
Types of In-Ground Pools
Here are some of the most popular pool materials we install throughout Charlotte. 
Concrete   
Concrete pools are nearly indestructible. Unlike vinyl pools, sharp objects like a dog's nails won't damage concrete. However, concrete is generally more expensive and takes about 28 days to cure.
Tile or Stone 
Do you want your pool to make a statement? Consider tile or stonework. Both allow you to design a pool that is unlike any other. These materials are also durable and easy to clean. 
Schedule Consultation ›
Cost of an In-Ground Pool
While pool plans start at $3000, the cost of your custom in-ground swimming pool will be impacted by various factors. This includes things like shape, size, location, landscaping, luxury features and more. At MetroGreenscape, we strive to design pools that suit Charlotte homeowners' needs and budgets. With that in mind, we offer firm cost estimates during each consultation. We offer financing as well, allowing Charlotte residents the flexibility of paying over time.
Schedule Consultation ›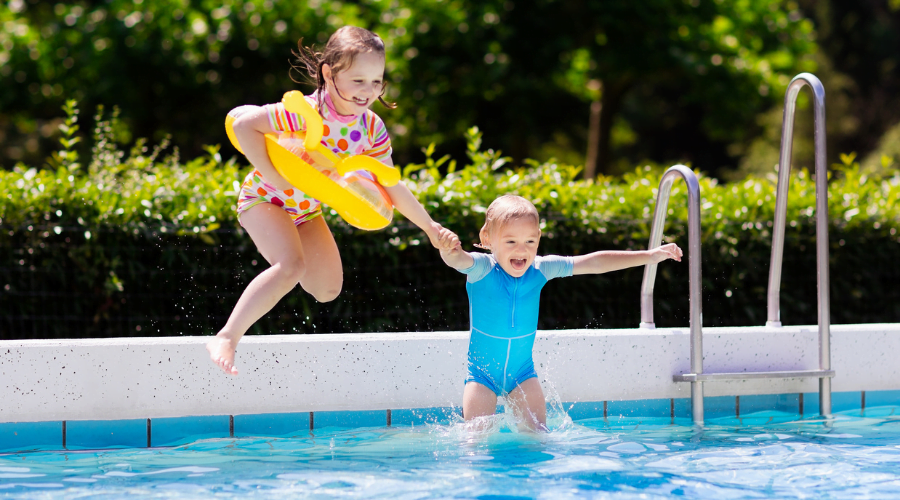 Add-On Features to Complement Your Luxury Pool
At MetroGreenscape, we believe Charlotte homeowners deserve a custom swimming pool that speaks to their personality and lifestyle. That's why we provide customers with the option of installing luxury pool features like pool lighting, waterfalls, hot tubs and more.
Heated Pools
With a heated pool, your family can swim no matter the weather outside. Heated pools are also pragmatic, preventing possible structural damage caused by freezing water.
Hot Tub
Soaking in a hot tub can ease tension from the workday, relieving physical, mental and emotional stress. Plus, research suggests a soak before exercise may prevent certain injuries.
Tanning Ledge
A tanning ledge is a shallow shelf placed around the sides of a pool. At just a foot deep, this luxury pool feature allows you to drink, read and relax while staying cool.
Infinity Pools
If you think your yard is too steep for a custom swimming pool, an infinity pool may be the solution. Not only does this design look seamless and elegant, but it can also be installed on a slope.
Pool Lighting
Do you want to host friends and family well into the evening? Add pool lighting. Pool lighting increases the visibility and safety of your poolscape while creating a cozy ambiance.
Swim-Up Bar
A swim-up bar is the perfect way to bring a hint of your tropical vacation back to Charlotte. Thanks to the expertise of MetroGreenscape, you'll never have to choose between leaving the pool or sipping a cocktail.
Waterfalls
A waterfall adds an element of sophistication to your custom in-ground swimming pool. By keeping the water in your pool moving, waterfalls also act as natural filtration systems.
Whether just a weekly lawn mowing, or an entire custom patio, kitchen and outdoor living space we have a skill set in project management to ensure.
In-Ground Pool Installation FAQs
Schedule Consultation ›
What are the best conditions for a backyard pool?
Almost every Charlotte backyard can accommodate a pool. At MetroGreenscape, we have experience installing custom in-ground swimming pools in very small yards, very steep yards and very shaded yards.
Are in-ground pools safe?
Yes, in-ground pools are safe. However, if you are a parent of young children, certain safety precautions will give you immense peace of mind. For example, you can install a pool fence or purchase a mesh pool cover.
How difficult is it to maintain a pool?
Pool maintenance isn't difficult or time-consuming. In fact, with the proper equipment, Charlotte homeowners should expect to dedicate just ten minutes each week to pool maintenance.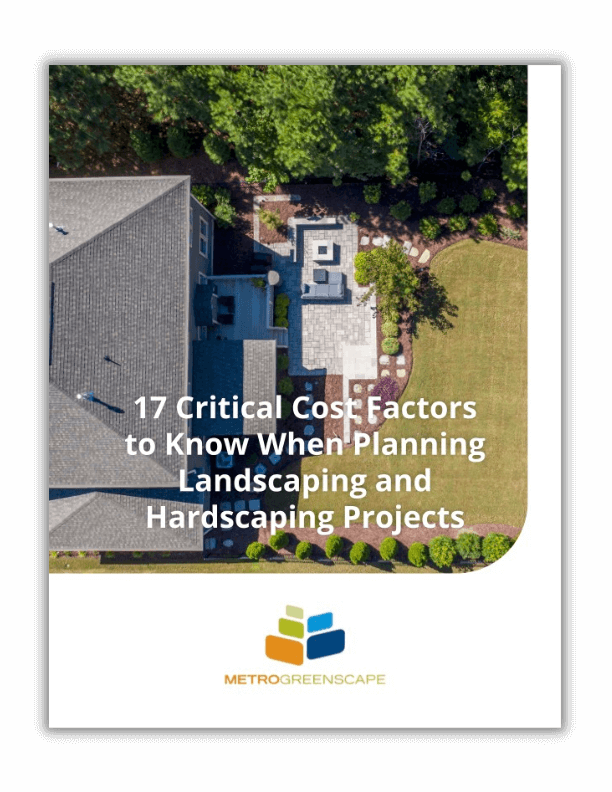 Download Our Free Guide: How to Plan Your Project
Discover 17 critical cost factors you should know while planning your next landscaping or hardscaping project.
Step 1:  Fill out this form and get the guide
Step 2:  We'll email you the PDF.
Step 3:  Learn everything you need to know about planning your project.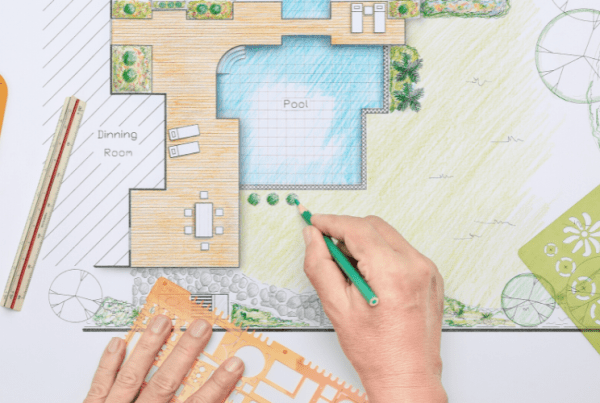 If you are considering adding a swimming pool in your backyard, you probably have a…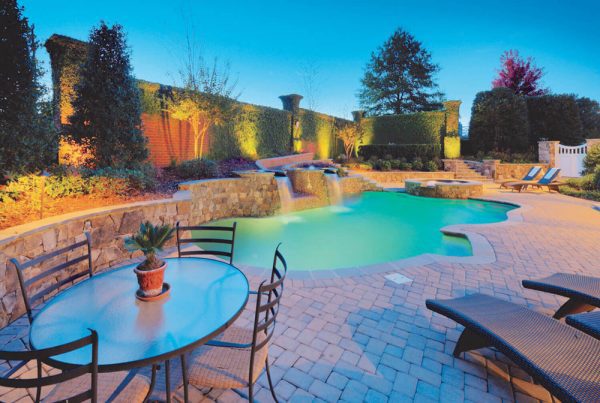 Having a pool in your backyard is like having a giant magnet in your yard…