Turf & Artificial Grass Installation in Charlotte
Planning for Turf Installation Success
While installing turf may seem like a simple weekend project, it is actually quite complex. That's why you should leave it to the experts at MetroGreenscape. We have a proven turf installation process that accounts for the unique irregularities in North Carolina's landscape.
Our process includes:
Design
The first step to your forever green lawn is design. Our installers will carefully map out the area and ensure that it has proper drainage. This includes inspecting the soil and accounting for any irrigation. Once we have designed your new turf, we will move on to ground prep.
Ground Prep
During the ground prep phase, we will locate irrigation and electrical lines. We will then remove existing material and install your base. The base gives your turf stability.
Install
The third phase of our process involves installing your turf. Our team will make sure that your turf's grain is perfectly in line so that it has a natural appearance. We guarantee that you will be satisfied with our work.
Infill
The final stage of your install involves infill. During this step, our team will install stabilizing material to protect your synthetic lawn. Infill material may include rubber, acrylic coated sand, or washed sand.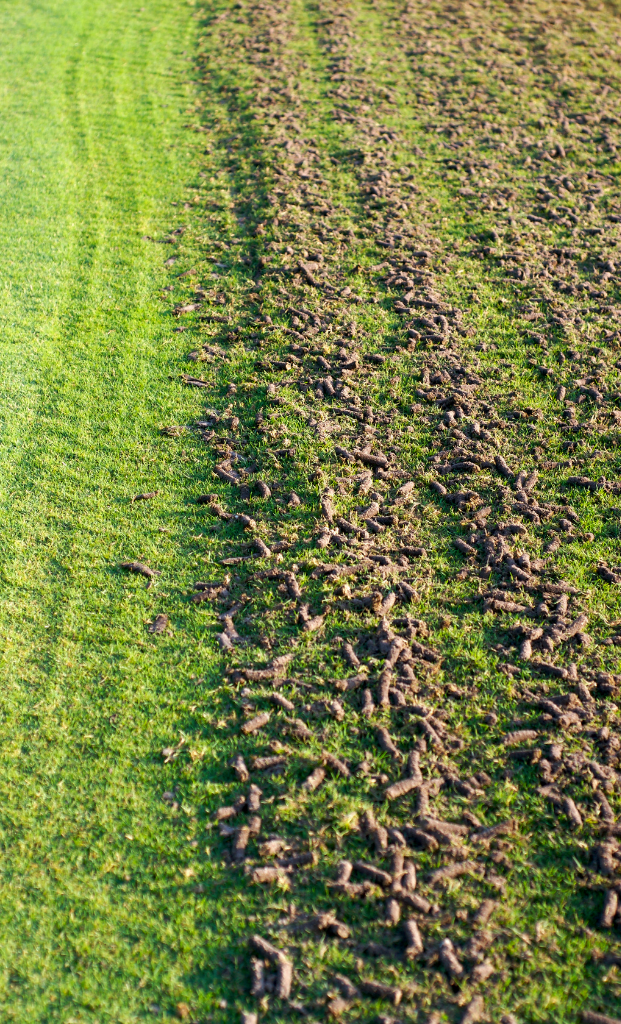 Helpful Information
Top 3 Things to Know About Turf in Charlotte
Turf Looks Great
Your new turf will look great all year long. You will no longer have to look at an ugly brown lawn for months during the winter. That pesky thin spot in your lawn will become a thing of the past, too!
Our high-quality synthetic turf can withstand anything that the North Carolina weather can throw at it. From heavy summer rains to unusually frigid winters, our turf will endure it all and still look stunning. Can you say the same about your current lawn? We didn't think so.
Turf Requires Less Maintenance
If you are ready to retire that old push mower, then our turf is just the solution you have been waiting for. Artificial turf requires less maintenance compared to real grass. You will never have to mow again.
Turf is Good for the Environment
With turf, you can throw out pesticides used for lawn maintenance. Your new turf will form a barrier that keeps out weeds and unwanted plant growth. Since the turf is completely synthetic, you can also eliminate the need to water your lawn. Talk about a win-win!
Types of Artificial Grass We Offer
As Charlotte's Turf experts, we offer several different artificial solutions to meet the needs of any home or business. Our products include:
Pet Turf
Pet Turf is the perfect option for pet lovers. This high-quality synthetic grass has a unique knitted backing that is designed for optimal drainage. It even includes antimicrobial agents within every blade to create a clean and sanitary environment.
Landscape Grass
If your primary goal is aesthetics and a natural look, then our landscape grass is just what you need. This option offers the best combination of functionality and realism so that it blends seamlessly with your existing landscape.
Playground Grass
That's right, we even offer synthetic turf specifically for playground applications! Our artificial playground grass creates a safe environment and has a 13-foot ASTM rating, which makes it perfect for use around tall recreational equipment.
GolfGreens Putting Green Grass
MetroGreenscape's turf experts can help you design the perfect golf green with the use of our GolfGreens artificial grass. Whether you just want to have your own practice space in your backyard or need to regreen an entire golf course, MetroGreenscape is up to the task.
SportsGrass
SportsGrass is the ideal solution for athletic performance. It has less infill than past versions, which optimizes player safety and turf stability.
SplashGrass
If drainage is one of your primary concerns, then you need to take advantage of our SplashGrass turf. This unique option improves safety and sanitation in areas that are close to the water.
As you can see, MetroGreenscape has a turf solution for everyone. If you would like to learn more or need help finding the right turf option for your property, contact us today!
Request an estimate today!
Initial consultations $99
MetroGreenscape is a local business with extensive knowledge of the North Carolina landscape. This expertise allows us to ensure that every turf installation is seamless.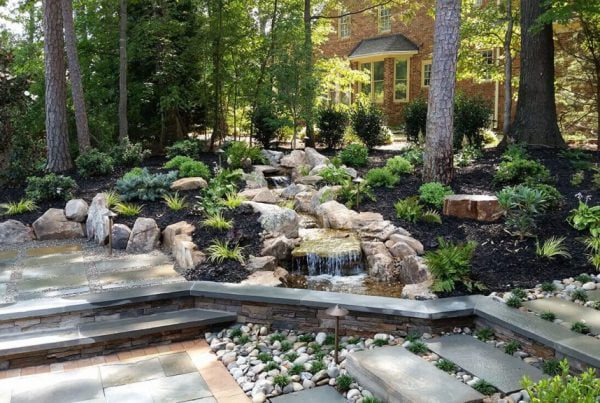 From a large boulder centering a corner lawn to crushed-stone garden beds and pathways, there…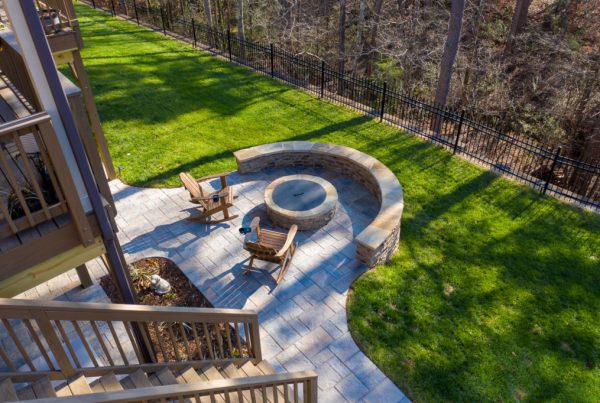 Few features make your property as inviting as a custom outdoor fire pit. Installing a…
Turf Frequently Asked Questions
Is turf real grass?
No, turf is created using synthetic fibers that are designed to look just like natural grass.
Is turf better than grass?
There are many benefits to turf over natural grass. Turf doesn't require any maintenance, water, or harmful pesticides. Plus, it looks great all year round!
What's the difference between turf and artificial grass?
Traditionally, turf is the term used to describe shorter artificial grass that is designed for sports fields. However, both turf and artificial grass use similar materials. We offer several turf lengths based on your preferences.