Fall is a favorite time of year for many people. The holidays are just around the corner, the weather shifts and the trees begin their kaleidoscope of color. The other perk in fall is allowing a professional to take on some of the chores for you. We all know what a headache fall landscaping can be, and also how important it is to keep it healthy so it's green for another season! We actually did our research and found the 5 most hated fall landscaping chores. Let us know if you agree!
Raking Leaves: Fallen leaves left on the ground block sunlight and cause brown spots on the grass. Once or twice a week be sure to rake up and dispose of all leaves until the season is over.
Lawn Care: Now is a great time to re-seed your lawn using a cold tolerant grass seed. Doing such allows the lawn to thrive for most of the year without growing thin in places. Fall is also a good time to fertilize and aerate your lawn.
Weed Reduction: A beautiful landscaped yard should be weed free. Now that the weather is getting cooler, it is time to get rid of all of those weeds that have taken over the lawn, flower beds, and shrubs. Weeds will rob your plants of water and fertilizer as they compete for a spot in your yard. It is also a good idea to take care of weeds before they drop their seeds.
Winterization of Irrigation: There's nothing worse than having to deal with broken pipes or broken sprinkler heads. Before the temperature dips to freezing winterize your irrigation system. Test all of the connections and sprinklers to see if they are working properly. If not, replace them as needed. If you have an automatic system, it is time to drain it so that the pipes survive the winter. If your system control box is located outside make sure, it is insulated against the weather. It is not uncommon to have valves, timers, and other parts that contain water to freeze and split. Winterizing your irrigation system helps to keep it in tip-top shape through the winter and early spring.
Gutter Care: There are two main chores each fall, and the worst is cleaning out the gutters. If you are not fond of climbing ladders and crapping out the decaying, mucky mess in the gutters not a problem. We don't mind doing that for you. Keeping your gutters in top shape helps to allow them to do their job. If left unattended it can cause an array of messes for your home. A clogged gutter or downspout is the first step on the way to creating a leaking roof. Save your roof, prevent ice dams and get your gutters professionally cleaned.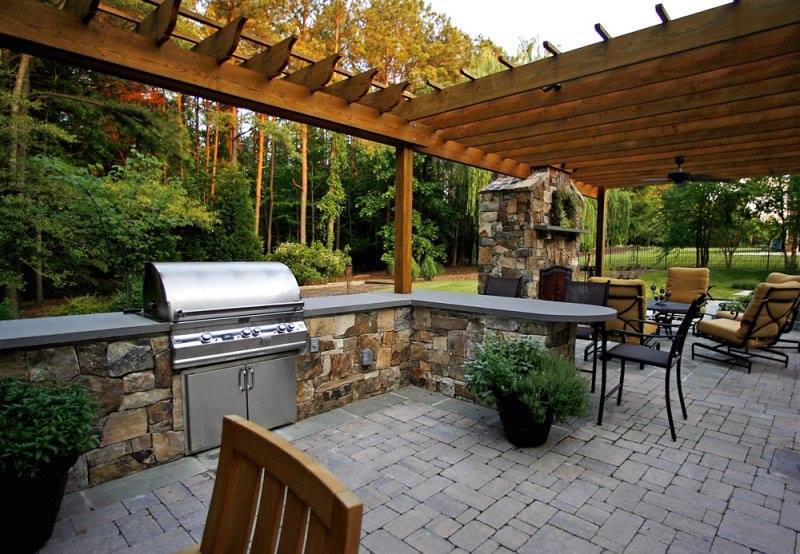 We get it, fall is your busiest season. There's sports practices to get to, games to attend and company events! Let someone else rake the leaves that confront you in your yard every morning.
We offer outstanding yard and landscaping services. We can help you manage these chores and we can also help you with landscape design too. If you are considering outdoor lighting projects, firepits, fireplaces, rooms, patios or decks for better fall landscaping ambiance, we are the people to call. Get your fall landscaping in order and where it needs to be for the upcoming harsh winter to make sure you have a lawn to actually care for next season.