It's only natural that once spring or summer rolls around, our thoughts turn most to yard design and renovation projects: The warm weather and long days make us want to spend as much time outside as possible and rev up our hardscapes for relaxation and entertaining.
What many homeowners don't realize is that fall and winter are actually ideal seasons to plan and install hardscapes. As a top-rated hardscaping company in Charlotte, NC, we of course offer our landscaping installation and maintenance services all year round, but we definitely think there's a lot to be said for tackling major hardscape projects in the fall and winter.
Let's explore in more detail why fall and winter definitely should be on your radar when it comes to scheduling a hardscaping project in or around Charlotte.
When is the Best Time to Start a Hardscaping Project & Why?
There are many reasons why fall and winter are the best times of year to start hardscaping projects. The major reason is timing: build your hardscapes in winter and you'll be able to enjoy them come spring. Timing the design and constructions allows you to maximize your use of your hardscapes. 
But timing is not the only advantage to installing hardscapes in fall or winter. Let's dig a bit deeper into why you ought to consider the "off-season" for getting this sort of work done.
Cost Savings
Generally speaking, winter is a slower time of year for landscapers. Sower demand means hardscaping supplies and labor are less expensive in fall and winter. That can certainly translate to greater savings on your end—or the ability to afford higher-quality materials or a more ornate design than you otherwise could.
Quicker Turnaround
The same lower demand for landscaping work in fall and winter also frequently means an all-around faster project completion compared to spring and summer. With fall hardscaping, materials tend to be quicker to acquire and crews aren't trying to squeeze you into a jam-packed schedule which means the work can hum along at a swifter and steadier clip.
Less Damage to Your Yard
With most plants in their dormant period and the ground nice and hard, winter hardscaping packs less of a heavy punch on your property. Your lawn and soil are likely to sustain less damage from equipment, heightened foot traffic, and excavations associated with a hardscaping project during this stretch of the calendar.
Enhanced Weed Suppression
Given many weeds are also dormant, winter hardscaping can give you a major leg-up in the fight against them: Putting in pathways, patios, walls, and other hardscapes, as well as associated landscaping work such as mulching, can squelch those weed seed-beds before they can get going in spring.
Less Disruption
In fall and winter, you're less likely to be actively using your yards, making this an attractive window for upgrading or renovating it by adding a hardscape. Furthermore, the noise of winter hardscaping won't be as bothersome as it would be during summer when you're more likely to have the windows open in your house.
Often Ideal Weather
Charlotte winters tend to have plenty of mild, sunny stretches prime for doing outdoor work—quite a bit more pleasant than the subtropical swelter and mugginess of a summer heatwave. Crisper temperatures can also in some cases directly benefit the nuts-and-bolts of certain hardscaping applications—making for a slower, more even drying process for mortar, for example. 
Types of Winter and Fall Hardscaping Projects 
Transform your property with a winter or fall hardscaping project that maximizes its aesthetic appeal, practical utility, and overall value while adding a whole new expression of your style and personality to your home. Here are a few examples of installations that your go-to hardscaping company in Charlotte, MetroGreenscape, can make happen!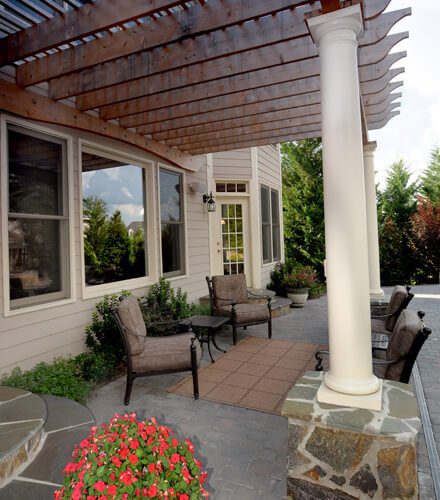 Custom Patios
Turn part of your yard into the perfect spot for morning coffee, evening happy hours, and al fresco dining with a custom stone or brick patio, which can be further enhanced by a built-in bar, fireplace, outdoor kitchen, and other deluxe features.
Custom Decks
Give your house a fabulous fresh-air add-on with a deck installation from MetroGreenscape, which can be designed along just about any layout and include such customizations as built-in seating and lighting.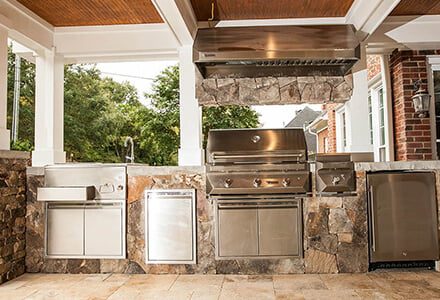 Custom Outdoor Kitchens
Take the backyard barbecue to a whole new level with a customized outdoor kitchen, which can be as simple or as decked-out as you wish—from a basic cooktop spread to setups with integrated grills, pizza ovens, and sinks.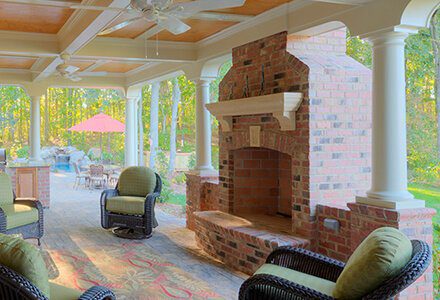 Custom Outdoor Fireplace
An outdoor fireplace often serves as one of the crowning showpieces of your hardscape: not just a welcome place to gather around for warmth and good times, but also an architecturally arresting feature that draws the eye even when the flames aren't crackling.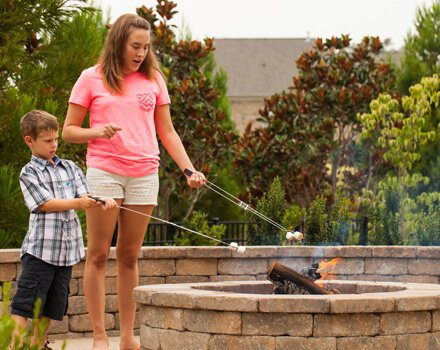 Custom Outdoor Fire Pit
A fire pit—made of stone, blocks, sculpted concrete, or other well-chosen material—becomes an inviting focal point of your property, especially when the associated seating, whether of natural or manmade construction, weaves cohesively into the design theme of your overall hardscape.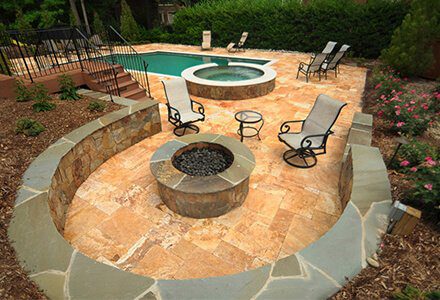 Seating Wall Installations
From the fireplace or fire pit to the swimming pool or prized garden bed, seating walls enhance the enjoyment of signature components of our outdoor space, and offer great flexibility from both the material and design standpoints.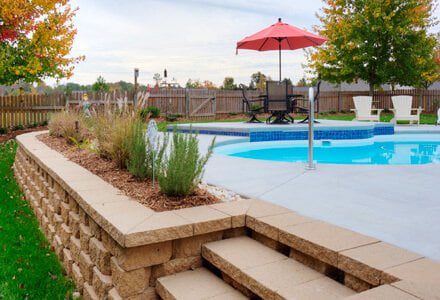 Walkways & Stairs
Thread your property with a logical and aesthetically pleasing network of footpaths, paved walks, and stairways that provide access as well as their own eye-catching design elements.
Why Choose a Professional Landscaping Company for Your Fall or Winter Hardscaping Project?
When you choose a top-rated hardscaping company in Charlotte, they'll have the expertise to take your vision for a fall hardscape project and bring it to life with meticulous craftsmanship. Tap into an expert team's deep well of experience to scheme up the perfect design, and save yourself time, effort, and stress by letting proven professionals handle the installation for you. You can rest easy knowing the job's being done the right way.
At MetroGreenscape, our comprehensive services begin with an in-depth consultation with our clients to understand their space and their hardscape vision. Our deep experience with the specific realities of Charlotte-area landscaping and our extensive portfolio provide a foundation for the planning and design process, but our prime M.O. is customizing every project to create exactly what a given homeowner dreams of when it comes to an outdoor space. Fall's a great window for the consultation and design process, with the actual making-it-happen construction following into winter so that you're all set for launching a whole new chapter of relishing your property as spring commences.
With over 20 years of experience servicing the greater Charlotte area, MetroGreenscape is truly a local company using local materials. We're deeply familiar with the ins and outs of the Charlotte area's climate, soils, and other physical factors that shape how top-quality landscaping and yard maintenance here should be pursued. We can handle any project, large or small, and work within any budget.
Contact us
to learn more about starting a fall or winter hardscaping project.