Few features make your property as inviting as a custom outdoor fire pit. Installing a fire pit can dramatically increase and expand the use of your landscape or hardscape, as it becomes a natural gathering place for dinner parties, cocktail hours, and other entertainment. It can also be a peaceful spot to cozy up to with the family (or the very good company of just yourself) on a crisp evening.
Of course, the fire pit's soft light and warm glow is an alluring draw, sure. But even when not in use, outdoor fire pit designs can act as an anchor creating a distinct, beautiful zone of your landscaping.
As an experienced hardscaping company in Charlotte, NC, we've helped design and construct fire pits of all sizes, shapes, and materials, from circular stone models to fancy tabletop setups. If you feel your yard needs something special or you're already considering an outdoor fire pit design in Charlotte, here are eight backyard fire pit landscaping ideas to inspire you.
1. Enhance Your Home's Existing Aesthetic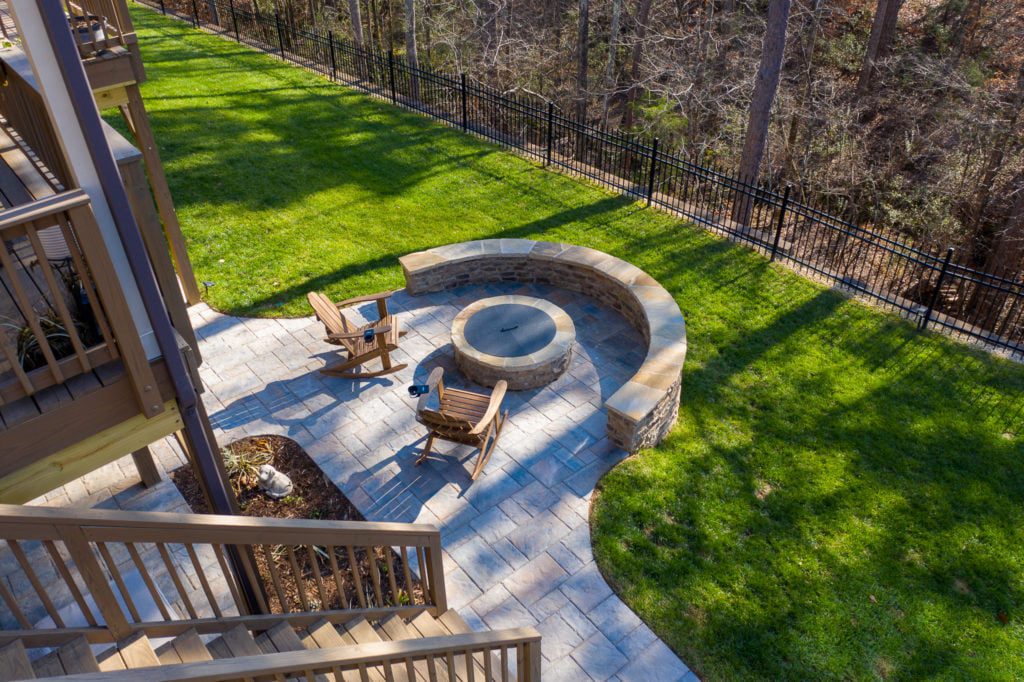 Given the great variety of fire pit materials and styles out there, it's usually quite straightforward to select an installation that will complement and amplify the existing theme or ambiance of your home. Does your hardscaping already feature graveled, crushed-rock? Perhaps a rugged-themed stone fire pit design makes the most sense. On the other hand, a metal fire bowl goes perfectly with a more polished patio area.
That's not to say you can't give your fire-pit landscaping its own special mood or aesthetic—indeed, that can be part of the fun. But always keep in mind its broader context on your property and consider designing some kind of natural, non-jarring transition area to segue gracefully into the fire zone.
2. Create a Focal Point or Hidden Oasis
Another big-picture sort of question to ask yourself when landscaping a fire pit is the role you want it to play on your property and where you'd like it situated. Do you see the fire pit being the visual and social hub of your outdoor space? Placing it front and center with an open, highly conspicuous design makes the most sense, then. You can place it next to high-traffic areas of your home, like next to an outdoor pool or backyard playground.
On the other hand, you can also make your fire pit a secluded, tucked-away retreat for enhanced privacy and coziness. You might therefore opt for a more intimate layout and either natural or constructed screening of some kind to surround it.
Make your fire pit a focal point by placing it next to high-traffic areas of your home, like next to an outdoor pool.
3. Consider Your Existing Patio Furniture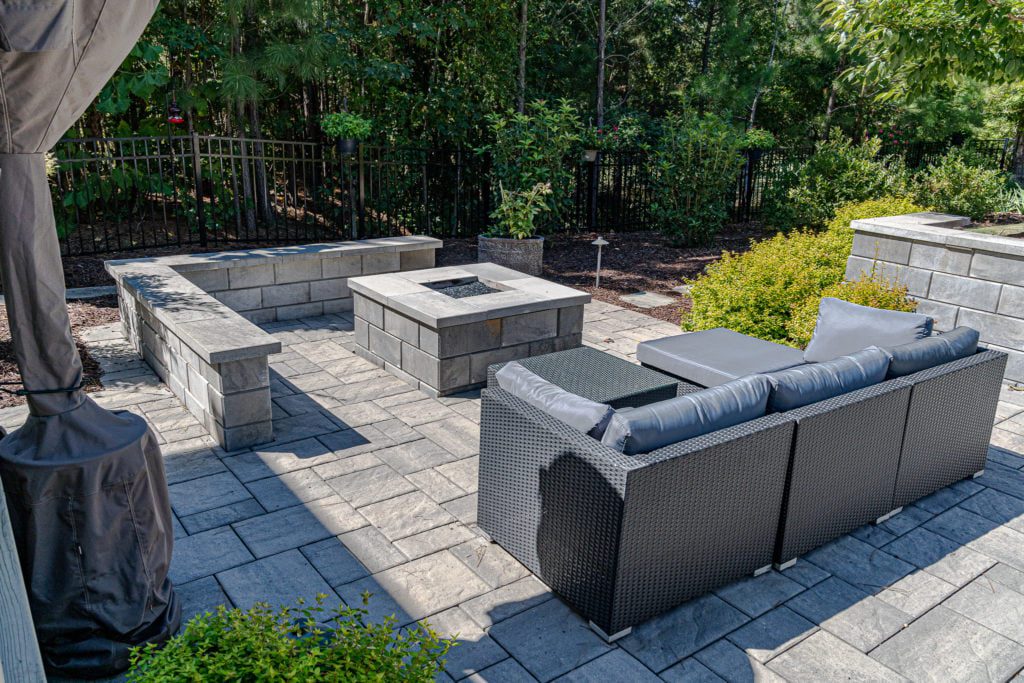 The shape and style of existing outdoor furniture can also naturally suggest the size, form, and material of your fire pit. If you have already invested in patio furniture that you love, it makes sense to find a fire pit design that will complement your furniture. Get out your measuring tape and see what shape and size fire pit will allow you to comfortably access your furniture without being too close or too far from the flames.
A linear fire pit or fire-pit tabletop can work perfectly in a long, narrow slot created by outdoor loveseats and couches.
4. Add a Privacy Screen
A fire pit provides a naturally intimate feel, one you can enhance with the right landscaping. To make it more seclusive, consider building a privacy fence or wall. You can also use existing hedges and shrubs as a natural privacy wall. Or you can plant hedges and trees alongside or around your fire pit, like a bamboo stockade or an arborvitae border. Use existing hedges and trees as a natural privacy wall for your outdoor fire pit.
5. Incorporate Built-In Seating
You can easily enjoy a fire pit with nothing more than a few lawn chairs, of course, but many Charlotte homeowners enjoy the permanence and elegance of built-in seating. From a seating wall to sculpted benches, fire pit seating area design can become its own eye-catching feature. Add customized fabric for comfier seating and a bolder stylistic flair.
Allowing a large-enough footprint around your fire pit also means you can always fit some additional movable chairs if you need to create more room around the fire. Built-in seating around your fire pit ensures that everyone has a seat.
6. Integrate Outdoor Lighting
Crank up the festive or romantic ambiance around those flickering flames. You can hang string lights and stake tiki torches in the ground. Or you can install a more permanent and lasting solution with outdoor landscape lighting. Outdoor lighting makes it easier to see the area around the fire pit, preventing trips or falls in the dark. Outdoor lighting provides greater visibility in the dark while also creating a cozy ambiance.
7. Create a Stone Path
Constructing a special walkway that leads directly to your fire pit is another great idea. You can choose a high-profile path of paver stones, brick, or pea gravel beelining from the back door to that centerpiece fire pit of yours. Or, you can go for a meandering river rock path ending up at a hedge-hidden hangout. Sone paths create a dynamic visual effect while also helping funnel your guests in the right direction.
Create a pathway to your fire pit to add more visual appeal while also helping steer your guests in the right direction.
8. Design a Fire Pit Backdrop
Consider the sightlines you want to see while sitting around your outdoor fire pit. If you have a gorgeous stand of shrubbery, a commanding tree, a feature boulder, or a fountain, you might situate your fire pit accordingly so your existing landscape features become backdrops or showstopper elements. Many Charlotte homeowners living on the lake choose to make the water a natural backdrop for their custom outdoor fire pits. Use existing sightlines of the water or features on your property to create a visually stunning backdrop for your outdoor fire pit.
Why Invest in Outdoor Fire Pit Design
Now that we've covered some of the popular and unique fire pit design ideas, it's important not to understate the value you'll add to your home if you invest in well-designed fire pit landscaping.
A fire pit is going to be among the places at home where you'll spend the most time, either hosting friends and family or just spending time by yourself. Therefore, it makes sense to put some real care and thought into the landscaping around this one-of-a-kind element, as a fire pit and its surroundings often become a genuine showpiece. The investment will not only enhance the enjoyment of your home, but it will also help increase the value of it too.
If you're not quite sure how to incorporate an outdoor fire pit design into your landscaping—and are curious about different options for fire-pit construction—remember you can always turn to an experienced hardscaping company in Charlotte.
Trusted Fire Pit Design in Charlotte
For help in planning out the perfect outdoor fire pit design in Charlotte, NC—and for expert installation of this fabulous addition to your hardscaping—look no further than MetroGreenscape. Take advantage of our local knowledge, our decades-honed experience, and our superior material sourcing to create an amazing new feature for your outdoor space that'll serve you for years.
At MetroGreenscape, we're proud to be one of the top fire pit installation companies in Charlotte, NC. We know how to take your vision for an outdoor fire pit and turn it into a highlight of your property. Contact us today and start with a consultation with one of our experts to begin planning the best location and material for your outdoor fire pit.