Darin Brockelbank of MetroGreenscape wins Jeffrey Scott's 2018 Mighty Oak Award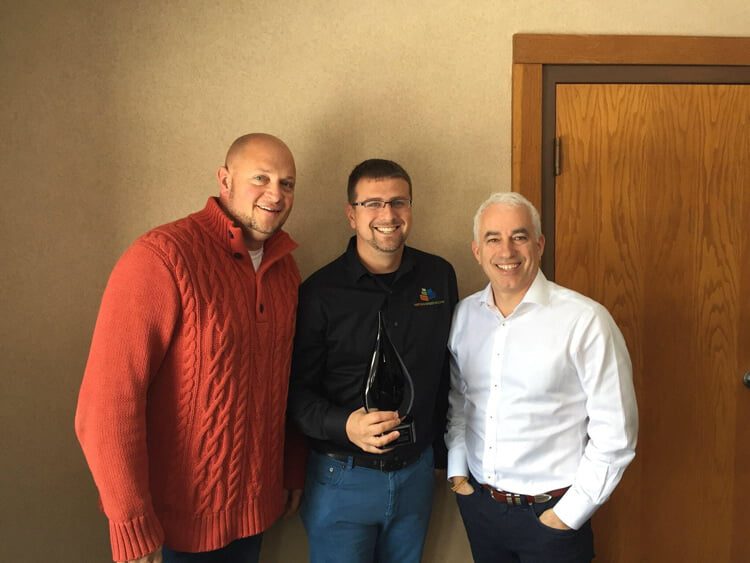 Charlotte, NC: Darin Brockelbank has been awarded Jeffrey Scott's 2018 Mighty Oak, based on his performance as a business leader and outstanding achievements made by his landscape company.
This award was announced at Jeffrey Scott's recent Leader's Edge peer group meeting held across the USA and Canada. Criteria for winning this prestigious award are:
Serving as a positive example to others in the profession.
Working with the highest levels of integrity, ethics, and accountability.
Achieving significant growth benchmarks.
Contributing to the advancement of the landscape industry.
Engaging in continual personal and professional development.
Darin was chosen from the international participants in the Leader's Edge peer groups for landscape business owners run by Jeffrey Scott.
Darin Brockelbank and his firm, MetroGreenscape, Inc. were awarded The Mighty Oak based on his determination, grit and hard work. He has built his team using the core values "Servanthood through Leadership, Ownership through Empowerment, Balance through Unity, Innovation through Adaptability, Growth through Transparency and Greatness through Commitment" and the mission "We Impact People and Change Lives".
Darin was also awarded the MVP from his peer group. "When you are picky about who you hire and only hire based on your core values, you form a team that are like minded and great things begin to happen. "
About Jeffrey Scott Consulting: Jeffrey Scott, MBA, author, business coach, hall-of-fame consultant, is the expert in growth and profit maximization in the lawn & landscape industry. He grew his company into a successful $10 million enterprise, and he's now devoted to helping others achieve profound success. Over 6000 read his monthly newsletter. He facilitates the Leader's Edge peer group for landscape business owners; his members achieved a 27% profit increase in their first year.
About The Leader's Edge Peer Group Network: It is the largest network of peer groups in the lawn, landscape and irrigation industries. The Leader's Edge is a peer group for green-industry professionals who want to transform and profitably grow their business. In this confidential group setting you will learn how other owners are running and growing their businesses, and gain insight on how to improve your own.